Virual Reality devices are slowly gaining prominence, with various big companies launching their very own VR devices. While Samsung's Gear VR, Oculus Rift, Sony Playstation VR and HTC Vive are the ones gaining all the fame, Google Cardboard is the most affordable and easily available. We are new to the virtual reality world, so it's not a surprise that all of us aren't that well acquainted with Google Cardboard and its working. Since Google is supposed to be unveiling a new VR headset soon, it's important that you know everything about Google Cardboard. Well, that's what we are here for! Here's everything you need to know about Google Cardboard:
What is Google Cardboard?
Google Cardboard is a virtual and augmented reality platform that lets you turn your smartphone to a VR device through a viewer at an affordable price tag. The Google Cardboard is built using low cost components and a folded cardboard viewer and thus, the name. The VR and AR device features a compartment where you can set up your Android smartphone or iPhone and then view through the lenses. You can then open compatible apps and view various virtual reality content. The lenses bring you a 3D image with a wide range of view, making you feel that you are inside the interface.
Things to Note
The Cardboard's reference design from Google packs in these parts:
Foldable cardboard viewer
Two 45 mm plastic lenses
Hook and Loop fastener like Velcro for head-straps
Rubber bands
Magnet or capacitive tape to interact with the smartphone display
Optional NFC tag
Where to buy one?
The Google Cardboard reference design features a cardboard build but you can buy various third party viewers featuring premium designs and build quality. We'd recommend you to buy a Google Cardboard from the Google Get Cardboard page, where the company has listed the various third party viewers available. You can buy a Google Cardboard for as low as $17 and as high as $50.
Moreover, you can even go ahead and build your very own Google Cardboard device. To do that, you will have to download the Google Cardboard manufacturers kit (starts downloading on click), where Google has listed the procedure and everything you need to build your very own VR device.
Getting Started: How to set up?
To set up a brand new Google Cardboard, you will need to have an Android smartphone running Android 4.1 or higher or an iPhone. To start experiencing virtual reality, you will have to download a Cardboard compatible VR app. At the beginning, we will recommend you the official Google Cardboard app on the Play Store or iTunes.
When the app is first opened, it will ask you to scan the QR code on your Google Cardboard to detect compatibility and calibrate the lens type to meet your smartphone. Once done, the app will divide your display into two parts. Then, put your Android smartphone or iPhone in the Google Cardboard compartment and mount it to your face.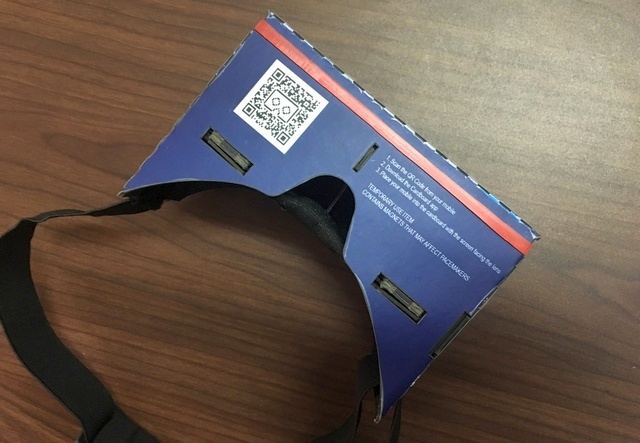 Note: If your Android smartphone comes with NFC support, the Google Cardboard's NFC tag detects it when the smartphone is put in and launches the Google Cardboard app automatically. If you want to disable this, just turn off NFC on your smartphone. 
How to operate Google Cardboard?
Once you have mounted Google Cardboard to your face with the Cardboard app open on your device, you will be presented with various Cardboard demos and more. The iPhone app only includes demos like Tutorial, Explorer, Exhibit, Urban Hike, Kaleidoscope and Welcome Video. However, the Android app features Cardboard demos, 360 Video Channel (watch videos created for VR), Cardboard Camera (take 360 degree virtual reality photos) and a simple game designed for VR. The app also features a section of "Get Apps" where you will find VR compatible apps. The app also supports Google Street VR, so you can view any landmark in virtual reality. Unlike the iPhone app, the Google cardboard app on Android features different and cooler demos like Earth, Tour Guide, My Videos, Exhibit and Photo Sphere.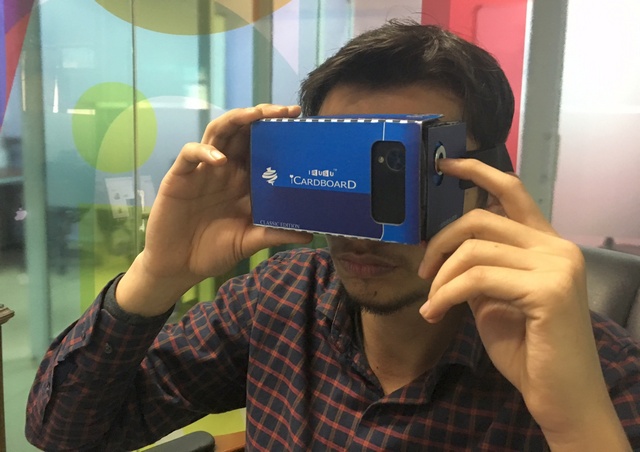 Here are a few important points to remember while operating Google Cardboard:
Move your head left or right or in a circle to navigate around.
Select an option by aiming at an option and pressing the magnet button situated at the left side of the device.
To go the main menu any time, tilt the Cardboard 90 degrees to your right.
Some Beginner Tips to know
If you have just bought a brand new Google Cardboard viewer, here are some tips to follow:
1. Capture and view VR photos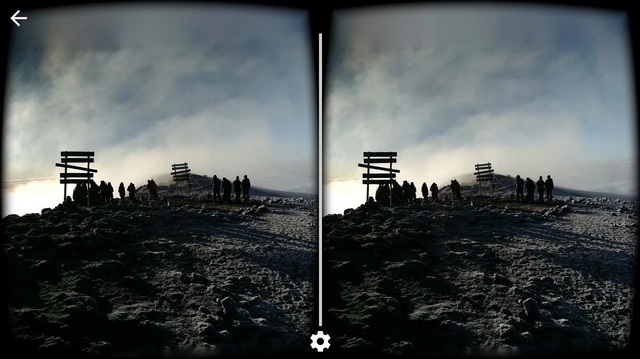 Google recently released a Cardboard Camera app for Android, which lets you capture VR friendly panoramic photos with depth and sound. You can view those captured photos in the Google Cardboard viewer and relive the beautiful moments in VR.
2. Use Street View in VR mode
Google's Street View app comes with Google Cardboard integration, so you can experience the world famous landmarks with ease. Just select a landmark of your choice and tap the Cardboard icon on the top right to enter the VR mode. The app will then split the display, so put your smartphone in the Cardboard viewer and experience the landmarks, as if you are there.
3. Use a Bluetooth controller
There are various cool games that are compatible with Google Cardboard VR but playing them through motion sensors can make you feel uneasy. Also, some games are not so easy to play with the magnet button. So, if you are serious about VR gaming, you should get a Bluetooth controller. To use a Bluetooth controller, you will need to have your hands free, so make sure that your Google Cardboard head-straps are tight enough.
4. Conserve Battery
Playing VR games or watching VR content can really take a toll on your smartphone's battery, so it's important you conserve some battery. The best idea is to put your smartphone into Airplane mode, so that any network activities don't drain your battery in addition to your VR activities. Also, make sure to download the VR content beforehand to view them even when you are offline.
5. Place your phone correctly
It's important that you place your smartphone correctly in the Google Cardboard viewer otherwise the magnetic button does not work. Always make sure that the head of the smartphone is towards the left of the Cardboard holder.
6. Use a Swivel Chair
We'd not recommend you to use the Google Cardboard while you are in public places because you might cause an accident. If you are at home, we'd suggest you to use a swivel chair while enjoying the VR experiences on Cardboard because it requires a lot of circling and moving around and with a swivel chair, you can easily spin around.
Compatible devices
Sadly, not all Android smartphones are compatible with the Google Cardboard app. Only smartphones featuring a magnetometer or compass sensor work with the device, which is understandable considering the VR device uses a magnet as the button. So, be sure to check if your smartphone comes with a magnetometer or not.
SEE ALSO: 10 Alternatives to the Oculus Rift
Ready to experience virtual reality through Google Cardboard?
Virtual Reality is still in a budding stage but thanks to Google Cardboard, you can experience it easily without making a hole in your wallet. There are plenty of Cardboard options to choose from and while the apps are less in number, they are entertaining nonetheless. There are various apps, games and cool videos that surely take you to a whole new world. Be careful though, as longer usage of Google Cardboard does cause motion sickness. So, have you bought a Google Cardboard? If yes, how has the experience been like? Let us know in the comments section below.
---
Load More