Google Cardboard has evolved a lot since its inception and Google has made sure it remains relevant through new apps & content. The search giant recently launched a cool new Google Cardboard Camera app for Android smartphones that lets users take photos which make use of Google Cardboard's VR capabilities. Keep in mind though that Google Cardboard Camera only works on devices that are compatible with the Google Cardboard, that is devices that feature a magnetometer. Also, you don't need a Cardboard viewer to take VR pictures, instead you can simply use the Cardboard Camera app on your Android smartphone to capture VR pictures and later view them on a Cardboard viewer.
Before we tell you how to capture VR photos, let's see what's the difference between a normal Panorama camera app and Google Cardboard Camera:
Google Cardboard Camera vs Panorama
The Google Cardboard Camera lets you capture panoramic pictures, so you must be wondering what's the difference between a picture taken by Google Cardboard Camera and one taken by a simple Panorama app. Unlike usual Panorama pictures, which are static, the Google Cardboard Camera captures pictures which have 360 degree 3D attributes, depth and sound. The pictures taken through the Cardboard Camera app too are static but they seem to liven up once viewed through Google Cardboard. When viewed through Google Cardboard viewer, the far things look far while the near objects look near and you can look around to explore around in the picture.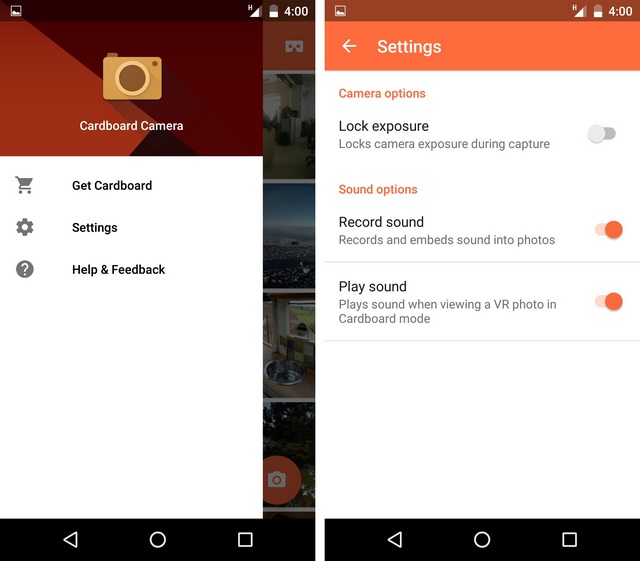 How to Take and View VR Pictures
Capturing an image via Google Cardboard Camera is as easy as it gets. If you have taken a panoramic picture in the past, you will feel right at home with this app. The only difference here is that you will have to capture the full 360 degree of the view. Just hit the floating capture button in the homepage of app to get to the viewfinder. Then, you will find three buttons, a capture button, a stop button and a button that turns on/off the sound capture.
To start taking a VR image, hit the capture button and keep moving slowly & steadily to your right until you reach the 360 degree point. Once you are done, the app will then stitch these images to make a VR friendly panorama. Again, you don't need to wear the Cardboard viewer while taking the picture, it is only required at the time of viewing it.
To view the image captured in the Google Cardoard viewer, just open the Cardboard Camera on your smartphone and put it in the viewer compartment. Selecting an image in the viewer is easy, as all you need to do is move your head to scroll among various images. To select an image, aim at it and hit the magnet button on your viewer. Then you will see the image in an immersive experience along with the sound.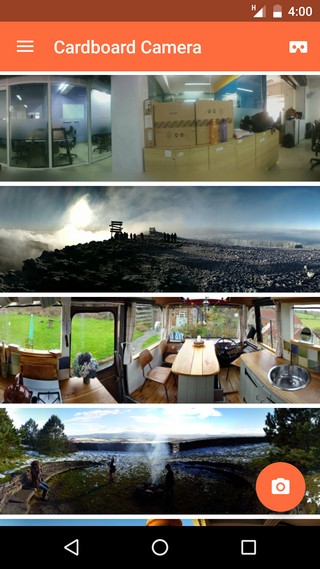 Different Uses
If you think about it, the Google Cardboard Camera app can come in handy in a lot of situations. For instance, you want to revisit a beautiful place you went to, the VR photos can let you do that. Want to show your new apartment to your parents, show them a VR photo to get the feel of it. Looking to sell your property? Show the buyers a VR photo of a 360 degree view.
What's missing
With the Google Cardboard Camera app, Google reiterates the fact that they want to make sure VR reaches the masses. Although Google Cardboard Camera is a cool new app, it has its limitations. Firstly, very few options like ability to pause exposure along with sound recording settings. There's also no sharing feature, so if you want to show a VR photo you have taken, you will have to show it on your phone. We do expect Google to bring in more features, as Google Cardboard starts gaining more prominence.
SEE ALSO: 20 Best VR Apps for Your Google Cardboard
All set to experience VR photos?
There are some very innovative Google Cardboard apps & games but the Google Cardboard Camera is the first app that lets you capture your very own VR photos. The good thing is the app works like a charm and capturing a VR photo and viewing it on the Google Cardboard viewer is as easy as it gets. So, give it a try and let us know what you feel.