Blocking is often the easiest way to get out of an awkward or potentially enraging conversation. However, there are times when we block someone out of momentary anger on messaging apps like Snapchat. Have you rage blocked someone on Snapchat? If yes, are you looking for a way to unblock them? If your answer is yes, you have come to the right place. In this article, we have detailed the steps for how you can unblock someone on Snapchat on your iPhone or Android device.
Block or Unblock Someone on Snapchat (2022)
If this reminded you of someone you have been planning to block, we have got you covered with the instructions to block a Snapchat user too. All you have to do is use the table below and skip to the "Block Someone on Snapchat" section of the article. With that said, let's get started.
How to Unblock a Snapchat User (Android and iOS)
1. Open Snapchat and tap on your Bitmoji icon located at the top-left corner of the screen. When your profile page appears, press the Settings icon at the top-right corner.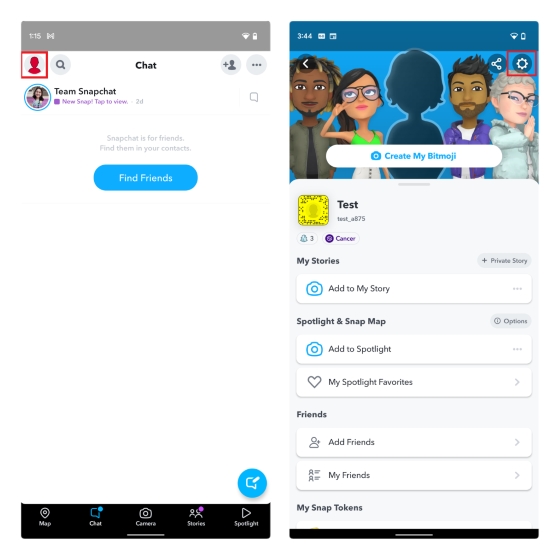 2. Scroll down until you find "Blocked" under the "Account Actions" section and tap on it. Now, you will see a list of all Snapchat users you have blocked over the years. Press the 'x' icon next to their Snapchat display name to unblock the user.
3. From the confirmation prompt that appears, choose "Yes", and you're done. You have successfully unblocked the person on Snapchat.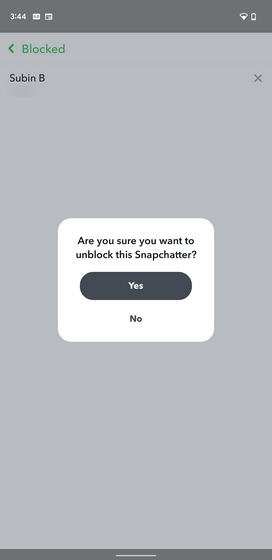 How to Block Someone on Snapchat
In case you're looking for a way to block someone who is pestering you on Snapchat, follow the steps below:
1. From the chats screen, which you can access from the bottom navigation bar, long-press the contact you would like to block and tap on "More". When the expanded context menu appears, tap "Block" to pause all contact with that person.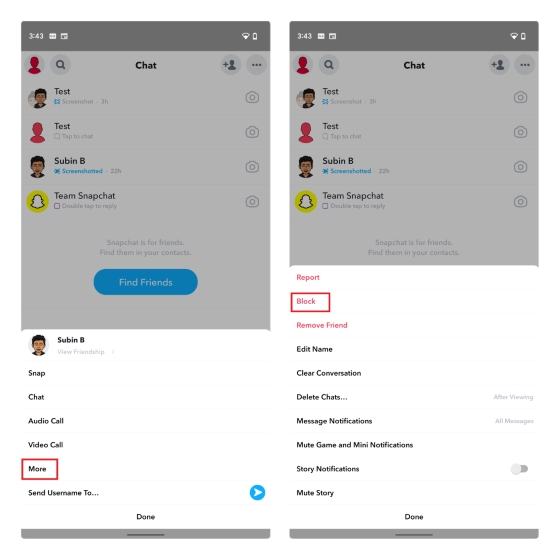 2. You will now see a confirmation prompt urging you to make sure if you really want to block the person. Tap "Block" again, and you are done. The blocked person will no longer be able to contact you through Snapchat.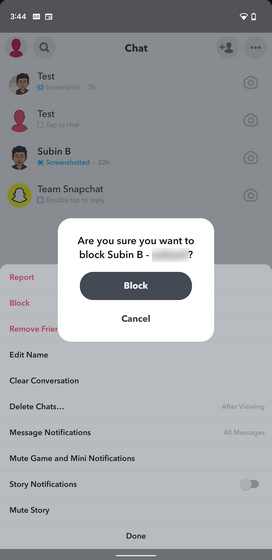 Frequently Asked Questions
Q: What happens if you block someone on Snapchat and then unblock them?
When you block someone and unblock them, they will be removed from your contacts list. You will have to add the person again to send messages and Snaps.
Q: When you unblock someone on Snapchat, does it notify them?
No, Snapchat doesn't notify the person if you unblock them.
Q: Can you see Snapchat messages after unblocking someone?
Old chat history will be available on both sender's and recipient's end. However, it's worth noting that messages you send when the person is blocked will not get delivered when they unblock you.
Q: How do I know if someone blocked me on Snapchat?
You can know if someone blocked you by checking your contact list and searching for their username. You can also ask your friend or use a secondary account to check if their username appears in the search results.
Block or Unblock Someone on Snapchat
The method to block or unblock someone on Snapchat is fairly straightforward, but new users might find it difficult to locate the option to unblock Snapchat users. If you were one of those users, let us know if you found this guide helpful in the comments below. Meanwhile, we also have a dedicated article to help you find out if someone blocked you on Snapchat.