The Oculus Quest 2 headset has been steadily growing as a reliable virtual reality headset. If you've just finished setting up your Quest 2, this guide is not for you. However, if you're someone who has been using it for quite a while, you might find that your controllers might be running low on batteries. Since that can cause the controllers to die out of nowhere, it can be quite annoying. Especially because the Quest 2's most impressive feature — hand tracking — is not available on a lot of titles, making the controllers pretty much necessary. So let's learn how to charge the Oculus Quest 2 controllers.
How to Charge Oculus Quest 2 Controllers (2022)
While this guide will teach you all about charging your controllers, I'll also tell you about another interesting way you can do so. Use the table below to make your way to the needed section.
Can You Charge Oculus Quest 2 Controllers?
Unfortunately, you cannot charge the Oculus Quest 2 controllers. The controllers themselves do not come with any built-in batteries. Each controller does however have a battery compartment that houses a single AA battery for power. While it might not look like the Quest 2 controllers have any opening, they do have a slot hidden away by a battery slider. You might have seen a small eject symbol on your controllers' grip. However, that AA battery included inside is Alkaline so don't try to recharge it. You can, however, swap out the dead battery with disposable or rechargeable AA batteries. So go ahead and buy a replacement and then keep reading to find out how to change Oculus Quest 2 Controller batteries.
How to Change Quest 2 Controller Batteries
Ready with the replacement battery? Well, grab it and follow the steps below to learn how to install it.
1. Hold the Oculus Quest 2 controller as shown below with the eject symbol facing up.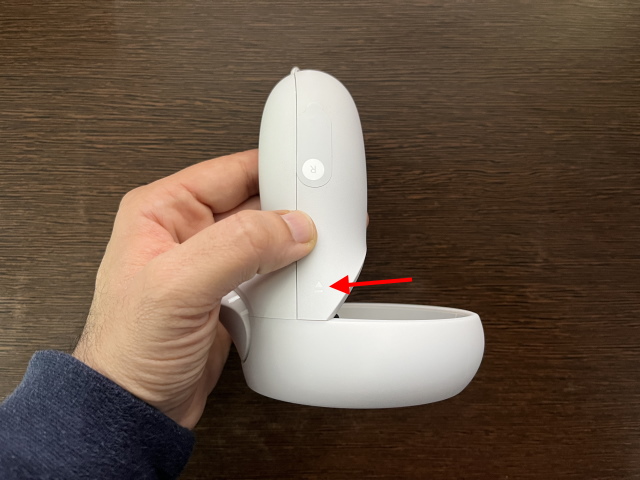 2. Slide the eject compartment upwards and away from you to pop it open.
3. This will reveal the battery compartment. Remove it to reveal the dead battery.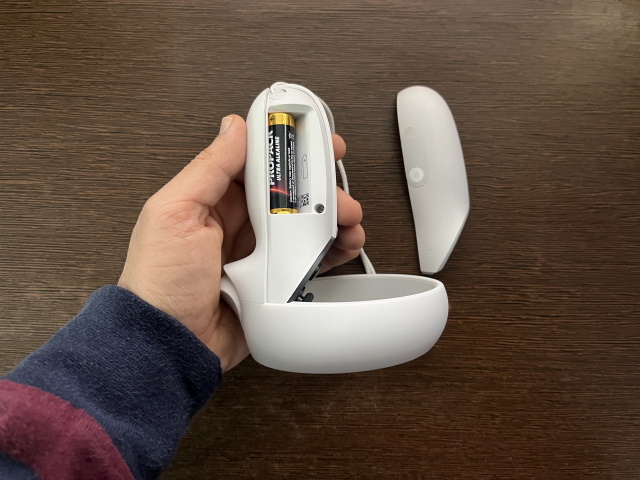 4. Remove the AA battery and replace it with a rechargeable/disposable AA battery. Be sure to insert the replacement battery according to the markings.
5. Pop the cover back in and follow steps 1-4 for the other controller.
And that's it! That's how easy it is to change your Oculus Quest 2 VR headset's Controller batteries. Once done, they will come back to life without any added steps. So the next time you find your controllers running low on power, simply follow the steps above to change the batteries again.
How to Check Oculus Quest 2 Controller Battery Level
Even though the Oculus Quest 2 controllers have a fairly impressive battery life, keeping an eye on the battery level is definitely a good idea. That way you can ensure you don't run out of charge in your controllers while in the middle of an intensive gaming session. Here's how to check the battery level of Quest 2 controllers.
Head into the home screen of your Quest 2. Here, glance down towards the menu. If you can't see the menu, just press the Oculus button to bring it up.
Here, you will be able to see the battery level of your Oculus Quest 2 headset, as well as the controllers. The great part is, the menu bar shows the battery levels for both the left and right controllers individually so you can get a better idea of how much battery is being drained.
Charge Your Oculus Quest 2 Controllers with Rechargeable Batteries
Since the Quest 2 controllers revolve around having a AA battery, you can't really install any other type of batteries to charge them. However, that does not mean you cannot have more innovative ways to charge your controllers. A good solution to that is a charging dock. Fortunately, Anker has a fully functioning charging dock that has been officially licensed by Meta or formerly Facebook.
The dock comes with rechargeable batteries and battery covers that make wireless charging possible. Furthermore, you can even charge the Oculus Quest 2 itself by placing it on the dock. So the next time, you don't feel like having the hassle of opening the covers, simply go ahead and buy the Anker Quest 2 Charging Dock ($99) and be done with it.
Frequently Asked Questions (FAQs)
Do Oculus controllers need charging?
Since the Quest 2 controllers draw power from AA batteries, there's no way to directly recharge them. Once drained, you will have to replace the batteries within the controllers to continue using them.
How long does the Oculus Quest 2 controller battery last?
The Oculus Quest 2 controllers are really efficient with batteries. Though there's no one-number for the battery life, users have been reporting using their Quest 2 controllers for weeks and still having over 70-80% battery left. Therefore, it shouldn't be much of an issue.
Charge Your Quest 2 Controllers Easily
So that is how you charge or replace your Oculus Quest 2 controllers. Pretty easy isn't it? Once you're all powered up, check out these virtual reality apps and experiences and elevate your experience, or enter the Metaverse. Got headset issues? Learn how to factory reset your Oculus Quest 2 for a possible solution. Having trouble replacing the batteries in your controller? Ask your questions in the comments below.
---
Load More