Virtual Reality is slowly but surely rising in ranks to become a popular medium. With the concept of Metaverse becoming popular online, interest in headsets like the Meta Quest 2 is rising. You can use virtual reality for a lot of things like entertainment, productivity, and communication. However, if you're a gamer like me, you probably bought a VR headset for some immersive gaming. If you're a virtual reality user looking for the very best VR games, you're at the right place. I have compiled a list of the best VR games you can get in 2022. So get your wallet out, put on your headset and let's do this.
Best Virtual Reality Games to Play
I have put together a list of the best VR games spanning different genres in detail. However, if you would rather look at them all at a glance, use the table below to do so.
Best VR Games to Play (2022)
Let's go ahead and dive into the best VR games you can get in 2022. Do remember that you will need a good VR headset to play VR games immersively.
1. Half-Life Alyx
If you're no stranger to the world of Half-Life, then Alyx is here to provide some more fun. Taking place 5 years before the event of Half-Life 2, HL Alyx is a VR game that is equal parts mysterious, funny and terrifying. Instead of Gordon Freeman, you play Alyx Vance in city 17., a survivor trying to defeat the Combine; the alien race that has taken over Earth. Alyx is a VR game that takes elements from the Half-Life universe and tops it off with its own interesting ones.
From confusing puzzle-solving, thrilling gunfights to navigating through dark subway stations, this game has it all. Moreover, the physics in Alyx is amazingly well and I found myself having fun with it between missions. While not exactly the Half-Life 3 some gamers might have wanted, this amazing VR game is an intense combination of various genres and has been done right. Pick up Alyx for your VR headset right now.
Platforms – SteamVR
Get Half-Life Alyx ($59.99)
2. Beat Saber
Beat Saber is the one rhythm VR game that has practically become the poster child for VR. Wielding a saber in each hand, players literally slash away the beats of various songs while avoiding obstacles in their path. The song collection is vast and ranges from pure rap, hip-hop to adrenaline-pumping EDM tracks. The beats are in the form of blocks and are color-coded so you will need to be careful about which saber you use.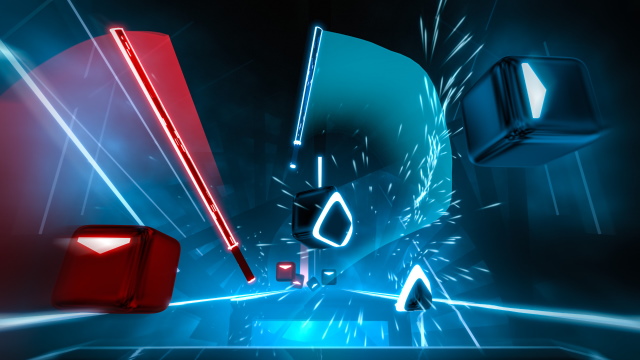 Beat Saber's backdrop is very futuristic and feels amazing to be in while you play. The VR game can also be easily modded and you can install your own backgrounds, saber skins, and even additional songs. Since Saber also requires moderate physical movement, this is also a good VR game to passively shed some kilos. Want even more? You can even challenge your friends or random players around the world to beat your high score. Go on and slash away beats from Billie Eilish while you exercise in this amazing VR game.
Platforms – Meta Quest 2, SteamVR, HTC Vive, Rift, PSVR
Get Beat Saber ($29.99)
3. The Elder Scrolls V: Skyrim VR
Any gamer worth their salt has already enjoyed Elder Scrolls Skyrim. However, you haven't really played it until you're knee-deep in Skyrim VR. This massively loved game finally got a VR port and ended up being loved by most VR users. Skyrim VR throws players into the vivid continent of Tamriel. As you play the role of Dragonborn, it is your duty to be the hero and wield the power of the voice and save the kingdom.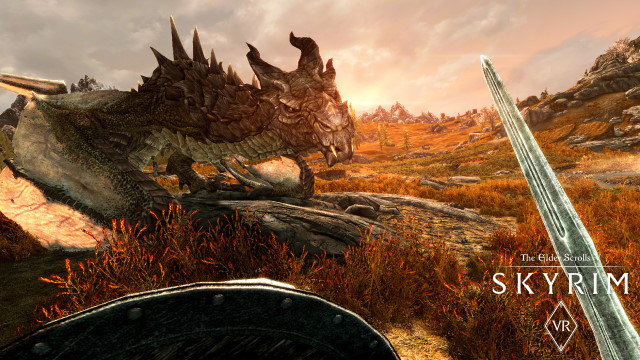 Skyrim VR incorporates all the necessary elements of VR including an amazing sense of depth and immersion. The full tracked motion controls mean you have a lot of room for customization as you play this VR game. From intensively managing your inventory and equipment to swinging your swords and performing magical gestures, there's a lot on offer. While the graphics are a bit dated, Skyrim makes up for that with its amazing experience. You also get the Dawngard, Hearthfire, and Dragonborn DLC so rest assured there will be a lot of playing.
Platforms – Meta Quest 2, SteamVR, HTC Vive, Rift, PSVR
Get The Elder Scrolls V: Skyrim VR ($59.99)
4. Fallout 4 VR
Speaking of games we know and love, gamers will love to know that even some of the Fallout world is in VR. For those who haven't played it, Fallout 4 is an open-world survival game that takes place in the future. You as the protagonist are the survivor of Vault 111. Entering a post-apocalyptic Boston destroyed by nuclear war, you're trying to find your child while attempting to fight off the horrifying monsters that have sprung up on this wasteland.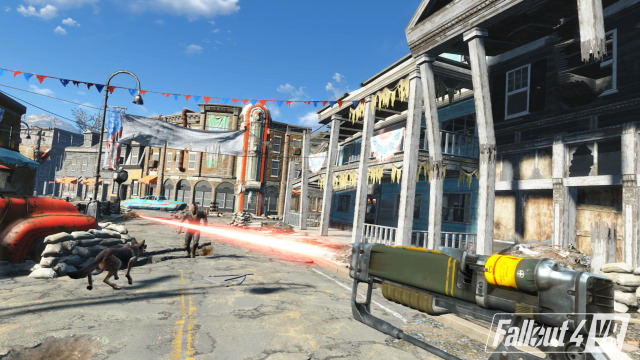 Fallout 4 is an excellent recreation of a world that is deadly and dangerous at every turn. The VR version is not too shabby and features room-scale tracking. You can walk about the world, teleport, shoot weapons using your controllers, and be immersed in this VR game. And if you want to take things to the next level, Fallout 4 VR also has some mods available to better this deal.
Platforms – Meta Quest 2, SteamVR, HTC Vive, Rift,
Get Fallout 4 VR ($59.99)
5. Minecraft VR
Minecraft has rarely ever needed an introduction. This massively popular world-building game has inspired players all over the world to create structures and homes that will awe everyone. The VR version of Minecraft is equally amazing and will teleport you to its amazing world. Depending on which version of Minecraft you play, you can use your controller to dig for materials, attack, and do a lot of other stuff. Just make sure to go underground before the night gets here.
Luckily for you, we have already created a dedicated guide to playing Minecraft VR. Learn how to play Minecraft VR on the Quest 2 or follow the product link below to check it out yourself. You can also take a look at all the new Minecraft 1.19 features, as well as the best Minecraft seeds, and more.
Platforms – Meta Quest 2, Rift, Windows Mixed Reality, Gear VR
Get Minecraft VR ($26.99)
6. Pavlov VR
At the end of the day, we all want some classic shooting action. Pavlov VR is a game that is built just for that. Featuring elements from the ever-popular shooter CS: GO, Pavlov VR has full-scale gunfights on a plethora of maps. You can spawn on any of the various maps and play through modes like bomb plant, deathmatch, arms race, and even other custom matches.
Pavlov VR gives you a variety of guns at your disposal so players get to experience virtually holding, firing, and even reloading rifles, machineguns, pistols and even chucking grenades. Remember, if your hands aren't fast enough at reloading, it won't end well for you. Aside from onboard maps, players can go ahead and install community-created ones for even more variety. And before you even ask, yes, there is Dust 2 fully recreated in VR.
Platforms – Meta Quest 2, Rift, Windows Mixed Reality, SteamVR
Get Pavlov VR ($24.99)
7. Pistol Whip
I've always found describing Pistol Whip difficult. The best I do it is by saying that this VR game makes you feel like John Wick stuck in the world of colorful Sin City. For a more sensical description, Pistol Whip is a rhythm VR action game. The player is a gun-wielding expert who plays through multiple scenarios. However, unlike Beat Saber, the beats to slash here are human targets who shoot back.
Actually inspired by movies like John Wick and Equilibrium, Pistol Whip is a VR game that combines elements of gunplay action along with amazing soundtracks and a trippy backdrop to create an experience like no other. Players can run through multiple levels and have to physically dodge, duck, and move around to make it through them. Finishing a level in this VR game feels like a solid workout and I'm sure you'll feel the same way. Give Pistol Whip a shot on your headset and let me know how you find it.
Platforms – Meta Quest 2, Rift, PS VR, SteamVR
Get Pistol Whip ($29.99)
8. Walking Dead: Saints and Sinners
Diving into the horror-action genre, the Walking Dead: Saints and Sinners is a very different Walking Dead game from what you might be used to. This VR action game puts you in the shoes of a survivor trying to make sense of a New Orleans where the infected have taken over. Featuring a mix of melee combat along with guns, players get to use a variety of weapons ranging from blades to machine guns to kill the undead.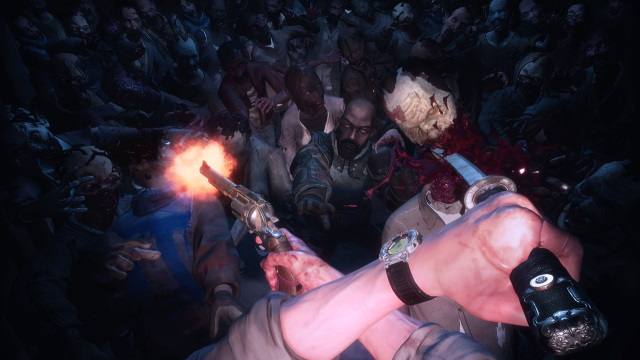 Saints and Sinners does not shy from creating a terrifying atmosphere and focuses on close-quarters combat. As is true to the Walking Dead franchise, you will run into moral dilemmas along the way and might be forced to make a choice you don't want to. Players looking for a story-driven horror game with action should check Saints and Sinners out.
Platforms – Meta Quest 2, Rift, SteamVR, Windows Mixed Reality
Get Walking Dead: Saints and Sinners ($39.99)
9. SUPERHOT
When Superhot first came out, its unique gameplay mechanism was something everyone loved. SUPERHOT VR takes the same gameplay and turns it into a simulation which is a nod to the story itself. Players play the role of the protagonist who must eliminate pixel-shaped AI enemies. There is a vast weapon selection ranging from different combat-ready guns to even throwing wine bottles at them.
However, that one unique mechanic is also in VR too. 'Time moves only when you do.' Playing Superhot in VR, you will find yourself frequently timing your body movements to best clear the level. Since failing a level in Superhot means going back to the start, prepare for a strenuous workout that might even make you rage. However, all that pays off when Superhot's story ends on a satisfying note. Check out this uniquely created VR game to have your mind blown.
Platforms – Meta Quest 2, Rift, SteamVR, Windows Mixed Reality
Get SUPERHOT VR ($24.99)
10. Blade and Sorcery
Before you venture into the world of Blade and Sorcery, do be warned that this VR game is not for the faint of heart. Sorcery is a full-scale VR game focused on intense melee combat. Featuring an almost replica of real-life swordplay, Blade and Sorcery gives you a ton of weapons at your disposal. From a variety of short to slim swords to mace, hammers, and even bow and arrow, the possibilities are almost infinite.
The game further elevates its experience with extreme blood and gore that protrudes out of your enemies when you attack them. As a fighter, you can not only kill your enemies but dismember them and even throw their bodies around for good measure. As mentioned above, only be prepared to play this game if you're ready for some intense action. Check out Blade and Sorcery for an intense VR game experience.
Platforms – Meta Quest 2, Rift, SteamVR, Windows Mixed Reality
Get Blade and Sorcery ($19.99)
11. The Climb 2
If blade and sorcery seems too violent for your taste then allow me to shift gears. The Climb 2 is a game focused on an adrenaline-fueled yet peaceful gaming adventure. This immersive VR game puts you in the gloves of a climber traversing through different paths. The Climb 2 is the sequel to the popular game with the same name by Cryotek. This VR game successor features much-improved mechanics, new levels, and an assortment of beautiful scenery.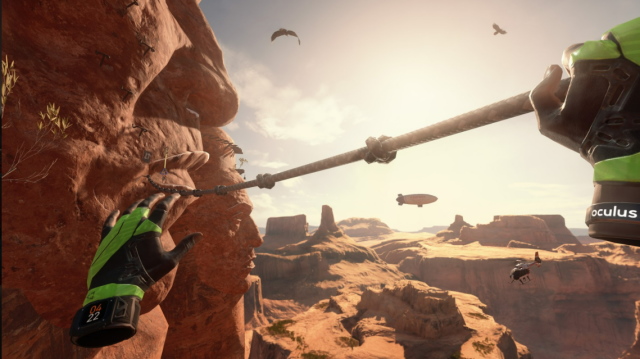 What makes the Climb 2 fun is the amount of variety you get between levels themselves. From climbing scary mountains to leaping off skyscrapers at night, there's a lot on offer. Moreover, the climbing itself feels extremely realistic and just might have you freaking out over a jump or two. The Climb 2 also features the stamina system from 1 for added immersion. If you're a VR gamer looking for an experience you probably won't get in real-life, consider getting the Climb 2.
Platforms – Meta Quest 1,2
Get The Climb 2 ($29.99)
12. Resident Evil 4 VR
Even though RE4 itself has been around for quite some time, its VR refresh was not something people were expecting. As someone who played this game in VR first hand, I give it credit for being very scary. In Resident Evil 4, you play the role of a police officer named Leon Scott Kennedy. Leon has been sent on a secret mission to rescue the president's daughter. She has been kidnapped by a religious cult that is slowly turning people into zombies.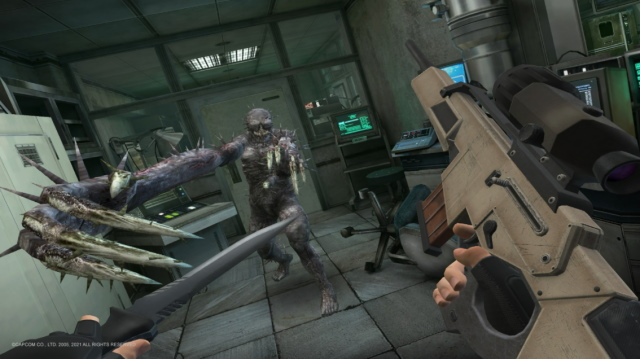 Resident Evil 4 VR is a game that has received amazing new VR mechanics that have been adopted from its native PC version. Interaction in VR is extremely realistic and ranges from manually reloading your guns and stabbing your enemies. The shooting in this VR game too is extremely satisfying. However, what takes the cake is the sense of unease the game portrays. Whether you're walking down the village roads or going through the cursed Regenerator labs of the game, it's all very scary.
Platforms – Meta Quest 1,2
Get Resident Evil 4 VR ($39.99)
13. After the Fall
Speaking of zombies, RE4 is not the only game qualified to do that. After the Fall is a team zombie shooter straight from the devs of Arizona Sunshine. This VR game takes place in a snowy wasteland and is full of the deadly undead. As a survivor, it's your job to make your way across various levels and eliminate your zombie enemies. After the Fall features some exciting gameplay with a full arsenal at your disposal.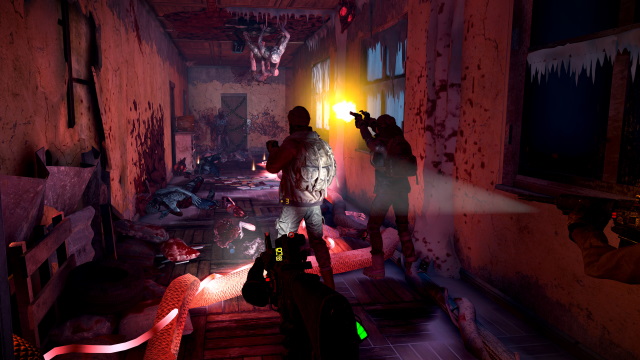 You can easily team up with your friends and be scared just a little less. However, do remember you will need co-operation to survive this ordeal. Gamers looking for more should get the deluxe edition which has even more game modes, weapons, and more.
Platforms – Meta Quest 2, Rift, SteamVR, Windows Mixed Reality
Get After the Fall ($39.99)
14. The Thrill of the Fight – VR Boxing
Virtual Reality is not just restricted to shooting and wandering out. One of the best ways many VR users have fun is through sheer fitness. If you're someone looking to shed some serious weight while having fun, you'll love The Thrill of the Fight. This simple VR boxing game puts you against an AI that can be adjusted based on difficulty. Players use their controllers to throw punches and have to physically dodge and duck attacks.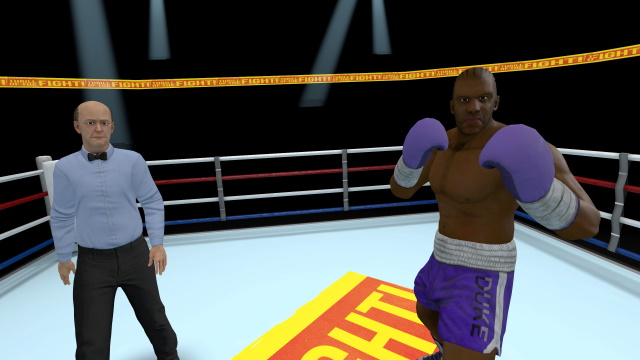 While that sounds easy you will find yourself running out of stamina within the first 40 seconds. The rule of the game is to keep punching till the opponent goes down or you win the best score. However, at the highest difficulty even making it to the end is a challenge. The Thrill of the Fight is a VR game that had me reaching for a chair once the match was over. So if you're a player looking for an extremely intensive yet fun workout, box away in this VR game.
Platforms – Meta Quest 1,2, Rift, SteamVR, Windows Mixed Reality
Get The Thrill of the Fight ($9.99)
15. Vader Immortal
Even the VR gaming space has its share of pop culture inclusions. Vader Immortal is a VR game Star Wars fans should get for a definitive experience. You play as a smuggler near Mustafar who has been suddenly pulled out of hpyerspace. Assigned by Darth Vader himself to solve an ancient mystery, Vader Immortal plunges the player into an amazing adventure.
Created by Lucasfilm, Vader Immortal is a VR game full of saber combat while dodging various obstacles along your way. The game also gives you access to the Lightsaber Jodo, an open area where you can swing sabers to your heart's content. Go ahead and become immortal with Vader.
Platforms – Meta Quest 2
Get Vader Immortal ($9.99)
16. Blair Witch VR
If you've seen The Blair Witch Project, you must be excited by reading just the title. This survival horror game is based on the same series of horror films. Blair Witch is set two years after the 1999 film of the same name and has police officer Ellis Lynch as the protagonist. As Ellis, your job is to venture into the Black Hills forest and find a missing boy. Since the PC version of Blair Witch was played in the first person, the horror is only amplified in VR as you now literally play Ellis. However, you're not alone as your trust dog Bullet will be right alongside you.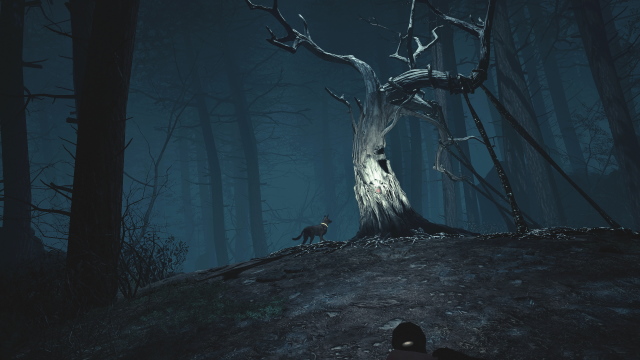 Blair Witch VR brings alive all the horror from the conventional game. As you walk through the eerie forest trying to find the boy, you must survive the various threats that lurk there. Keep Bullet close to you for your own mental sanity because this VR game will not be easy to finish.
Platforms – Meta Quest 2, Rift, SteamVR, Windows Mixed Reality
Get Blair Witch VR ($29.99)
17. Rick and Morty: Virtual Rick-Ality
Want some more Rick and Morty in your life? This VR game should do the trick. Virtual Rick-Ality has elements from the popular VR game Job Simulator but its own fun stuff added in. Get full control of the show as you go around the environment interacting with Rick's weird gadgets.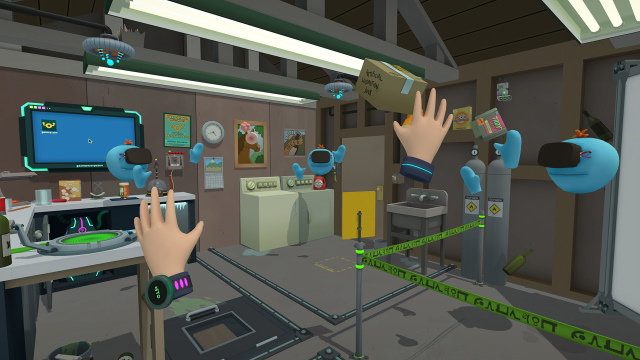 There is a good measure of comedy thrown in as you go around the garage drinking laundry detergent among so many other things. Users wanting to literally dive in a Rick and Morty episode should check this game out.
Platforms – Meta Quest 2, Rift, SteamVR, Windows Mixed Reality
Get Rick and Morty: Virtual Rick-Ality ($29.99)
18. Gorn
Gorn is a virtual reality game that is a funny mix of Blade and Sorcery along with a goofy animated one. This violent VR game is basically a gladiator simulator where you go around proving your worth in the arena. However, don't let the graphics fool you since Gorn too features a lot of bloodshed.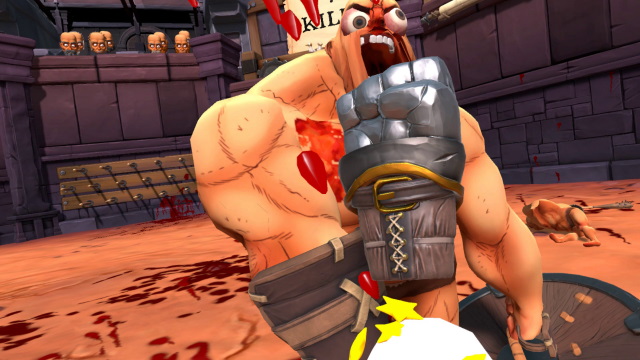 As you face off waves upon waves of enemies you get to experience the game's amazing physics. Experiment around and find the most creative ways to execute your foes with weapons or even bare-handed. Check out Gorn for a funny yet intense arena combat VR game.
Platforms – Meta Quest 2, Rift, SteamVR, Windows Mixed Reality
Get Gorn ($19.99)
19. Zenith: The Last City
If there was anything this list was missing it was the addition of a VR MMO game. Zenith: The Last City solves that problem. Released after a few years of development, Zenith is an MMO game that is set across the vibrant open world of Zenith. As a player in Zenith, you can freely roam around the entire map and explore while meeting new people to hang out with it.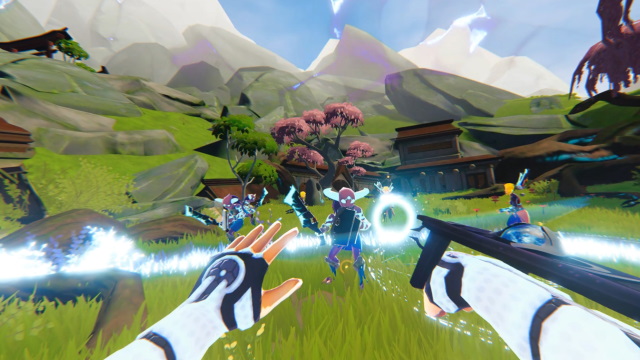 So feel free to party up with randoms and clear dungeons in this world. There is also plentiful combat with both melee and ranged weapons along with combos. VR gamers looking to meet new people while being lost in a fantasy world should check this game out.
Platforms – Meta Quest 2, Rift, SteamVR, Windows Mixed Reality
Get Zenith: The Last City ($29.99)
20. VTOL VR
Before you dive into MS Flight Simulator, VTOL VR is a game you have to try with your headset. This combat flight game puts you in the helmet of a pilot. As the combat pilot, you're free to explore different types of jets while navigating them without falling out of the sky. However, don't be fooled into thinking it's easy.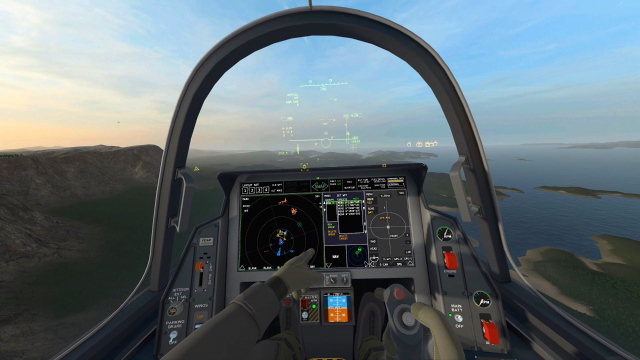 Since VTOL VR is based on simulation, it requires one to pay attention to their fighter jet and more importantly to their surrounding as an attack might be underway any minute. So strap on your helmet and hope that you know what all the buttons do.
Platforms – Meta Quest 2, Rift, SteamVR, Windows Mixed Reality
Get VTOL VR ($29.99)
21. Until You Fall
Until You Fall is a VR rogue-like game that means you die and keep coming back. However, it's a different VR slasher game that is quite different when it comes to combat. This game demands not only quick reflexes but precision from the player. Combat in this game is fixed around swinging your weapons against supernatural enemies.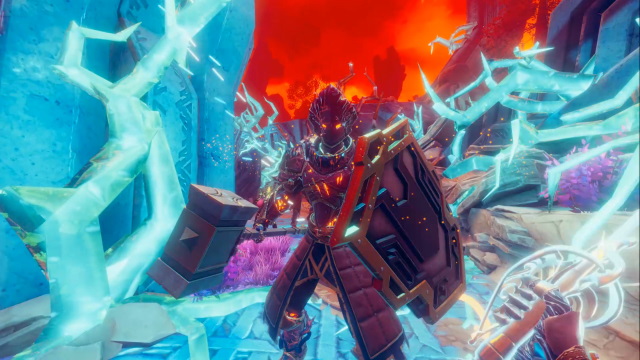 However, your strikes must align with the slashes on the screen and your defense should too. While it sounds easy, the overpowering enemies, intensive movement, and creepy atmosphere can easily tire you out. How long can you last until you fall?
Platforms – Meta Quest 2, Rift, SteamVR, Windows Mixed Reality
Get Until You Fall ($24.99)
22. Resident Evil 7 Biohazard
While PS VR is a bit outdated now, that doesn't stop it from housing some really amazing VR games. Resident Evil 7 is one of those. This first-person survival horror game caused the entire RE series to be redefined. Instead of RE just being about the shooting, RE7 resulted in putting the focus on the player's survival and how each bullet must be spent carefully.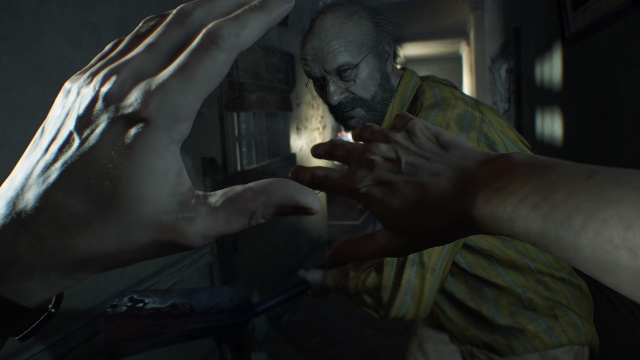 You play Ethan Winters, a man looking for his wife who has disappeared. Ethan runs smack dab in the swamps of Lousiana where he encounters the Baker family and wishes he never did. Give this gem a try before PS VR 2 comes along.
Platforms – PlayStation VR
Get RE7:Biohazard ($49.99)
23. Eleven: Table Tennis
Eleven: Table Tennis is a VR for the times you simply want to play some good old table tennis with your friends. Featuring full TT simulation, Eleven lets you play against either online players or with its advanced AI.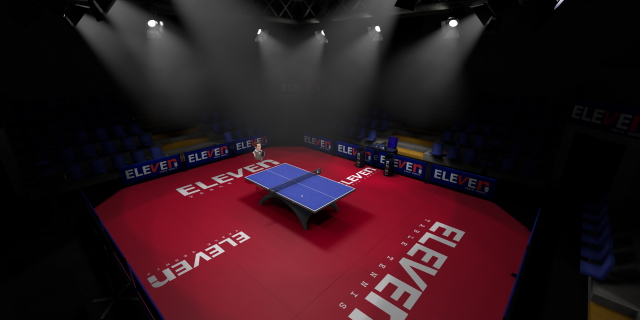 The game boasts extremely realistic physics that will make sure the game is just like the real thing. If you're someone looking for the definitive Table Tennis experience, check out Eleven.
Platforms – Meta Quest 2, Rift, SteamVR, Windows Mixed Reality
Get Eleven: Table Tennis ($19.99)
24. BONEWORKS
BONEWORKS is a VR game that is essentially dedicated to the laws of physics. The VR game has been designed to be as realistic to the actual physical experience as possible. However, that also means this is not a game new VR users can play. You should have a fair amount of VR hours before you try on Boneworks.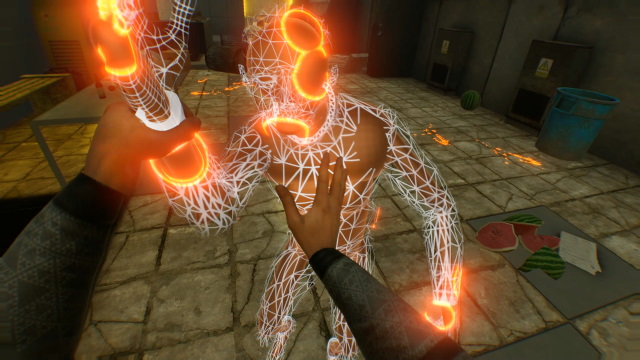 However, when you do, you're free to go around the various environments and just have fun. Play through the story with the arsenal of weapons the game provides. Engage in combat with characters, interact with objects or even create your own scenarios. The choice is yours in Boneworks. Give it a try.
Platforms – Oculus Rift, SteamVR, Windows Mixed Reality
Get BONEWORKS ($29.99)
25. Moss
Ending things on a light note, Moss is a VR game that is made for players to be at peace. As the player, you meet a little mouse called Quill who dreams of greatness and life outside her walls. While exploring the woods, Quill finds a mysterious glass relic that awakens ancient magic. With her uncle in danger, Quill will now need to venture on a journey to save him.
Moss is an ambitious mix of all the colorful elements from classic games combined with custom mechanics for VR. If you're in the market for living a grippy story while solving puzzles, you will like this VR game.
Platforms – Oculus Rift, SteamVR, Windows Mixed Reality
Get Moss ($29.99)
Have Fun with These VR Games
I hope you have countless hours of fun with these VR games. If you've already gone ahead and bought a headset like the Oculus, learn how to set up the Quest 2 here. Want to learn how to set up gaming instead? Then check out how to play Steam games on the Quest 2 or even use Virtual Desktop on it through our guides. Got more recommendations for VR games? Drop them in the comments below.