Besides using it for productivity and casual entertainment, the Oculus Quest 2 is a device capable of some hardcore gaming. Whether you've hooked up your Quest to your PC or are running games natively, you can have countless fun with it. But in a gaming market so saturated with variety, it can be difficult to choose which game to pick. If our list of the best virtual reality games were not enough, I am back with more. VR gamers looking to have even more fun with the Quest 2 will love the games I have detailed below.
Best Oculus Quest 2 Games
The list below will also tell you some details about the best Oculus Quest 2. However, if you want to see if your desired game is here or not, use the table below to do so.
Best Quest 2 VR Games (2022)
So without further ado, let's begin talking about the best Quest 2 games. However, do remember that you will need one of these best VR headsets to play them.
1. Resident Evil 4 VR
Exclusive to the Oculus Quest 2, Resident Evil 4 VR is a complete redesign of the PC port that left gamers entertained and terrified. Players assume the role of police officer Leon Scott Kennedy who is on a mission to find and rescue the U.S President's daughter. Leon's search leads him to an unnamed small yet eerie village in Spain. Leon however, quickly runs into the Los Illuminados, a cult responsible for kidnapping Ashley.
Resident Evil 4 VR follows along with the same story but instead has recreated the entire experience in VR. Instead of the old third-person perspective, players now get to put on their Quest 2 and experience the horror in the first person. Furthermore, all the movement and interaction options have been changed for Quest 2. So while using your controllers to move, you will need to use your hands to open doors to terrifying dungeons, dodge, duck with your body, and much more. As Leon in VR, you will also be responsible for using your own hands for firing and reloading your firearms with pinpoint accuracy. Miss a shot and it just might be your last one.
Get Resident Evil 4 VR ($39.99)
2. Population One
When making a list of the best of the best Quest 2 games, it's hardly possible to leave Population One behind. This multiplayer first-person shooter is a VR battle royale that lets players create squads and battle them out against others on a sprawling map. Population One also shares elements from other popular battle royale games like object building and intense gunplay.
However, the game also brings some amazing ones of its own including the ability to fly through the map easily and climb anything you see. There is also pulse-pounding action thrown into the mix. The gunplay itself is fun and actually convenient which adds to the game. Population One also supports crossplay so Quest 2 players can play this game with their best friends on Steam too. For Quest 2 gamers looking for the definitely battle royale, Population One is an easy pick.
Get Population One ($29.99)
3. The Climb 2
If the thrill of fighting the undead or flying off buildings is not your style, trade it for climbing mountains in Virtual Reality. Sequel to the ever-popular climbing game of the same name, Climb 2 is a game that you will get hooked onto. You are a climber given the opportunity to navigate your way through various maps. Besides chilling mountains, the scenery differs from location to location.
The Climb 2 features improved mechanics, even better graphics and also keeps the popular stamina system from its predecessor. And don't make the mistake of thinking it's easy. You'll find yourself sweating and racking your brain to clear some levels. To get an experience quite unlike daily life, consider the Climb 2.
Get The Climb 2 ($29.99)
4. Asgard's Wrath
Originally developed for the Oculus Rift, Asgard's Wrath is an action role-playing game with a heavy emphasis on graphics and level design. The main player becomes a Norse God diving deep into the Norse mythology. As a God, it will be the player's responsibility to guide various warriors to glory and fulfill their destiny.
Asgard's Wrath garnered immense love from the VR gaming community and was considered amazing. Even in 2022, this Oculus Quest 2 game holds up with its breathtaking visuals, immersive mechanics, and a well-woven campaign that spans over 30+ hours. However, do note that Asgard's Wrath is locked in the Rift store and must be bought and then streamed through your PC to play it on Quest 2. Players looking to jump through those hoops to get on this mythical train should definitely get it.
Get Asgard's Wrath ($39.99)
5. Smash Drums
You would think that it's impossible to drum your heart away while wearing a Quest 2 and you would be wrong. Smash Drums is a VR rhythm game that focuses on drums instead of virtual slashing. Instead of wielding swords, players are handed drumsticks represented by their controllers. Put inside different virtual environments, you must drum the beats away as they are played in various songs.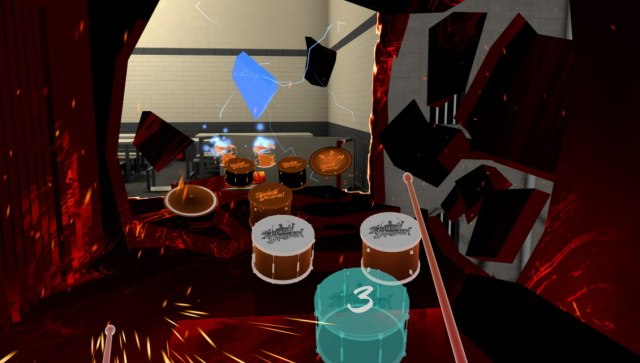 Smash Drums features over 36 different songs in different modes and they can even be amped up with modifiers for change. The environments themselves also vary and range from prison, a rock show to even the moon. Furthermore, if you're the sort of player to not play alone, Smash Drum even gives multiplayer arenas where 2-8 players can battle it out. To lose calories while drumming it to glory, check out Smash Drums on the Quest 2.
Get Smash Drums ($19.99)
6. The Room VR: A Dark Matter
The Room is one puzzle series that has been around for a long time. However, every mysterious puzzle game deserves even more immersion and this is where A Dark Matter steps in. Keeping in tradition with the Room series yet powered by Virtual Reality, A Dark Matter is a mysterious puzzle game that focuses on puzzle solving while entrapped in various environments. Like most VR games, players use the controllers to move around and interact with a plethora of objects in these puzzles.
The Room is famous for its puzzling nature and the Dark Matter follows suit. Almost every object on every level hides a mystery and players will need to use their wits to uncover it. The Room VR also utilizes Oculus Quest 2's amazing directional audio and features 3D sound effects combined with a haunting soundtrack. If you've been a long-standing fan of the Room Series, you will love Dark Matter.
Get The Room VR: A Dark Matter ($29.99)
7. A Township Tale
A Township Tale is a VR RPG game set on a calm and expansive map. Like RPGs, players are in charge of creating their own characters. The game offers a wide variety of customization so you can have your character look almost exactly like you. Once done, you're spawned into the map where you can go ahead and do a wide variety of things. Craft items and weapons, collect resources, and eat food or go all out fighting against other players, it's your choice.
As the main player, it's your duty to take this abandoned town and turn it into something great. You can don various roles including a Blacksmith, a Crafter, or even a warrior. Don't like playing alone? Why not pair up with other players and make your experience even more fun. While a Township Tale is a wholesome game, for the most part, it does have its share of monsters with combat so be careful stepping out at night in this game.
Get A Township Tale ($9.99)
8. Racket: Nx
The Oculus Quest 2 has its fair share of games that not only give you endless fun but end up sweating the player out. If you're part of the VR users looking to shed a kilo while having fun, one such game is Racket: Nx. Utilizing just a virtual racket and ball combined with a closed dome, Racket:Nx gives players an intense challenge. Once the game has begun, players must use their racket to make sure the ball hits specifics points inside the dome they are in.
While it might sound easy, the target spot slowly starts to disappear and must be hit before it runs out. Miss too many of these spots and your energy bar depletes and you lose. As levels progress and complications are added, levels in Racket: Nx get faster and faster. Play just enough and you might find yourself running out of breath after a few levels. Check out Racket: Nx and get sweating.
Get Racket: Nx ($19.99)
9. Into the Radius VR
PC gamers into apocalyptic games must already be aware of the Metro Series and how amazing it is at painting a haunting atmosphere. While not by the same devs of the game. Into the Radius VR is an adaption that comes extremely close to doing that. This single-player survival shooter puts the player smack dab in the middle of the Pechorsk Radius Zone.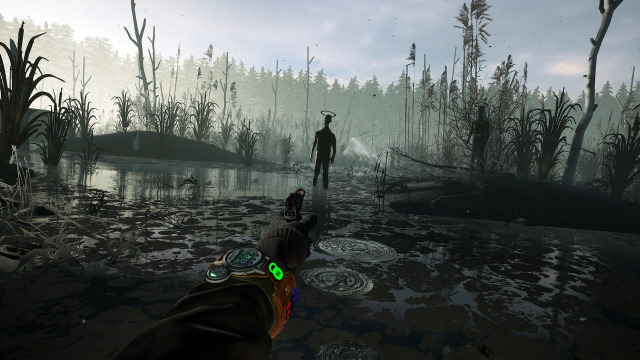 The Radius zone is filled with terrifying anomalies that are extremely dangerous to the main player. As the protagonist, it is your job to traverse this dangerous landscape and use anything at your disposal to survive. Raid abandoned houses, hide away from threats or go guns blazing, it's all on you. Into the Radius has received a lot of love from gamers and is on its way to becoming one of the best Quest 2 games.
Get Into the Radius ($14.99)
10. Richie's Plank Experience
Originally used by people trying to showcase the power of VR, Richie's Plank Experience is a short game or simply an experience you should try. This psychological experience lets players stand atop a plank on a building that is 80 stories high. As the player, it's your job to quite literally 'walk the plank'. However, do be careful since one slip and you fall down below.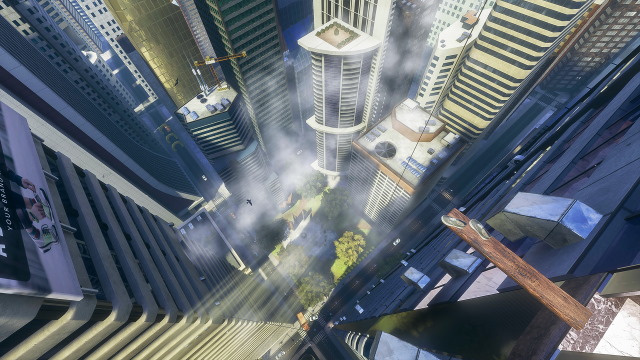 This VR game allows players to clone a real-life object into the game to use as a plank. So on the off chance, you have a wooden plank lying around, now's the time. There are also other modes including saving the cities from missiles, extinguishing fires around the city, or simply writing on the sky while being calm. However, do note that besides this, there isn't much to do here so don't expect too much from this VR game.
Get Richie's Plank Experience ($14.99)
11. Keep Talking and Nobody Explodes
Part of the game folks love to drink and play, Nobody Explodes is a two-player game wherein one party is given a bomb without the solution and vice versa. The catch? Neither can see the other and must co-operate to defuse this threat. Keep Talking and Nobody Explodes is a popular game that is even more fun in its VR version.
Playing this on Quest 2, players get to handle the bomb with their own hands and manipulate it. Operating the bomb opens up several tasks that you must perform with a partner who has a manual in front of them. One wrong step and the timer either speeds up or it just might explode.
Get Keep Talking and Nobody Explodes ($14.99)
12. OUTLIER
If you've read our previous article on the best VR games, you must be familiar with the fact that roguelike games are even in virtual reality. Outlier is another addition to that list. This adventure roguelike game is made by the same studio that worked on Stride VR. As such, Outlier is also based heavily on movement and gunplay combined with a good story.
This Quest 2 game is set in a world destroyed by aliens. As a captain of one of the last human arks, you notice parallel worlds existing in a potentially habitable solar system. It is now your job to defeat any enemies you encounter to make a world your home. Outlier features both FPS and RPG elements. As the player, you move around this world while battling aliens of all proportions. However do be careful since if you die, you'll be reliving it over and over again.
Get OUTLIER ($14.99)
13. Cosmodread
Speaking of roguelike games, Cosmodread is yet another one that is equal shades of terrifying and mysterious. Hosting a similar story to Dead Space, you're the main player stuck in a dying spaceship that is filled with nightmares. It is your job to make it back alive to earth while hiding or battling the otherworldly threats that lie in the darkness.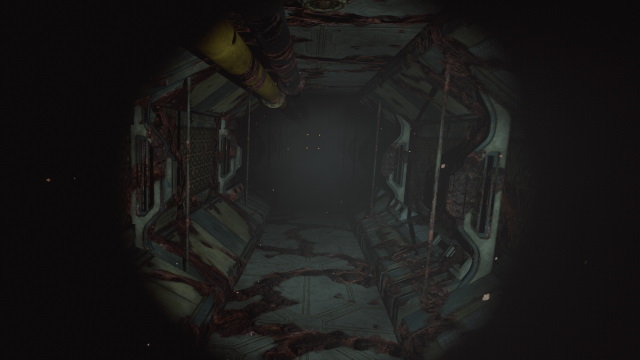 Cosmodread is definitely based on dread and features intensely dark levels with lightning conditions that will terrify you in VR. Combine that with an eerie soundtrack and effects that seem to peer from every corner, this Quest 2 game is not one you should play at night. Be sure to take ample breaks for this one.
Get Cosmodread ($14.99)
14. Demeo
Tabletop games hold a special place in our childish hearts. From acquiring various businesses on board to simply playing chess, there's a lot on offer. This is why it's all the more fun when some of that stuff comes into Quest 2. Demeo is one such tabletop VR game but comes with some amazing additions.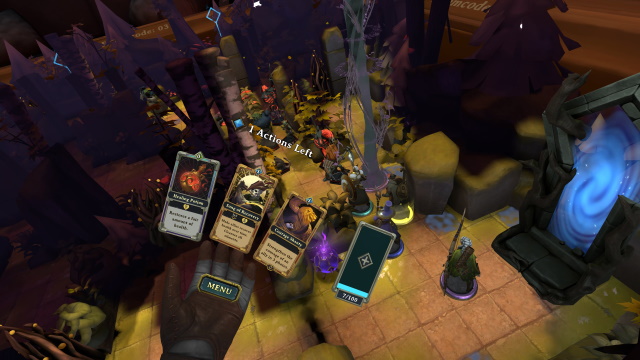 Going old style like DND, players get to choose from a variety of roles including hunter, sorcerer, assassin, guardian, or bard who each have their own unique abilities. As players, it is your duty to stop the eternal darkness that has befallen the land. Demeo is a tabletop dungeon crawling game that offers variety through turn-based gameplay. Roll dice the dice and play through a variety of table talks and treasure hunts. Or go on and party up with a band of friends to win together.
Get Demeo ($29.99)
15. I Expect You to Die 2
I Expect You to Die 2 is a much-loved sequel to the previous game. This escape-the-room VR game combines elements of roleplay and puzzle-solving as you play a Spy trying to stop world domination. Wielding the power of telekinesis, you must solve the various puzzles in brand new 6 story missions that make you travel around the world.
Besides the rich new story and improved mechanics, I Expect You to Die 2 features improved graphics combined with various other elements including more immersion, disguises, food, and a whole lot more. Make sure to put on your best disguise when you play this Quest 2 which is considered one of the best by many.
Get I Expect You to Die 2 ($24.99)
Enjoy Your Quest 2 with These Best Games
I hope you have fun while playing these best Quest 2 games on your headset. If you're interested in even more then check out these best VR games to have your fill. Don't know how to play SteamVR? Learn how to play Steam games on the Quest 2 here. You can also check out some of the best Oculus Quest 2 accessories. Got any more recommendations? Drop them in the comments below.
---
Load More