In the backdrop of ever-looming security threats for personal data, an extra layer of safeguard has become the need of the hour. So, the sooner you put on the shield, the better it's for your sensitive information. In what could be great news for iOS users who always prefer to go for extra measures to protect security and privacy, Google has updated the Smart Lock app to use iPhone as a security key; having already done the same favor to the Android 7+ devices last year. As compared to the two-factor authentication through codes sent via SMS, the security key is considered to be a lot safer. So, if you want to be on the safer side of the stream, let me show you how you can set up your iPhone as a security key for Google's 2FA!
Use Your iPhone as a Security Key for Google's 2FA
A bit more light on a new feature is always a better idea, especially when you are all set to brace it up, isn't it?
What's the Built-in Phone Security Key?
Google's built-in phone security key is different from Google Prompt (two-step verification), even though both sport the same UI. While the former is quite similar to a physical Lightning/USB-C key, the latter's push-based method is generally found in the company's Gmail or Search app.
Furthermore, the phone security key must be near (within the Bluetooth range) the device that's attempting to log in. Do note that it doesn't send the login prompt via the internet to ensure the login happens within a safe environment – away from the prying eyes.
So, How Does the Security Key Work on iOS?
Google is using Apple's "Secure Enclave" feature found on the A-series chips to turn iOS devices as a secure key for two-factor authentication. For those unfamiliar, Secure Enclave is a coprocessor of the iPhone's ARM CPU and takes care of all the cryptographic functionalities for authentication. Moreover, this security feature ( first launched on iPhone 5s) remains safeguarded even if the iOS kernel is hacked.
Is There Any Catch?
Yeah, there is a little catch. But I don't think it's going to be a dealbreaker for many users. For starters, you can use your iPhone as a security key for Google's 2FA only when signing in to Google with Chrome. That means you can't use it inside Apple Safari or other web browsers. Though I do find this limitation a tad disappointing, it won't prevent this feature from becoming very helpful considering how prevalent Google Chrome is across platforms.
Now that all the clouds are gone, let's get started with the quick steps!
Setting Up iOS Devices as Security Key for Google's 2FA
1. First and foremost, make sure you have the latest version of the Google Smart Lock app. If you haven't updated it as yet, do it now from the App Store -> Profile. For those who haven't got it as yet, head over to the App Store to download this free app right now.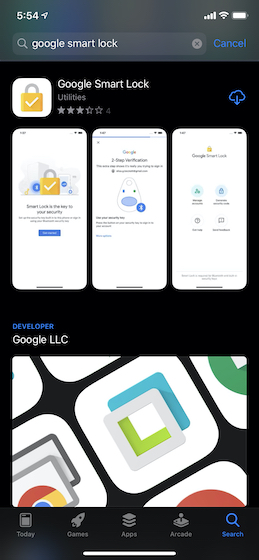 2. Now, open the Smart Lock app on your iPhone. Then, tap on the Get Started.
3. Next, the app will automatically pick up your Google account. Tap on Yes, I'm to confirm that you want to set up your phone as a built-in security key.
4. On the next screen, you will be asked to allow the app to access the Bluetooth so that it can communicate with other devices. Allow it.
5. Finally, verify your account by entering the password.
That's pretty much it!
Going forward, whenever you open Chrome on your computer or anywhere you want to sign in to your Google account, you will be asked to open Smart Lock on your nearby iPhone to confirm the sign-in. Confirm it to log in to your account securely.
Note: This feature requires Bluetooth to be enabled on both the iPhone and other devices where login attempt is being made. 
Use Your iOS Device As a Security Key for Google's 2FA
As someone who always prefers to have an extra cushion for personal data, I welcome this feature. During the testing, I found it quite reliable. The only thing that I would want to add to it is to break the limitation of working only with Google Chrome. What's your take on it? Share your valuable thoughts in the comments below.