We store a lot of our personal & sensitive data on our smartphones these days. Our phones carry various types of data including our personal photos, official documents, emails, messages and with certain apps installed, this data extends to passwords, bank details, and even your social security number. Therefore, it's utterly important that you secure your smartphone for any unauthorized access.
Back in the day, PIN, Pattern, and passwords were the only choices we had to secure our phones, but with the advent of technology, one can now use the fingerprint scanners as a biometric lock to secure a smartphone. While the fixed PIN and pattern lock has a lot of security loopholes, even fingerprint security is not as robust as you might think. Almost anyone can access your phone, if you are a deep sleeper!
To keep my phone secure, I used the TimePIN but it wasn't very secure, with the PINs only related to time. Moreover, the app stopped working after the Lollipop update arrived. However, we have found an all new app dubbed DroidLock, which is not only a TimePIN replacement but it also offers dynamic lock to secure your Android smartphone.
Installing and Configuring the App
The DroidLock app is currently in beta stage and you need to enrol yourself as a tester in their Google Plus Community to gain access to the app. It might take some time before you get enrolled to their beta channel but if you don't want to wait for it, you can download the APK from this mirror link and install the app. The only limitation of side loading the app is that you will not receive any future updates.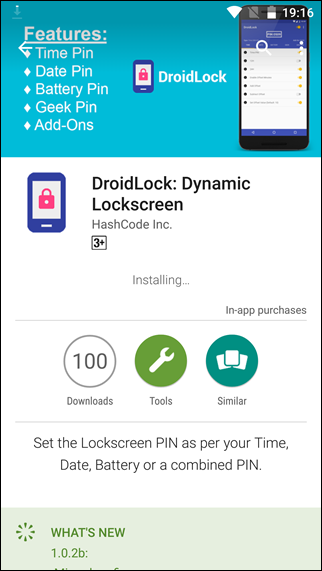 Once the app is installed, it will ask you to setup a default PIN, which will be used for the first time you open DroidLock and every time you reboot the device. This default PIN will also come to use if you enter the dynamic PIN wrong on the third attempt. You will also be asked to set up a security question and your email address, in case you forget the default PIN.
Finally, you will have to activate the app as device administrator for uninstall protection. After you are done, the DroidLock will be activated for use. Devices which are on Marshmallow and above will be prompted for additional permissions before the app is activated. Make sure you allow all these permissions for the app to work as desired.
Working With Time, Date and Battery Dynamic PIN
After you have activated the app using the toggle button at the top-right edge, the first thing you should explore is the Time, Battery and Date PIN. This is basic and pretty easy to use. The 12 Hours and 24 hours time will make your PIN dynamic as the time on the device is. For example, if the time is 01:23, your PIN will be 0123 or 1323 for 12 and 24h format respectively. Same goes for the default date and battery PIN.
You can also add an offset value to the PIN, if the default one seems very obvious to you. For the sake of simplicity, you will be shown the PIN right on the screen as soon as you enable any option or give an offset value.
Note: The basic features on DroidLock are free, but you will have to make an in-app purchase to enable advanced features like Offset, Geek PIN, and Add-Ons.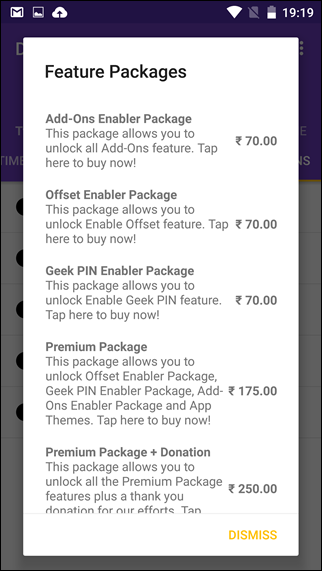 Geek Mode and Add-ons
This is where things start to get interesting, especially for the high-end users. Using the Geek PIN, you can combine any of the available components and form a combination and set it as the phone password. For example, you can make a PIN of the minutes combined with the battery percentage. You will have to click on the Set Geek PIN option and load the interface. Here you can tap on the option to make your dynamic PIN and then click on the check option to make it permanent.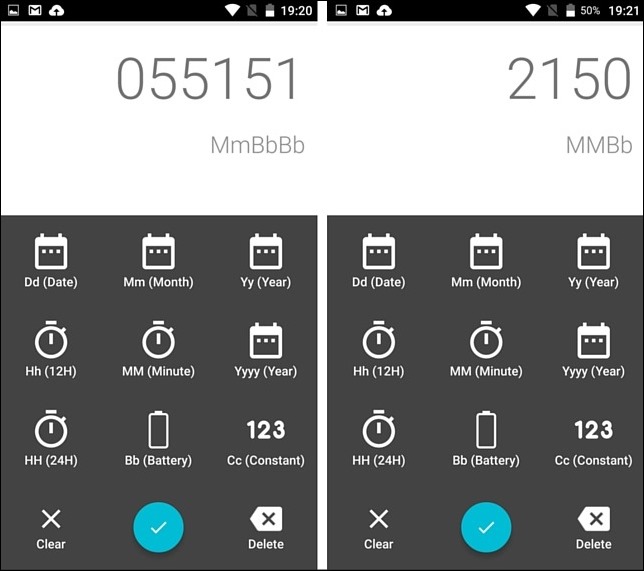 The Add-on packages can make your PIN a bit more complex using reverse PIN, Mirror PIN or Double PIN. For example, if you select "doubles the PIN on time lock" when time is 12:34, your PIN will be 12341234. You will be shown an example PIN on the DroidLock screen, which will make sure that your selections make more sense.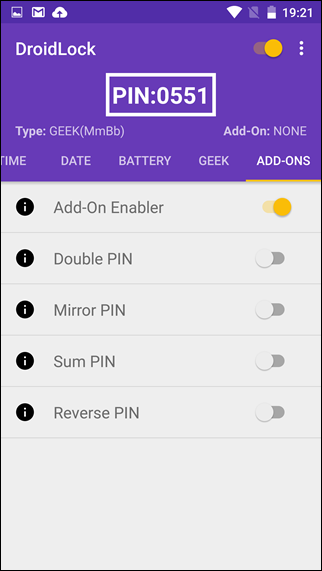 Note: Make sure to disable the fingerprint lock on your device if you really wish to secure your device using dynamic PIN.
When it comes to the app settings, there is nothing much to configure except changing the theme of the app, along with the master PIN and password retrieval fields.
SEE ALSO: 10 Best Android VPN Apps
My Thoughts on Dynamic PIN Lock
DroidLock is amazing when it comes to enhancing the security of your smartphone and without any doubt, it's better than the TimePIN app that I used a few months back. However, make sure that you don't setup a lengthy complicated PIN out of curiosity. Keep your PIN simple and change the offset value of time and date PIN, so as to keep things simple and secure.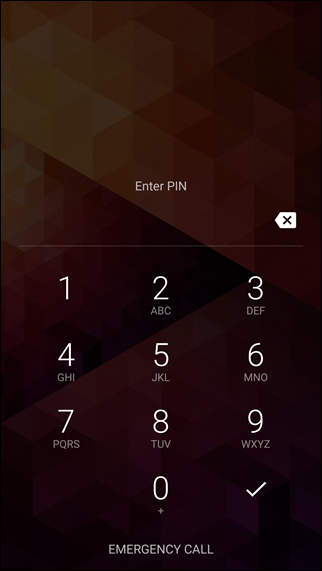 If you are using Geek PIN, enable only a few parameters and keep changing them from time to time. Just make sure you remember your master PIN all the time, as you will need it to open the app after every phone reboot. That's all from my side but I would love to hear your views regarding the app.