Two years ago, Apple entered the music streaming service race in order to compete against the likes of Spotify, Pandora, Google Play Music and even Amazon Music Unlimited, by announcing Apple Music. In a short span of time, the service managed to grab a good chunk of market share, thanks to the competitive pricing and availability to almost all major countries. So far, Apple offered 3 subscription plans for Apple Music: Individual, Family and Student Monthly plans, priced at Rs 120, 180 and 60 respectively. That being said, Apple just quietly introduced a new yearly subscription option for the Individual plan, priced at Rs. 1200, which is considerably less than what you'd pay if you were to subscribe to the Individual plan on a monthly basis. However, the yearly subscription option cannot be accessed directly, as it's buried inside your iTunes subscription settings. So, if you're interested in availing this plan, let's take a look at how to save Rs. 240 on your Apple Music subscription:
Purchasing Apple Music Yearly Subscription
First of all, make sure you've subscribed to one of the monthly plans Apple Music has to offer, before you proceed to the next steps. If you have, follow the steps below:
Note: If you are new to Apple Music, you should see the new yearly plan while you are signing up for the service. 
Go to Settings on your iOS device and get into "iTunes & App Store" settings. Now, tap on you Apple ID located at the top of the menu and then, tap on "View Apple ID".
Once done, tap on "Subscriptions" in the Account page, and here, tap on "Apple Music Membership" to move on to the last step.
Here, you'll notice that there is a new Individual yearly subscription plan listed, apart from the existing monthly plans. If you'd like to subscribe to this new plan and save some cash, tap on "Individual (1 Year)" and authorize the purchase using Touch ID or Apple ID password.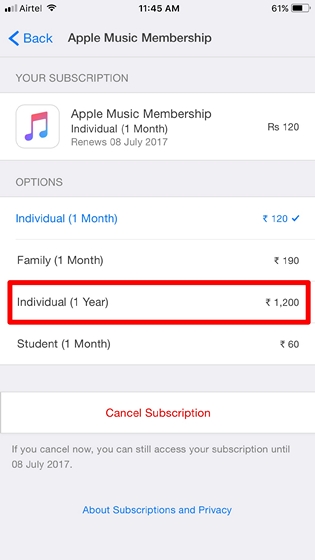 Well, that's pretty much all you got to do, in order to subscribe to Apple's latest yearly plan for the Apple Music.
                    SEE ALSO: How to Enable Hidden Dark Mode In iOS 11
More Value With Apple Music Yearly Subscription Plan
If you've already subscribed to the Individual monthly plan for Rs 120/month and enjoy using Apple Music, you could just switch to the yearly plan and save a considerable amount of cash, especially if you can afford to pay the entire amount beforehand. However, if you're short on cash, or you don't think you'll keep using Apple Music for the whole year, the monthly subscription will be the better option.
So, are you planning to switch to the yearly plan and subscribe to Apple Music for a whole year, or are you just going to stick to the existing monthly plans? Do let us know your thoughts, by simply dropping a few words in the comments section down below.