With Apple AirTag, finding misplaced devices or accessories like keys and wallets in the range of Bluetooth is a painless affair. Notably, Apple's item tracker comes with a smart feature called Precision Finding, which takes advantage of the U1 chip (available on iPhone 11 and iPhone 12 models) to easily locate lost items. But this hassle-free item tracking works only when your tagged item is within the Bluetooth range. Now, if the AirTag is out of the Bluetooth range, how do you find it? In this situation, you will need to put your AirTag in lost mode and rely on the Find My Network to locate your lost accessories. So, if you have lost an AirTag, here's what you need to do.
How to Put an AirTag in Lost Mode (May 2021)
Before getting started with the steps, let's cross out three fundamental questions!
What is Find My Network, and How Does It Work?
Find My Network is a crowdsourced network boasting millions of Apple devices that use Bluetooth wireless technology to locate lost devices or items nearby. Once the network finds the missing device, it reports its approximate location to the owner. As the Find My network is anonymous and encrypted, you shouldn't worry about your privacy.
What Happens When You Mark Your AirTag As Lost?
The Find My app not only lets you enable lost mode for your AirTag but also allows you to enter a phone number and custom message that will show up when someone finds the item tracker. Furthermore, you also get the option to enable the "Notify When Found" option to get an alert when you are in close proximity to the item.
After you mark your AirTag as lost, anyone who finds the item tracker can find your contact details easily. All they need to do is bring the AirTag close to an iPhone or NFC-equipped Android smartphone to go to a website URL containing your phone number and the lost message. Besides, you might also see the location of the device tracker relayed through someone else's device.
What If There are No Apple Devices in the Area Where AirTag is Located?
Even though Find My Network is vast, with nearly a billion Apple devices that could help locate a lost item, the fact of the matter is not everyone in the world uses Apple devices. So, what if your AirTag is not nearby, and unfortunately, there aren't any Apple devices in the area where the device tracker is located? In this scenario, the Find My network will only show where the AirTag was last seen on the map.
Hopefully, someone with an NFC-enabled Android device or an iPhone comes across your AirTag and helps get back the item tracker to you.
How to Mark an AirTag as Lost
Open the Find My app on your iPhone.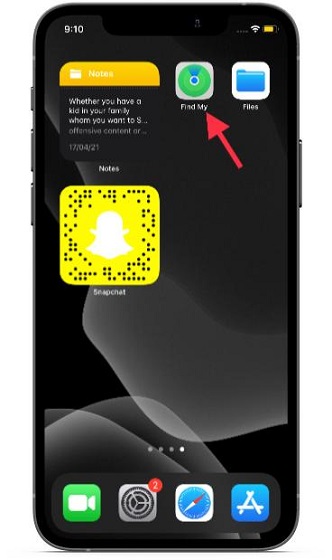 2. Now, tap on the Items tab at the bottom of the screen.
3. Next, select the AirTag that you want to put in lost mode.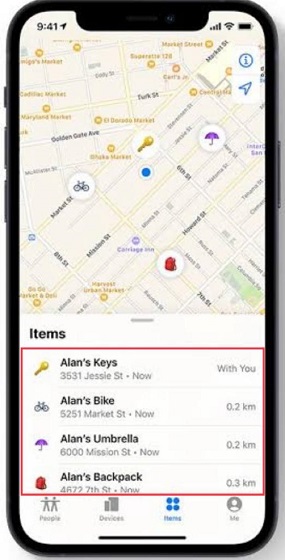 4. Next up, swipe up on the card to reveal the Lost Mode option. Then, tap on Enable option located right under the Lost Mode.
5. Up next, read the instructions and tap on Continue.
6. Then, enter your phone number. After that, tap on 'Next' at the top right corner of the screen.
7. After that, turn on the switch right next to Notify When Found. Besides, you also have the option to customize the lost message that will appear when someone finds your AirTag.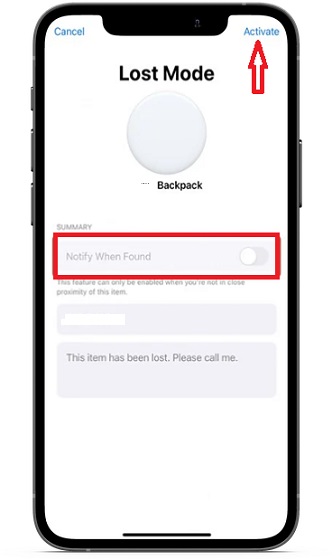 Bear in mind that you will be allowed to customize the message and activate the 'Notify When Found' option only if the device tracker is out of range. Finally, tap on Activate to confirm the action and enable Lost Mode for your AirTag.
Now, if someone finds your AirTag, they can bring the white side of the tracker close to an NFC capable iOS or Android device. An alert will then pop up on their screen and link them to a website URL featuring your lost message and phone number. You can follow our guide to learn how to contact a lost AirTag's owner or disable it. Additionally, you might also be able to view your AirTag's location relayed through someone else's device, courtesy of the Find My network.
What to Do If You Lose an AirTag: Easy Steps to Follow
Well, that's it! So, that's how you can put your AirTag in lost mode and take advantage of the Find My network to locate the item tracker. Now that you know how this well-thought-out feature works, we suggest you make the most of it to find lost AirTags. As the lost mode is available on all AirTag compatible devices, enabling it is always a straightforward task. So what's your take on AirTag, and how do you think it compares to other Bluetooth item trackers? Do share your thoughts in the comments below.
---
Load More