We have already talked at length about how you can live stream from a GoPro Hero 4 to Periscope, and while Twitter is a good platform, Facebook Live is much more widely used, and will probably allow you to connect to a wider, more personal audience. However, Facebook's app, unlike Periscope, does not support streaming from GoPro directly. If you do want to live stream to Facebook Live from a GoPro camera, don't sweat it, because we have you covered. Just read on to learn how you can use your GoPro camera to live stream on Facebook.
To live stream to Facebook from your GoPro, you will need the GoPro App, and an app called Live4, both of which are free. Also, we tested out this method using the GoPro Hero 4 but it should work fine with all recent GoPro cameras.
Pairing the GoPro with your Phone
You will have to follow the steps below to pair your GoPro with your phone. I'm using an iPhone, but all the steps will be same for Android as well, so follow along:
1. Launch the GoPro app on your phone, and tap on "Connect your Camera".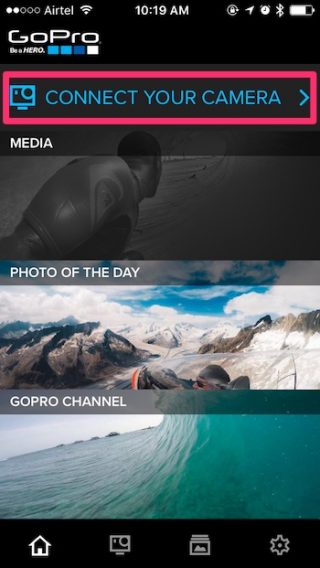 2. Select your camera from the list of GoPro cameras on the app.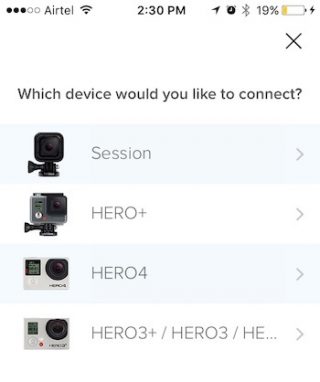 3. Follow the prompts on the screen to pair your GoPro with the phone app, and then connect your phone to the camera's WiFi. This will allow you to control your GoPro from the phone, and use it as a remote viewfinder, and more.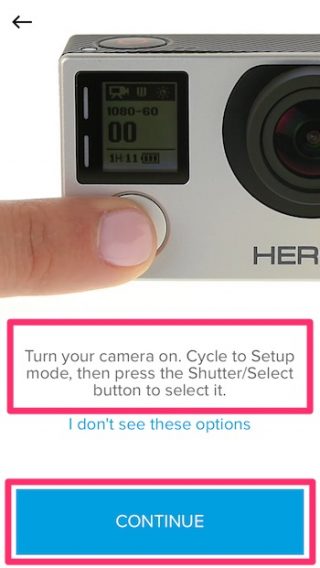 Live Streaming on Facebook using the Live4 App
Using the Live4 app is by far the easiest method to go live on Facebook from your GoPro, and it's completely free. So, here's how to use the Live4 app with your GoPro and stream live to Facebook:
1. Launch the Live4 app, and tap on the "+" icon in the bottom toolbar. Live4 will ask you to log in with your Twitter or Facebook ID. Choose Facebook, and authorize the application.
2. Live4 will then ask you for a couple of permissions, grant them. You will then be taken to the live streaming screen, with your phone's camera selected as the default. Tap on the option that says "GoPro" and Live4 will start taking the input from the GoPro camera, provided that you had paired your GoPro with your phone. The screen also has options to enter a title for your live stream, so that people can know what it's about before they begin to watch it.
3. Before you start live streaming, tap on the "f" icon on the bottom right, to enable "Facebook Sharing", and then you can start live streaming to Facebook. Your live stream will be available on Facebook, and people that are permitted to see your posts will be able to watch it.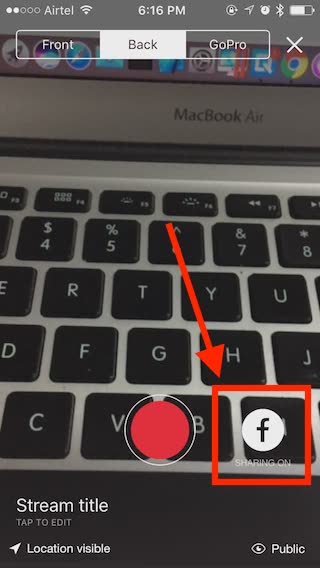 That's basically all you have to do in order to live stream on Facebook from a GoPro camera. When you're authorizing the app on Facebook, you can edit the information it receives, and you can also change the default audience that the live stream will go to, in order to ensure that only the people that you want your live stream to be visible to, are the ones who are able to watch it. There are some more customization options available on the Live4 app, including the ability to share (or not share) your location in the live stream, or to make the live stream "Public" or "Private".
Customize your Live4 Experience:
Apart from streaming live to Facebook, the Live4 app also streams your content live on its own network, where other people using the app are able to watch, like and comment on it. You can also watch live streams from other users by going to the home screen of the app, and tapping on the live stream that you wish to watch. The app's network is quite active, and chances are you will find someone or the other live on the app, no matter when you check it.
Live4 also saves your live streams as archives, so that you and others can watch it later. In case you want to delete your saved videos, you can simply tap on the icon on the bottom right on the toolbar, and swipe your video to the left to expose the delete option. Tap on this option to delete your video from the app.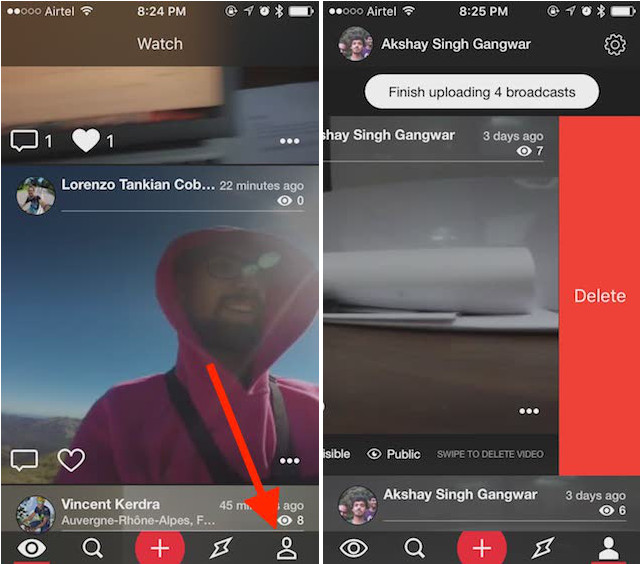 If you tap on the "gear icon" on the top right of the screen, you will be able to add auto tags to your live streams, get access to Live4's support and privacy policy, as well as log yourself out of your Facebook account. However, Live4 will not let you live stream unless you are logged in to either Facebook, or Twitter.
Check out our video on how to livestream on Facebook and Twitter using GoPro:
SEE ALSO: 10 Best GoPro Action Camera Alternatives
Get Online on Facebook Live from your GoPro Camera
Facebook Live is an excellent platform to connect with users, and your followers; or to build a following for yourself. Since Facebook made their Facebook Live API open to third-party developers, more and more apps are cropping up that allow people to live stream to Facebook, and for good reason. The Facebook community is very vibrant and active. If you had a GoPro and were wondering when you would be able to stream live from your GoPro to Facebook Live, you know now how you can do it. So go ahead and start streaming your adventures on Facebook Live from your GoPro.
We would like to know if you have ever live streamed from your GoPro, and how you did it? What apps did you try out, and what was your experience like? Let us know if you know of an app or a method to stream to Facebook Live from GoPro that we might have missed, and if you have any issues with using the apps that we mentioned in this article, feel free to drop us a line in the comment section below.