Ever wanted to hide apps from prying eyes? Well, we wouldn't be surprised if you have because there are a number of reasons to hide apps. For instance, you have a personal app installed on your device, say a dating app, which you don't want others to see. While you can always lock apps on Android, people still get to see the app and as we all know, the world can be pretty judgmental. So, if you have been thinking of ways to hide apps on Android, we have some good news for you.
While there's no native way on Android to hide apps from the app drawer and homescreen, there are other simple ways. So, without further ado, here's how you can hide apps on Android:
Use a third party launcher
There are a number of third party launchers that bring the ability to hide apps on Android. If you've been following us, you'd know that we are big fans of Nova Launcher and the good news is, the launcher does let you hide apps. However, the feature is only available in Nova Launcher Prime ($4.99). So, if you don't really want to pay to hide apps, you can use the Apex Launcher, which is another great launcher. So, here's how to hide apps using Apex Launcher:
1. Before you start hiding apps, you will first have to install Apex Launcher from the Play Store. After you are done, go to Android Settings->Home and set Apex Launcher as the default launcher.
2. Once done, go to Apex Settings->Drawer Settings->Hidden apps.
3. In the "Hidden Apps" page, check the apps you want to hide and tap "Save".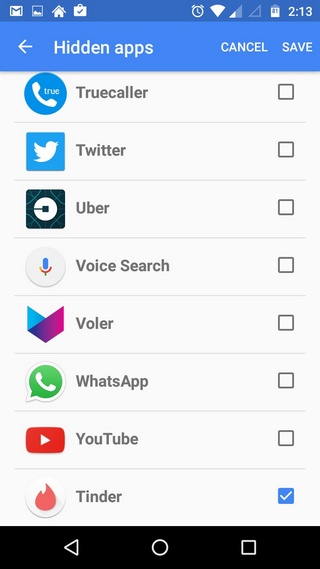 4. After you are done, you won't see the app in the app drawer. If you had the app's shortcut on the homescreen, you'll still find it there but you can easily remove it.
That's it! Hiding apps through the Apex Launcher is pretty easy, right? To access hidden apps, just do a Google Search and you should find the app.
Other than Apex and Nova Launcher, the ADW Launcher and Go Launcher too include the ability to hide apps. So, you can choose among the four launchers to hide apps on Android.
Use Parallel Space
Heard of the Parallel Space app? Well, you can thank us later. While Parallel Space is primarily known for its ability to let users run multiple iterations of a single app on Android, so that you can use multiple social media and gaming accounts. However, it also includes a cool "Incognito Installation" feature", which lets you install apps inside Parallel Space. Installing an app inside Parallel Space will make sure that the app is hidden from the homescreen or app drawer or anywhere else in the Android system. Moreover, Parallel Space comes with password security, so no one will be able to access it. Interested? Here's how to use Incognito Installation in Parallel Space:
1. You'll obviously have to install Parallel Space on your Android device first. Once installed, open the app and hit the second floating icon.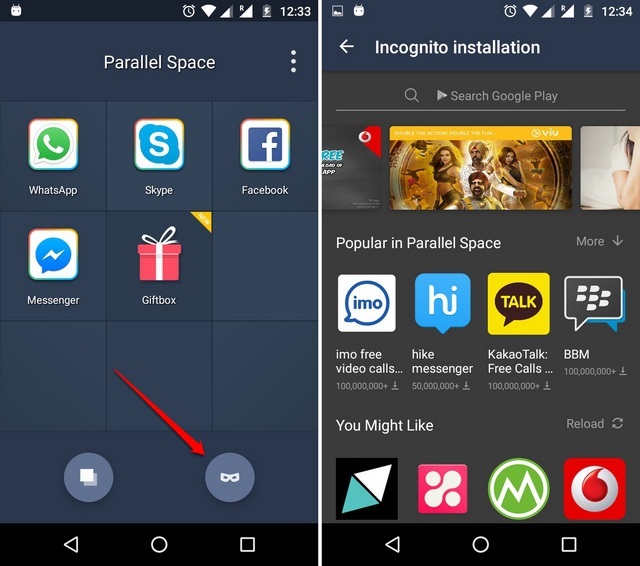 2. The "Incognito installation" page will open up, where you can search for an app to install or try one of the recommended apps from the Parallel Space. When your search is complete, tap the app you want to install.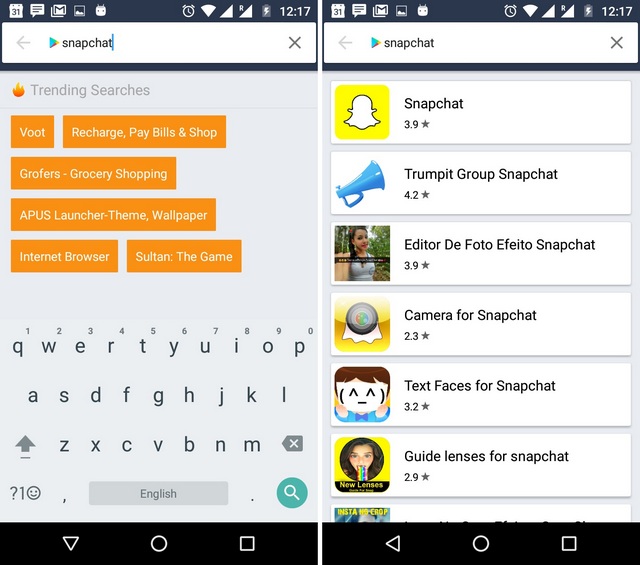 3. The Google Play Store will open up with the app you wanted to install. Hit the install button and wait for the app to be downloaded and installed.
4. After the app is installed on your device, it will be installed in Parallel Space.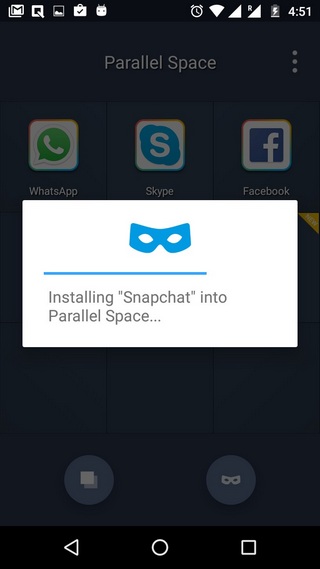 5. Then, the app will prompt you to uninstall the app you just installed from the homescreen to make the app only available through Parallel Space. No need to go to the homescreen though, as the app itself offers the "Uninstall" button. Tap on it to uninstall the app.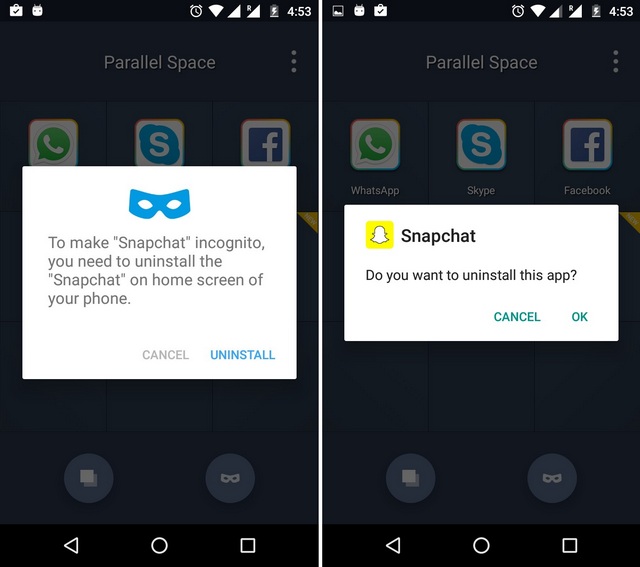 6. Then, you will no longer see the app you installed on your device. Instead, it will be only available through Parallel Space.
7. Once done, hit the three-dot menu button in the main page of the app and set a pattern password to make sure that the app cannot be accessed by anyone else.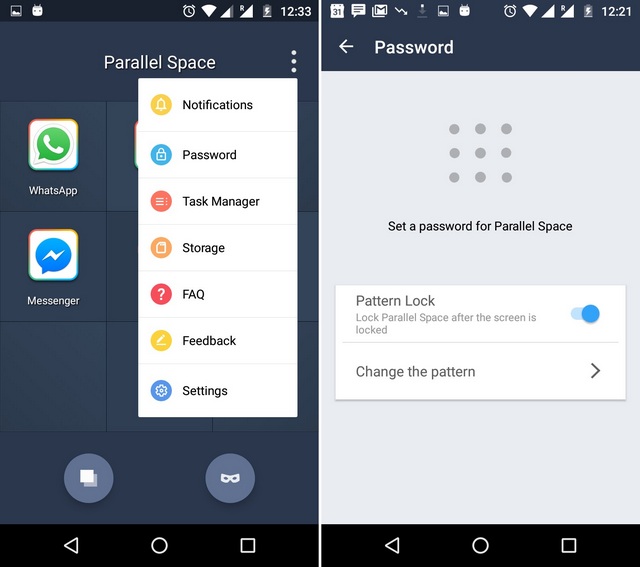 Use third party hider apps (Rooted devices)
If you don't want to install a third party launcher or you don't want to use Parallel Space, you can just install a hider app. However, these apps only bring the ability to hide apps on rooted devices. So, if you have a rooted device, here's how to hide apps using a third party app:
1. While there are a few apps that claim to bring the 'hide apps' feature, we like Hide Photos aka Hide It Pro aka Audio Manager because it just works! It's also popular as Audio Manager, because that's the name the app uses when it's installed to bluff people using your phone. In fact, when you open the app, you will be greeted with audio controls, however you can press hold on the "Audio Manager" heading, to open the actual app.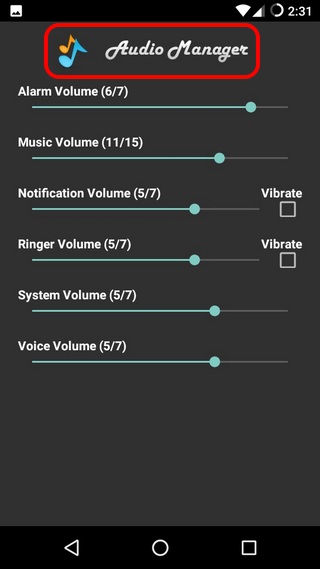 2. After you have installed it, the app will ask you to set a password or a pin along with a recovery email address, in case you forget the pin or password.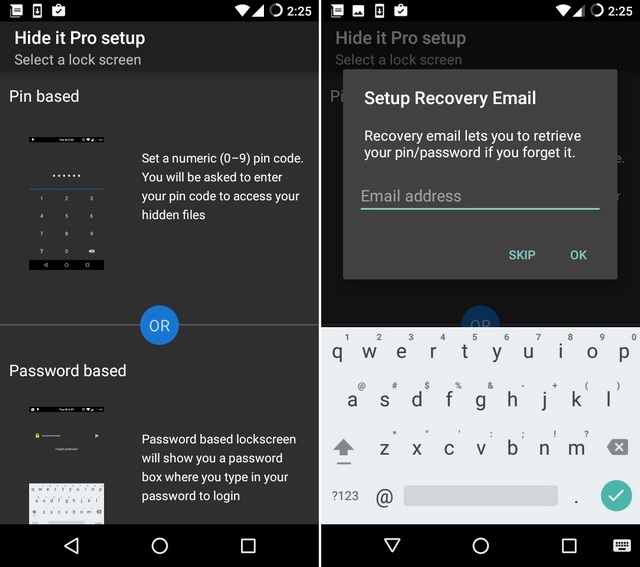 3. Once done, you will be presented with the app's main page, which features various options along with the "Hide Apps" icon. Tap on the "Hide Apps" option and you will be prompted for root access. Select "Ok" to move forward.
4. If you have a root manager app like SuperSU installed, it will prompt you to grant access to the Hide Photos app. Select "Grant", after which you will see the "Hidden Apps" page.
5. You can then swipe left to go to the "All apps" tab and tap on an app and select "Ok" to hide it.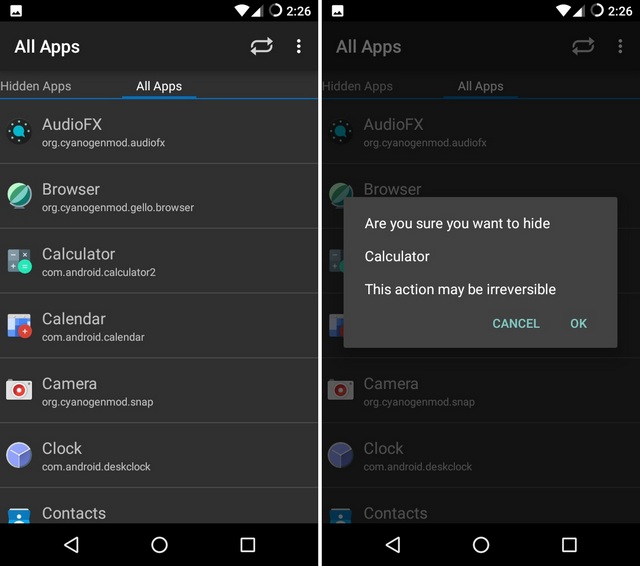 6. For instance, we hid the Calculator app and after it's done, you won't see the app anywhere in the system. You can access or unhide the app only through the Hide It Pro app.
Disable Apps
Chances are, you are already aware of the "disable apps" feature in Android but don't worry if you don't. While the feature does hide apps from everywhere, it also makes sure that you cannot access it. So, if you are only looking to hide apps, this is not the way to go.
However, if you are looking to remove bloatware, you can disable apps by going to Settings->Apps->App info. You can also check out our post on different ways to remove bloatware.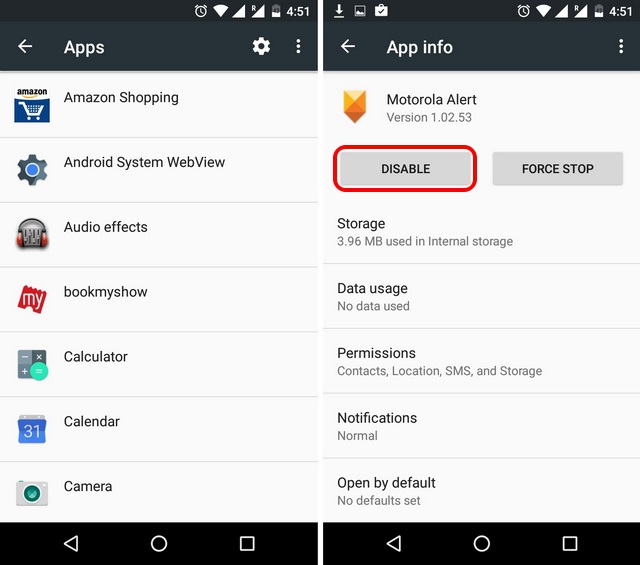 SEE ALSO: 9 Best Apps to Hide Photos and Videos on Android 
Watch our video on how to hide apps on Android for better understanding:-
Ready to hide apps on Android?
While we would love a native way to hide apps on Android, we are pleased that there are simple third party apps and launchers that let you do that. So, install a launcher or Parallel Space or a hider app, if you have a rooted device and hide apps with ease. Do let us know, if you have any doubts. Sound off in the comments section below.