A cool new feature on the OnePlus 5T lets you run multiple instances of the same app on your handset. Called 'Parallel Apps', the feature may be new to OnePlus devices, but it certainly isn't new to Android. Many vendors like Xiaomi, Honor, Vivo, Oppo etc. have been including this functionality in their devices for years, so if you've ever used any of these brands, you're probably already well-acquainted with the concept. Samsung has also introduced the feature as part of its Oreo update, so more and more Android users are now starting to get this important functionality out-of the-box. However, even if your phone doesn't support the feature natively, you can still get it with a neat little trick. So in case you're interested, here's how you can get the OnePlus 5T's Parallel Apps feature on your Android device.
Get OnePlus 5T Parallel Apps Feature on Your Android Phone
Note: There are multiple 3rd-party apps on the Play Store that claim to be able to clone installed apps, but for the purpose of this tutorial, I'm using a apps that I've used for years first on an LG handset and then on an Asus device. Goes without saying the app worked as advertised on both devices. For demonstration purposes, I'll be using Xiaomi's Mi A1 smartphone, which doesn't come with built-in 'Dual Apps' because it's a proprietary MIUI feature.
To start off, head over to the Play Store and download Parallel Space (Free). Fire up the app and tap on 'Start', which will then display all the apps on your device that can be cloned.
Up to nine such apps will be chosen by default, so be sure to carefully pick and choose only the ones you want. You can select or de-select apps by tapping on a particular slide within the parallel apps interface. As you can see, I've chosen to clone only Uber, WhatsApp and Gmail on my device, giving YouTube and Chrome a pass. Once you've chosen the apps you want to clone, just tap on "Add to Parallel Space".
The selected apps will now be displayed in a new 'Parallel Space' window. From here, you can tap on any of the app icons to sign in with a new account. You can add more apps (up to 9 in all) to your cloned collection by tapping on the 'Add App' tile. To access any of the the cloned apps henceforth, just fire up Parallel Space and choose the app you want to use.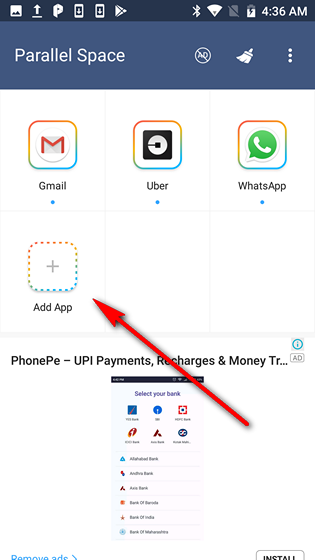 That's it, folks. You've successfully created cloned apps, which will now let you access more than one account on the same device. If you're talking about communication apps like Gmail, WhatsApp or Snapchat, this trick will let you keep your personal and business accounts separate, while using cloned Uber or Amazon accounts will fetch you separate offers and deals for each account, helping you save some $$$.
SEE ALSO: How to Get OnePlus 5T Face Unlock on Any Android Device
Use Multiple Instances of Same Apps on Any Android Smartphone
Parallel Apps is a great feature on the OnePlus 5T, but you don't really need to drop 33 grands ($499 in the US) just to be able to get that functionality on your smartphone. So now that you know this little trick, go ahead and use Parallel Space to run multiple instances of various apps on your device at once, and let us know about your experience, because we love hearing from you.
---
Load More