While many new features have been introduced in Android over the years, one feature that still hasn't made it is a native screen recorder. Android Q was supposed to have it and it did not make it in the final version and while Android 11 is all said to come with a screen recorder built in, it's an update that's still some months away. Now, you may argue that Android skins like OxygenOS, MIUI, RealmeUI, ColorOS, OneUI, all come with screen recorders with support for internal audio recording, different features, but it's important to note that older versions of these platforms don't have this feature. Plus, a lot of people look for third party screen recording apps on Android because they want higher resolution support, annotation features, support for front camera, better audio recording and more.  So, if you are someone who wants to record your Android smartphone's screen, here is a list of the 10 best screen recording apps for Android that you can try in 2020.
Best Android Screen Recorder Apps in 2020
1. Super Screen Recorder
Super Screen Recorder is a completely free yet powerful screen recorder for your Android devices. The app not only lets record what's going on your screen but also the audio associated with it. I also love that the recording icon offers seamless controls which are pretty easy to use. It even comes with a pain tool which allows you to mark areas on your screen while recording the screen. This feature makes it one of the best Android help video creation tools on the market.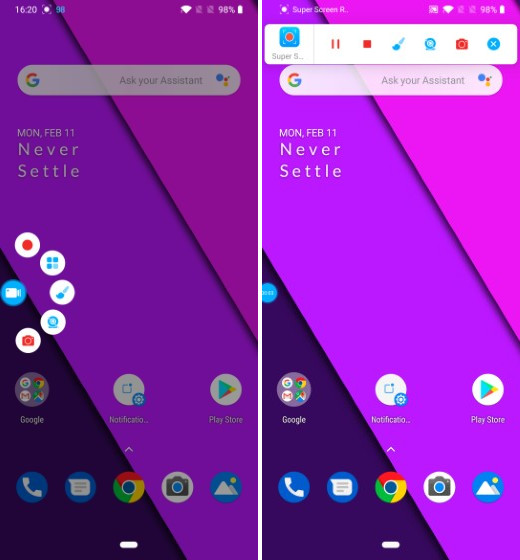 Once you dive into the settings of the app, you will also find that it gives you complete control over the quality of the recording. If you want to a smaller video file you can record the video in the 240p quality which is the lowest supported resolution. You can also go as high as 1080p. You can also change the bit rate and select anywhere between 1 to 12 Mbps, and you can change the FPS, with the lowest and highest FPS being 15 and 60 respectively. Overall, this is one of the best screen recording apps for Android and you should definitely check it out.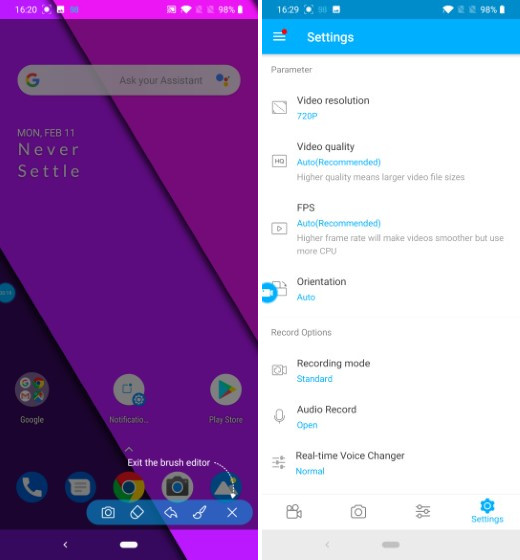 Install: (Free)
2. AZ Screen Recorder
AZ Screen Recorder is a well-known screen recorder for Android. You probably would have already heard of it. Like DU Recorder, AZ Screen Recorder provides a lot of settings for recording your phone's screen. The similarities include selection of resolution from 240p to 1080p, bit rate from 1 Mbps to 12 Mbps, frame rate from 24 FPS to 60 FPS, recording external audio and touches, and setting a countdown of up to 60 seconds. Apart from this, you can create a time-lapse video of your screen – ranging from 1/3rd speed to 3x speed. Finally, in the app's settings, you can configure multiple ways like shake and screen off to stop the recording.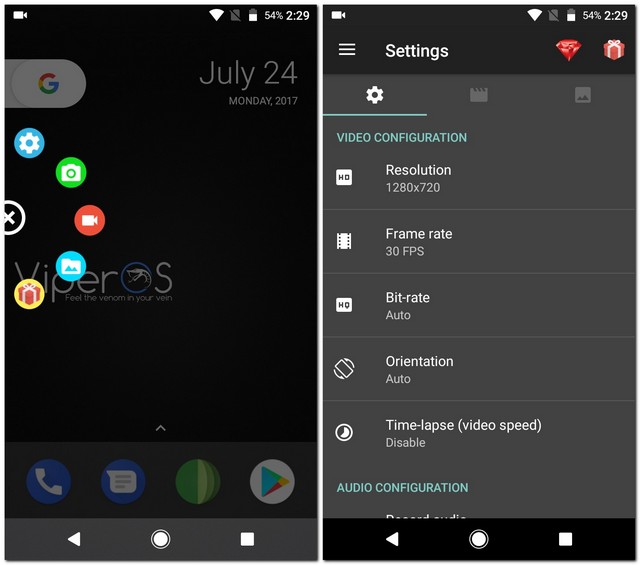 AZ Screen Recorder can be coupled with AZ Plugin 2 for features like compressing and merging videos, replacing the audio in the recording with a custom audio, adding text to videos, etc. There is a premium version available as well that can be bought as an in-app purchase to unlock all the features in an app. The added features that you get with the premium version include a magic button that can be used to pause/resume a screen recording, video trimming, removal of ads, input from the front-cam while screen recording, and exporting recordings as GIFs.
Install: (free with in-app purchases)
3. Screen Recorder
When it comes to the best screen recording apps for Android, I always suggest Scree Recorder. It is an ad-free screen recording app that offers many great features for free. To start off with the basic ones, it offers to record with a resolution from 240p to 1080p, bit rate from 2 Mbps to 15 Mbps, and frame rate from 24 FPS to 60 FPS. Like most other apps, it allows you to record touches and any external audio, along with an additional ability to let you choose its bit rate that can be set anything from 64 kbps to 320 kbps. Having said that, you can also choose from H264 and MPEG_4_SP video encoders for your recording.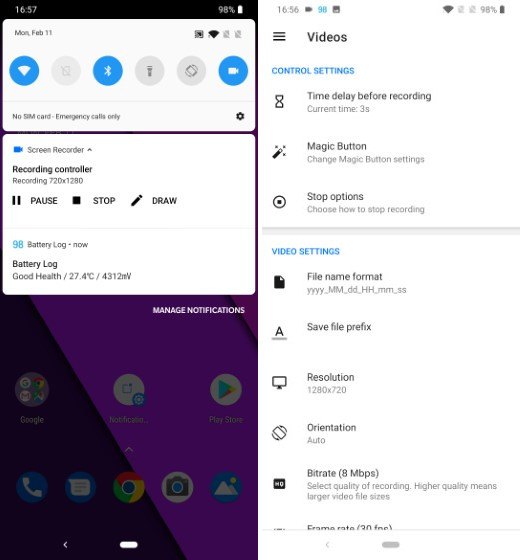 The app comes with a useful feature called "Game Launcher". Here, you can add the games that you have installed on your phone and then launch them directly to record their gameplay. To let you edit your recordings, you get a video trimmer within the app. In addition to this, you can add a text or a logo to your recordings and even schedule the built-in night mode that changes the background to black, making it easier on the eyes.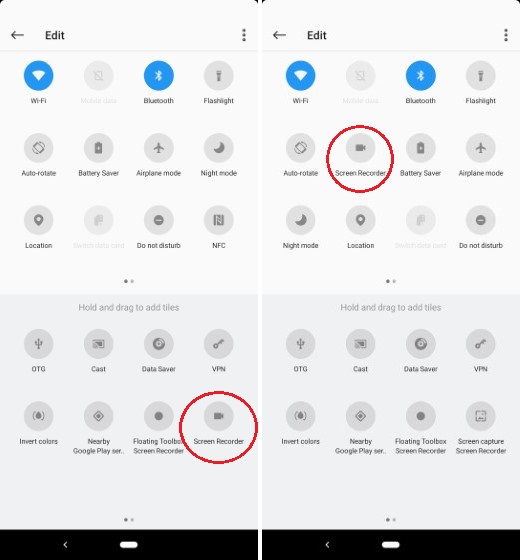 All this said, my favorite feature of the app is that it adds a toggle to quick settings panel allowing you to initiate screen recording with just a tap. All you need to to do is edit your quick settings page and drag and drop the icon from the extra field to the current field as shown in the picture below. Once you do that, all you need to do is to hit the record icon in the quick setting panel and it will start recording the screen. This feature alone makes it one of the best recording apps for Android on the Play Store.
Install: (free)
4. Mobizen Screen Recorder
Like most screen recording apps, Mobizen Screen Recorder offers many great features that make it worthy of being the primary screen recording app on your smartphone. With this app, you can choose any resolution from 240p – 1080p, bit rate from 0.5 Mbps to 12 Mbps, and frame rate from 5 FPS to 60 FPS. It may not come as a surprise to see options such as a video editor, touch recording, countdown and face cam as well.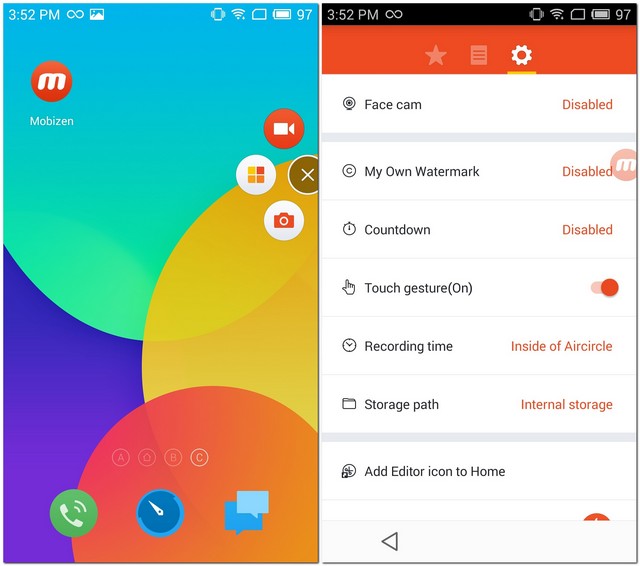 The app has a "Clean Recording" mode that, as you may have guessed, produces a recording without the watermark, air circle, and timer. When this mode is off, you can replace the Mobizen watermark with a custom one. Also, you can view the recording duration to keep a track of time. Though all the features of the app are free, you may often see ads within the app. These ads can be removed with an in-app purchase.
Note: This app works on devices produced by all manufacturers but Samsung. If you own a Samsung device, you can download this version of the app.
Install: (free with in-app purchases)
5. ADV Screen Recorder
ADV Screen Recorder bears a lot of similarity to AZ Screen Recorder, especially in its settings. It offers you to record your phone's screen with a resolution that can range from 240p to 720p, bit rate from 2 Mbps to 15 Mbps, and frame rate from 24 FPS to 60 FPS. The app also allows you to include touch gestures and add a countdown of 3 seconds before starting the screen recording, and record the external audio.
You can include an input from either of your phone's cameras along with the option to adjust the input's window size and opacity. The screen recordings captured using ADV Screen Recorder do not contain a watermark that you might be concerned about. Rather, if you wish to include a logo in your recording, this app allows you to do just that by selecting an image from your device. Finally, you can stop the recording either from the notification drawer or by turning the screen off.
Install: (free with in-app purchases)
6. Rec.
With Rec., you get a lot of customization options. Though the free version of the app offers only the basic features like custom resolution, custom bit rate, a predefined countdown timer of 10 seconds, and the option to include audio, most of the app's features can be made accessible by buying the pro version with an in-app purchase. Once you have the pro version, you can get access to advanced features like shaking your device to stop the recording, hiding the ongoing notification for the app, showing touches, customized timer, defining presets, and even an ad-free experience.
Install: (free with in-app purchases)
7. ScreenCam Screen Recorder
ScreenCam Screen Recorder is one of the very few screen recorders that lets you record a 1440p screen recording. In fact, the lowest resolution that it offers is 360p as compared to 240p that most other apps offer. With ScreenCam Screen Recorder, you choose a bit rate from 1 Mbps to 12 Mbps and a frame rate from 25 FPS to 60 FPS. The recordings that will be saved can be given a prefix name in the app's settings. To minimize the clutter in your recorded video, you can also change the size of the floating icon. Though the app does not support showing touch gestures, you can get that by buying this plugin that costs $0.99.
Install: (free)
8. Lollipop Screen Recorder
Though Lollipop Screen Recorder doesn't have many features to offer, it is a pretty sleek screen recording app. The resolution in which you can save your screen recordings range only from 360p to 720p while the bit rate ranges from 2 Mbps to 10 Mbps. You can set a countdown of up to 60 seconds before starting the recording.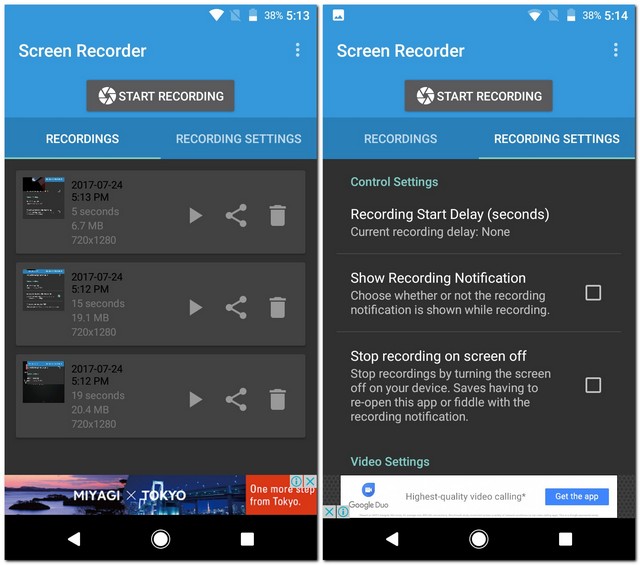 While recording, you'll see a recording notification that can be turned off in the app's settings. Lollipop Screen Recorder also offers some premium features like including the input from either of your phone's cameras. In the app's settings, you'll find an option that lets you adjust the camera input even while recording the screen. You can unlock these features by watching a small video clip. Note that this still does not remove the ads.
Install: (free)
9. Screen Recorder
Screen Recorder offers features no different from the other apps in this list. Having said that, what distinguishes it from the others is the frame rate and bit rate that it offers. Unlike most other apps, Screen Recorder allows you to record the screen with a frame rate from 15 FPS to 80 FPS and a bit rate from as low low as 512 Kbps to as high as 20 Mbps. In addition to this, you can record video and an external audio with a quality that can be set to anything from 32 kbps to 128 kbps.
The app also has a premium version that costs $1.49. To get this you'll have to buy a license for the app. This premium version removes the ads and restrictions and offers additional features like minimizing the app when the recording starts and adding a text banner in the recording.
Install: (free)
10. Google Play Games
Most of the Android devices already come with the Google Play Games pre-installed. In case your device didn't, I'd highly recommend you to download it. Though it may not allow you to record just about anything, it has a built-in feature that allows you to record the gameplay of any game available on the Play Store along with your face-cam. To record a game, search for the game in Google Play Games, tap on the recording icon, and then, select the video quality. You can choose from either 480p or 720p. Next, you'll be asked to launch the app after which you can start the recording.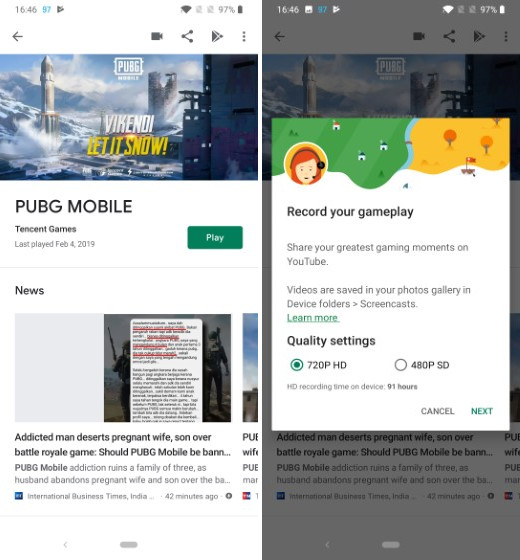 Install: (free)
Go Ahead and Use the Best Screen Recording Apps
While Android 11 should bring a native screen recorder, if you want to third party screen recorder app for Android in 2020, these are the best options you have and these are apps I have tested out and they all get the job done. So which screen recording app did you like the most? Do let me know in the comments section below. Also, don't forget to check out our picks for the best screen recording Chrome extensions. The are quite useful when you want to create and share a quick screen grab of your Chrome browser.