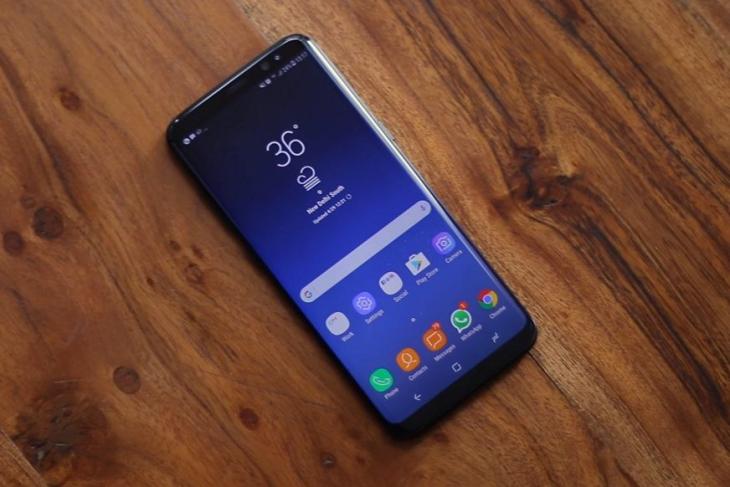 Samsung rolled out its Android Oreo beta update for Galaxy S8 and S8 Plus devices across the U.S, U.K, and South Korea about a week ago. The software update not only bumps up the Android version to 8.0 Oreo but also brings along Samsung's latest Experience 9.0 UI to Galaxy S8 and S8 Plus users who've signed up for the beta program.
The update does bring along most of the stock Oreo 8.0 features but the Korean giant has topped off the same with a handful of under-the-hood changes. We won't talk about stock Android features but the differentiating features Samsung added to its latest Experience 9.0 beta update. Here we go, check out all of the new features:
Samsung Experience 9.0 Features
1. Stacked Recent Apps List
Samsung is now providing you the option to choose between a card and stack type recent apps list view. Such a feature was previously present in TouchWiz and now seems to be getting a comeback with the Experience 9.0 update. If you find that scrolling through a list of cards is quite tiresome, you can choose the stacked view to make it easy to access recent apps.
2. Samsung Keyboard Gets An Overhaul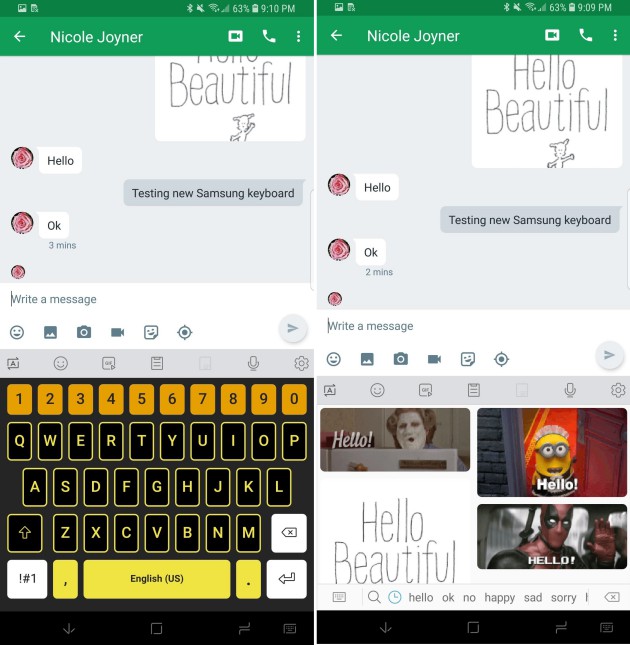 With the Experience 9.0 beta, Samsung has made several improvements to the keyboard performance as well. You'll now have four distinct high contrast modes and resizing options that will make using the keyboard much easier and more accurate. This update has added native GIF support and clipboard to the keyboard, meaning you may not need to install any third-party keyboard on your Galaxy S8 or Note 8.
3. New Edge Lighting Effects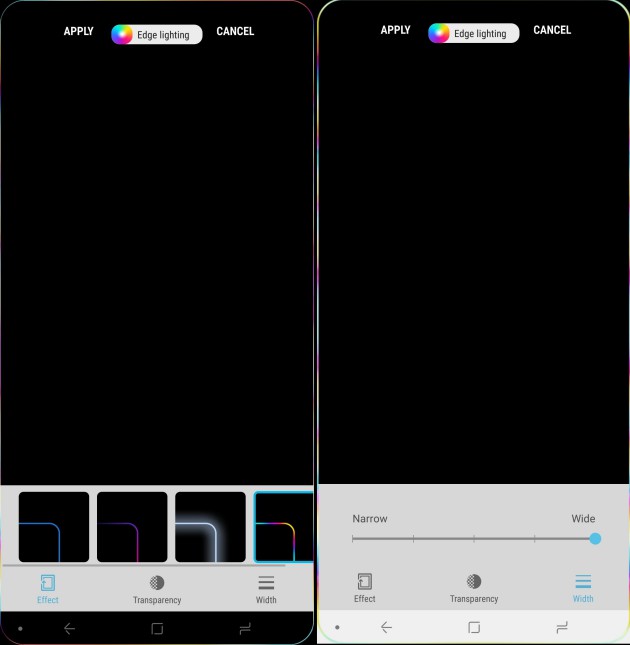 If you're unaware, Samsung allows you to take advantage of the curved-edge screen of the Galaxy S8 or S8 Plus by showing colored edges when a notification arrives. This feature has bagged new features with the Experience 9.0 beta update. You're now in control of the new lighting effects, width, and transparency of this alert feature. This is a simple feature but it points towards Samsung's attention to detail.
4. Lockscreen & Active Display Customizations
Samsung Galaxy S8's lockscreen can be said to be one of the highlights of the device as it manages notifications while changing the clock from vertical to horizontal placement when they arrive. The Experience 9.0 beta update sees the clock widget don the lockscreen's colors while also displaying the seconds, if that's what you prefer.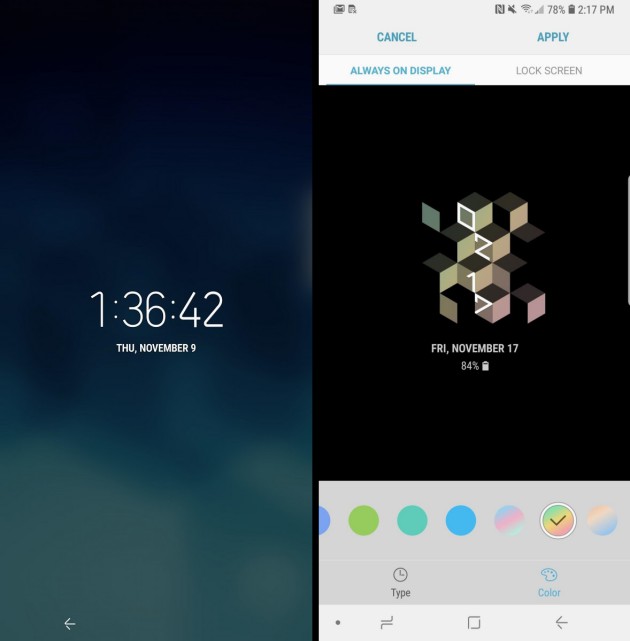 As for the active display, Samsung is now offering a handful of new clock layouts to help you differentiate your Galaxy S8 or S8 Plus from others. You also get a ton of new color options to make the always-on display even more customizable.
5. New Dual Messenger Capability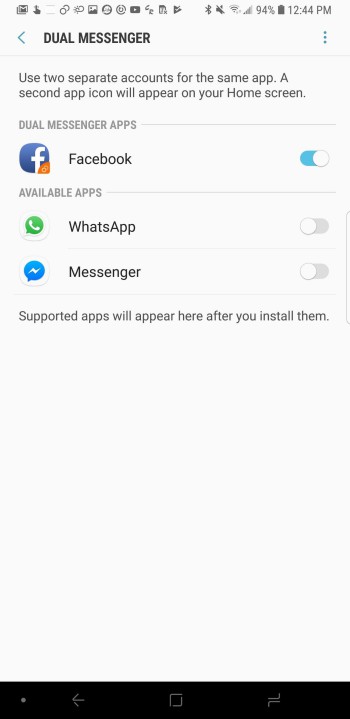 With Experience 9.0, Samsung is adding one of the most popular features on phones of Chinese hardware makers such as Xiaomi and Huawei. The dual apps feature, which has been renamed to Dual Messenger enables you to clone social apps on the Galaxy S8 or S8 Plus. It is currently limited to Facebook, Messenger, and WhatsApp but will extend to more apps in the official release. This feature would come in handy for dual-SIM Galaxy users outside the United States.
6. Custom Color Picker for Folders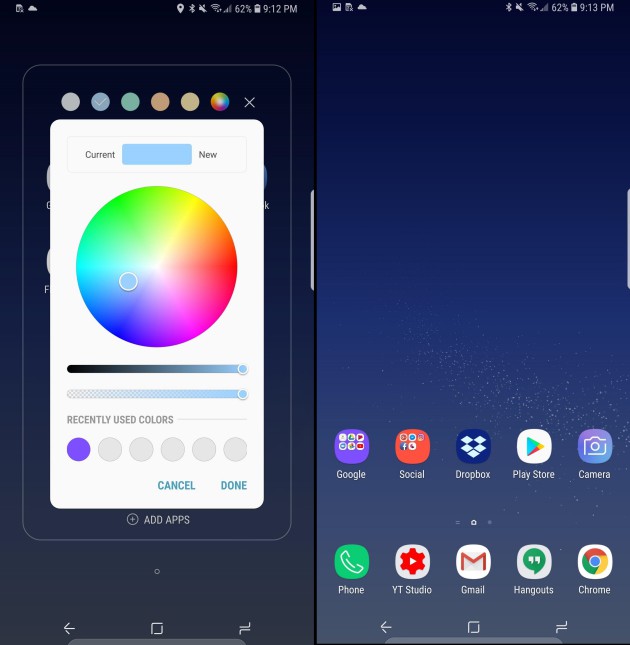 In the updated Samsung Experience 9.0, you can choose a custom color for your folders using the color picker (shown above). It enables you to demarcate folders and make the same stand out from others. The feature is theme-dependent and you may not be able to pick the color of your choice, except for black or white. It is only a minor aesthetic change that may be forgotten by users after a while.
No Project Treble Support With This Update
While Samsung is bringing most of Android Oreo's features to its flagship devices, it has decided to side-step Project Treble with the Oreo update. Project Treble, if you're unaware, is a modularized framework which aims to simplify the update delivery process for hardware makers. This doesn't mean the Korean giant will never adopt the framework, it is up to their discretion to make the changes in the coming updates.
SEE ALSO: Galaxy S8 Review: A Very Attractive Phone With Very Few Flaws
The biggest change that Samsung made with the S8 devices was their intuitive Experience UI that improved the clunky TouchWiz. It's now upgrading the said software features to be smarter, so it can adapt to the user's needs. Thus, we now have the Experience 9.0 update that'll further improve the user experience on flagship Galaxy devices. What do you think of these updates? Let us know in the comments down below.