Spotify – one of the leading music streaming services in the world – is unfortunately not available in India. And while it's beyond my understanding why they'd do this, the good news is that you can still use Spotify in India, and listen to the entire Spotify library. While you can easily install Spotify on Android through an APK file, the process on iOS is a bit more complicated. So, if you're in India, and are looking to download and use Spotify on your iPhone or iPad, here is how to download Spotify in India:
Creating a US Apple ID
The iTunes Store uses your Apple ID's region to decide which country's store is displayed on your iPhone. This means, that as long as you have an Apple ID with the region set to US, you should be able to access the US store, and download the apps available there. To create a new Apple ID for the US store, just follow the steps given below:
Note: Make sure you have access to an email ID that hasn't been used to create an Apple ID in the past. If you need, you can use a temporary email ID from services such as Teleosaurs. Just make sure you don't save your credit card info in such Apple IDs as these emails are relatively very easy to access. For a more secure alternative, try encrypted email services such as Tutanota.
Go to the Apple ID website, and click on "Create your Apple ID". Fill up all the details on the form, enter the captcha, and click on "Continue"
You'll receive a verification code from Apple, just enter it in the next screen, and click on "Continue".
Simply log in with your new email ID and password. You may be asked for your security questions, so make sure you have the answers ready.
Once you've completed these steps, you'll have an Apple ID that can make purchases (or downloads) from the US App Store. Let's move on.
Switch to US App Store and Download Spotify on iPhone
Now that you have a valid US based Apple ID, you just need to switch over to the US App Store on your iPhone, and you'll be able to download Spotify very easily. Just follow the steps below:
On your iPhone, go to the App Store, scroll down to the bottom, tap on your Apple ID, and then on "Sign Out".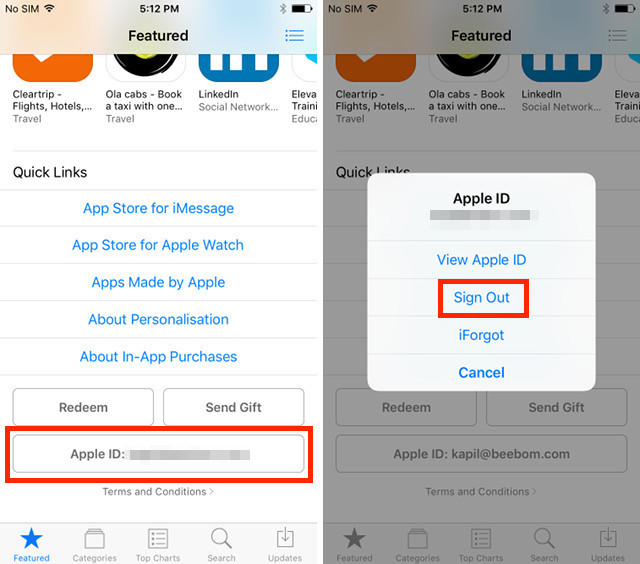 You can then log into your new Apple ID. You will be automatically switched over to the US store, since your Apple ID is US based.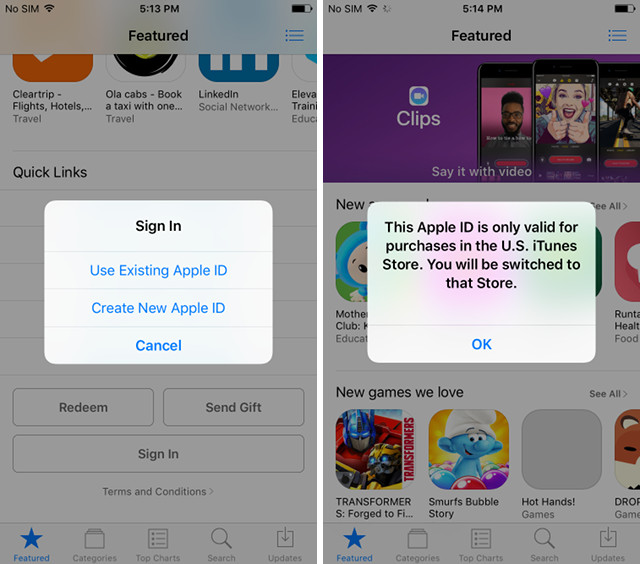 You can then use the search function in the App Store to look for Spotify (free).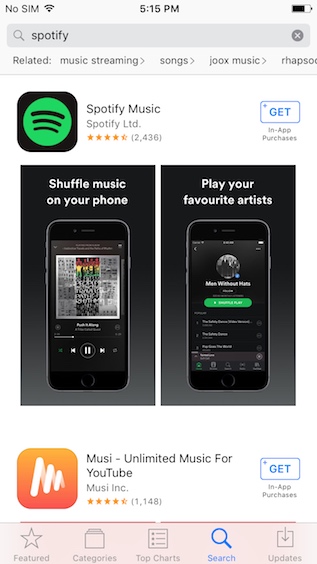 Once you've done that, you'll be able to download and use Spotify on your iPhone.
Using Spotify in India
Now that you've installed Spotify on your iPhone, it's time to set it up, and get it going. The process is actually quite simple. If you just want to use Spotify's free tier, you can simply launch the app and sign up. However, if you want to use Spotify Premium, you'll have to subscribe to their Premium plan, which requires a US based credit card. Fortunately, you can use a service like EntroPay (visit) to get a virtual US based debit card, and use that to sign up to Spotify Premium. It's not too complicated, and if you want to know how to use EntroPay, check out the EntroPay section in our article on setting up the Amazon Echo.
SEE ALSO: How to Get the Old Spotify Web Player Interface
Easily Download Spotify in India on iPhone or iPad
You can use this method to easily download Spotify in India, and enjoy your favourite music along with curated music from Spotify editors. Spotify is definitely a great way to discover new music, and enjoy the music you already know and love. While installing Spotify on iOS is not as straightforward as I would've liked, it's definitely not that tough, either.
So, what music streaming service are you using, and is it working out well for you? Also, share your thoughts on Spotify and Apple Music, and which one you prefer, in the comments section below.
---
Load More