If you are someone who has a hard time sleeping, listening to your favorite songs or podcasts on Spotify helps a lot. However, there's a high chance that you may doze off with the music streaming service playing all night. Your phone's battery backup will understandably take a bit of a hit. That is exactly where the Spotify sleep timer comes in handy. With this feature, you can choose to pause the music playback after a specific duration. So, if you want to learn how to use this feature on Spotify, here's a detailed guide.
Use Sleep Timer in Spotify Android & iOS App
The sleep timer feature only works with the Spotify Android and iOS mobile app. It does not work with the web or desktop apps. However, you can schedule your Mac or Windows PC's native display sleep time to act like this feature.
So, for those who use their phones to listen to music before bed, we have outlined the steps to set the sleep timer on the Spotify app. We're using the Android app for this demo, but the steps remain the same on iPhone as well.
Head to the Spotify app and play the song that you want to listen to.
Now, on the Now Playing screen, tap on the three-dot menu at the top-right corner.
In the pop-up menu that opens, scroll down to find the sleep timer option. Tap on it.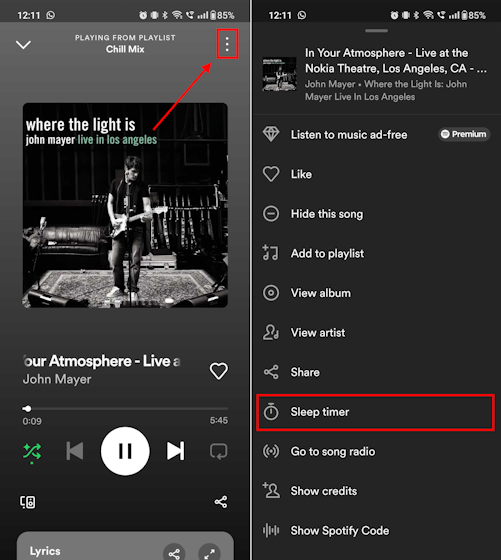 Next, select your desired sleep timer duration. You can select a duration anywhere from 5 minutes to 1 hour. You can also choose to pause the playback at the "end of track," as shown below.
Once you select the duration, you will see a small confirmation message saying that your sleep timer has been set.
With that, you have successfully learned how to set a sleep timer and save battery juice while you're asleep. Moreover, if it takes you longer to fall asleep, you could simply repeat the steps to extend the timer or turn it off.
Spotify recently removed a lot of free features for its Indian users, and fortunately, the sleep timer is not one of them. Although the feature is very convenient, it would be great to see the option to set a custom duration. This will allow people who can't fall asleep within an hour to have more control over the timer instead of having to constantly extend it.
Do let us know in the comments down below if you found this guide to be helpful. Meanwhile, if your Spotify web player is not working and acting up, follow our linked guide. Moreover, make your Spotify n-gen Art if you want to show off your musical tastes to others.
Frequently Asked Questions
Q. How long has Spotify had a sleep timer?
Spotify introduced the sleep timer feature back in 2019. Android users received it first, and later on, iOS users got it as well.
Q. Does Spotify sleep timer turn off your phone?
No, the Spotify sleep timer only stops the music so that your phone doesn't end up playing music all night.
Q. Does Spotify sleep timer stop music?
Yes, the sleep timer feature is to stop your music after a specific duration. You can choose to stop the music after 5 minutes, 10 minutes, 15 minutes, 30 minutes, 45 minutes, or an hour. In addition, you can also choose to stop the music after the particular track ends.
---
Load More