Let's face it: It's increasingly impossible to live with just 16 GB of storage on mobile devices. The iPhone is no exception and while Apple may have finally upgraded the base model to 32 GB, there are already enough users constantly battling for storage on their 16 GB devices. Temporary files, application caches and other junk data can easily accumulate and occupy a substantial amount of space on your already "low-on-space" iPhone. To make the matter worse, Apple doesn't even offer a simplified way for users to clean up the junk files on their iPhone. Don't fret, because today I'll be showing you how to clear cache in iOS 10:
Clear Cache on iPhone (Non-Jailbroken Devices)
1. Using a Companion PC/Mac app
There are various file managers that let you browse your iPhone's files on your Windows system or Mac. Most file managers software come with a junk cleaning tool of some sort. Once such tool I've come across is iMyFone (free trial).
After you've downloaded iMyFone, just connect your iPhone via the lightning cable to your Windows or Mac. On the first run, you'll get a prompt on your iPhone similar to as shown below: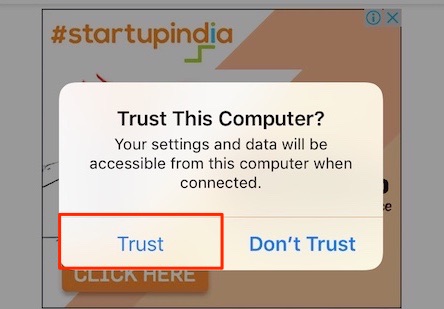 Tap on "Trust". Now, your iPhone's data will be accessible from the connected computer. Now, go to iMyFone's "free up space" section, and begin scanning. After few minutes of scanning, it'll let you know the amount of cache that can be cleared on your iPhone. It can clear junk files, temporary files and application data cache.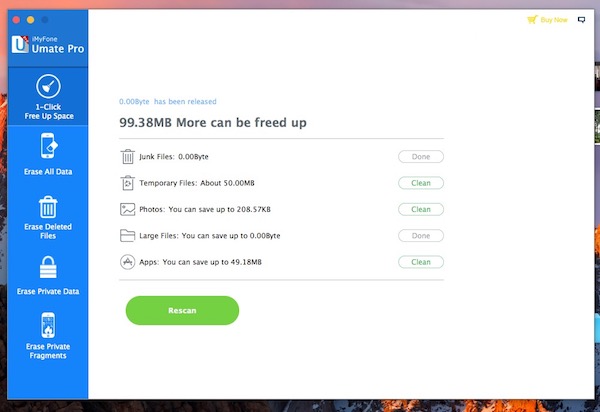 Please note that it is free to try but comes with limitations on the number of times you can clear junk files. The full version will set you back for about $19.95.
2. Using Third Party Apps
Note: This method doesn't seem to work currently, but you should consider keeping an eye on it.
Various developers have sneaked in the cache clearing functionality inside their apps. But, of course, as Apple takes notice, the functionality is removed in subsequent updates. One such app available on the App Store is "Battery Doctor" (free). The app's primary use is to show battery consumption and other related data, but the developer occasionally manages to sneak in a "Junk clear" option. If you're lucky enough, you can get the app either before Apple manages to pull the app or the developer himself removes the functionality. I had grabbed "Battery Doctor" a while ago and have the "Junk" option as shown below: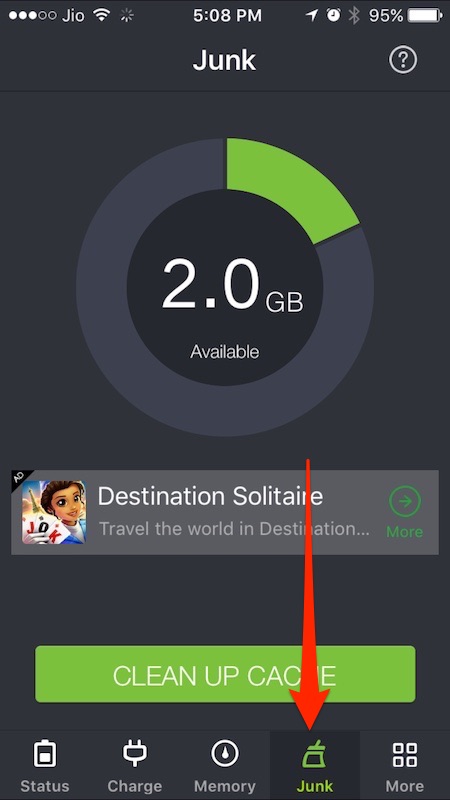 The app doesn't seem to work right now, but you get my point: Keep an eye in the future for such apps. Of course, if you stay connected with Beebom, we'll let you know when one such news breaks!
3. Reinstall Apps
This may be one of the most inconvenient solutions, but the only one that Apple officially approves of. If you want to clear the cache of an installed app, say Instagram or Facebook, you can just uninstall and reinstall that app. To uninstall an app, long tap on the app icon until the icons start wiggling and tap on the cross icon.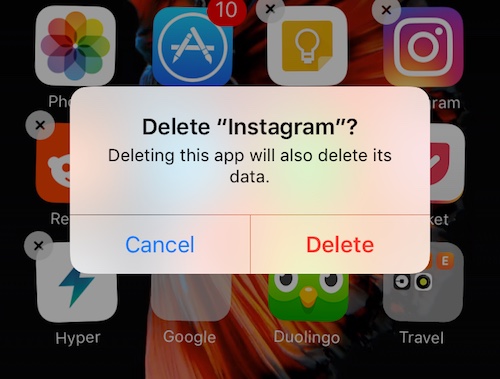 Deleting the app deletes the cache and other data it may be storing. You can re-download the app from the App Store. Of course, this is extremely inconvenient because you have to clear cache for an individual app and also, all the data is deleted and you need to log in again.
Pro tip: These days, more and more apps are including an option to delete app cache right inside the app. Dive into the app settings to see whether an app supports it. Dropbox and Twitter for iOS are the two big names that have added such an option in the latest updates.
Clear Cache on iPhone (Jailbroken Devices)
If you've jailbroken your iPhone, there are various jailbreak tweaks that let you clear cache and free up space:
CacheClearer
One such free tweak that I've personally tested is CacheClearer. CacheClearer enables you to clear cache on a per-app basis without going through the hassle of reinstalling apps. It adds an option to clear cache right into the app settings, so it almost feels kind of like a native option.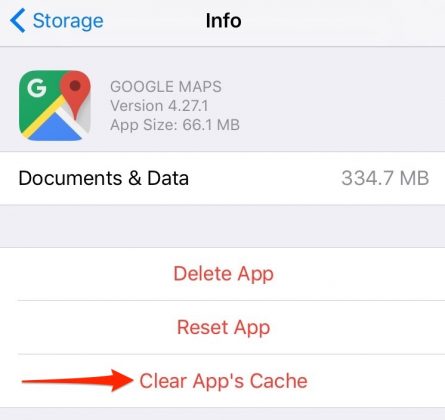 To use it, just add the Cydia source "http://rpetri.ch/repo/" and download CacheClearer. If you are new to this jailbreaking thing and do not know how to add jailbreak tweaks, I recommend you to read our beginners guide to Cydia.
2. iCleaner
If you're looking to download a stand-alone app, try iCleaner. It clears Safari cache, message attachments, temporary files and cache by all other applications all in one tap.
To use it, add this source to Cydia: "https://ib-soft.net" and then download it.There's a free version available and the pro version enables integration with third party plugins and enables 3D Touch specific features on iPhone 6s or newer.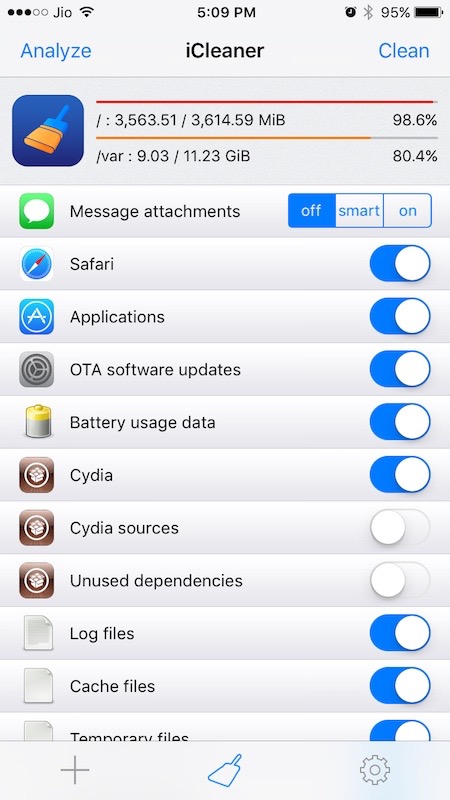 SEE ALSO: 15 Ways to Free Memory When Your iPhone Storage is Full
Clear Cache in iOS 10 Using These Ways
I really hope that Apple adds a global option to clear the cache of installed apps. That way, developers will not need to play the cat and mouse game to hide such features in their existing apps. Until then, you can use any of these aforementioned options to clear cache on your iPhone.
So, use the tricks mentioned above and let me know if they worked well for you. Also, if you've another tip to clear cache on your iPhone, share it with our fellow readers in the comment section below.