When you buy an iPhone, you are not just buying a mobile phone, you are also buying a promise of quality and support from Apple. Our iPhones keep us connected, informed, and entertained, making them indispensable companions. But have you ever wondered about the warranty of your iPhone? Understanding your iPhone's warranty status is essential, whether you are troubleshooting issues, upgrading your device, or simply curious about its coverage. So, let's learn how to check iPhone warranty status.
1. Check iPhone Warranty Status Through Settings
If your iPhone is running on iOS 16.4 or later, you can visit the iPhone's settings app to view coverage information of your iPhone and all the Apple devices that have been paired with it. Here's how to go about it:
Open the Settings app and tap on General.
In the General settings menu, tap the About option to view your iPhone's information.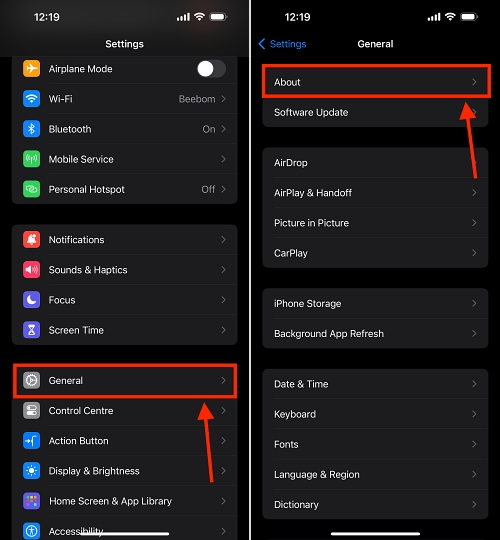 Here, tap the Coverage option to view the warranty status of your iPhone.
Now, tap your iPhone's name, and you will know the warranty details.
Here you will be able to see the expiration date of any remaining warranty, including coverage details such as Hardware Service and Chat & Phone Support.
2. Check iPhone Warranty Using the Apple Support App
The Apple Support app (Download, Free) is designed to help users troubleshoot issues with their products and services. You can get personalized assistance for devices like iPhones, iPads, Macs, and more. Apart from all these proven services, you can also use the app to check your iPhone's warranty status. Here's how:
Open the Apple Support app and log in with your Apple ID.
Tap your iPhone Name under the "My Devices" section.
Here, tap the Device Details option under your iPhone's model name.
Then, you will see your Coverage Info on the next page. You will learn whether your iPhone is under warranty or if the coverage has expired here.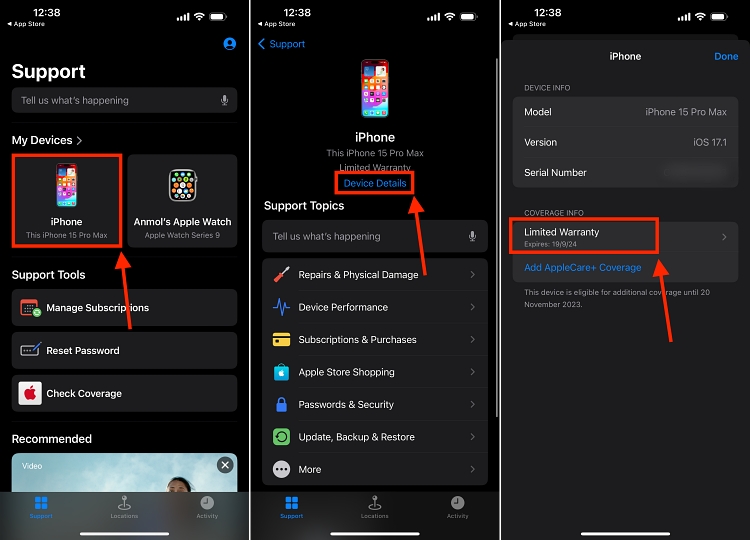 3. Check iPhone Warranty via Coverage Website
Apple's "Check Coverage" website is a one-stop destination where you can check your iPhone's and other Apple products' warranty status. All you need to do is enter your iPhone's serial number, and you will be able to view the warranty information, Apple Care eligibility (with lower iPhone 15 back glass replacement costs), extended warranty services, and whether it is still covered for repairs and service. Here is how it works:
Go to Apple's check coverage website in your preferred web browser.
Now, enter your iPhone's Serial Number, fill out the Captcha code, and click submit.
Note: You can find your iPhone's serial number by visiting Settings -> General -> About on your iPhone.
Here, you can see whether your iPhone is under warranty or if the coverage has expired.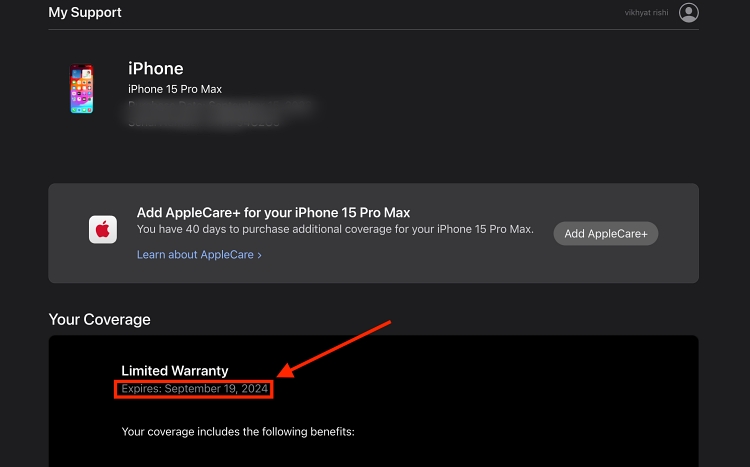 4. Check iPhone Warranty Status via the Support Website
Visit the Apple My Support website and sign in using the same Apple ID as your iPhone.
Here, select the iPhone whose warranty details you want to check.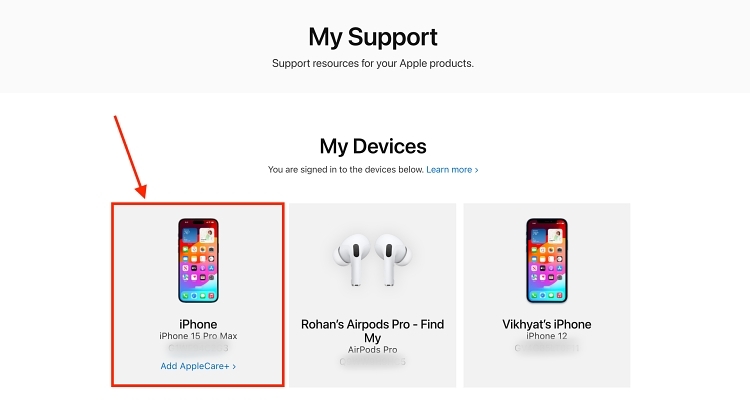 Now, scroll down to the Repair and Services Coverage section, and you will get the Estimated Expiration Date of the warranty on your iPhone.
So, these are all the methods to check the warranty status of your iPhone. By staying aware of your device's warranty status, you ensure you are prepared for unforeseen circumstances. Knowing the warranty coverage can save you time, money, and unnecessary stress, whether it's a hardware malfunction or a battery replacement.
Frequently Asked Questions
How long is the iPhone's official warranty?
All Apple-branded hardware products and accessories come with a one-year limited warranty against defects in materials & workmanship when used normally per Apple's published guidelines.
How do I claim my Apple warranty?
To claim the warranty on your Apple product, you can contact Apple customer support online or visit your nearest Apple-authorized service center.
---
Load More