Google previously had its QuickOffice app on Android to take care of creating and editing documents but the search giant recently shut down QuickOffice. While Google Drive and Docs have been here since a long time, it was only recently that Google Slides made its way to the Play Store.
Google Slides is a PowerPoint rival and it lets you create, edit and share presentations. As with every other Google app, Google Slides is available for free on the Google Play Store.  We've heard a lot of good things about the app, so let's check out in our review, if it's indeed another great app from Google.
Features
Google Slides not only lets you edit presentations made on the app itself but you can also edit PowerPoint presentations and any other service on the web. Now, this feature is a big win for people who want to edit a PowerPoint document on their Android smartphone or tablet. You can open, edit and save Microsoft Powerpoint files.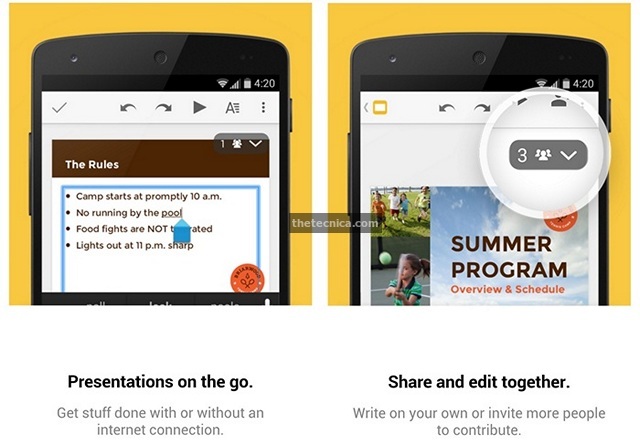 The app brings the ability to share presentations with your friends and colleagues. You can also choose to edit the same presentation with your friends at the same time. The collaboration features are a big win, considering everyone's got atleast one Android device these days. With Google Slides, you'll have various format options while you're editing a file. You can add slides, rearrange them accordingly and more.
Google Slides automatically saves your file as you type, so you don't have to worry about losing anything. You can keep working on your presentations even without an internet connection as well.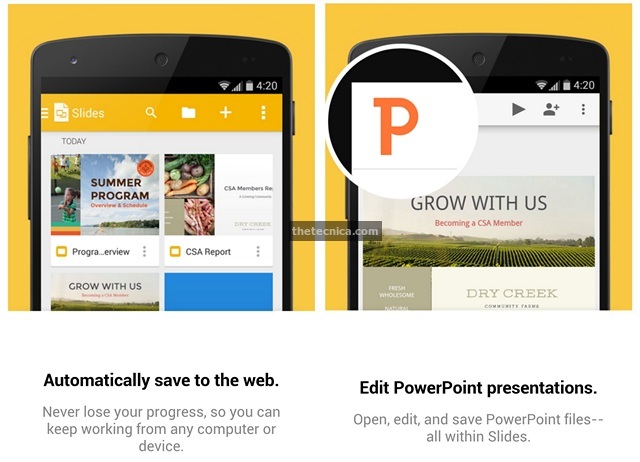 Overall, the feature list of Google Slides is simple and pleasing. It's a great slide creating, editing and sharing app and as with every Google product, Google Slides gets the work done in an easy and simple manner.
While the layman would not find anything missing with the app, we surely would have liked Google to pack-in more features. The app does not bring the ability to directly showcase a presentation on a PC, Chromecast support to cast slides on to a bigger screen would have been nice. The app also does not let you present your slides in offline mode. There's no option to add pictures, videos in the slide.
Since, Google Slides is a fairly new app, the missing features aren't really a surprise. Google is quick to bring updates to its apps, so we can expect Google Slides to get better with time but if you're looking for a good slide editor on your Android device, Google Slides might might get the job done pretty well.
User Interface and Working
Google Slides was recently updated with Android L's Material Design UI and we sure love it. The main page of the features a floating add button to create a new slide along with all the documents you have on your phone and Google Drive. On the top right, there're three buttons for search, list or grid view and a button to open a file from either the Google Drive or the device storage.
A right swipe from the main page or a tap on the top right button brings you options to see all the slides, slides that you've starred, slides on your device, Settings, Help and Feedback and Google Drive. The settings lets you change the cache size for the files and you can choose to clear all the cached files as well. You can enable encryption, enable creation of files in other formats and more. The Google Drive option takes you to the Drive app or asks you to install it if you don't have it on your device. You can choose not to install it if that's what you want.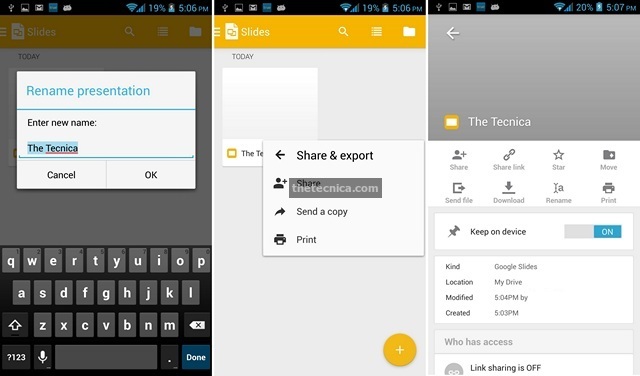 You can also remove, rename, move documents to Drive and check out document details right from the main page. On hitting details, you will see if the file is starred, you can move, download and rename the file. You can also check who you're sharing the file with.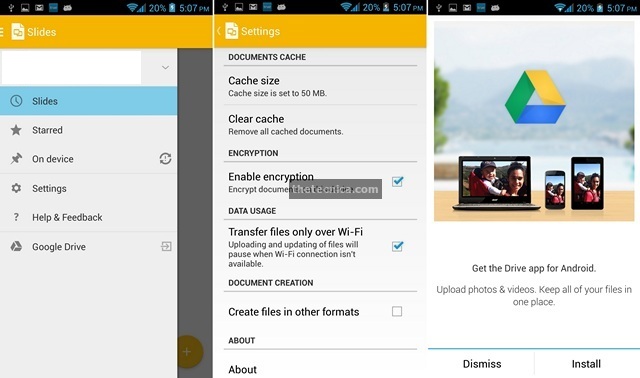 When you add a new document, you'll be able to get to the new slide with spaces for title and subtitle. You can double tap to add the title and the subtitle. You'll be able to see all the slides you have in the document on the bar below. You can new slides in the document from the corner right button of the below bar. You can choose from different templates while adding a new slide.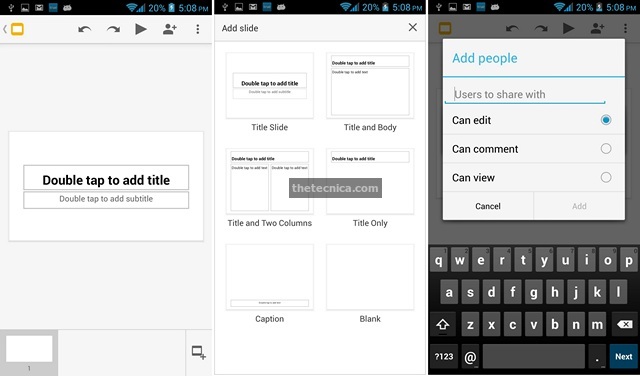 On the top bar, there's an undo and a redo button along with a play slide button. There's also a button to share the document with people you want. You can choose how much access you want to give to these people. You can let them edit the slides, or you can allow them to comment on them or only view the  document. There's also the three dot menu button, which features the options for speaker notes, share and export, details and Help & Feedback. The speaker notes lets you see the speaker notes of the slide or hide them. There's ability to share and export the document, you can share, send a copy, save the document as a Powerpoint file and print the document.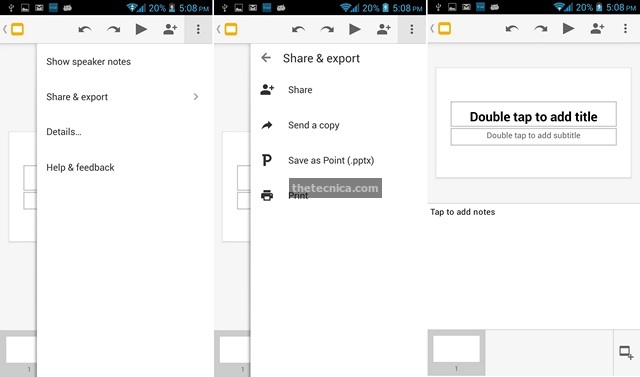 When you are editing text in the document, you'll see a format button on the top bar instead of the play slides button. There are three types when you format text, font, paragraph and shape. The font tab shows you the options for bold, italic, underline, strike. You can also choose the font and although the popular fonts are here, we would have loved more. You can change the text size, color and highlight the text with different colors.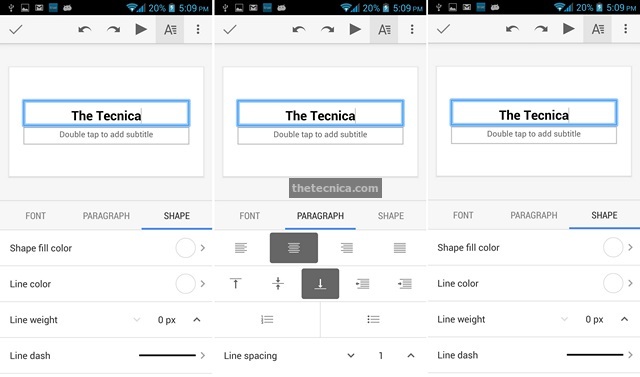 The paragraph tab lets you choose the alignment, add bullet and number lists and change the line spacing. The shape tab features options for shape fill colors, you can choose between basic colors, preset themes or custom colors and likewise for the line color as well. there are also options to edit the line weight and add a line dash of your choice.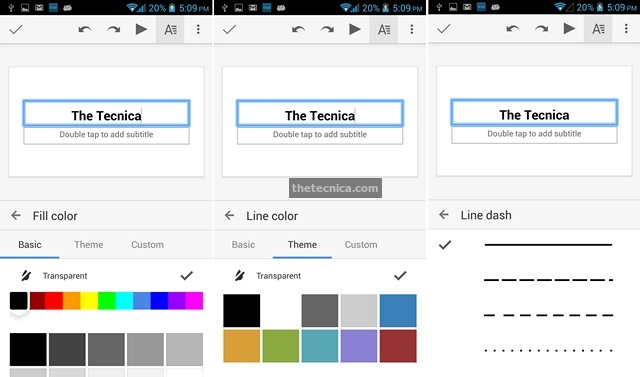 We are pleased with the user interface. The new Material Design UI makes it beautiful and we're sure once Android L arrives, the whole interface will look even more pretty. The user interface is surely up to Google's standards but we would have liked some features up front and not so buried inside menus.
Ease of Use
The performance of the Google Slides is great mostly, as you would expect from a Google app but there are a few stutters sometimes. The app crashed on some occasions on our device and we were a bit irritated by that. We don't know if the issue is only on our devices or for everyone. Other than the crashes, the app works a bit slow while loading documents from the Google Drive if you don't have a speedy internet connection and at times, the app feels a little sluggish.
We would certainly like the app to work better when offline. While the app certainly works fine, the experience could have been better and we're pretty sure Google is working on fixing the issues with it.
Recommended: Google Keep, Note Taking Android App from Google Review
Conclusion
Google Slides is a good presentation creator and editor app and it should please people who have been wanting a good Powerpoint and presentation editor on their Android devices. It gets the work done and it's a simple app for simple presentations.
The app lacks a bit in the features department and the performance isn't really that great. Since the app is fairly new and budding, we'd like to think Google is working on ironing things out. Overall, if you want a good presentation editor and creator app for simple needs, Google Slides should be good enough. You should definitely give it a try. Check out the app by hitting the Play Store link below and tell us, how you like the app.
Google Slides – Google Play Store