Back in 2012 when Apple launched its own mapping service in iOS 6, everyone thought Google Maps had finally got a real challenger. Some even went on to say that Apple's brand new navigation platform would take away the lion's share from Google Maps. But what seemed to be a grand launch turned out to be a mere flash in the pan as Apple Maps turned out to be a half-baked project. Fast forward to now, things seem to have changed drastically to the point where Apple Maps feels like a real contender. Hence, a Google Maps vs Apple Maps comparison makes sense to figure out which one is better. So, if you want to decide the one for you, here's a direct faceoff basis all the major fronts!
Google Maps vs Apple Maps: Which One is Better for You in 2022?
When you have two of the most feature-packed apps vying for the top spot, only a close look can offer better insight. To derive a fair conclusion, I have put Apple Maps against Google Maps on the basis of 6 most essential aspects:
User Interface: A key component that impacts the overall experience.
Navigation Efficiency: A look at how well it facilitates navigation.
Accuracy: It all comes down to how precise the estimation is and how helpful the guide is.
Privacy: These days it's become hard to judge a product/service without giving enough spotlight on privacy.
Supported Platforms: Why would you line up for something that doesn't support your device?
Stand Out Features: A look into the unique features that separate the two of the most popular navigation apps in the world.
Having set Apple Maps against Google Maps across 6 different categories, I have highlighted the pros and cons. After the detailed comparison, there's a verdict based on the findings. So, now that you have got the idea about how the duel will play out, let's jump right in!
A Look Back
At a time when phones were yet to get smarter, Google Maps arrived in 2005 with huge expectations. Initially, the app was available only for desktops as a solution to help people navigate different places. While the navigation app was nowhere near as feature-rich as it is today, it had a decent set of features including 3D buildings in major cities, 3D terrain showing mountains, video playback of driving directions, and an integrated Google Search.
Long before Apple Maps was launched in 2012 (iOS 6), Google Maps was the default mapping service for Apple operating systems. Apple introduced its own mapping service to not only counter the monopoly of Google Maps but also present a viable alternative for Apple devices. Unfortunately, things did not go as expected. Apple Maps app turned out to be a rather ill-conceived product, which led Apple CEO, Tim Cook to offer a public apology in late September 2012. Furthermore, the company also had to fire two key employees for the disaster.
Up until iOS 13 and iPadOS 13 (launched in 2019), Apple Maps remained more or less useless. The Cupertino giant decided to stop using third-party navigation data and rely on the fresh data gathered by its own employees. And the result is for everyone to see. The inclusion of routes for cyclists, routing for electric vehicles, congestion zones, and guides have sort of turned things around for Apple Maps.
User Interface
Whenever I try a new app, the one thing that I check upfront is the user interface. For a pretty intuitive experience, a smooth and snappy interface is a must. While Apple Maps has adopted a relatively clean look with small text and icons, Google Maps has gone for an eye-catching appearance. The text and icons are comparatively larger and they appear to be more brightly colored in Google Maps. Hence, it's a tad easier to decipher Google Maps locations.
In Apple Maps, the search bar appears at the bottom and the information button is located at the top right of the screen. Using the information button, you can switch between Transit, Map, Satellite views, and even turn on/off the traffic. Right below the information button appears the Look Around button that offers a street-level view that has been inspired by Google Maps' popular Street View.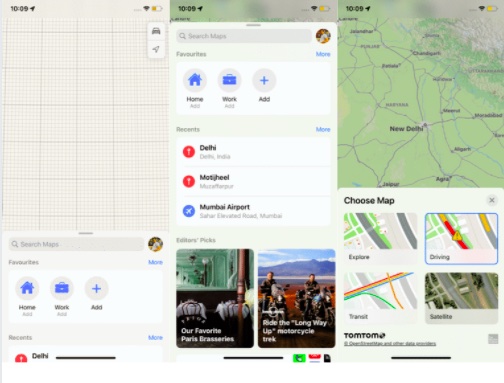 Apple Maps has opted for custom icons for landmarks, which I find quite helpful. Lastly, the current weather shows up at the bottom right along with the AQI (Air Quality Index). Another intriguing thing about Apple Maps is that it features Guides for various places. This allows people to check out lists of different places for them to get a better idea of places to visit when on vacation. You can also mark places as Favorites, choose a preferred mode of transportation, share your location with people, and more.
Much like Apple Maps, Google Maps also features a search box and three different view modes namely Terrain, Satellite, and Default. There is a "layers" icon that lets you enable/disable Traffic, Transit, COVID-19, and Bicycling. With the help of the 3D button, you can get a 3D view of the world. Plus, Street View is always there to let you view and navigate through 360-degree horizontal and 290-degree vertical panoramic street-level images of a number of cities around the world. The app gets multiple categories such as Shopping, Food, and more to navigate places accordingly.
There are two more sections in Google Maps: Contribute and Updates, both allowing you to give and get reviews of places, respectively. The latter picks up events and places based on your interest and lets you view them. By giving out reviews, you can also attain certain badges. This proves helpful if you like reviewing places. You also get the option to save locations, view places based on various categories, and more.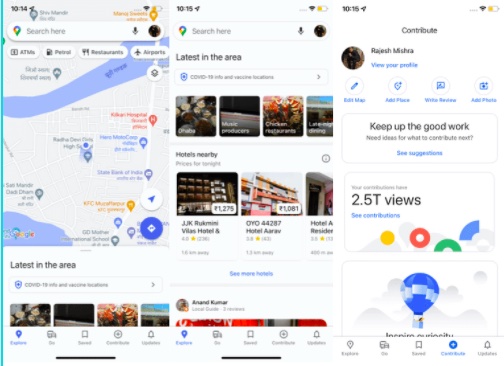 In terms of the user interface, both apps support tons of features but come with a differently placed toolbar; Google Maps has it at the bottom. Plus there's a difference of convenience. With different tabs like Explore, Commute, Saved, Go, Contribute, and Update, Google Maps looks fully equipped to cater to various needs. For instance, the Commute option provides instant access to the best possible route, and the Saved tab lets you quickly access all the saved locations. As for Apple Maps, you need to pull up the tab at the bottom to access recent searches, saved locations/favorites and frequently-visited locations under My Places. And the 3D option shows up when you view the maps in Satellite mode.
Navigation Efficiency
As Apple Maps uses vector graphics, the satellite view features an impressive photographic appearance. On the contrary, Google's satellite view has gone for a realistic look. Both Google Maps and Apple Maps show arrival estimations depending on the current traffic conditions. While red markings along your route indicate heavy traffic, the blue markings suggest that there is little/no traffic. And the yellow is about moderate traffic. Again, both apps show a number of alerts from road closures to accidents.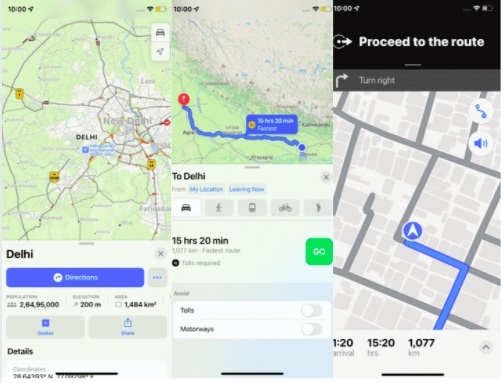 Recently, Apple added the ability to let users report accidents and speed checks along the route. In terms of functionality, Apple Maps' incident reporting is quite similar to Google Maps. While it was previously available in the US and China, we were able to access the feature here in India at the time of writing, so it seems to have rolled out widely at this point.
Apple Maps has another notable feature called "Transit Directions," which allows travelers to access departure times and transit routes for different modes of public transport including metro trains, trams, and buses. But, it is available only in select cities around the world. On the other hand, Google Maps has offered transit directions for several years now. Moreover, they are available almost everywhere, across the world.
As compared to Apple Maps, Google Maps is more precise about how traffic will affect your commute. The app shows travel time in red to keep you notified about the heavy traffic. Furthermore, it also shows more helpful options on the main screen such as quick search, directions, and compass that make it incredibly straightforward to locate what you are looking for on the go.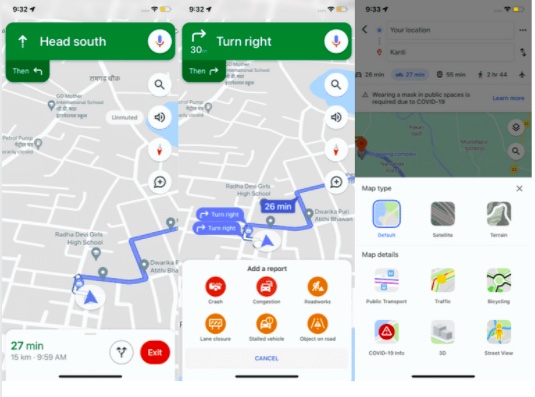 Though Apple Maps also shows supplementary information, you have to bring up the information panel and tap each category to dive into the detail. From a convenience point of view, it doesn't feel seamless or for that matter intuitive.
Accuracy
Not too long ago, the Apple Maps app seemed to be nothing more than a laughing stock in the accuracy department. The Maps app was so pathetic that it was hard to trust its traffic information or mapping data, let alone fully relying on the app for navigation. Though Apple has taken an unusual amount of time to get rid of the major shortcomings, it has eventually become more than capable to compete with Google Maps.
However, Google Maps still has an edge over the Apple Maps on the accuracy front, thanks to the wealth of information in its armory. For instance, Google's offering is ahead in terms of weighing navigation equally to landmarks. While Google Maps more often than not provides realistic arrival estimations, Apple Maps often seems to get entangled in the guesswork.
To check the accuracy, I searched for a nearby place called "Motijheel" and checked the directions. Apple Maps showed a 2.3 km fastest route (which is a little off the handle) and suggested it would take 12 minutes to reach there by car. It did not show public transport and cycling directions, saying they are not available.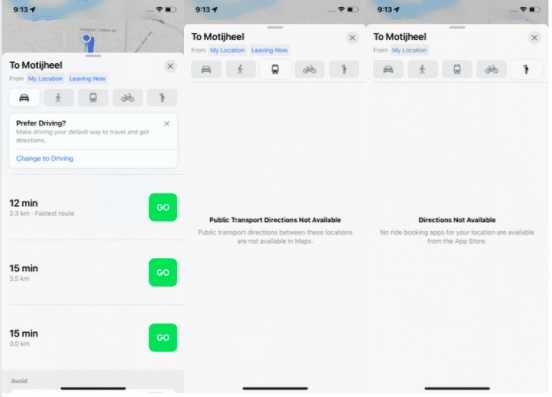 When I searched the same place (Motijheel from my current location) in Google Maps, it showed the fastest route (2.7 km, 15 minutes) for car, for bike (12 minutes), and public transport options. Furthermore, it also showed a detailed guide with directions to reach there.
Security and Privacy
Right now, everyone looks into the "security and privacy" aspect of things, especially when it comes to apps. To know which one is better between Google Maps and Apple Maps on this front, you should know the long-existing fact that Apple is a hardware company and Google is the world's largest data-driven advertising company at the core. While Apple heavily relies on iPhones, Macs, and iPads to earn money, Google's fortune rests on the prosperity of advertising for which data collection is kind of needed.
Though Google Maps also comes with a host of privacy-centric features including the "Incognito Mode," the biggest problem with them is that they do not do what they claim. Every single piece of data that the search giant collects is linked back to your personal identity. It's meticulously done to build your profile based on all the personal information.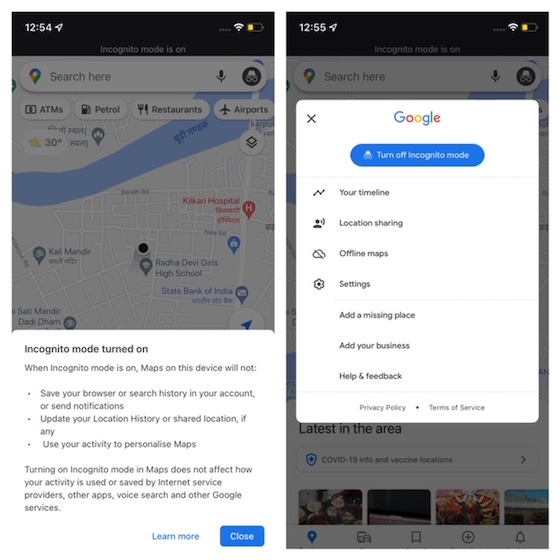 While you do get the option to wipe out a small chunk of the compiled data, your name continues to be on the hotlist. And this becomes bothersome, especially if you are a privacy-conscious person or wish to keep your privacy intact while using the navigation app.
If Google is straightforward about the data it collects while adhering to the privacy standard, there's nothing to worry about. But, the hidden intention of collecting users' data even when the permissions aren't granted, is deeply concerning. For instance, a recent case regarding the same popped up wherein "a US judge has slapped Google with a class-action lawsuit that might cost the search giant a fine of $5 billion. As per the suit, Google has been tracking and collating data even when people use the private 'Incognito' mode," as per a report by Business Today.
On the contrary, Apple has come up with a slew of privacy-focused features such as reliable app tracking, enhanced control over location tracking, the option to disallow an app from picking up your precise location, and more that safeguard your privacy across the Apple ecosystem. The biggest upside with Apple and its maps app is the reliable track record for preserving the privacy of users.
Supported Platforms
It's no secret that Apple wants to keep its best apps and services tied to the Apple ecosystem. So, it shouldn't come as a surprise that Apple Maps is compatible with iOS, iPadOS, watchOS, and macOS. That means, as long as you are happy to live within the walled garden, Apple's navigation app is for you. On the flip side, if you aren't part of the Apple ecosystem, there is no way you can get your hands over it.
On the other hand, Google Maps is available across platforms. So, whether you are using iOS, Android, macOS, or have decided to remain loyal to Windows, you can use Google's navigation app without any restriction whatsoever.
Stand Out Features
Apart from the basics of navigation, there are a number of added features that make both Google Maps and Apple Maps better. Here's a look at what all they offer and how they stand out from each other.
Voice Assistant support: Google Assistant (widely considered to be the smartest personal assistant) is deeply integrated with Google Maps. Hence, you can find the desired information and get things done using the Assistant while you are on the move. Of course, Google Assistant is heavily restricted on iOS, and therefore it can't deliver the same experience on your iPhone/iPad. Likewise, Siri is integrated with Apple Maps to enhance your navigation experience. You can activate Siri, tell it where you want to go and the virtual assistant will quickly present you a route. Besides, it also comes in super handy for finding local businesses or things that you are looking for. Notably, the Apple Maps app is designed to leverage Siri's natural language recognition to deliver easier directions.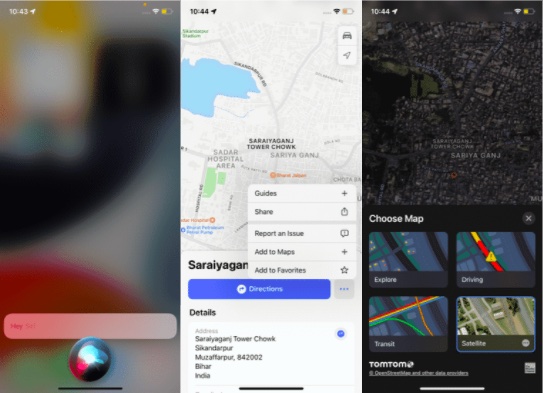 If you are on iOS/iPadOS, you would appreciate Siri's integration with Apple Maps and the smooth sailing navigation experience that the virtual assistant facilitates. But then again, the combo of Google Assistant and Google Maps is hard to beat due to the unmatched smartness and ease of use they bring to the table.
Dark mode support: Since dark mode is an offering every other app tends to provide, the Google/Apple maps apps aren't behind either. Both apps allow people to navigate in dark mode for much more ease. For those who don't know, the Google Maps app recently got hold of the functionality on iOS devices.
Look Around vs Street View: Look Around has long been a top-notch selling point for Apple Maps. What makes it a worthy addition is the ability to let you explore your favorite cities in 3D landscapes of models of buildings and structures. Moreover, it also provides a pretty cool city tours feature that guides you to several city landmarks. There's also a Flyover mode for 3D views. Google Maps takes on this feature with "Street View." Additionally, Google has also made parts of its popular "Street View" a full-fledged app (available for iOS and Android) for user-contributed panoramic views of several places around the world.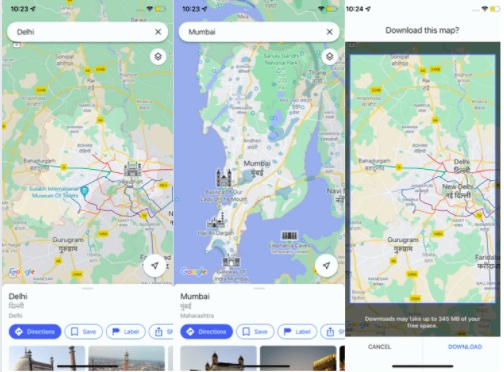 Offline mode vs data-saving mode: Google Maps has another exciting ability; it allows you to navigate offline. This comes in handy in the case of limited access to Wi-Fi or mobile data. The app requires you to download an area that you want to navigate. When your internet connection is slow/absent, your offline maps will help you reach your destination. Bear in mind that features like transit, bicycling, or walking directions are not available in this mode. In the offline driving directions, the app doesn't provide traffic details, alternate routes, or lane guidance. Apple Maps, on the other hand, uses vector graphics that consume relatively less data than Google Maps. Times when you are dealing with limited bandwidth, this data-saving efficiency can come in really handy. That said, Google Maps wins this aspect by letting you download maps for hassle-free access offline.
Location Sharing: Both Google Maps and Apple Maps come with the option for you to share your location with others, which is another convenient feature.
Messages: Google Maps has one more interesting feature. It lets you send messages to businesses (if the messaging is turned on). You can explore restaurants and cafes and can message them by tapping on the Chat option available. Conversations will appear under Updates, where you can manage them with ease.
While both the map apps have a number of features in common, Google Maps is yet again a step ahead with a number of added features.
A Quick Look at Pros and Cons
Google Maps
Pros:
Feature rich
Extremely accurate navigation and traffic information
Works on pretty much any platform
Supports multiple modes of transport
Offline maps support
Cons:
Lacks in privacy and security
Apple Maps
Pros:
Best in class privacy and security
Low data consumption
Well integrated within the Apple ecosystem
Cons:
Not available on non-Apple platforms
Doesn't support multiple modes of transport
Special features like 3D views are not available across the world.
The Verdict
Before we provide you with a verdict, here's a look at the summary of what all Google Maps and Apple Maps offer:
| | | |
| --- | --- | --- |
| Features | Google Maps | Apple Maps |
| Multiple viewing modes | Yes | Yes |
| Voice Assistant | Yes | Yes |
| Utmost security and privacy | No | Yes |
| Dark mode | Yes | Yes |
| Better accuracy | Yes | No |
| Various modes of transportation for better navigation | Yes | No |
| Reviews | Yes | No |
| Location sharing | Yes | Yes |
| COVID-19 information | Yes | No |
| Better availability | Yes | No |
From the results of the aforementioned aspects, Google Maps gets a majority of votes to become a winner. Security and privacy is one aspect where it fails to deliver, though. Despite the huge improvements that Apple's navigation app has got, Google Maps is way better in almost every aspect. As a user, that's exactly what you would love to have at your disposal. The wealth of information that is readily available at a glance, higher accuracy, more personalized suggestions, and a host of useful features offer a pleasing navigation experience, and make Google Maps a leader in its own right.
But hey, take a pause before you think that I have completely overlooked the goodies that are associated with Apple Maps. If you are part of the Apple ecosystem, live in a region/country where all the top Apple Maps features are available, and put privacy on a high pedestal, Apple's navigation app could be a better option for you. The deep integration with Siri, the rich Apple ecosystem, and the highly improved accuracy make the navigation app a safe bet.
Google Maps Vs Apple Maps: Which One Should You Choose?
I guess you have finally got an ideal maps app for your device. As I said above, if privacy is not a big factor (entirely depends on person to person), it's hard to look beyond Google Maps. And if you wish to shield your privacy, Apple Maps remains a more compelling way to go.
If you ask me, I would go for Google Maps despite being a privacy-focused person and a part of the Apple ecosystem. I guess I'm not the only one who is living with this paradox of choice. But which is your favorite navigation app and why? Be sure to let us know in the comments section below.
---
Load More