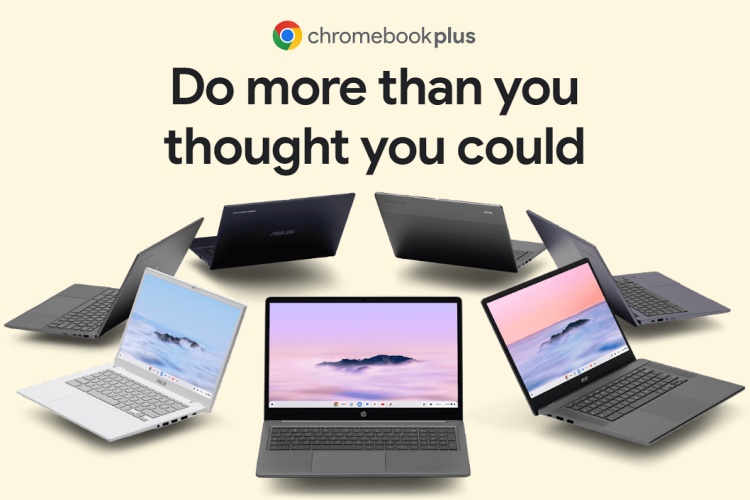 Google's Chromebook line of PCs has been an affordable laptop option for many, especially considering those students who look for portable laptops to use for many basic tasks while studying. Now, the company has confirmed that Chromebook Plus laptops are launching soon. Let's talk about what's new with these Google Chromebook Plus machines. We will also be answering what exactly is the difference between conventional Chromebooks and the new Plus variants.
Google Chromebook Plus Unveiled: All New Features & Specifications
Google says that the design of its new Chromebook Plus laptops will enable users to 'get more done.' Here are the features of new Chromebook Plus laptops:
Upto 2X the performance
Built-in Google apps
Powerful AI capabilities also enhance video calls
Full HD IPS Display
1080p+ Webcam with temporal noise reduction
Advanced video & photo editing apps
Titan C2 security chip, designed by Google
Up to 10 hours of battery life with fast startup
Talking about the new video & photo editing apps coming to Chromebook Plus, Google has confirmed that Adobe Photoshop & Lumafusion will be available to use on the new laptops. In Photoshop, the Generative AI fill tool can be used on the Chromebook Plus, too. Lumafusion is an excellent video-editing app that lets you create video content with many possibilities that fit the needs of many advanced users, too.
The Google Chromebook Plus laptops have a 'minimum specification' criteria that set them apart from other Chromebooks. Basically, for a PC manufacturer (such as Dell, HP, Acer, etc.) to classify their new ChromeOS laptop as a 'Chromebook Plus' personal computer, it needs to meet the following specifications:
| Component | Specification |
| --- | --- |
| Processor (CPU) | Intel Core i3 (12th Gen) or AMD Ryzen 3 (7000 Series) |
| System Memory (RAM) | 8GB+ |
| Storage (SSD) | 128GB+ |
| Display | IPS Panel with 1080p resolution |
| Webcam | 1920×1080 resolution with Temporal Noise Reduction |
Chromebook Plus Laptops Minimum System Specifications (Source: Google)
Those were the minimum specifications, so any laptop with specs that meet the above-mentioned requirements (or is above them) can be classified under the new Google Chromebook Plus category. Regarding performance, new Chromebook Plus laptops will feature the entry-level Core i3 or Ryzen 3 processors from Intel & AMD, respectively, but these have to be somewhat recent, too. There are new AI features, and Google has confirmed that more of its amazing AI features will be coming to Chromebook Plus laptops later in 2024.
Compared to previous Chromebooks, the new Plus variants definitely feature a much-needed specifications upgrade with benefits in various departments such as performance, RAM, display, and more. Even the webcam needs to be 1080p & feature noise reduction – which will enhance the video-call experience on Chromebook Plus laptops. This is a much-welcome change by Google, making 1080p webcams a standard even in budget laptops.
Google Chromebook Plus Unveiled: Price & Availability
Google has confirmed its Chromebook Plus category of laptops is launching on 8 October 2023 for the U.S. and on 9 October for Canada and Europe. The new laptops will come with an attractive starting price of $399. This converts to ~Rs 33,000 in India. Google's CEO, Sundar Pichai, also recently confirmed the production of HP Chromebooks in India. But we don't know if this includes the new Chromebook Plus laptops.
Regardless, eight new Chromebook Plus laptops are launching into the market soon at the aforementioned date. The options include laptops from HP, Lenovo, Asus, and Acer. We will update you once the buying or pre-order links go live. Google has confirmed these laptops will be available in major retailers such as Amazon, Target, Best Buy, and Walmart soon. Some older Chromebooks are also getting the Chromebook Plus OS update, and you can check if your Chromebook is compatible here.
What are your thoughts on the new Google Chromebook Plus line of personal computers? Are you interested in buying a new laptop with ChromeOS? Let us know in the comments below.
Featured Image Courtesy: Google
---