Google has built a strong foothold in web search and video streaming, but it's now looking to make audio its new forte with a reimagined podcast and audio search functionality.
Like Google co-founder Sergey Brin mentioned this week, Google is using its full AI and machine learning capability to transform a number of services. And it's doing the same with podcasts, and how we listen to them.
Google Podcasts is now a standalone division at Google, being led by Product Manager Zack Reneau-Wedeen. He recently sat down with Pacific Content in a five-part interview series, which we have linked throughout our summary here. Here's everything you need to know:
Making Audio A 'First Class' Citizen
There's a podcasts category in Play Music, but Google sees podcasts as a dedicated product and has decided to give it a prominent placement in search results. The search giant wants to make audio a 'first-class' citizen that should be placed next to text, images, and video in search results. This could be a game-changer.
Google wants to people to be able to play podcasts, right from the search results, removing the need for a dedicated app. If Google thinks a podcast is able to answer a search query then it'll show that to users and try to get new listeners.
This means one could expect to see podcasts that have talked about your search topic, be it sports, music, movie or celebrities such as Kim Kardashian or Sachin Tendulkar over the next few weeks and months. This requires podcast metadata and Google has the power to decode and handle it all. Speaking of the same, Reneau-Wedeen says:
In the longer term, integrating with Search means figuring out what each podcast is about and understanding the content of that podcast. This is something Google has done extremely well for text articles, as well as for images and even more structured data such as maps. We can help with audio, too.
Podcasts in Search Results
Google has started acting on its plan and introduced a new native podcast section in its Google app on Android. It allows you to search for podcasts, showing them inline with all your results or directly queue them via Google Assistant using simple commands, such as "Hey Google, play the Vergecast podcast."
The podcast section appears like a full-fledged app on its own, complete with your subscriptions and custom recommendations. The podcast player is baked right into the Google app and features your usual playback controls, along with seeking and speed control features.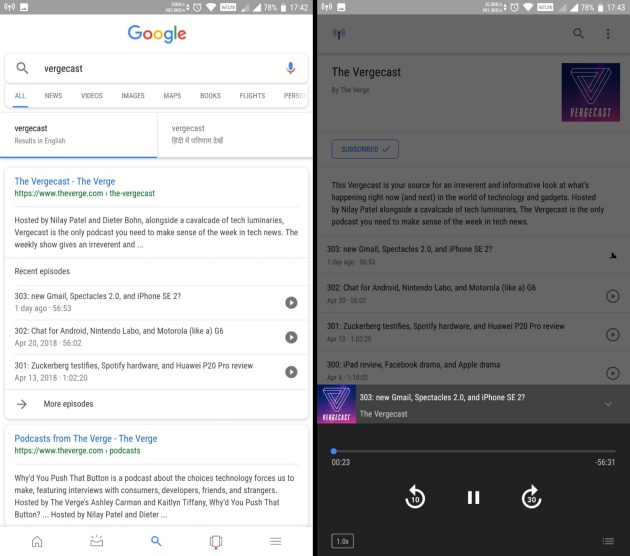 Reneau-Wedeen said podcasts are more often consumed by iOS users and his team wanted to design a podcast experience that can work best on Android. At the same time, Google wants focus on device interoperability and wants to build an intuitive experience that's consistent across all the Google products, be it Android or Google Home or any other Google Assistant product, and even on iOS. Reneau-Wedeen further added,
Our team's mission is to help double the amount of podcast listening in the world over the next couple years.
Audio SEO & Monetisation
With audio getting prominent placement in search results, Google will tweak its algorithms to help listeners discover new podcasts while also defining guidelines that'll help you rank your content higher in search. This is possibly going to be called Audio SEO.
Google already enables you to tinker with the settings to make your podcast appear in search results but there's no audio SEO in place right now. This phase of the product is going to important when podcasts are finally able to give you an answer to your query, similar to the recently launched celebrity video answers in search.
Audio SEO, which is going to drive discovery in the next few years, will also see Google implement algos to recommend / suggest content based on context such as when you're driving a car, sitting in a metro or at your office lunch table.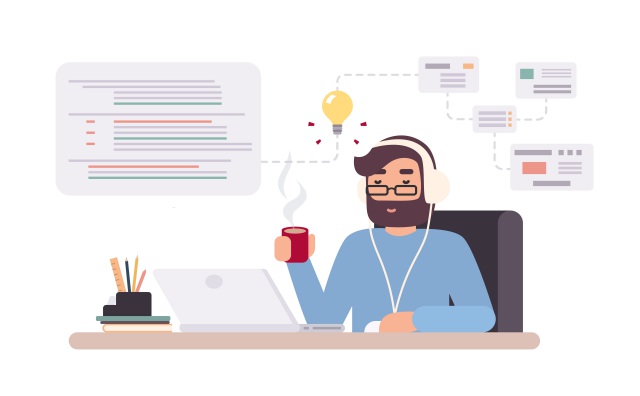 Reneau-Wedeen says that Google will apply the same lessons it learnt from search for Audio SEO, but after understand what works best – quick, short and segmented content or quality long-form content. 
Audio SEO is just a hypothetical until then but it does sound a whole lot appealing even now. It will also be important for Google to tweak the experience for smart speakers, making the audio experience smoothly amalgamate with AI assistants.
As for monetization, the placement of your podcast squarely amidst the search results is going to bring in a ton of listeners so Google has started to experiment with several different business models — similar to ones we have seen on YouTube. But the podcast team says that it's trying to avoid building a one-size-fits-all solution.
AI-Enabled Features
You can only search for certain podcasts and listen to them using the Google app on Android at the moment. Most of the features and functionality here is about to come in the future, along with other improvements, thanks to AI. Reneau-Wedeen says that Google is going to leverage its AI infrastructure to make great experiences possible.
Instant Transcription
Google envisions that every podcast uploaded to the web is going to be converted into a text file and will be searchable to give the people access to content related to certain keywords or phrases. This will work like auto captions on YouTube.
For example, let's suppose you search for info on how to keep veggies fresh for a longer duration of time. Google will soon show you an audio clip, possibly searched via the text transcription, which will take you to that segment of the podcast talking about it.
This technology is already available and being worked upon by several audio-centric tech companies, such as Anchor, which is a podcast app for Android and iOS. It gives  users the option to transcribe and share segments of their podcasts as videos. Ideally, it should drive traffic to the creator, and generate curiosity among listeners.
"This was a powder keg" — @TerryMcAuliffe and @deray discuss Charlottesville in a bonus @PodSaveThePpl: https://t.co/moENhg7Fvy … pic.twitter.com/ZEocVRdFnj

— Crooked Media (@crookedmedia) August 14, 2017
Lookahead Scrubbing
With translations for each podcast becoming available on the Internet, thanks to Google's capable voice-to-text AI, Reneau-Wedeen imagines that mapping the transcribed text to the timestamp of your podcast will enable Google to build a YouTube-like scrubbing system where you can hover over the timeline to preview particular frames of content in a podcast.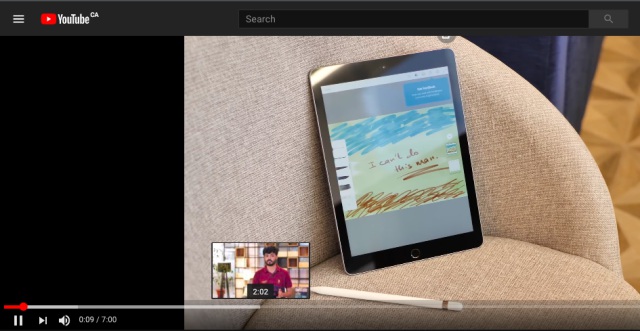 Instant Translation
And ultimately, the aim would also be to use the text transcriptions to make any and all podcasts available to all users across the globe.
Google not only wants to translate the text of a podcast in any given language but also recreate that podcast in a language you understand, using original voice tones of the podcasters. Creepy or not?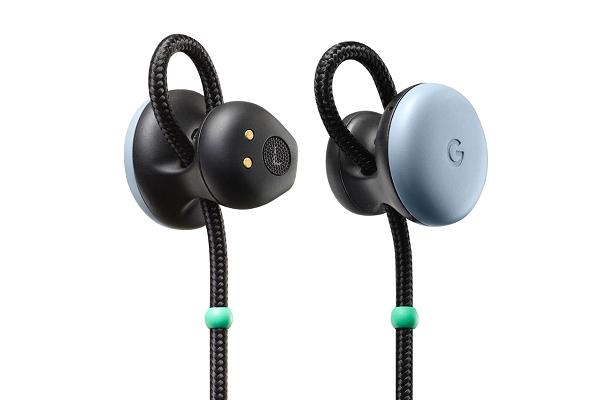 It could eventually make it to Google's Pixel Buds, which boasts a similar experience for instant translation that's activated by tapping the bud. But that's for much later in the game.
Google prioritizing voice and audio tells us the company is getting ready for a future where voice is the primary source of interaction. And it's also preparing for a very distant future where screens may not be needed at all.
---