TeamViewer surely ranks as one of the best remote desktop software, but recent outages and stability issues have forced users to look for an alternative. Not to mention, constant lag and complex UI/UX make the experience worse, especially for new users. So in this article, we have compiled a list of the best TeamViewer alternatives which are equally capable and feature a variety of useful features including Wake-on-LAN, unattended access, 2FA, and more. On that note, let's go ahead and find programs like TeamViewer which are free, but don't have any niggling issues.
1. Chrome Remote Desktop
If you are looking for a no-frills TeamViewer alternative that is simple to use and does the job amply well, go for Chrome Remote Desktop. You only need the Chrome browser and an extension, and you can connect to any machine in no time. I have been using it for some time to connect to Ubuntu and Chrome OS computers from my Windows PC, and it works without any latency issues. There are also apps for Android and iOS in case you want to access your PC from your smartphone. Do note that you will have to sign in with your Google account for Chrome Remote Desktop to work.
As for security, it uses the standard SSL/ TLS encryption to establish a remote connection over the web. Also, yeah, there are no extra features like video/audio calling and text chat that are available on TeamViewer. But again, it's meant for general consumers who want to connect to their machines remotely. However, you get support for keyboard shortcuts, clipboard syncing, display scaling, and more. All in all, Chrome Remote Desktop serves as a lightweight alternative to TeamViewer. It should serve the purpose of most users, and I think you wouldn't have to look any further.
| Pros | Cons |
| --- | --- |
| Simple, free, and easy to use | No video/ audio/ chat features |
| Best for general users | No file transfer |
| No bloatware | Requires Google account |
| Available on all major platforms | |
| Supports keyboard shortcuts | |
| Clipboard syncing | |
Pricing: Free
Platforms: Windows, macOS, Linux, Chrome OS, Android, and iOS
Visit Website
2. AnyDesk
Whenever one starts talking about TeamViewer alternatives, AnyDesk is the first software that comes to my mind. Just like TeamViewer, AnyDesk packs a ton of features, allowing you to access your devices remotely from anywhere you want. My favorite thing about AnyDesk is that the service brings one of the fastest data transmission rates with 60 FPS screen sharing.
AnyDesk also brings low latency support, which means your actions are immediately transferred to your remotely controlled device, and the user interaction feels more natural. Another key feature of AnyDesk is that it supports almost all the major platforms. That includes Windows, Linux, Free BSD, macOS, iOS, and Android, so it's great as a remote support solution.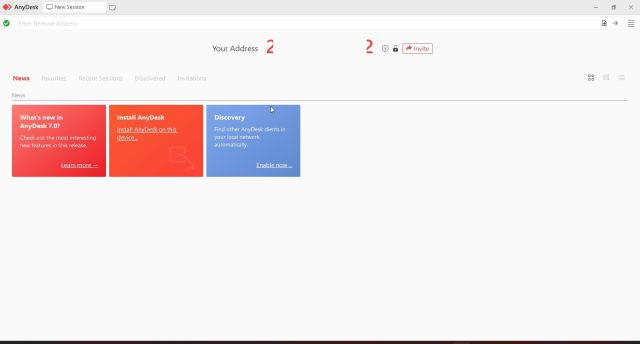 Talking about security protocols, AnyDesk uses banking-standard TLS 1.2 technology, along with RSA 2048 asymmetric encryption, to verify every connection. It ensures that your computer is protected from unauthorized access. What this means is that your computer and remote connections are fully protected, and you never have to worry about any privacy attacks.
Just recently, AnyDesk launched a new AnyDesk 7 upgrade that brings several new features, including an overhauled and more intuitive user experience and a simpler website UI to boot. Plus, you get features like resetting remote screen resolution, global security settings, improved language support, stronger password requirements, and more. AnyDesk is a powerful remote desktop tool, and it is one of the best TeamViewer alternatives you should try out.
| Pros | Cons |
| --- | --- |
| Low latency and fast data transmissions | None as such |
| Lightweight at around 4MB in size | |
| Cross-platform | |
| Feature-rich software | |
| Supports 2FA, Unattended access | |
Pricing: Free, paid plans start at $14.90/month
Platforms: Windows, macOS, Linux, Android, iOS, Raspberry Pi, Chrome OS, FreeBSD
Visit Website
3. UltraViewer
Windows users looking for a free and lightweight remote desktop app like TeamViewer might love what UltraViewer has to offer. It has a size of just 1.5MB and packs several features that you usually find on TeamViewer. To begin with, this substitute app offers both portable and EXE packages, in case you don't want to install the program on your computer. In my testing, I found UltraViewer to be pretty fast and responsive.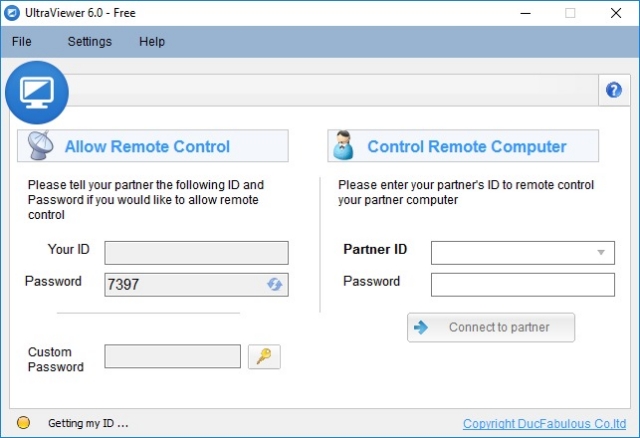 UltraViewer supports features, such as file sharing, chat window, multi-computer support, and more. And similar to TeamViewer, it also brings audio chat, but that is available to paid customers only.
Even if we consider the paid plans, UltraViewer is cheap compared to TeamViewer. The paid plans start at $3.99 per month, whereas TeamViewer's base plan sets you back by $50.90 per month. I think UltraViewer is quite a capable remote desktop application. You should definitely give it a try, especially if you wish to save some precious bucks.
| Pros | Cons |
| --- | --- |
| Portable package | Windows-only |
| Fast and responsive | |
| File sharing | |
| Multi-computer support | |
| Pretty inexpensive | |
| Audio chat | |
Pricing: Free, Paid plans start at $3.99 per month
Platform: Windows
Visit Website
4. DWService
If you are looking for a free and open-source alternative to TeamViewer, DWService is the best option out there. Much like Chrome Remote Desktop, you can use DWService to connect to any platform through a web browser. All you have to do is install the agent on the host computer, and you can access the client machine just like that. The best part is that it also brings file transfer via the browser, shell access for Linux systems, resource monitor, text editor, and more.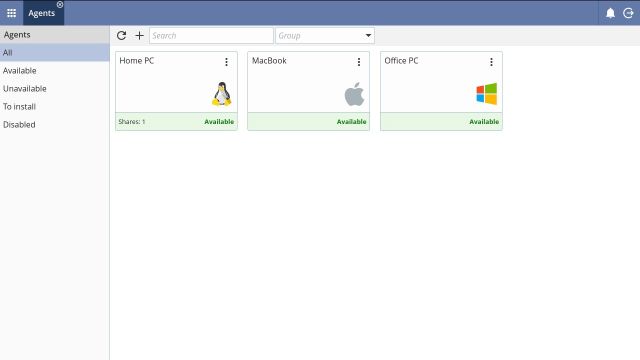 I used the service on my Chromebook and Windows 11 PC, and it worked flawlessly. Talking about security, it uses the same SSL security standard used on the web for real-time communication. And similar to TeamViewer, you have security features like 2FA for protecting the remote connection. To sum up, DWService is one of the best TeamViewer alternatives that you should definitely check out.
| Pros | Cons |
| --- | --- |
| Free and open source | No audio/video chat |
| Runs in a browser | No Unattended access |
| Supports all major platforms | |
| File transfer | |
| Shell access | |
Pricing: Free, Paid plans start at $3 + taxes
Platforms: Windows, macOS, Linux, ChromeOS, Web
Visit Website
5. Parallels Access
Another great remote access software is Parallels Access. It provides one of the fastest, simplest, and most reliable remote access to your PC, from anywhere. The service allows users to access all applications, files, and computers in one place. My favorite feature of Parallels Access is its mobile apps.
While most of the remote desktop software mentioned on this list comes with its own mobile apps, Parallels Access gives you the best mobile viewing experience. The connection never dropped in my testing, and all your touch inputs are recognized instantly on the computer being controlled.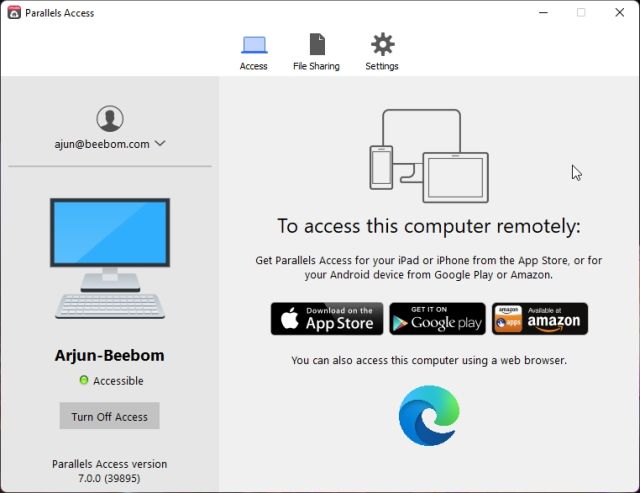 Parallels Access also brings along its proprietary and unique "Applification" technology. It lets you use your desktop applications as if they were native apps for your iPhone, iPad, or Android mobile device. This nifty feature makes it easy to interact with desktop apps while accessing them on your mobile remotely.
It also brings an easily accessible magnifying glass along with the ability to copy and paste texts and files precisely. While most remote desktop software, including TeamViewer, heavily focuses on the desktop experience, Parallels Access is the only one whose key focus is the mobile experience. That makes this software unique and useful. Further, it's a free alternative to TeamViewer for personal use.
| Pros | Cons |
| --- | --- |
| Easy access to macOS and Windows devices from iOS and Android devices | Only works for accessing desktops from mobile devices. |
| Apps work in full window mode | |
| Excellent touch control | |
| Gesture support | |
Pricing: Free trial for 14 days, starts at $19.99/year
Platforms: Windows, macOS, Android, iOS
Visit Website
6. Zoho Assist
If you are after a highly efficient cloud-based TeamViewer alternative to manage devices in the IT department or offer IT support to customers, give serious consideration to Zoho Assist. Probably the biggest highlight of this software is its wide range of tools available at your disposal. It allows you to set up unattended remote access (both inside and outside LAN) and manage laptops, PCs, mobile devices, and even servers with the desired flexibility. Just like TeamViewer, Assist also supports multiple platforms so that you can take control of devices across platforms.
Another thing worth noting is that it works pretty fast in establishing secure connections. So, just in case you find TeamViewer a little sluggish in establishing connections, this could be the right answer to your needs. The support for multiple monitors and the ability to automatically detect active monitors play a pivotal role in letting you navigate between several desktops and control them remotely.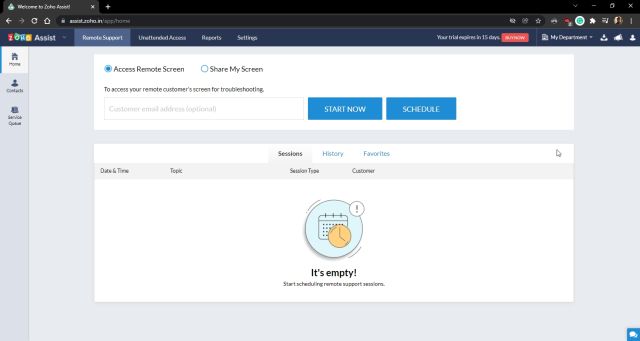 Furthermore, the voice and video chat feature makes it more convenient for you to interact with your customers and sort out issues. Plus, it also lets you reboot the connected remote desktop with just a single click and reconnect to the session right away. Perfect for the times when you are helping your customer to troubleshoot any stubborn issues. Again, Assist outsmarts TeamViewer on this front.
That's not all. With a seamless file transfer feature during a live session, Zoho Assist ensures you can send updates, patches, or any essential files to the remote desktop with ease. In terms of providing security to personal information during file transfer, Assist can make a match with TeamViewer's prowess thanks to the SSL 256-bit AES encryption.
| Pros | Cons |
| --- | --- |
| Seamless file transfer feature during a live session | A bit expensive |
| Voice and video chat feature | Steep learning curve |
| Fast connections | |
| SSL 256-bit AES encryption | |
Pricing: 15-day free trial, premium version starts at $12/month
Platforms: macOS, Windows, Linux, Android, iOS, Chrome OS, Web
Visit Website
7. ISL Light
Another easy-to-use solution for remote desktop control is ISL Light. This feature-rich service offers multiple ways to connect to remote desktops, as well as support for unattended access to systems. ISL Light allows users to connect via their desktop app, through a browser, via a link, and a plethora of other options that you can utilize as per your needs.
For security, ISL Light uses AES 256-bit encryption for transferring data between the client and the operator. It also makes use of RSA 2048/4096-bit with Diffie-Hellman Key Exchange, 2FA, code signing, and more. You also get user access management tools and a host of other features for fine-tuning how you want to use ISL Light for managing the computers on your networks. For more sensitive use cases, ISL Light even comes with an Intranet (LAN only) mode, as well as security features like brute force intrusion protection.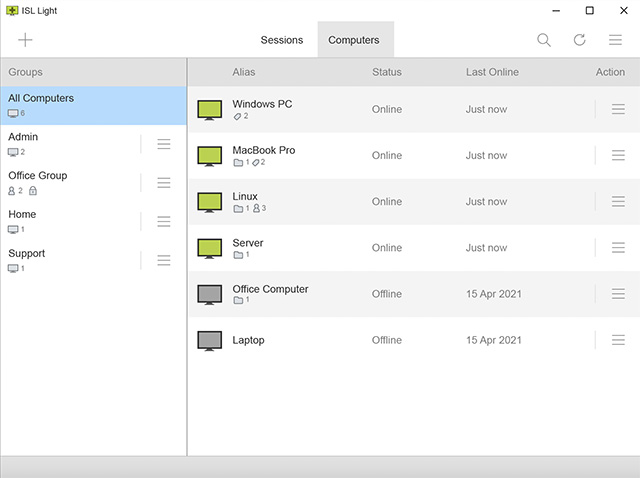 Businesses will also appreciate the support for custom logos, WebAPI2 support for integration with third-party apps and services, and a variety of other customization options. Further, ISL Light also supports connecting via RDP and SSH, as well as an Administrator mode which lets the remote user restart a remote computer and resume their session with ease.
| Pros | Cons |
| --- | --- |
| AES 256-bit encryption | Quite expensive |
| Easy connections with multiple options | |
| LAN only mode | |
Pricing: 15 days free trial; Paid plans start at $125 per 500 minutes
Platforms: Windows, macOS, Linux, Android, iOS, Windows Phone
Visit Website
8. Supremo Control
Supremo markets itself as a powerful, easy, and complete solution for remote desktop control and support. It allows users to access a remote PC or host meetings in just a few seconds. One of the good things about this software is that you don't need to install or patch anything. There's only one executable file that is small in size and doesn't need any installation.
Supremo is also safe to use and supports reliable AES 256-bit encryption, along with USilio, the IT Management Console. If you are a business, you will also appreciate that Supremo allows you to customize its user interface to display your company's logo, something that TeamViewer doesn't allow you to do.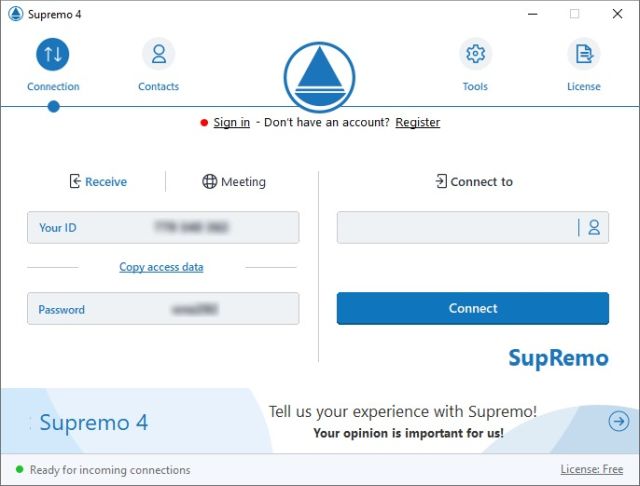 The ability to display personal logos will come in really handy for anyone who wants to increase their brand awareness. Supremo is also easy to use. It uses a powerful data transfer protocol that doesn't require any router/firewall configuration, allowing users to connect to everyone with just a few clicks. Also, Supremo is free to use for local networks. However, you need to buy a license if you want to access your PC from anywhere.
| Pros | Cons |
| --- | --- |
| No configuration or installation required | No voice support |
| Unattended remote access | No remote printing support |
| Meetings support | |
| Integrated address book | |
| Modern and easy to navigate UI | |
Pricing: 21 days free trial, starts at $6/month/user (paid annually)
Platforms: Windows, macOS, Linux, Android, iOS
Visit Website
9. Splashtop
Splashtop markets itself as an all-in-one solution for all your remote access needs. The service allows both individuals and teams to easily access their personal, as well as shared computers, with any device at any time. Splashtop focuses on security and ensures that your remote connection is always secured.
As such, all remote sessions are encrypted with TLS and 256-bit AES encryption (you can learn all about AES vs TKIP in our article). Access is further protected by the device authentication, two-step verification, and multiple 2nd-level password options. Splashtop seems to be geared towards companies that provide on-demand support, allowing MSPs, helpdesks, and service providers to provide attended/ ad-hoc support to clients.
The best part is that the client doesn't need to install any software. The software allows companies to connect to clients' desktops and mobile devices with the help of a simple 9-digit code. One more good thing about Splashtop is that the software is essentially free for personal use. Just like Supremo Control, you can use it to access devices on a local area network remotely without shelling out a penny.
So yeah, that makes Splashtop one of the cheapest remote access software for personal use, especially when compared to TeamViewer. The best part about this deal is that you are not losing on features as you get a full-fledged remote desktop experience.
| Pros | Cons |
| --- | --- |
| High-quality video and audio | Free version only works on a local network |
| Gesture support on mobile apps | Complicated variants of the software and plans |
| Good ease of use | CPU usage gets a little high |
| Great portable version | |
| Good for businesses | |
Pricing: Free trial for 7 days, Paid plans start at $5/month
Platforms: Windows, macOS, Android, iOS, Linux
Visit Website
10. LogMeIn Remote Access
LogMeIn Pro is another popular TeamViewer alternative that allows users to not only access their computers from any device but also to store and collaborate on files. Also, it allows for file sharing with just one click. Unlike TeamViewer and AnyDesk, whose primary focus is using remote desktop control to provide support, LogMeIn Pro provides users with remote access to their personal computers. This way, they can do their work no matter where they are.
While you can use either of the three services for both of those use-case scenarios, LogMeIn Pro specializes in the latter. And hence, it is a good option for any working professional who has to work remotely.
The features of LogMeIn Pro include the ability to access devices remotely, and 1TB of free cloud storage to quickly and securely share files with anyone. And if you use your own audio editing software to create music, you can stream high-quality audio on your nearby device using the files stored on a remote PC. You can also use its iOS and Android mobile apps to allow remote desktop access on the go, remote print, and more.
With LogMeIn Pro, you will also be able to control Windows PC from Android. As you can see, LogMeIn Pro brings a fairly extensive feature set which will be especially helpful for people who have to access their files remotely. It frees them from the pain of carrying all the important files with them while allowing them to access those files instantaneously.
For security, LogMeIn Pro uses 256-bit AES encryption with dual passwords and end-to-end authentication. If the description fits your use-case scenario, you should definitely check this service out. You even get a complimentary LastPass Premium license with a LogMeIn Pro subscription, though, with the latest alleged LastPass leak, you may be better off considering a LastPass alternative instead.
| Pros | Cons |
| --- | --- |
| Easy to setup and use | Sound and chat features are not very good |
| Drag and Drop file transfer | No free version |
| Whiteboard support | |
| Ability to record sessions | |
Pricing: Free trial for 14 days, pricing starts at $349.99 per year
Platforms: Windows, macOS, Android, iOS
Visit Website
11. RealVNC Connect
RealVNC Connect is yet another popular remote access software that you can use as a TeamViewer alternative. The software is used by a considerably large number of users, including over 90,000 enterprises. RealVNC supports multiple platforms, including Android, Mac, Windows, and more. So you can easily use it to access pretty much any device you own remotely.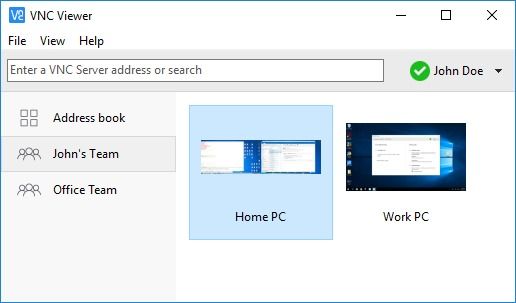 Among its many features, what makes RealVNC stand out is its simple and intuitive UI, as well as the fact that it can stream audio and video from the remote computer. It also uses 256-bit AES encryption to ensure your connections are private and allows for attended and unattended access. Unlike other apps like TeamViewer, RealVNC doesn't charge on a per-user basis. Instead, it charges you per device, meaning a single server with RealVNC can be used by any number of users without additional costs.
| Pros | Cons |
| --- | --- |
| Per-device pricing instead of per-user pricing | Multiple screen feature isn't the best |
| 256-bit AES encryption | Can be buggy at times, especially using iOS devices |
| Easy to use and intuitive UI | |
Pricing: Free trial for 14 days, paid plans start at $3.70/computer/month
Platforms: Windows, Mac, iOS, Android, Raspberry Pi, Linux
Visit Website
12. NoMachine
The next TeamViewer alternative on our list is NoMachine, which is also a fairly capable remote desktop software. NoMachine uses its NX technology to bring one of the fastest and highest quality remote desktop experiences you have ever had. NoMachine allows users to stream live audio and video from their remote PC. You can also access files, transfer them, and record sessions for future reference.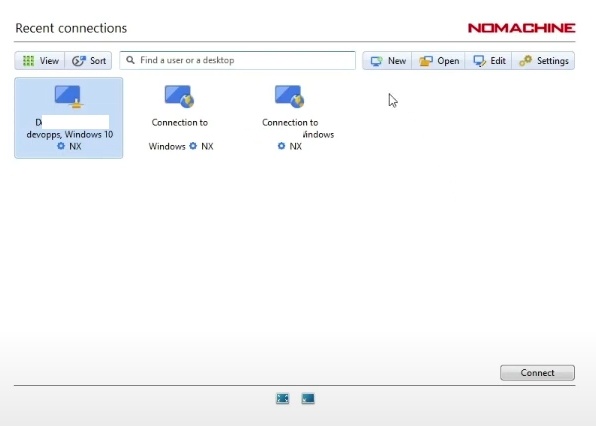 NoMachine also works with all the major operating systems, including Windows, macOS, Linux, Android, and iOS. But, if you are still not impressed, how about the fact that this is a free-to-use tool? There are no ads and no restrictions. If you don't want to pay for your remote desktop needs, check out this software right away.
| Pros | Cons |
| --- | --- |
| Easily stream video or audio from a remote desktop | Takes a bit of learning |
| Easy recording | An extensive set of features |
| Very little lag | |
| Packs an extensive set of features | |
| Free for individual uses | |
Pricing: Free, $44.50/year for enterprise subscription
Platforms: Windows, macOS, Linux, Android, iOS, ARM boards
Visit Website
13. ConnectWise ScreenConnect
ScreenConnect used to be a separate entity, that is until ConnectWise acquired it and renamed it as ConnectWise ScreenConnect. The good thing is that the service became even better after the acquisition. The company offers ConnectWise ScreenConnect as a remote desktop product for companies that provide remote assistance to their clients.
While no one is stopping you from using the product as an individual, seeing how the company is marketing its product, it is better suited for businesses. The best part about ConnectWise ScreenConnect is that it offers a scalable experience for individuals and teams, large and small.
You can get started with just the features you need, and then upgrade the plan as their business scales. ConnectWise's offering also comes with out-of-the-box security features like AES-256 encryption and two-factor authentication, allowing users to securely connect to a client's computers.
It also works with various third-party apps, including Slack, Google Analytics, FreshDesk, and more, allowing you to manage your business with ease. ConnectWise ScreenConnect's third-party integrations certainly give it a huge advantage. And if that is something you need, you should definitely check out this TeamViewer alternative.
| Pros | Cons |
| --- | --- |
| Seamless 3rd party integration | Not meant for individual users |
| Flexible paid plans | |
| Unlimited unattended access | |
| Unattended access, remote support, and remote meetings support | |
Pricing: Free trial for 14 days, starts at $27/month
Platforms: Windows, macOS, Linux, Android, iOS, and ChromeOS
Visit Website
14. Microsoft Remote Desktop
If you're only gonna be connecting with Windows devices, why not go with a solution from Microsoft itself? Microsoft Remote Desktop Assistant offers all the necessary features for remotely controlling other Windows PCs. This is a great TeamViewer alternative for PCs running Windows 10 Professional or Enterprise. It should also be a solid Windows 11 remote desktop software. Do note that while you can use this software on other platforms like Mac, Android, and iOS, it will only let you remotely access Windows PCs.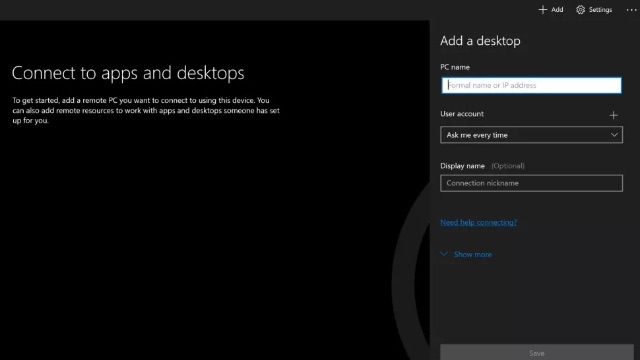 With Microsoft Remote Desktop Assistant, you will be able to remotely connect with other Windows PCs with ease. The software also lets you access remote resources using Windows Virtual Desktop. What's more, if you have a touch-screen device, Microsoft Remote Desktop Assistant supports touch inputs, as well as all Windows gestures. Obviously, it's also secure and you don't need to worry about unencrypted connections here.
| Pros | Cons |
| --- | --- |
| Official app from Microsoft | Doesn't offer some advanced features that enterprises might need |
| Performs really well | Could feel a little complicated |
| Allows seamless access to files and even function keys on mobile devices. | |
Pricing: Free
Platform: Windows
Install
15. Remmina
For Linux users who want a proper replacement for TeamViewer, I will highly recommend Remmina. It's a free and open-source remote desktop application with support for file sharing, shell access, multi-monitor support, and more. Remmina is one of the few remote desktop programs that support a host of remote access protocols such as SSH, HTTPS, RDP, VNC, and more. Basically, you can connect to any and every client without any issues.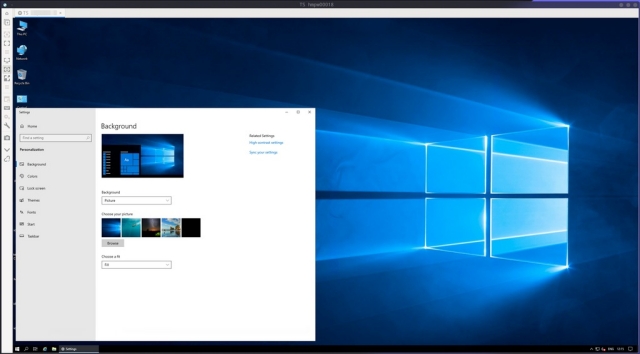 Other than that, Remmina packs feature such as clipboard synchronization, display scaling, screenshot shortcut, SSH tunnel, printer sharing, and a lot more. As I said, Remmina is packed with features and it's available on more than 50+ Linux distributions. So go ahead and check out Remmina on your Linux machine.
| Pros | Cons |
| --- | --- |
| Best for Linux users | Connectivity issues with RDP servers |
| Supports multiple remote access protocols | |
| Multi-monitor support | |
| Clipboard syncing | |
Pricing: Free
Platforms: Linux
Visit Website
16. Dameware Remote Everywhere
A substitute to TeamViewer, SolarWinds' Dameware Remote Everywhere is a remote access software for those looking for fast and secure remote connections. Dameware's interface might be a little daunting at first, but it's a service that offers a very high level of security. In fact, Dameware meets requirements set by the US Federal Government, and it uses the BSAFE Crypto-C Micro Edition cryptography module and is compliant with the Federal Information Processing Standards.
Aimed at large enterprises, Dameware is nowhere near being anything affordable for individuals or SMBs. However, it offers advanced encryption and support for multi-factor authentication. It also brings monitoring features and can send alerts if you set it up. It even allows access to computers that are sleeping or turned off with Wake on LAN support. You also get support for in-session chat and VoIP calls, as well as video calls.
| Pros | Cons |
| --- | --- |
| Highly secure | Quite expensive |
| Wake on LAN support | |
| Monitoring and alerts | |
Pricing: Free trial for 14 days, with paid plans starting at $540
Platforms: Windows, Mac, Linux, Android, iOS
Visit Website
---
Load More