Remote desktop software has come a long way since its inception. Gone are the days when the connection use to be finicky and unsecured. Now, users can as easily and securely access their computers remotely, as if they are using them locally. One of the biggest names in the remote desktop software industry is TeamViewer, which is known for its extensive set of features and functionalities. That said, TeamViewer is not perfect and it does have its fair share of problems. That's why, many users have been looking for suitable TeamViewer alternatives.
Why the Need for TeamViewer Alternatives?
For starters, the TeamViewer software is not that easy to configure which leads to a lot of security-related problems. If the software is not properly configured, the user's system is susceptible to privacy risks. Also, while there is a free version of the software available, it's mostly there to demonstrate the software's prowess. If you ever intend to use it regularly or for business purposes, you will have to shell out a hefty sum of money. These two reasons along with a host of other minor grievances have led many users to look for its alternatives. Well, if you are one of them, here are the 20 best TeamViewer alternatives which can help you find the best remote desktop software for your use:
Best TeamViewer Alternatives in 2021
Splashtop

Looking for great remote desktop software at a great price? Splashtop is easy to set up and provides fast, reliable, and secure connections. Remotely access and control your computers from another computer or mobile. Plans for individuals, IT, MSPs, and support. Save 50% compared to TeamViewer, guaranteed! Plans start at just $5.00 per month, check it out and start a free trial.
Check out Splashtop (Sponsored)
1. AnyDesk
Whenever one starts talking about TeamViewer alternatives, AnyDesk is the first software that comes to my mind. Just like TeamViewer, AnyDesk packs a ton of features, allowing you to access your devices remotely from anywhere you want. My favorite thing about AnyDesk is that the service brings one of the fastest data transmission rates with 60 FPS screen sharing. AnyDesk also brings very low latency which means that your actions are immediately transferred to your remotely controlled devices, making it feel more natural. Another big feature of AnyDesk is that it supports almost all the major platforms including Windows, Linux, Free BSD, macOS, iOS, and Android.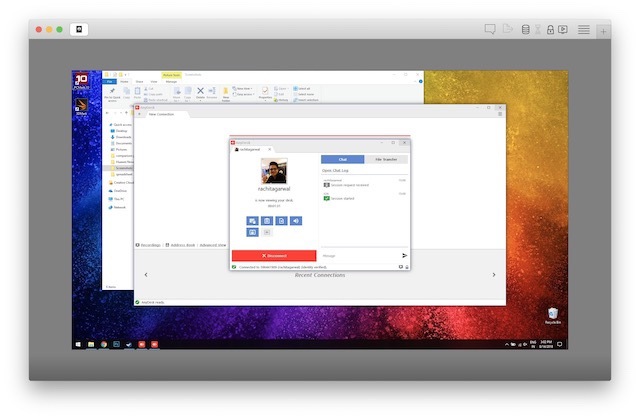 Talking about the security of connections, AnyDesk uses banking-standard TLS 1.2 technology along with RSA 2048 asymmetric encryption to verify every connection. It ensures that your computer is protected from unauthorized access. What this means is that your computer and remote connections are fully protected, and you never have to worry about any privacy attacks.
Just recently, AnyDesk launched a new 6.3 upgrade that brings several new features, including the option to reset remote screen resolution, global security settings, improved language support, and stronger password requirements, and more. AnyDesk is a powerful remote desktop tool, and it is one of the best TeamViewer alternatives you should try out.
Pros:
Low latency and fast data transmissions
Lightweight at around 4MB in size
Cross-platform
Feature-rich software
Cons:
Pricing: 14 day free trial, paid plans starting at $9.99/month
Platforms: Windows, macOS, Linux, Android, iOS, Raspberry Pi
Visit: Website
2. LogMeIn Pro
Another popular TeamViewer alternative is LogMeIn Pro that allows users to not only access their computers from any device but also to store, share, and collaborate on files with just one click. Unlike TeamViewer and AnyDesk whose main focus is using remote desktop control for providing support, LogMeIn Pro mainly focuses on providing users remote access to their personal computers, so that they can do their work no matter where they are. While either of the three services can be used for both these use-case scenarios, LogMeIn Pro specializes in the latter, and hence, it is a good option for any working professional who has to work remotely.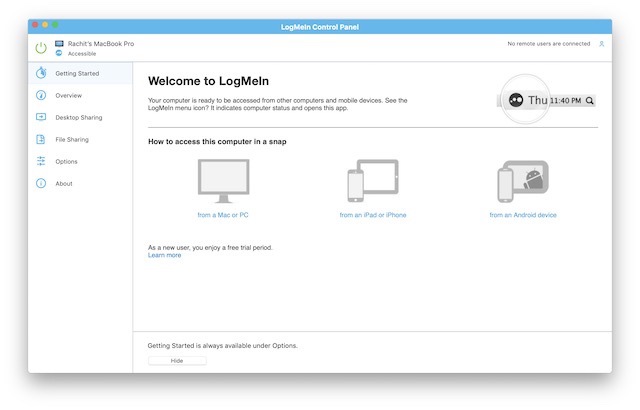 The features of LogMeIn Pro include the ability to easily access devices remotely, 1TB free cloud storage to quickly and securely share files with anyone, and if you use your own audio editing software to create music, you can stream high-quality audio on your nearby device using the files stored on remote PC, mobile apps for iOS and Android to allow remote desktop access on the go, remote print, and more. With LogMeIn Pro you will also be able to control Windows PC from Android. As you can see, LogMeIn Pro brings a fairly extensive feature set which will be especially helpful for people who have to access their files remotely. It frees them from the pain of carrying all the important files with them while allowing them to access those files instantaneously.
For security, LogMeIn Pro uses 256-bit AES encryption with dual passwords and end-to-end authentication. If the description fits your use-case scenario, you should definitely check this service out. You even get a complimentary LastPass Premium license with LogMeIn Pro subscription.
Pros:
Very easy setup
Drag and Drop file transfer
Whiteboard support
Ability to record sessions
Cons:
Sound and chat features not very good
No free version
Pricing: Free trial, pricing starts at $30/month
Platforms: Windows, macOS, Android, iOS
Visit: Website
3. Splashtop
Splashtop markets itself as an all-in-one solution for all your remote accessing needs. The service allows both individuals and teams to easily access their own computers as well as shared computers with any device at any time. Splashtop focuses a lot on security and ensures that your remote connection is always secured. As such, all remote sessions are encrypted with TLS and 256-bit AES encryption (you can learn all about AES vs TKIP in our article). Access is further protected by device authentication, two-step verification, and multiple 2nd-level password options. Splashtop seems to be geared towards companies that provide on-demand support as it allows MSPs, helpdesks, and service providers to provide attended/ad-hoc support to clients.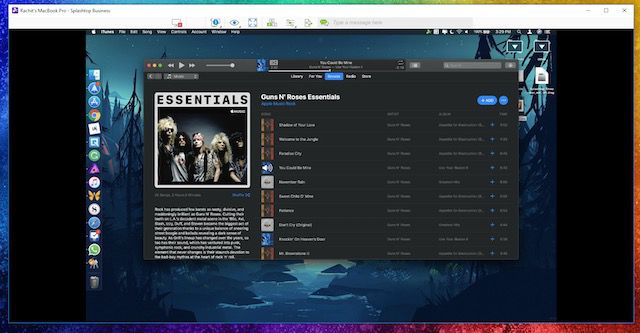 The best part is that the client doesn't need to install any software. The software allows companies to connect to client's desktops and mobile devices with the help of a simple 9-digit code. One more good thing about Splashtop is that for personal use, the software is essentially free if you are just using it to remotely access devices on a local area network.
So yeah, that makes Splashtop one of the cheapest remote access software for personal use, especially when compared to TeamViewer. The best part about this deal is that you are not losing on features as you are getting a full-fledged remote desktop experience.
Pros:
High-quality video and audio
Gesture support on mobile apps
Good ease of use
Great portable version
Cons:
Free version only works on local network
Complicated variants of the software and plans
CPU usage gets a little high
Pricing: Free trial, starts at $60/user/year for business plans
Platforms: Windows, macOS, Android, iOS, Linux
Visit: Website
4. Parallels Access
Another great remote access software is Parallels Access which provides one of the fastest, simplest, and most reliable remote access to your computer from anywhere. The service allows users to access all your applications, files, and computers in one place. My favorite feature of Parallels Access is its mobile apps. While most of the remote desktop software mentioned on this list come with their own mobile apps, Parallels Access gives the best mobile viewing experience. The connection never drops and your touch inputs are instantly recognized on the computer that is being controlled.
Parallels Access also brings its proprietary and unique Applification technology which lets you use all your desktop applications as if they were native apps for your iPhone, iPad, or Android device. This makes it very easy to interact with desktop apps while you are accessing them on your mobile remotely. It also brings easily accessible magnifying glass along with the ability to copy and paste texts and files precisely. While most remote desktop software including TeamViewer focus on the desktop experience, Parallels Access is the only remote desktop software whose key focus is on the mobile experience. That makes this software very unique and useful.
Pros:
Easy access to macOS and Windows devices from iOS and Android devices
Apps work in full window mode
Excellent touch control
Gesture support
Cons:
Only works for accessing desktop from mobile devices.
Pricing: Free for personal use, starts at $19.99/year
Platforms: Windows, macOS, Android, iOS
Visit: Website
5. Supremo
Supremo markets itself as a powerful, easy, and complete solution for remote desktop control and support. It allows users to access a remote PC or host meetings in just a few seconds. One of the good things about this software is that don't need to install or patch anything. There's only one executable file that is very small and doesn't need any installation. Supremo is also very safe and reliable AES 256-bit encryption and supports USilio, the IT Management Console. If you are a business, you will also appreciate that Supremo allows you to customize its user interface to display your company's logo, something that TeamViewer doesn't allow you to do.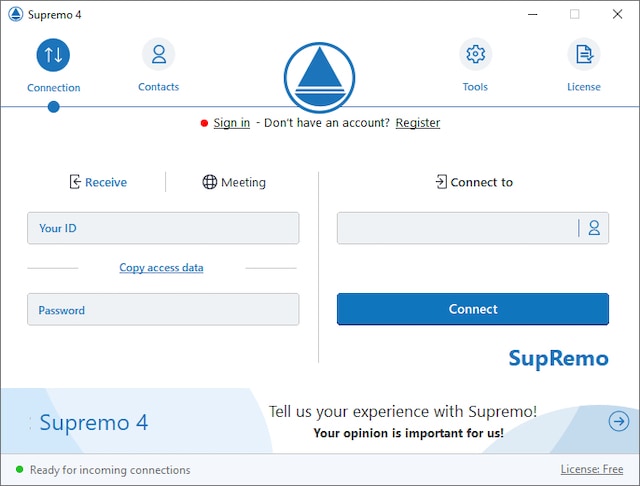 The ability to display personal logos will come in really handy for anyone who wants to increase their brand awareness. Supremo is also very easy to use. It uses a powerful data transfer protocol that doesn't require any router/firewall configuration, allowing users to connect to everyone with just a few clicks. Also, just like Splashtop, Supremo is free to use for local networks, however, you do need to buy a license if you want to access your PC from anywhere.
Pros:
No configuration or installation required
Unattended remote access
Meetings support
Integrated address book
Modern and easy to navigate UI
Cons:
No voice support
No remote printing support
Pricing: 21 days free trial, starts at $6/month/user (paid annually)
Platforms: Windows, macOS, Linux, Android, iOS
Visit: Website
6. Chrome Remote Desktop
If you are not a heavy user of remote desktop software and need something which is completely free, you should definitely check out Chrome Remote Desktop software. Do note that, Chrome Remote Desktop is nowhere near as powerful as TeamViewer, however, it is completely free to use, and you can easily get things done using this. Just like TeamViewer, Chrome Remote Desktop allows users to remotely access another computer through Chrome browser or a Chromebook. Computers can be made available on a short-term basis for scenarios such as ad-hoc remote support, or on a more long-term basis for remote access to your applications and files.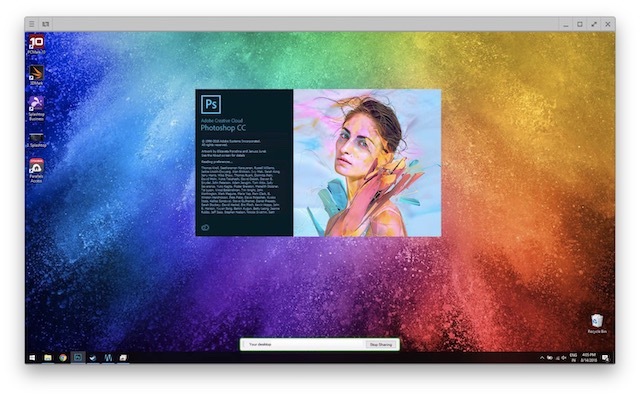 The two best things about using the Chrome Remote Desktop software is that it is end-to-end encrypted and available across platforms. You can remotely access Windows, macOS, and Linux devices from virtually any device which has a Chrome browser installed. I have personally used Chrome Remote Desktop in the past and I can recommend this to anyone with light usage. Again, this is not as powerful as TeamViewer, however, if you don't need that much power, you can save a lot of money by switching to Chrome Remote Desktop which is completely free.
Pros:
Very easy to configure and access
Available for all the major platforms
Completely free to use
Cons:
Pricing: Free
Platforms: Windows, macOS, Linux, Android, iOS
Visit: Website
7. ConnectWise Control
ScreenConnect used to be a separate entity, that is until ConnectWise acquired it and renamed it as ConnectWise Control. The good thing is that the service became even better after the acquisition. The company offers ConnectWise Control as a remote desktop product for companies that provide remote assistance to their clients. While there is no one who is stopping you to use the product as an individual, seeing how the company is marketing its product, I would say that it is much better suited for companies. The best part about ConnectWise Control is that it offers a scalable experience for individuals and teams, large and small.
Users can get started with just the features they need, and then upgrade the plan as their business scales. ConnectWise Control also comes with out-of-the-box security features like AES-256 encryption and two-factor authentication, allowing users to securely connect to a client's computers. It also works various third-party apps including Slack, Google Analytics, FreshDesk, and more allowing you to easily control your business. ConnectWise Control's third-party integrations certainly give it a huge advantage, and if that is something you need, you should definitely check out this TeamViewer alternative.
Pros:
Seamless 3rd party integration
Flexible paid plans
Unlimited unattended access
Unattended access, remote support, and remote meetings support
Cons:
Not meant for individual users
Pricing: Free trial, starts at $24/month
Platforms: Windows, macOS, Linux, Android, iOS, and ChromeOS
Visit: Website
8. Zoho Assist
If you are after a highly efficient cloud-based TeamViewer alternative to manage devices in the IT department or offer IT support to customers, give serious consideration to Zoho Assist. Probably the biggest highlight of this software is a wide range of tools that allow you to set up unattended remote access (both inside and outside LAN) and manage laptops, PCs, mobile devices, and even servers with the desired flexibility. Just like Teamviewer, Assist also supports multiple platforms so that you can take control of devices across platforms.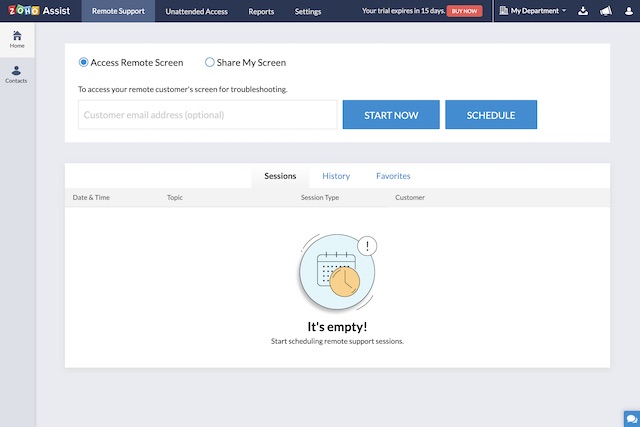 Another thing worth noting is that it works pretty fast in establishing secure connections. So, just in case you find Teamviewer a little sluggish establishing connections, it can be the right answer to your needs. The support for multiple monitors and the ability to automatically detect active monitors play a pivotal role in letting you navigate between several desktops and control them remotely.
Furthermore, the voice and video chat feature makes it more convenient for you to interact with your customers and sort out issues. Plus, it also lets you reboot the connected remote desktop with just a single click and reconnect to the session right away. Perfect for the times where you are helping your customer to troubleshoot any stubborn issues. Again, Assist outsmarts Teamviewer on this front.
That's not all. With a seamless file transfer feature during a live session, Zoho Assist ensures you can send updates, patches, or any essential files to the remote desktop with ease. In terms of providing security to personal information during file transfer, Assist can make a match with Teamviewer's prowess thanks to the SSL 256-bit AES encryption.
Pros:
Seamless file transfer feature during a live session
Voice and video chat feature
Fast connections
SSL 256-bit AES encryption
Cons:
A bit expensive
Requires steep learning curve
Pricing: Free with basic features, the price for premium version starts at $10/month ($120/year)
Platforms: macOS, Windows, Linux, Android, iOS, and Chrome OS
Visit: Website
9. BeyondTrust
If you value your security over everything else, BeyondTrust remote support is certainly for you. While all the other remote desktop software on this list including TeamViewer offer some type of security, none of them focus so heavily on it as BeyondTrust. It lets companies avoid malicious attacks from malware and ransomware by assigning just-in-time privileges and controlling applications on Windows, Mac, Unix, Linux, and networked devices. By allowing admins to enhance the privileges by apps and not users, it offers a secure working environment.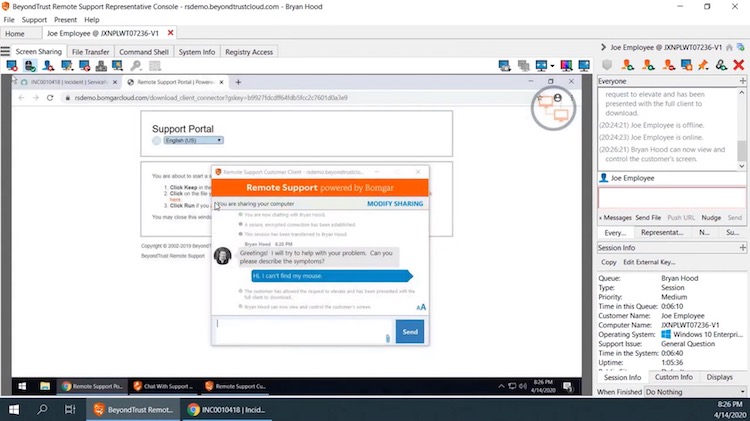 The service also brings technologies that empower service desk teams to quickly and securely access and fix any remote device, running any platform, located anywhere in the world. Technicians can use SAML (Security Assertion Markup Language) to gather validated user data before starting a session. This allows them to quickly ascertain the problems and provide fast support. It also allows users to connect to an unattended remote system to start a session. This removes the requirement of end-user assistance, giving the remote support teams more flexibility. It's a great alternative to LogMeIn for the folks who put more emphasis on security.
Pros:
Unattended remote access
Superior security
SAML (Security Assertion Markup Language) integration
Supports all the major operating systems and connected devices
Cons:
Steep learning curve
Very pricey
Pricing: Free trial, starts at $2097/year
Platforms: Windows, macOS, Linux, SSH/Telnet, ChromeOS, WebRep Console
Visit: Website
10. RealVNC Connect
RealVNC connect is yet another remote access software that you can use as a Teamviewer alternative. The software is used by a considerably large number of users, including over 90,000 enterprises. RealVNC supports multiple platforms, including Android, Mac, Windows, and more, so you can easily use it to remotely access pretty much any device you own.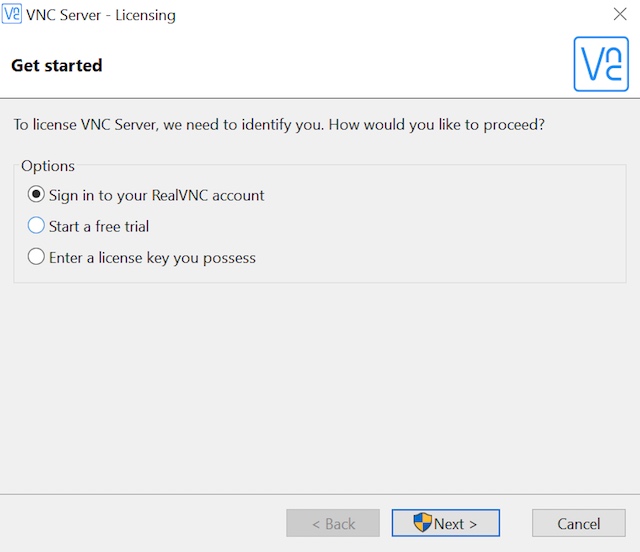 Among its many features, what makes RealVNC stand out for me is its simple and intuitive UI, as well as the fact that it can stream audio and video from the remote computer clearly without any issues. It also uses 256 bit AES encryption to ensure your connections are private and allows for attended and unattended access. Unlike most other apps like Teamviewer, RealVNC doesn't charge on a per-user basis, instead it charges per-device, so a single server with RealVNC can be used by any number of users without additional costs.
Pros:
Per-device pricing instead of per-user pricing
AES encryption
Easy to use and intuitive UI
Cons:
Multiple screen feature isn't the best
Can be buggy at times, especially using iOS devices
Pricing: Free trial, paid plans start at $3.39/computer/month
Platforms: Windows, Mac, iOS, Android, Raspberry Pi, Linux
Visit: Website
11. Distant Desktop
If you're someone who's looking for a feature-rich yet completely free Teamviewer alternative, check out Distant Desktop. It allows both personal and commercial users to remotely access other devices, all for free, which is great. There are plenty of features on offer here as well. You get a secure connection, and although Distant Desktop doesn't specify which protocols it's using, it does claim that it uses highly secure protocols to transmit data.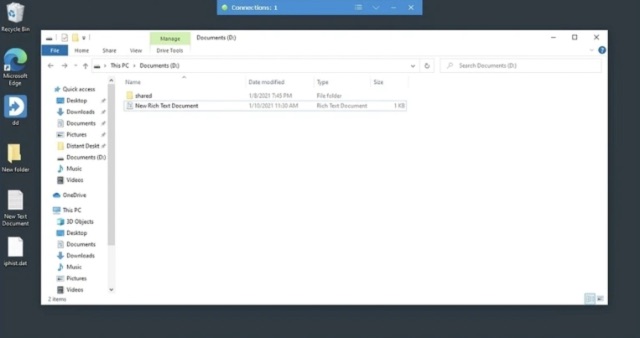 Distant Desktop also supports multiple connections, so even if you need to connect with multiple clients at the same time, you can do that for free as well. Moreover, you can share files using the software, and also use the demonstration mode to showcase a particular thing to anyone without granting them control of your keyboard and mouse.
Pros:
Completely free
Secure communications
Support for multiple in/out connections
Cons:
Doesn't specify which encryption protocols are being used
Only available on Windows
Pricing: Free
Platforms: Windows only
Visit: Website
12. Microsoft Remote Desktop Assistant
If you're only gonna be connecting with Windows devices, why not go with a solution from Microsoft itself? Microsoft Remote Desktop Assistant offers all the necessary features for remotely controlling other Windows PCs. This is a great Teamviewer alternative for PCs running Windows 10 Professional or Enterprise. It should also be a solid Windows 11 remote desktop software. Do note that while you can use this software on other platforms like Mac, Android, and iOS, it will only let you remotely access Windows PCs.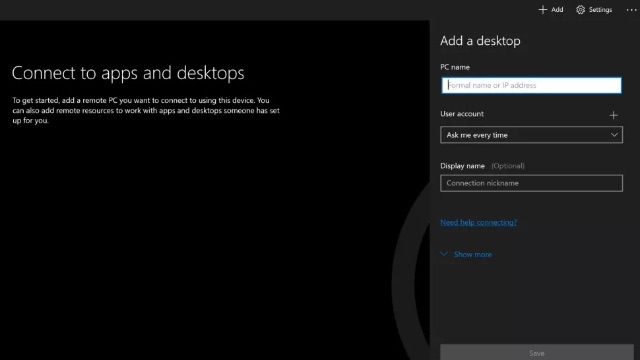 With Microsoft Remote Desktop Assistant you will be able to remotely connect with other Windows PCs. The software lets you access remote resources using Windows Virtual Desktop. What's more, if you have a touch-screen device, Microsoft Remote Desktop Assistant actually supports touch-inputs, as well as all the Windows gestures. Obviously, it's also secure and you don't need to worry about unencrypted connections here.
Pros:
Official app from Microsoft
Performs really well
Allows seamless access to files and even function keys on mobile devices.
Cons:
Doesn't offer some of the more advanced features that enterprises might need
Can feel a little too complicated
Pricing: Included with Windows for free
Platforms: Windows, Mac, Linux, iOS, Android
Download: Website
13. Remote Access Plus
Another app like Teamviewer for remotely accessing other computers that you can check out, Remote Access Plus offers a plethora of features that should prove plentiful for most users. The software lets you remotely control Windows, Mac, and Linux systems. It supports voice, video, and text chats, which makes it easier to collaborate with users, which can come in really handy especially while troubleshooting issues.
Other than that, Remote Access Plus brings advanced features including support for remote shut down, remote file manager, access to a remote terminal, as well as Wake on LAN. You will also be able to manage and edit the remote computer's registry values, as well as access a remote task manager which can come in handy as well.
Pros:
One of the best options for remote troubleshooting.
Secure remote control
Support for remote shutdown, command prompt, and file manager
Cons:
Pricing: Free trial, paid plans start at $20/month
Platforms: Windows, Mac, Linux
Visit: Website
14. UltraVNC
For advanced users who want control over almost every aspect of the remote access software they are using, UltraVNC might be a good choice. The software brings a ton of useful features. However, it's important to note that UltraVNC is better suited for users looking for a remote access software like Teamviewer, not for a remote support software. It's great for you if you want to connect with your home PC on the go and access programs and files virtually.
UltraVNC supports cursor tracking, and will let you easily transfer files between connected computers, which can make it easy for you to access files virtually from your home computer. It supports chat, and also brings support for clipboard synchronisation. What's more, if you don't want to install a software, you can actually connect using a browser as well.
Pros:
Clipboard sync
File transfer capability
Can be used via a browser
Cons:
Not the best option for remote support activities
Pricing: Free
Platforms: Windows (should be a solid Windows 11 remote access software as well)
Visit: Website
15. MSP360 Cloudberry Remote Assistant
Yet another remote assistant software that you can use in place of Teamviewer, Cloudberry Remote Assistant brings almost every major feature you'd want in a remote access software like Teamviewer. Cloudberry Remote Assistant is really easy to set up, which is great because even non-tech-savvy users can get started with it pretty easily. For enterprises, the software offers a centralised dashboard where you can manage all your remote computers.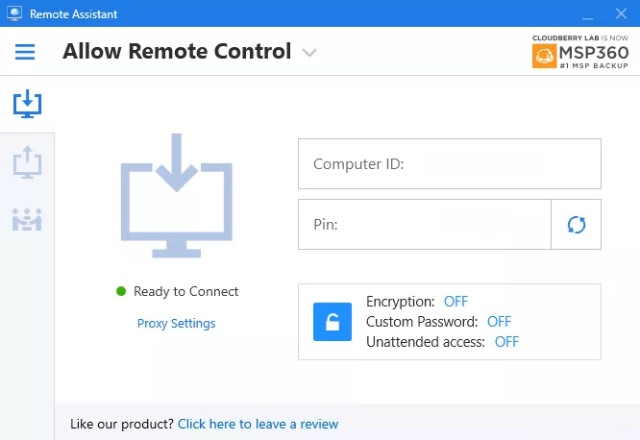 For security, Cloudberry uses SSL encryption, and all internal as well as external connections are encrypted. Other than that, it supports file transfer, and lets you have chat sessions between connected computers, either via text or voice. Overall, it's a solid remote access software for individual users as well as small and medium businesses and enterprises.
There's a free version of the software as well for individual users, so if you're looking for a free Teamviewer alternative, check out Cloudberry Remote Assistant.
Pros:
Free version available
Centralised dashboard to manage all remote connections
Supports unattended access
Cons:
Can be a little buggy at times
Pricing: Free version available, paid plans start from $35/admin/month
Platforms: Windows, Mac, iOS, Android
Visit: Website
16. GetScreen.me
Getscreen.me is also a really useful and feature-rich Teamviewer-like app that you can use for all your remote access needs. It brings a ton of features, including things like simultaneous connections (which are available even in the completely free version of the software). You also get support for desktop screenshots, permalink support that can also be used to establish connections from outside your personal account.
Getscreen also supports file managers, and things like clipboard synchronization between the remotely controlled PC and the controller. You get support for running system commands remotely, transfer audio, perform remote reboots, upgrade a remote computer, video recording, mobile access, and a lot more. Getscreen is an extremely feature rich remote access software that you should definitely check out.
Pros:
Packed with features
Support for remote reboot, upgrade, recording sessions and more
Free version available for both personal and commercial use
Cons:
No desktop app
Some users report encountering bugs with dragging and clicking sometimes
Pricing: Free version available, paid plans start at $4/month
Platforms: Windows, Mac, Linux
Visit: Website
17. Dameware Remote Everywhere
Solarwinds' Dameware Remote Everywhere is a remote access software for those looking for fast and secure remote connections. Dameware's interface might be a little daunting at first, but it's a service that offers a very high level of security. In fact, Dameware meets requirements set by the US Federal Government; it uses the BSAFE Crypto-C Micro Edition cryptography module and is compliant with the Federal Information Processing Standards.
Aimed at large enterprises, Dameware is nowhere near being anything affordable for individuals or SMBs. However, it offers advanced encryption, as well as support for multi-factor authentication. It also brings monitoring features and can send alerts if you set it up to. It even allows access to computers that are sleeping or turned off with Wake on LAN support. You also get support for in-session chat and VoIP calls as well as video calls.
Pros:
Highly secure
Wake on LAN support
Monitoring and alerts
Cons:
Pricing: Free trial, plans start at $540
Platforms: Windows, Mac, Linux, Android, iOS
Visit: Website
18. Lite Manager
Lite Manager is a remote access software for remote administration of computers over the internet or in a local network, for distant learning, providing remote support to users, and supervising work activity of employees. Just like TeamViewer, Lite Manager is available cross-platform and works with all the major operating systems including Windows, macOS, Linux, Android, iOS, and Wine. Lite Manager offers a fairly capable free tier where the software allows you to control 30 computers remotely. Once you are happy with the service, you can switch to the paid option which is also better than most of the services out there.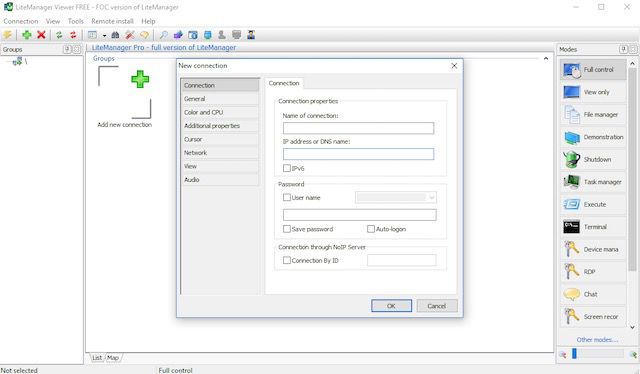 While TeamViewer and other services on this list charge you on a subscription plan, Lite Manager offers a one-time paid plan which brings far better value for your money. While Lite Manager is not as feature-rich as TeamViewer, it offers enough features which should satisfy the needs of most users. With Lite Manager, you can control and view the desktop of a remote computer, work with files and folders remotely, start a text or video chat, and record screen among various other things. If you are looking for a cheap alternative to TeamViewer, you should certainly take a look at Lite Manager.
Pros:
Simple and clear-cut UI (after set-up)
Supports text, audio, and video chats
A fairly capable free option
Cons:
Very hard to set-up
Toolbar is hard to understand
Pricing: Free, starts at $10/license
Platforms: Windows, macOS, Linux, Android, iOS
Visit: Website
19. RemotePC
While RemotePC may be less popular than Teamviewer but when it comes to providing a fairly reliable remote desktop solution for both home and business users, it's at par. As it's cloud-based, all you need to do to get started with this handy remote desktop software is a web browser – irrespective of which operating system or device you have. In terms of configuration, I find RemotePC more convenient than its famed rival. Thus, you can easily configure the software for remote access. With the help of secure access ID and key, you can allow additional users to get onboard.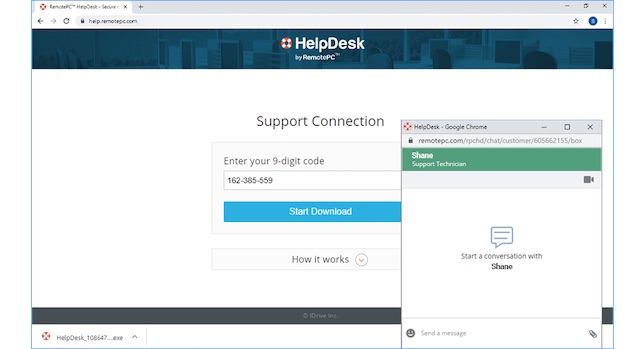 As for file transfer, I find RemotePC up to the task due largely to the drag and drop gesture that makes the whole process easy-going. Not to mention the remote printing that can come in so handy in various situations. Talking about the security of the shared files, the software is equally efficient with the AES-156 encryption. Another department where RemotePC makes a match with Teamviewer's repertoire is the ability to manage a large number of computers thanks to being highly scalable.
Depending on your needs, you can record your sessions and also generate reports, which is yet another plus from the management point of view. One of my favorite features of this software is the helpdesk plan that enables corporations to provide user support directly to clients and customers. Moreover, the option to group computers and the useful reboot feature further enhance its reputation as proficient remote desktop software. In terms of pricing, it comes at $29.62/ year (first year) which makes it an affordable TeamViewer alternative.
Pros:
Pretty easy to set up
AES-156 encryption
Ability to manage a large number of computers efficiently
Helpdesk plan
Cons:
At times, it feels sluggish to establish connections
Doesn't offer a freemium version
Pricing: 30-day free trial, starts at $29.62 for the first year
Platforms: macOS, Windows, iOS, and Android
Visit: Website
20. NoMachine
The final TeamViewer alternative on our list is NoMachine which is also a fairly capable remote desktop software. NoMachine uses its NX technology to bring one of the fastest and highest quality remote desktop experience you have ever had. NoMachine allows users to stream live audio and video from their remote PC. You can also access files, transfer them, and record sessions for future reference. NoMachine also works with all the major operating systems including Windows, macOS, Linux, Android, and iOS. If you are still not impressed, how about the fact that this is completely free to use. There are no ads and no restrictions. If you don't want to pay for your remote desktop needs, do check this out.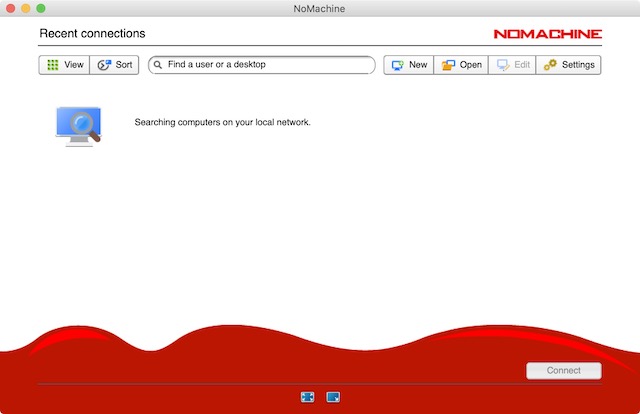 Pros:
Easily stream video or audio from remote desktop
Easy recording
Very little lag
Extensive set of features
Free for individual uses
Cons:
Takes a bit of learning
Limited compatibility with mobile devices
Pricing: Free, $44.50/year for enterprise subscription
Platforms: Windows, macOS, Linux, Android, iOS
Visit: Website
The Best Remote Desktop Software You Can Use
That ends our list of the best TeamViewer alternatives you can use. As you can see, I have tried to include alternatives that should fit the needs of most of the users out there. Do let us know, which one is your favorite remote desktop software in the comments below. Also, if you have already found an alternative that works for you, share its name in the comment section too.