While Apple has been making it easier and more seamless for Mac users to connect to their iPhones to transfer files, if you're an iPhone user that uses a Windows PC, chances are you're still stuck using the really bad iTunes app on Windows 10 to get the bare minimum syncing features for your iPhone. That's horrible, and if you've had just about enough of pulling your hair out at the annoying iTunes app, let me suggest something that will make your life so much better.
WinX MediaTrans (download) is a software that is just the perfect way to transfer files, photos, videos, and more between your iPhone/iPad and your Windows computer. The app is fast, it doesn't behave poorly the way iTunes almost always does, and it offers way more features than iTunes. So let's take a look at some of the salient features of WinX MediaTrans.
Fast Photo Transfer
The most common thing I do with my iPhone connected to my computer is transfer photos. This is something you also probably do a lot, especially if you are as crazy about managing all your photos perfectly as I am. I mean, that's just easier on a computer right? Anyway, WinX MediaTrans makes transferring photos from my iPhone to the computer extremely easy. Not only that, the entire process is lightning fast (no pun intended). In fact, WinX claims that the software can transfer a hundred 4K pictures in just 8 seconds. Now, I didn't test this out personally, but based on my experience with the software, it sounds like a reasonable number.
But that's not all, photo transfer with WinX MediaTrans is also facilitated by other notable features the software brings to the table. For one, WinX MediaTrans is one of the only third-party software I have seen that can preview HEIC images without a hassle. Not only that, the software can automatically convert HEIC images to JPEG when you're exporting them so you can see them on any device without facing compatibility errors.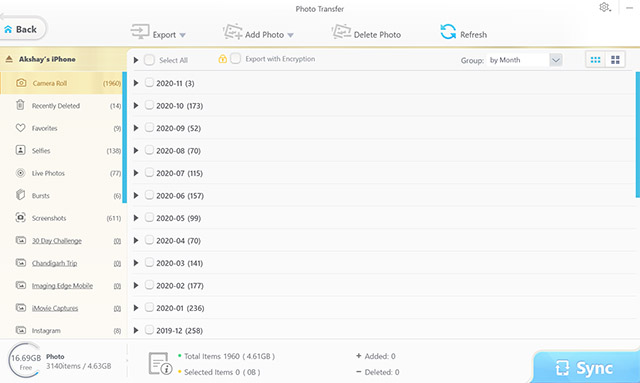 WinX MediaTrans also offers a lot more fine-tuned control over your iPhone's photos than iTunes does. You can obviously export photos with ease, but you can also import photos from your computer to your iPhone, and you can view, export, delete photos from your camera roll and even from third party apps if you have any installed on your iOS device.
Use iPhone as Flash Drive
One of the features that I didn't know I'll find useful but I totally did, is the 'Flash Drive' feature in WinX MediaTrans. Basically, this lets you use your iPhone as a flash drive if you need to. That's fairly cool in itself, but what makes it even better is that you can encrypt files that you put in your iPhone (flash drive) so that they remain secure. Even if someone gets hands on your iPhone and tries to see what files you have kept on it, they will need a password to decrypt the files you store on your iPhone.
This is also handy for transferring files between multiple PCs on days where you have forgotten to bring along your external flash drive or SSD.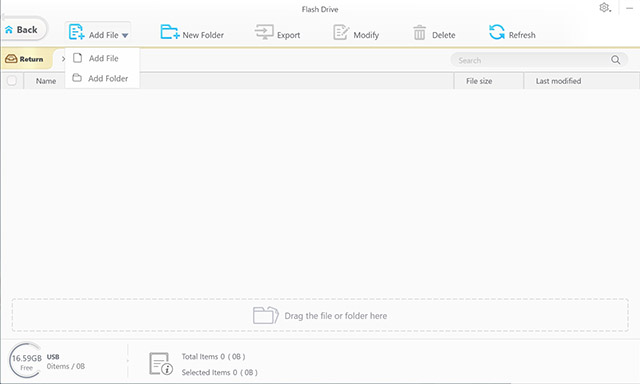 You can simply click on the 'Flash Drive' feature within WinX MediaTrans to get started.
Now you will be able to see any files you have kept in your iPhone. You can easily add or remove files from your iPhone's storage here and even encrypt them if needed.
Other Notable Features
Personally, I was looking for an app that would let me quickly transfer photos from my iPhone to Windows with ease. That, and this flash drive feature of WinX MediaTrans are the ones that I have been using constantly. However, WinX MediaTrans offers a bunch of other useful features as well. Features that might interest you depending on what you like to do with your phone, and how you use it.
Easily Transfer Songs to/from iPhone
WinX MediaTrans lets you easily transfer music to and from your iPhone. You can quickly see all the music on your iPhone within the app, along with information such as DRM protection on the music and more. The best thing is that you can see Apple Music files as well, and download them to your computer if you want to.
With WinX MediaTrans you can also quickly create new playlists on your phone directly from your computer, and you can even automatically convert music to AAC/MP3 files.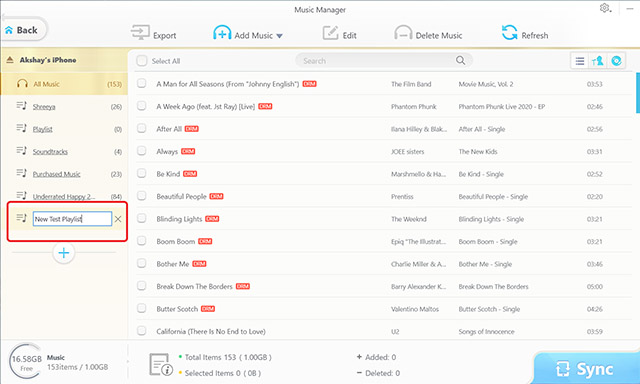 More interesting, perhaps, is the fact that WinX MediaTrans also lets you create ringtones from your music files. Just hover over a song you want to convert into a ringtone, click on the 'Make Ringtone' button and you're off to the races.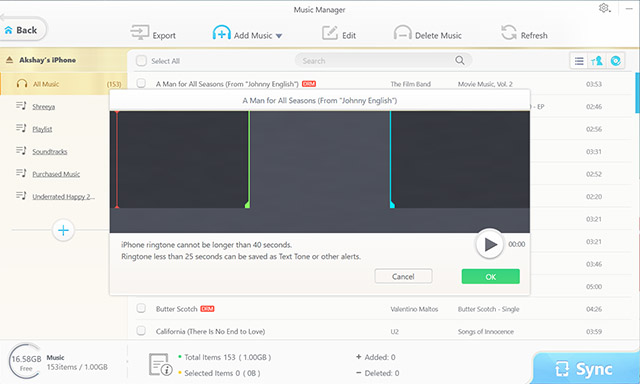 Transfer Videos
If you take a lot of videos on your iPhone, WinX MediaTrans will also let you quickly and easily manage all these video files as well. You can transfer them to your computer for backups if you like, and you can even transfer videos from your computer to your iPhone. What's more, WinX MediaTrans automatically compresses video sizes for Apple devices so you won't have any playback issues on your smartphone, which is just great.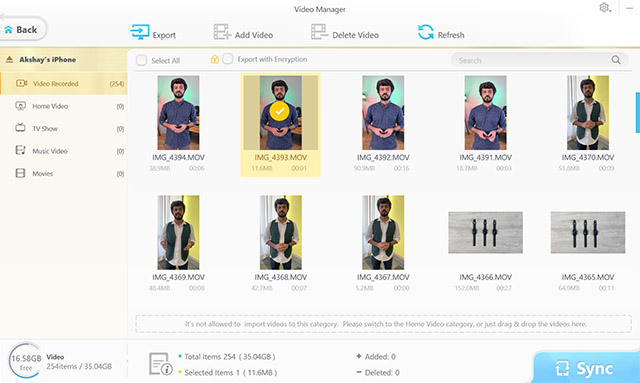 Transfer eBooks and Convert ePUB to PDF, TXT, and More
This one is a feature I can't really relate to since I don't read eBooks on my iPhone. However, if you do, you probably have a whole collection of ePUBs on your phone. Or maybe you've downloaded new ones on your computer. Well, you can easily transfer them using WinX MediaTrans, and if you want to read on a device that doesn't support ePUB files, WinX MediaTrans also lets you easily convert these files to PDFs and text files so you can view them on any device you want to.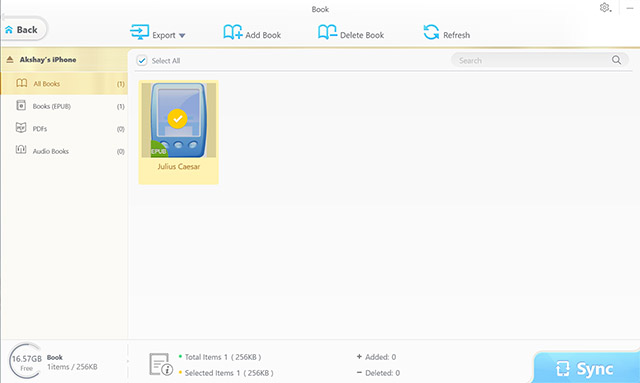 Limitations of the Software
WinX MediaTrans is a pretty solid software for all your iPhone/ iPad file management needs. As discussed above, the software lets you easily transfer and convert music files, videos, photos, and even ebooks. Plus it has interesting features like the flash drive feature which I really like.
However, while WinX MediaTrans is a software I would recommend using instead of iTunes on Windows, it can't replace iTunes completely. There are some things that Apple just won't let you do without iTunes. For example, you need iTunes if you want to backup your iPhone to your PC, or if you need to restore your iPhone from a PC backup that you have. This isn't something that WinX MediaTrans (or any other third party app) can do because Apple won't let them.
Use WinX MediaTrans to Easily Manage Files, Photos, and Videos on iPhone
WinX MediaTrans is one of the best software I have used to transfer files between an iPhone/ iPad and a computer. Not only that, it comes with a lot of other features which are great for people looking for more control over music, videos, eBooks and more on their iOS devices. The software lets you encrypt files if needed, and can also automatically convert HEIC photos and HEVC videos on your iPhone to compatible formats so they can be played easily on your computer and other devices.
The software is free to download and you can purchase a full license starting at $39.95. Moreover, Beebom readers can get the license for just $19.99 for a 1 year license, and $29.95 for a lifetime license with support for two PCs by heading over to this link.
So what are you waiting for? Get your copy of WinX MediaTrans right away and get a faster experience transferring files and media between your iOS devices and your computer.