The online world is full of threats. Any website can be infected and before you know it, the same files are now on your system corrupting your data. While the in-built Windows Defender comes into use, it doesn't protect your computer completely. Thankfully, there is a host of Malware Removal Software designed to combat this exact problem. For your safety online and offline, we have curated a list of the 8 Best Malware Removal Software that are sure to help ensure your security and privacy.
Best Malware Removal Software in 2021
You might find yourself confused between whether you want anti-virus software or anti-malware. To boil it down for you, anti-virus software used to focus on older viruses while anti-malware watches out for new advanced malware. However, as time has passed, most anti-virus companies have started providing anti-malware removal along with their software.
While you can go for strictly anti-malware for peace of mind and you'll be safe, you might miss out on features of other software providers that come at the same cost. However, for the sake of clarity, I have divided this article between anti-malware tools and software that offer more.
Testing Criteria
When it comes to evaluating the Malware removal software, the testing was three-pronged.
Malware removal and monitoring – This is quite obviously the primary factor when testing any malware removal tool. To test the software's capability, I intentionally downloaded and installed test malware files. These files were either downloaded and then scanned immediately or I turned off the software, downloaded them and then scanned them. This helped determine the detection rate and efficiency of the chosen tools.
Add-on suite features – While an Anti-Malware's first role is protection, there are other features that increase its value. Extended features like PC tune-up utilities, a Virtual Private Network and a password manager are a few of the many that are offered along.
Pricing and Device limit – You would want the most out of your buck so we compared pricing across the software.
Test System Specs
Platform – Windows 10 64bit
CPU – i7-6700K
GPU – GTX 1070
RAM – 16GB DDR4
Pure Malware Removal
1. Malwarebytes Anti-Malware
This popular malware removal software has been on many people's good list for a reason. If you're the type of user who is focused purely on rooting out malware rather than system optimisation, MalwareBytes is a good fit for you
Security
Security scanning on Malwarebytes is focused specifically on blocking out different types of malware like keyloggers, Spyware, viruses, rootkits and even Ransomware which is extremely useful.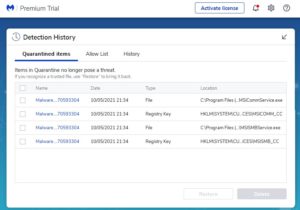 Malware blocking in Malwarebytes is extremely quick. The software moves the flagged malware/virus into the quarantine zone where you can decide what to do with it. There were times when Malwarebytes blocked the things I needed, but I could easily restore them. Surprisingly though, the software initially required a whopping 93% of my computers resources. Malwarebytes also monitors website traffic and blocks access to websites that may be designed for malicious purposes.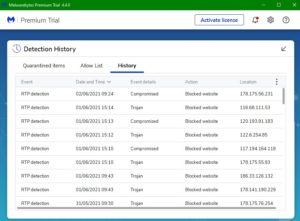 Every new user gets a 14-day Premium trial which offers real-time protection (Email required), URL protection and stronger Ransomware blocking. However, a big caveat is when the two weeks run out, you'll be left with a basic version. Real-time protection will be turned off so make sure to set reminders to do it yourself. However, the virus and malware definitions are regularly updated so you'll always have the latest dataset.
Features
When it comes to extended features, Malwarebytes is stripped of other added optimisations that its contenders offer. If you're looking for a package deal that protects and fastens your system, this is not it. Malwarebytes is designed to keep the malware out and that's that.
Pros:
Strong Anti-Malware protection
Covers various types of viruses/malware
Detection history tool is informative
Cons:
No Real-Time protection in free tier
Extremely high CPU load
Prone to Ransomware if not scanned regularly
No system speed up features
Verdict: Malwarebytes is a software tuned for users who want a good compliment to Windows Defender. This malware removal software will counter and block any threats but don't expect anything more from it.
Platforms – Windows, macOS
Install Size – 250 MB Minimum
Pricing: 1 Device: $39.96/YR, 5 Devices+VPN: $99.96/YR
Customer Support – Support Page/Customer Ticket
Get Malwarebytes
2. Bitdefender Antivirus Free Edition
Straight down to business, that's how Bitdefender works after installing it and creating an account. The lack of any formalities or settings was extremely convenient and the first thing I was greeted with was a sign that told me that security is already on. Bitdefender doesn't offer many visuals or settings when it comes to controlling a command centre.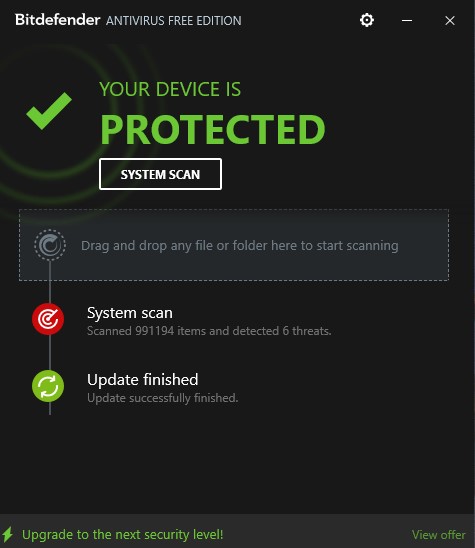 The scanning is simple in fashion with either a selective scan on what files you drop-in, or a system-wide scan. The scanner picked up the malware I set loose on the PC. Moreover, the entire process only took around 10% of the computer's resources. Bitdefender calls its Real-Time protection 'Protection Shield' that blocks any malicious software and displays it on the dashboard.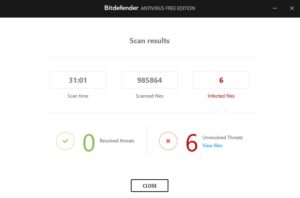 I could set exclusions for certain files that I didn't want to be scanned. This is particularly useful when saving sensitive files. The Antimalware engine of Bitdefender auto-updates and requires no intervention.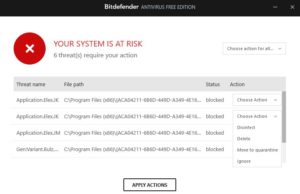 Other Features
When it comes to being a software suite, Bitdefender unfortunately does not offer too much. The malware removal tool is built simply to act as a safety barrier and nothing else. The lack of any settings means you're left with a simple toggle of turning on/off the Protection shield and that's it. Hence, customisation goes out of the window.
Pros:
Quick threat detection and deletion
Easy to use
Simple user interface
Free Real-Time Protection
Cons:
No customisation whatsoever
Needs you to sign-up before first use
Some might find UI barebones
Verdict: If you're looking for a no-nonsense malware removal tool without any need for settings, check out Bitdefender.
Platforms – Windows, macOS
Install Size – 2.5 GB+
Customer Support – Chat and Call/Knowledge Base
Get Bitdefender Free  
3. Avira Free Security
Avira comes as a refreshing free package that almost does it all without taking a penny out of your wallet. The free Anti Malware scanner is a strong robust software that does what it claims and does it quickly.
Avira's suite is divided into four handy categories that each interlink together to keep your system safe and fast. The security tab of the software is responsible for scanning malicious malware and viruses and it gets to work immediately post-install.
Security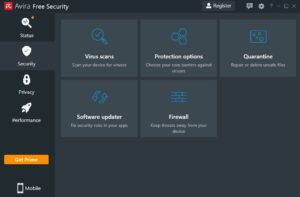 The built-in scanning of Avira was light on my system and was done in under 5 minutes. Apart from virus scans that you can perform at your own leisure or a mandatory weekly one, the software also provides services like quarantining files for the user to take a decision on and a Firewall setting that works in sync with Windows.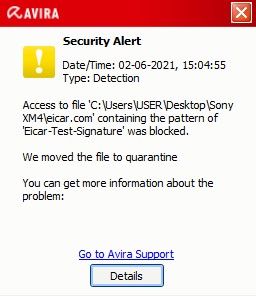 During my testing of its capability, Avira stopped any malware dead in its tracks before it even finished downloading on my browser. This Real-Time protection ensured I didn't have to turn on any setting manually to be protected. I was made aware of the detection through a loud sound cue and a small notice on my taskbar which was really informative.
Unfortunately, other protection measures like extended Ransomware and Web Protection are locked behind the paid plans. However, if you want to experiment with the complete package you can try it for 30 days for free without a Credit Card.
Other Features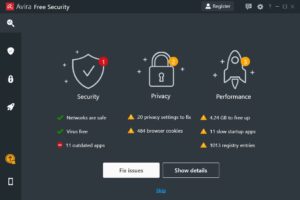 Avira also includes other Privacy and Performance features that can be the answer to some of your questions. Tools like File Shredder gave me secure deletion while the built-in VPN is a temporary way to change my IP address. Unfortunately, I couldn't change my location on the free tier so it's only good for quick anonymity. Some of the other handy tools Avira offers are:
Browser Privacy Extension
System and startup Optimizer for Speed up
Built-in Password Manager
Pros:
No Signup/Credit Required to download
Fast and lightweight scanning
Real-Time monitoring of Malware and viruses
Neatly divided control center
Useful addons (Browser extension, VPN)
Cons:
No Extended Ransomware protection in the free tier
Verdict: Avira proves to be a good malware removal software. Users looking for an all-around free solution that takes care of malware along with some features will like it.
Platforms – Windows, macOS
Install Size – 800 MB+
Customer Support – Knowledge Base/Chat and Call (Paid Plan needed)
Get Avira Free Security 
Malware Removal and Anti-Virus Suite
1. Norton 360 Standard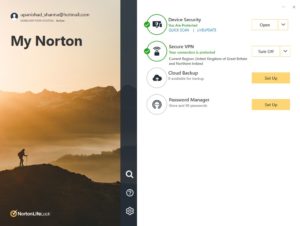 Of all the Malware removal tools I have tested, Norton 360 has come out on top. The security suite acts as a giant umbrella over the computer and completely protects it. Norton has a combined set of new-age features that include Advanced Machine learning and Artificial Intelligence to remove threats.
Security
Norton 360 not only blocked any malware files I tried to download but also removed their zipped versions which not every software is able to do. The scanning and removal were immediate and Norton resolved it without me needing to do anything. What I really liked was the detailed report I got after the threat's removal. It not only told me what it was but how old was the virus, how many people have encountered it and more.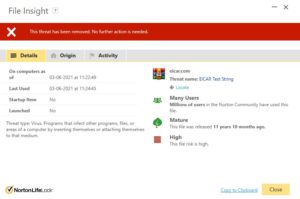 Furthermore, the software also detected and removed Advertising Cookies that were present in the system without my knowledge. The quick scan targeted the most sensitive areas and quickly displayed the results. Norton 360 is also extremely lightweight on the PC while actively scanning. Even the full system scan did not stop me from watching Netflix and chatting in the background.
Besides conventional scanning, Norton 360 also includes a plethora of other security measures. The separate 'Smart Firewall' uses the company's machine learning tech and acts as a second shield against threats alongside the standard Windows one. Moreover, the suite also provides Email protection and has 'Download Intelligence' that scans the reputation of downloads you're performing for protection. Additional features include:
SONAR protection
Intrusion protection
Anti-Phishing protection
Encrypted Cloud Storage
Other features
The performance center of Norton 360 acts as a system optimiser and speeds up the system in various areas. From scanning my disk drives for fragmentation to disabling heavy load start-up programs, the center has a few tricks up its sleeve. The built-in Safecam feature monitors the camera and lets you know when an app is using it. You can also see how much CPU space Norton is taking in real-time which is very handy.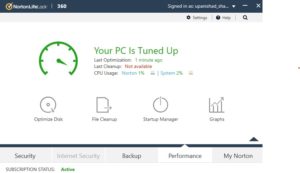 Getting Norton 360 also includes the added features that come along in the suite. The built-in VPN has a one-click turn on with over 30+ countries to choose from. While the VPN connection cut my original speed in half, I was happy to see that there is no data cap on it.
Since Norton 360 has a lot of versions available, some of the plans might seem too expensive. However, the most robust features are available on the 360 standard plan.
Furthermore, the built-in Password Manager is pretty handy for folks looking to create a database.
Pros:
Powerful scanning features
Additional Smart Firewall
VPN with 30+ locations
Secure Cloud Backup
Verdict: Norton 360 acts as a definite solution against malware of any kind. While the advanced security features would be enough, the added bonuses make this malware removal program a complete package for the ones looking.
Platforms – Windows, macOS
Install Size – 300 MB+
Trial – 7 Day Trial with 60 days Refund (Credit Card Required)
Pricing: 360 Standard 1 Device: $25.99/YR, 360 Ultimate Unlimited Devices $251.88/ YR
Customer Support – Chat and Call/Knowledge Base
Get Norton 360
2. Kaspersky Security Cloud
Kaspersky cloud is the company's best offering that puts six of its premium products under a single app. There are a lot of reasons why Kaspersky is one of the strongest purchases you can make to protect your computer.
Security – Cloud Protection
Kaspersky's online security network (KSN) is one of the hallmark factors that make the software so secure. Put simply, KSN is a cloud knowledge base that contains information about the reputation of various apps and sites online. KSN is a community service which means it relies on users participation.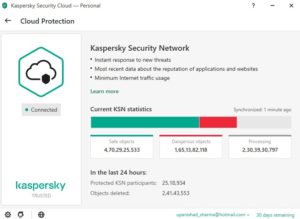 This service ensures that whenever a new threat emerges, it is instantly updated and every Kaspersky client is already aware of it. So instead of waiting for periodic updates, it's all in real-time.
As with Norton, Kaspersky immediately detected malware and blocked it. For the ones already present in my system, the Sky offered to 'disinfect' the computer. The software also offered full disinfection where I needed to restart my computer for the full effect.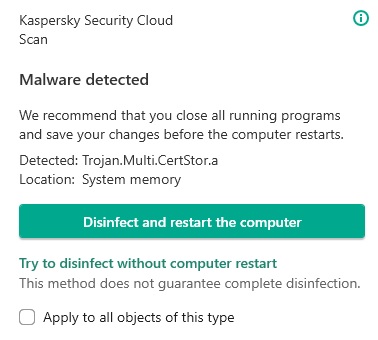 Kaspersky's other security features are also vast and offer options. The Rescue Disk 18 is an add on that cleans a critically infected PC while it's booting up. You also get an option to find out if there are some system settings that are making you vulnerable. I liked 'Safe Money' feature in particular where you can add websites you usually make payments on and it opens them in protected mode.
The software also comes with backup and restore functions along with other added features like safe browsing, webcam protection and detailed reports of the system.
Other features
Kaspersky too comes with its own set of performance optimisers and added products. They are pretty standard but handy if you need more than just a malware removal tool.
The PC cleaner detects applications that might be leaking sensitive info and helps delete them. However, the privacy protection tab, in particular, includes an 'Account Check' feature that notifies you if your data is ever leaked online. In 2021, this feature is a much-needed one.
Kaspersky also gives a password manager and a VPN to hide online. Unfortunately, even the paid cloud plan comes with a 500MB daily data limit which is very meagre. To get more you need to buy the service as an add-on which will cost you more. But, given the affordable plans, I'll let the VPN thing pass.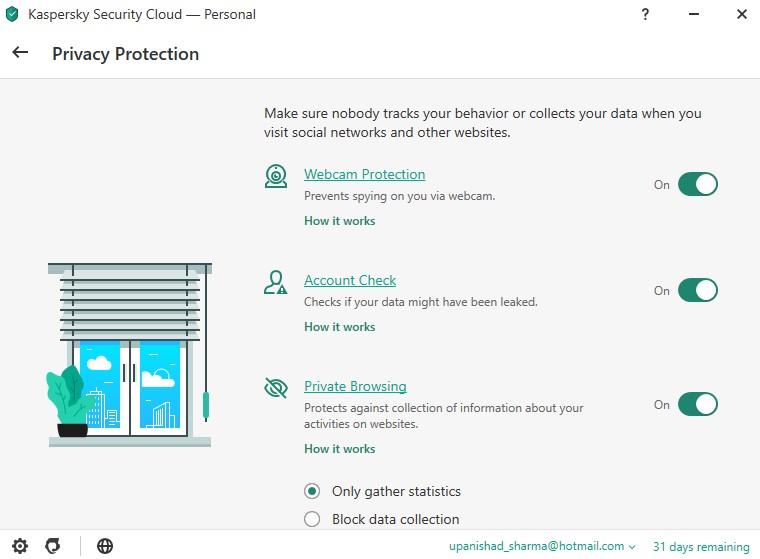 When it comes to system tune-up you get what you would expect from most PC polishing apps. There's a hard drive monitor, unused data/privacy cleaner and even a Windows add-on troubleshooter. All in all, Kaspersky's tune-up utilities end up adding a lot of value to its security panel.
Pros:
Kaspersky Security Network
Quick disinfection
Safe Money
Good tune-up and privacy panels
Verdict: If you're a user who's determined to have the latest malware definitions, Kaspersky will fit like a glove. The robust security features along with tune-up capabilities make this suite easily worth getting.
Platforms – Windows, macOS
Install Size – 300 MB+
Trial- 30 Day Trial (No Credit-Card)
Pricing: 3 Devices: $53.99/ YR , 5 Devices: $59.99/YR
Customer Support – Chat and Call/Knowledge Base
Get Kaspersky Security Cloud
3. Webroot SecureAnywhere AntiVirus
Adding to the list of suites, Webroot SecureAnywhere is another software that provides a host of features albeit targeting them heavily toward security.
Security
Like other software I tested, Webroot's Real-time protection proved to very efficient in blocking any malware that was downloaded to the system in form of either test files or freeware. The Antivirus swiftly blocked access to the files and then gave me the option of choosing to remove them now or later.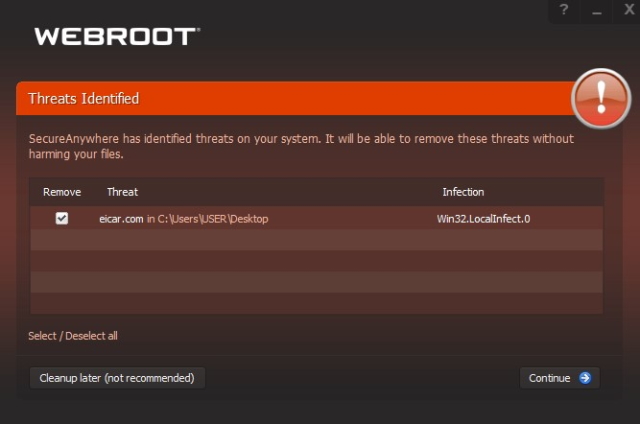 While Webroot also claims that quick scanning only takes 20 seconds, it took a good six minutes on my computer on the first try.
However, this antivirus also comes with other security features tacked on that make it a wise choice to have. The built-in firewall acts as a secondary shield against any online attacks that might seep into your system. It also contains a 'USB Shield' that will block any malware that might be making your way to your PC through external storage.
As a chronic internet user, I especially liked Identity Theft Protection because of its ability to protect my online data by keeping a watchful eye on my browser and how it interacts with third-party trackers.
Furthermore, Webroot has an added on Phishing Shield that uses machine learning to identify which websites are out to steal your info before you end up submitting anything. Application Protection ensures sensitive data does not leave the app that you're using. Webroot also comes with a 'Web Shield' that installs itself in the form of browser extensions. This shield works alongside phishing and scans and flags any websites that might be suspicious.
Other Features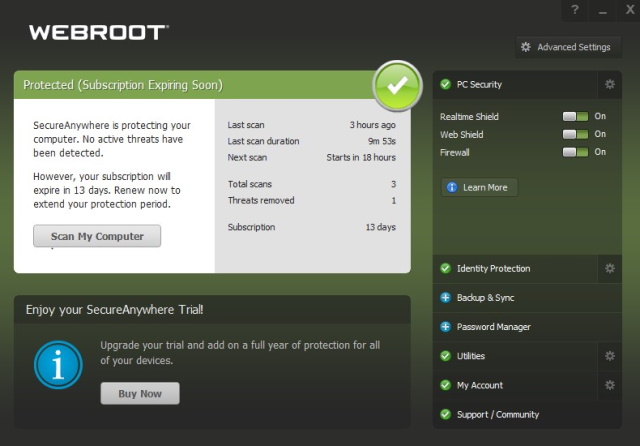 While this won't be a downside to everyone, the design of the software looked dated to me. Having said that, that level of simplicity is helpful in quickly finding out where various options are hidden.
Furthermore, one of the things that caught me off-guard is how lightweight SecureAnywhere is. WebRoot Antivirus once installed took just over 5MB of space. Yes, that's it. Webroot claims it's because, unlike other anti-malware software, SecureAnywhere stores all the malware definitions on the cloud thereby consuming fewer resources.
The antivirus suite provides other features that act as complements to the software. The built-in Backup and Sync functionality provides up to 25GB of online storage where you can store various files including images and videos. Backup and Sync is encrypted so you can rest easy knowing your files are safe online.
There's also a password manager that is powered by LastPass, one of the best password managers you can use. Passwords easily sync across browsers and devices and you can choose to auto-fill them on your Android/iOS phone or computer.
The customer support for Webroot is plenty. The knowledge base is full of useful documentation that talks about the various features in a how-to format and is generally useful. Like Malwarebytes, you need to make a 'ticket' to get human support which works like an online chat once connected. There are also community forums where you can ask your questions and get answers.
Pros:
Extremely Lightweight
Real-Time Protection
Second Firewall
Add-on security (Anti-Phishing, Identity Protect)
Cons:
Dated Design
Quick scanning isn't very quick
Verdict: While the design and interface of Webroot itself are decent at best, it provides enough security features and modern protection for a user to consider it as a powerful malware removal software. Go for it if you want a lightweight tool that does what it says.
Platforms – Windows, macOS
Install Size – 5MB+
Trial- 14 Day Trial (No Credit-Card)
Pricing: 1 Device: $29.99/ YR , 3 Devices: $37.99/YR
Customer Support – Knowledge Base/Customer Ticket
Get Webroot SecureAnywhere Antivirus 
4. F-Secure SAFE
Another tool that you can use to keep your PC safe from malware, and, to rid malware from your computer if it's been infected is F-Secure SAFE. This is basically a suite of antivirus tools from F-Secure that brings a ton of features to the mix. Sure, it's a tad on the pricey side of things, but it does bring a plethora of features that sort of make up for it.
F-Secure brings an antivirus software, along with banking protection so you can safely shop online. There are also family safety tools included with the software. Plus, you get a device finder so you can easily locate your Android and iPhone devices without a hassle.
Though F-Secure is usually rated quite highly for protection features, the software does tend to throw out plenty of false positives as well, which can be a little annoying. On the other hand, the software brings a clean UI, so it's easy to use, and it's also lightweight — something that most antivirus software really aren't.
Pros:
Lightweight
Easy to use UI
Suite of antivirus and device management tools
Cons:
Pricier than most options
Frequent false-positives
Verdict: Though F-Secure SAFE is a pricier offering, the host of features it offers, along with the easy to use interface, make it a viable option to protect your online life.
Platforms: Windows, macOS, Android
Pricing: 3 Devices: €59.90/year; 5 Devices: €79.90/year; 7 Devices: €99.90/year
Customer Support: Knowledge base, live chat, customer service call-centers
Get F-Secure SAFE
5. Trend Micro Antivirus+ Security
For a slightly more affordable option, you can also consider getting Trend Micro's antivirus offering. This antivirus software brings anti-spam features along with all the other features on offer. One of the really cool features of Trend Micro's Antivirus+ software is the built-in anti-ransomware protection which can protect you from falling victim to any of the ransomware attacks.
Further, Trend Micro Antivirus+ brings advanced AI learning, Pay Guard to keep your online payments secure from attacks, and email scam safeguarding to protect you from email scams such as phishing attacks and other popular scams online. Trend Micro has received solid ratings overall in terms of accuracy, which means you can rest assured that the software will identify most virus and ransomware accurately. What's more, the software is also not as prone to false-positives as some other options on this list.
Pros:
High level of accuracy
Pay Guard feature
Email scam protection
Cons:
Might be a little heavy on resources
Verdict: Trend Micro's offering is a decent choice for people looking for a malware removal software that brings a bunch of useful add-ons in a price that's not too heavy on the pocket.
Platforms: Windows, macOS, Android, iPhone
Pricing: 1 Device: $19.95
Customer Support: Knowledge base, tickets, call, and live chat
Get Trend Micro Antivirus+
Frequently Asked Questions (F.A.Q)
1. What exactly is Malware?
Malicious Software (Malware) is an umbrella word for various types of viruses, trojans and other harmful programs nefarious people use to invade systems and cause damage. The damage can range from a simple worm that is annoying in nature to Ransomware that locks your files until you pay up. Malware is of various types but most anti-malware software cover against them all.
2. What are some types of Malware and what's the most dangerous?
While all malware is dangerous, Ransomware has definitely been on the top of the list for some time now. Ransomware locks your personal files and then demands money in exchange for their release. It's is so dangerous that it was the top Ransomware attack in 2019 and it has been surging even in 2021. Ransomware not only affects everyday users but even business that end up losing millions because of this.
Other types of Malware include:
Viruses (Yes, Virus is also a type of Malware)
Keyloggers
Worms
Trojans
Rootkits
3. What is the difference between a Virus and Malware?
Malicious software (Malware) is an umbrella term for various types of computer programs that are designed to harm and exploit a number of devices. These devices can range from smartphones and computers to servers that host websites. A Virus is just a type of malware that self-replicates itself and harms the system. Viruses are one of the oldest types of malware.
4. What's the difference between Anti-Virus and Anti-Malware software?
Since viruses also fall under malware, anti-virus companies initially marketed themselves as virus removal services. An anti-virus focuses on fighting more traditional type of viruses. However, anti-malware software fights the newer evolving malware that is more deadly in nature. Most anti-viruses these days though also have built-in anti-malware features that perform the same functions.
5. What are some signs I have Malware on my PC?
Newer intelligent Malware will do its best to slip through the cracks in your computer. However, there are some telltale signs that your system might be infected.
Your PC will start slowing down/freezing unexpectedly.
You will find software installed that you never consented to. (Third Party adware)
You're suddenly receiving too many ads, pop-ups etc.
Windows Defender might be disabled without warning.
Alternatively, you can always run a malware scan and find out.
6. Can Malware spread through Email too?
Yes, it can. Users with malicious purposes often attach malware as an email attachment and send them in emails that might seem enticing (lottery, free offers etc). While services like Gmail and Live do their best to scan files, always make sure you have a malware removal tool installed so it can block them before they start working.
7. Will a factory reset get rid of Malware?
A factory reset will essentially delete all the files and reset settings on your computer. However, it is not guaranteed that all the malware will be erased. While traditional malware that is old might be removed, newer malware is more resistant and might still end up staying. So, before you go deleting everything on your PC, try getting rid of the malware using the above list.
8. How can I remove some malware first before installing anything?
Answer. If you want to pre-emptively clean your PC before you go on installing any malware scanner, you can use the Microsoft Safety Scanner for a quick way to do a pre-cleaning. Once your computer has been cleaned enough, go ahead and install any of the above software for real-time protection.
9. Should I install all these tools at once?
No, You won't be able to install all these tools in the first place anyway. For example- Norton 360 will ask you to remove Webroot before you can install it. However, you can go ahead and install Malwarebytes alongside Windows Defender without problems.
10. Isn't Windows Defender enough to fight Malware?
Yes and no. While Windows Defender has come a long way both functionally and visually, it still isn't as quick and hostile when compared to modern malware removal software. It's recommended you install one of the software from our list and help poor Defender out. However, if you want to completely remove it, it's simple to disable Windows Defender.
Use these Best Malware Removal tools for protection
Malware infection is a real threat that infections millions of computers. However, no matter which anti-malware software you use on the list, your computer will be protected from all threats online and offline. Just make sure to practise safe browsing habits and only download from websites that you trust. Got any suggestions for more? Let us know in the comments below!