This year Twitter is celebrating its birthday by allowing everyone to see their own or anyone else's first Tweet. So, we decided to jump at the opportunity and dig out first tweet by some of the famous and most celebrated Bollywood stars.
The list starts with Senior Bachchan and concludes at Poonam Pandey, so without wasting much time, let's just begin.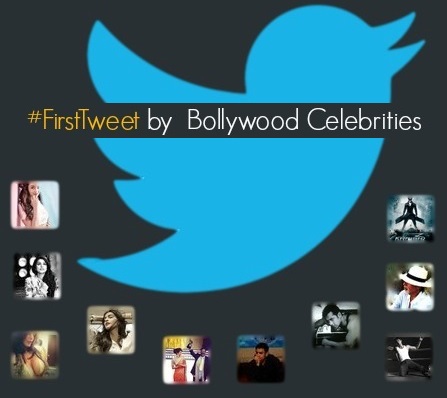 @juniorbachchan hey baby !! I made it on twitter !!! Yeeaaaaaahhhh !! … sorry.. just got carried away .. safe onward flight and love

— Amitabh Bachchan (@SrBachchan) May 18, 2010
hi everyone. being extremely shy i never thought i would be here. but my friend @kjohar25 insisted that i should learn to share my life.

— SHAH RUKH KHAN (@iamsrk) January 2, 2010
Arbaaz ne kaha ke tweet kar toh banta hai boss

— Salman Khan (@BeingSalmanKhan) April 13, 2010
Testing. Aamir.

— Aamir Khan (@aamir_khan) June 30, 2010
http://tinyurl.com/c3llsq

— Akshay Kumar (@akshaykumar) May 4, 2009
Spread humanity with a vengeance, GO WATCH MY NAME IS KHAN. ..and for the record, my name is HRITHIK ROSHAN.

— Hrithik Roshan (@iHrithik) February 11, 2010
hey guys! yes, yes it's really me. thank you troon (thats tarun mansukhani). so people…….JrB is in da house! — Abhishek Bachchan (@juniorbachchan) November 3, 2009
For all of my fans, finally I have joined Twitter. Love, Madhuri

— Madhuri Dixit-Nene (@MadhuriDixit) November 27, 2010
Testing… 123… — PRIYANKA (@priyankachopra) June 18, 2009
tweet tweet!!its 5 am and all my tweetmates must be fast asleep…so i welcome myself to twitterverse…:-)

— Deepika Padukone (@deepikapadukone) January 5, 2010
Wondering what exactly is an un?? Incase I want to Do 'un'to others as they would do 'un'to me?

— Farhan Akhtar (@FarOutAkhtar) December 22, 2009
Kaminey releases on monday, 17th in Mumbai. Finally 🙂

— Shahid Kapoor (@shahidkapoor) August 15, 2009
just found out a fake preity zinta has a 140000 following on while the real one is in shock !!!! I think i nead Karan Johar to help me 🙂

— Preity zinta (@realpreityzinta) October 30, 2009
I cant believe I gave in to this!

— Sonam Kapoor (@sonamakapoor) June 27, 2009
Hello Hello i am the newest inclusion to twitterdom! In London now..IPL Jitters kicking in.Launched the new mascot 'Moochu Singh' too cute!!

— SHILPA SHETTY (@TheShilpaShetty) February 26, 2010
I enter the world of twitter with some trepidation. There is so much to see, so much to learn.

— Anupam Kher (@AnupamPkher) October 31, 2009
hi my tweeter friends, finally i m on this network. lets see how these social networking sites work for me. never been on one.

— Sanjay Dutt (@duttsanjay) May 28, 2010
Ran the mumbai marathon yesterdayyy ! wohoooooo 🙂

— Alia Bhatt (@aliaa08) January 17, 2011
@priyankachopra Figured I might be able to know more about what you're doing here than at home! Welcome me to twitter plz haha

— Parineeti Chopra (@ParineetiChopra) September 4, 2009
Off to Kashmir tomorrow and very happy about it…

— Kalki Koechlin (@kalkikanmani) February 3, 2010
Hello check

— Ranveer Singh (@RanveerOfficial) March 25, 2013
Using Twitter, I guess no one knows better than her. (Humble first Tweet, isn't it?)
new on Twitter dono how shud i go with it now!!! its all new for me ;((

— Poonam Pandey (@iPoonampandey) February 1, 2011
If you want to see your own first tweet, use this link.
I hope you enjoyed the post, share it with your friends on Facebook & Twitter and feel free to leave your comments below the post.
And Follow us on Twitter Follow @thetecnica

SEE ALSO:
The Story of Your Daily Life on Twitter in Pics
6 Most Epic Tweets of All Time