As soon as the idea of Kiss of Love campaign started generating noise on social media, most people were taken aback. The mere idea of protesting in public by kissing each other made everyone circumspect at some point.
But, slowly and gradually a Facebook page changed the entire landscape for Indians in general. The page had created an event asking people to join the protest against moral policing at Marine Beach in Kochi.
Slowly and gradually, the campaign reached to various parts of the country like Kolkata, Mumbai, Hyderabad and Delhi where a lot of hullabaloo was made.
Here's sneak-peak into the journey of how the Kiss of Love campaign has fared across different parts of the country:-
Kochi (02 November, 2014)
Chaos and pandemonium accompanied the inaugural Kiss of Love protest that took place in Kochi's Marine Drive.
The event was held to protest against moral policing when Bharatiya Janata Yuva Morcha smashed the restaurant Downtown Café after some young couples as well as students were caught mingling with each other in the restaurant premises.
Lathi charge happened and a lot of arrests were made. Shiv sena acting as moral police too came in with their own kind of protest. We did a story as well about the whole protest in pictures  that'll let you know about the protest.
Here's a video describing about how the whole protest fared in Kochi's Marine beach:-
Mumbai (02 November, 2014)
On the same day as Kochi was celebrating the 'Kiss of Love' protest, students from IIT Bombay too came up to their support for them. They protested in their own kind of way; chanting slogans, singing motivational songs, doing road shows and much more.
They were pretty clear in stating that any type of moral policing wasn't acceptable and freedom of expression is the birth right of every Indian.
Here's a video about the whole protest by IIT Bombay:-
Kolkata (05 November, 2014)
Kolkata held its very own 'Kiss of Love' protest where thousands of students participated in the event.
Students from the prestigious Jadavpur and Presidency Universities made the protest even more special by adding a lot literature into it. They formed human chains, enacted skits and showed public display of affection amidst the cameras shooting them.
However, the protest was no way meant for what happened in Kochi but moral policing in general. One of the protesters is reported to have said,
"Love has no boundaries and it cannot be bound on the basis of gender, caste, religion etc. Irrespective of our sexes, we kissed each other as a mark of protest against the rising instances of moral policing".
Here's a video highlighting the protest in Kolkata:-
Delhi (08 & 09 November, 2014)
The campaign of 'Kiss of Love' finally reached the capital city of India. A lot of political motive was looked into the whole protest by many who had witnessed it.
The protesters made their way to RSS office who has been involved with moral policing for so many decades now. Even the students from JNU as well as Jamia Millia Islamia were present but the reports suggest they were just there to chant anti Modi words.
Here's a video of the whole process that took place in Delhi:-
One common aspect that was pretty clear from all these protests were those people who were trying to stop the protests and be moral police yet over again.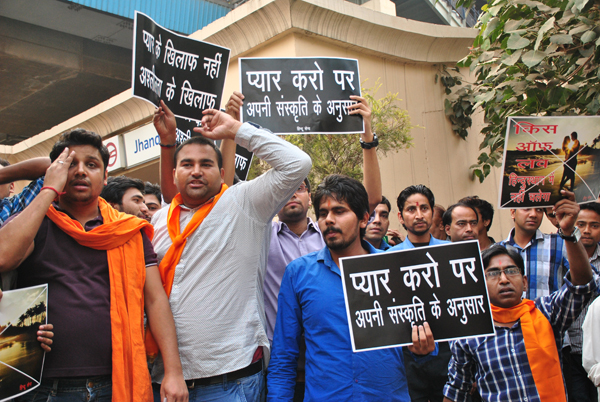 A website 'ShankhNaad' had done an interview with a protester in Delhi and that is what she had  to say in support of the protesters.
1. On "It's Okay To Piss In Public But Not Kiss In Public"…
"Nothing could be more absurd. What do you mean allowed? Is there a govt. scheme that says 'join our pissing squad, earn a proud living'. Whoever does, tries to find as secluded a place as possible, in some dark place away from public view and only when there is no public urinal around. Besides, pissing can only be suppressed for some time before you have to go. On the contrary, kissing is not something you have to do. It's not like your lips are bursting or anything. And since when did two wrongs start making one right? If there is one practice reflecting bad civic sense, shall we add one more to it?"
2. On Western Culture Doing The Exact Same Thing…
"It's never more than a casual peck on the cheeks, unless one is drunk or stoned. Go to those nations and you'll find their TV/Cinema content is rated based on whether it's suitable for kids or not. Kids are never exposed to sexual undertones, nudity etc. Even among adults, when people start getting too intimate they're told "get a room". This is nothing but a soft way of saying 'your public display of affection is annoying. We'd prefer if you take it to a private place'."
3. On Protesters Not Protesting Against Rapes, Dowry, Female Foeticide etc…
"I'm not against kissing or even kiss of love. A mother kissing her child is love, same for siblings or event close friends. But two adults locking lips is nothing but lust. I am against that display of lust on our roads. Is this not the reason why one opposes eve teasing? Eve teasing is another display of lust, albeit one sided. I have always protested the issues that you mentioned but here is something special about the kiss of lust."
Kiss of Love campaign that started out against moral policing did receive a lot slash but a lot of support on social media as well. Many people, especially women recited their personal experience on Facebook with #KissOfLove.
Here are a few selected posts from Facebook regarding Kiss of Love campaign:-
Kiss of Love campaign without any qualm has captured the imagination of youth like no other. But, the important question one needs to ask; will this campaign lead to any result or will it just be another campaign that will be remembered in India's history?
Recommended: 12 Powerful Pictures Describing Hong Kong's Umbrella Revolution