The relationship between India and Pakistan has always caught the imagination of the world. Both these countries have so much in common, their diversity seems non-existent at times.
India and Pakistan off late have had so many altercations even on social media that it seems their relationship hasn't improved over the years. Be it the complete opposite reporting of LOC firing by the newspapers of both the countries, Pakistan People Party (PPP) website hacked by Indian hackers, India's Prime Minister Narendra Modi called Terrorist along with so much more.
A Pakistani research organization, Gallup Pakistan collected data and tried to make sense of the evolution that Pakistan has gone through over the period of 30 years.
They've asked people about the issue of Kashmir, nuclear weapons used by India, present Modi Government, likelihood of war with India and much more. They've collected the data and compared it with the data they had collected on similar questions 30 years ago.
Here are the graphs that'll reveal India is still the most hated country for Pakistan:- 
1.

2.

3.

4.

5.

6.

7.

8.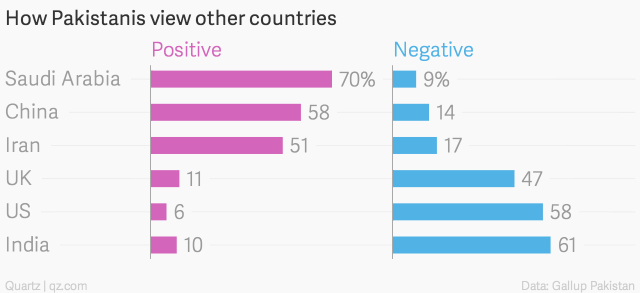 Recommended: These Fuming Images Of Pakistan's Attack On India On Twitter Will Leave You In Shock
Do you all agree with these statistics? If not, tell us your views on the questions so asked in the comment section.