iMessage effects like lasers, confetti, and celebration are fun-loving. To me, they are as exciting as the hilarious Memoji stickers and Animojis that never fail to lose the charm. While I like everything about the bubble and screen effects, I make sure to turn off their autoplay in the chat threads especially when my device faces battery drain issues. Luckily, the process to disable autoplay iMessage on Apple Watch is as straightforward as it is on iPhone.
Turn on/off Autoplay iMessage Auto Effects on Apple Watch
Ideally, it would have been better had the toggle to turn on/ off iMessage auto-effects on watchOS been located inside Messages app setting. Instead, it has gone inside the Accessibility setting (both on iOS and watchOS), which is why not many of us know how to stop them from playing automatically in the chat threads on Apple Watch. Not to mention, some of us keep wondering if there is an option to take control of these effects. Anyway, let me show you how it works!
Launch Watch app on your paired iPhone.
2. Now, ensure that My Watch tab is selected. Then, tap on Accessibility.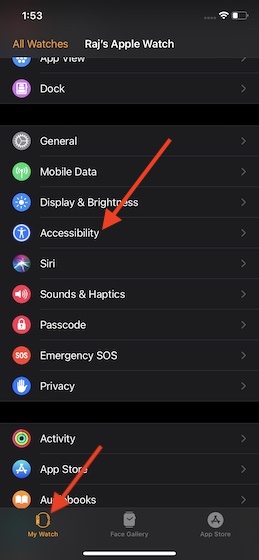 3. Next up, tap on Reduce Motion.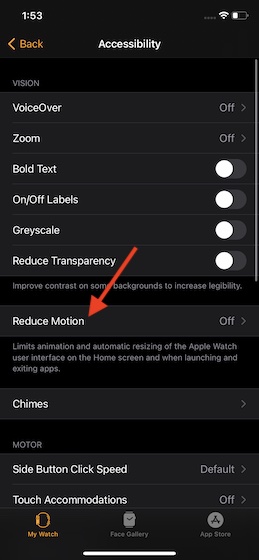 Note: 
For those unfamiliar, Reduce Motion is designed to restrict animation and automatic resizing of the Apple Watch user interface on the Home screen and when launching and exiting apps.
5. Now, turn off the switch right next to Auto-Play Message Effects to disallow full-screen effects in the Messages app to auto-play.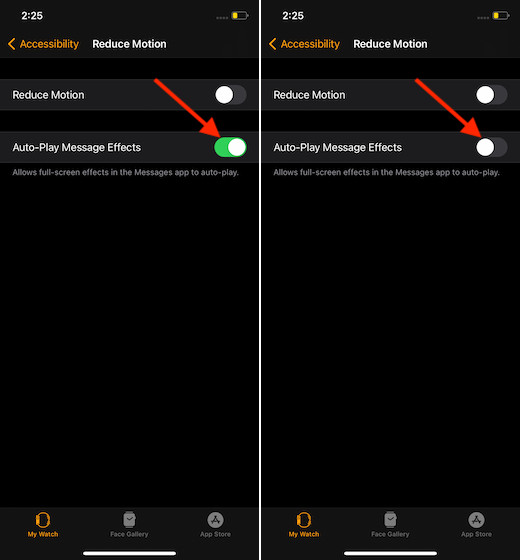 Going forward, the iMessage effects won't play automatically. If you ever wished to check them out, you can tap on the Replay button. Besides, if you want to bring those effects back in full glory again, go back to the same setting and then turn on the toggle right next to Auto-Play Message Effects.
Note: 
To disable auto-play message effects on your iPhone, head over to Settings app -> Accessibility -> Motion. Now, turn off the toggle for Auto-play Messages Effects. 
Turn on/off Auto-Play iMessage Auto Effects on watchOS
So, that's how you can turn control of auto-play messages effects on your Apple Watch. Save this little nifty tip for the times where you are more concerned about enhancing the battery life of your smartwatch than checking how cool each effect is or simply find them annoying/distracting.
With a series of notable features like sleep tracking, handwash detection, and battery health, watchOS 7 is a major upgrade. Which one of these features have impressed you the most and what do you expect from the watchOS 8? It would be great to have your thoughts in the comments section below.
---
Load More