Every smartphone company these days has its own version of a fast charging technology that they claim is the fastest.. or something like that. The only problem with that is that only one technology can be the fastest. The others can be fast-er. So we decided to settle the score once and for all. We put charging technologies from Samsung, Xiaomi, OnePlus, Motorola, Huawei, Google, and Apple to the test to find out which one was actually the fastest.
The Fast Charging Technologies
We're using the Galaxy S8 with Samsung's Adaptive Fast Charging, the Mi 6 with Qualcomm's QuickCharge, the OnePlus 5T with the famous Dash Charge, the Moto G5S Plus with Motorola's Turbo Charge, the Huawei Honor View 10 with Supercharge, Pixel 2 XL with USB Power Delivery and the iPhone X with..well, they just call it fast charging right? Why? well, because they all come with similarly sized batteries.
To make everything else even, I formatted all the devices, and put down three conditions to charge them in. A 0 to 100 charge with the phones powered off, a 15 to 100 charge with the screen on, and a 15 to 100 charge with the screens off. We used the chargers that came in the box, and for the iPhone, we used the standard charger apple packs with the phone because I don't agree with Apple's strategy of selling fast chargers separately. Screw that.
Fast Charging Test 1: Charging from 0% to 100%
With the phones completely discharged, I connected them to their chargers. Then, it was a matter of waiting. To my surprise, the View 10 with Huawei's Super Charge tech reached a 100% in 1 hour and 21 minutes. Seriously amazing, considering its bigger 3,750 mAh battery. If you're wondering about the OnePlus 5T, and I know you are, don't worry, Dash Charge wasn't too far behind, with the OnePlus 5T taking just 2 extra minutes, getting fully charged in 1 hour and 23 minutes.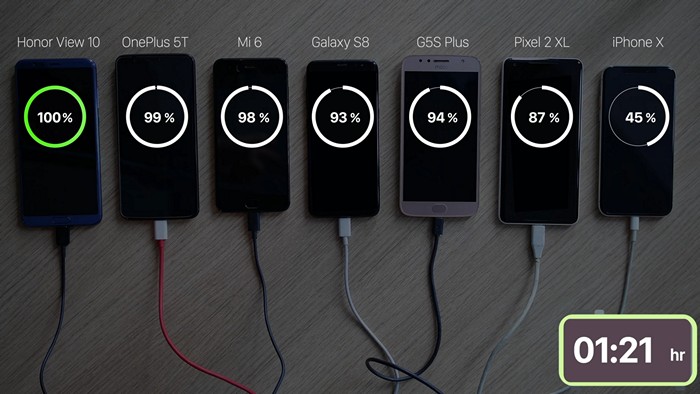 The competition between the View 10, 5T and Mi 6 was very close, and honestly very interesting, but the Mi6 came in third, taking 1 hour and 27 minutes to get fully charged. Then we got the Galaxy S8, followed by the Pixel 2XL and Moto G5S Plus at the same time. That was surprising, but hey, it was cool to see as well.
The iPhone X was a huge disappointment. I mean, I knew it'd take longer, I just didn't know it'd take more than twice the time. It took the iPhone 3 hours and 10 minutes to fully charge. Wow.
Winners:
Honor View 10 (SuperCharge): 1 hour 21 minutes
OnePlus 5T (Dash Charge): 1 hour 23 minutes
Xiaomi Mi 6 (Quick Charge 3.0): 1 hour 27 minutes
Fast Charging Test 2: Charging from 15% to 100% with Screen On
Undeterred by the disappointment that was the iPhone X's results, I proceeded to testing the phones from 15 to 100 with the screen on. I'm sure you guys saw that OnePlus ad where they compared Dash Charge with other technologies in a screen on test. It seemed that OnePlus was unbeatable in screen on tests, so I tested that claim as well, and it proved itself true.
The OnePlus 5T took just 18 minutes to get to 50% charge. Let me pause here so you can realise the ridiculousness of that charging speed. In half an hour, the 5T was up to 72%! The closest phone so far, was the Mi 6, which was at 55%. In 1 hour and 14 minutes, the OnePlus 5T was done.
Dash charge won, but not spectacularly; The View 10 took a few more minutes, clocking in 1 hour and 18 minutes to get fully charged… once again a really great charging speed.
Both our winners were followed by the Mi 6, the S8 and the G5S Plus. Surprisingly, the Pixel 2 XL took 3 hours and 18 minutes to reach a full charge, and the iPhone X took 3 hours and 56 minutes. Once again, let me pause here while you appreciate that it took 4 hours to go from 15 to 100. By now I wasn't even sure why we were even comparing this phone to the rest. 4 hours for a full charge. Damn it Apple.
Winners:
OnePlus 5T (Dash Charge): 1 hour 14 minutes
Honor View 10 (SuperCharge): 1 hour 18 minutes
Xiaomi Mi 6: 1 hour 35 muinutes
Fast Charging Test 3: Charging from 15% to 100% with Screen Off
I would've really stopped testing the iPhone X, but I thought maybe, just maybe the iPhone X could pick up in the 15 to 100 test with the screens off. Oh boy, how wrong I was.
Dash Charge hit the ground running, as it always does, and in just 17 minutes, the 5T was at 50%. In 30 minutes, it was at 73%! My oh my, I was loving this. It's closest competitors were nowhere near it. The Mi6 was at 64% at the 30 minute mark, and the rest were, well… they were even further behind! In just 1 hour and 14 minutes, the 5T was done, and I realised that screen on or off, Dash Charge is the king of all technologies.
The 5T was followed by the Galaxy S8, stealing the View 10's place. The Mi 6 was the next to reach 100%, in 1 hour and 20 minutes, followed by the View 10 and the G5S Plus, which took the exact same time, 1 hour and 44 minutes to get to 100%. The Pixel 2 XL came next, followed by the very obvious, spectacular loser, the iPhone X. Although it took less than 3 hours this time, so I guess we can call it a win.
Winners:
OnePlus 5T (Dash Charge): 1 hour 14 minutes
Galaxy S8 (Adaptive Fast Charge): 1 hour 16 minutes
Xiaomi Mi 6 (Quick Charge 3.0): 1 hour 20 minutes
Which is the Best Fast Charging Technology?
If there is one thing we can conclude from this entire test, it's that OnePlus's Dash Charge and Huawei's Supercharge are more or less the fastest out of all the technologies we tested. In fact, you can't really go wrong with any of these technologies, because they're all pretty fast… you know, unless you go with the iPhone X because well, it takes a tad longer than other phones… like almost an hour or two longer.
Another thing we can conclude, is that when OnePlus says 'a days power in half and hour', they're not kidding. 73% charge in 30 minutes. What sorcery is this? In my experience of using the OnePlus 5, 73% can actually last me through the day; and even if it doesn't, I just plug it in for 15 minutes and back up to 50%.
I noticed a couple of trends while doing these tests. Firstly, Dash Charge starts of really fast, like a sprinter running a 100 meter race, but it then realises that it was a marathon, and slows down, which is when Huawei and Xiaomi usually catch up with it. Their tech knows its a marathon, and starts of just fast enough, and remains steady throughout.
Basically, Dash Charge is the absolute best out of all these technolgies. Huawei's SuperCharge comes very close, which is definitely saying something. I mean, I sure didn't expect Supercharging to come from behind and beat Dash Charge in any scenario whatsoever. Other than that, Qualcomm's Quick Charge is definitely right up there with the best of the lot. However, Google uses USB power delivery, and that's quite inconsistent with its speeds. That's where the iPhone X comes in as a savior. It took so long the Pixel 2 XL doesn't seem all that bad.
SEE ALSO: Huawei's New Fast Charging Battery Goes from Zero to 48% in Just 5 Minutes
The Ultimate Fast Charging Battle!
So, those were the results of our ultimate fast charging battle. It was pretty interesting actually, especially because we thought Dash Charge wouldn't have any competition, but thankfully, that was not the case. Well, what phones are you guys using and which technology do you like the most? Do let me know in the comments section below.