Carrier Aggregation was introduced by 3GPP — the organization that looks over the development of mobile telecommunication protocols — in its release 12 in the year 2015. And it took another three years for chip vendors, mobile carriers, and smartphone makers to implement this new technology. That being said, Carrier Aggregation is still new to many users, especially for those who are not tech-savvy. So in this article, we bring you a detailed explainer on what is Carrier Aggregation and how you can use it to your advantage. We have comprehensively discussed its working mechanism and compared the differences between 2CA, 3CA, 4CA, and so on. Apart from that, we have also mentioned a small guide on how to find Carrier Aggregation support on a particular device. Now having said all of that, let's go through the article.
What is Carrier Aggregation?
Before we wade into technicality, let me lay down Carrier Aggregation in simple terms. Carrier Aggregation is a technique that combines multiple frequency bands to offer you more bandwidth which results in faster data speed. In wireless communication, bands are spectrums of specific frequencies that are used for communicating between devices. If there is only one band to send and receive data then it will take more time to complete the operation, as was the case earlier. However, if you are able to put various frequencies together then you can simultaneously communicate and transmit data in a fast and efficient manner.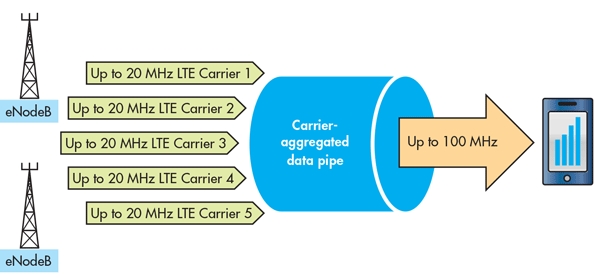 That is the basic premise of Carrier Aggregation, but let's now delve a bit into its working mechanism. In Carrier Aggregation, multiple frequency bands are assigned to one device. They are called component carriers and there are six specific frequencies: 1.4 MHz, 3 MHz, 5 MHz, 10 MHz, 15 MHz, and 20 MHz. You can combine at most 5 of these component carriers to transmit aggregated bandwidth of up to 100 MHz. If you aggregate two component carriers then it will be called 2CA; if there are three components carriers then 3CA, and so on. The more the component carriers, the better will be the data speed. Now that you know the basics, let's learn about the different kinds of Carrier Aggregation.
3 Types of Carrier Aggregation
In Carrier Aggregation, the component carriers are assigned in three ways. First off, when two or more component carriers belong to the same frequency band then they are placed together. This arrangement is called intra-band contiguous carrier aggregation. It's the most common one in wireless communication. Secondly, when the component carriers are from the same frequency band but are separated by a spectrum gap then it's called intra-band non-contiguous carrier aggregation. Lastly, when the component carriers belong to different frequency bands then they are placed in separate frequency blocks. It's called inter-band carrier aggregation and this arrangement is the most complex one but yields much better data speed.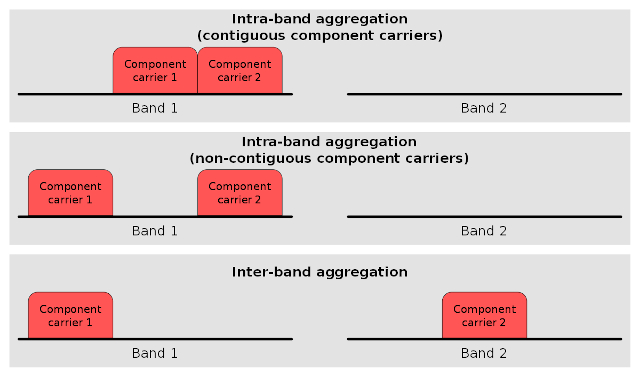 Apart from that, the best part about Carrier Aggregation is that it brings load balancing to data transmission. Every frequency band has a primary component carrier which is called PCell and others are called SCell (Secondary Cell). Whenever PCell is fully engaged, the SCell can be activated for data transmission. This offsets load from the primary component carrier and brings much better speed to the user. Not to mention, Carrier Aggregation works across TDD and FDD bands so that is great.
What it Means to General Consumers?
The main takeaway from Carrier Aggregation is that you should always buy a smartphone that supports 3CA or 4CA arrangement or at the very least, 2CA. It will offer you good data speed even with a low signal. Having said that, a lot of these things depend on the hardware, your smartphone maker, and mobile carrier. As far as hardware is concerned, all modern smartphones support Carrier Aggregation. Qualcomm introduced 2CA with the X5 LTE modem way back in 2016. And the current crop of modems support Carrier Aggregation of up to 7 component carriers so that is great. By the way, SoCs by Samsung (Exynos) and Huawei (Kirin) also have support for CA.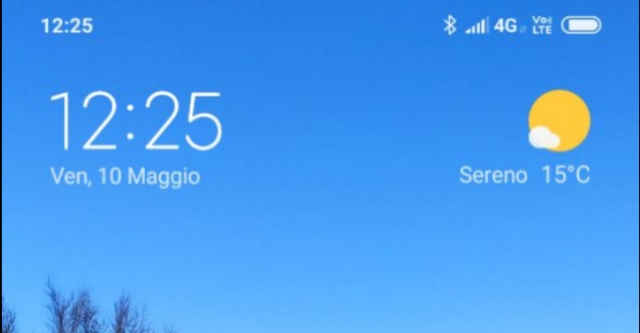 Coming to OEMs, the main issue is that even when the hardware supports the feature, it's locked by the software. Many users have reported that particularly Xiaomi smartphones keep CA disabled even when the SoC supports it. No one really knows why, and it's frustrating. Even on devices where Carrier Aggregation is enabled, band combinations like Band 3+Band 40 does not offer faster data speed. Further, 3CA or 4CA is generally not found on Redmi phones. In contrast, Nokia and Samsung devices come with 3CA support and are compatible with multiple band combinations.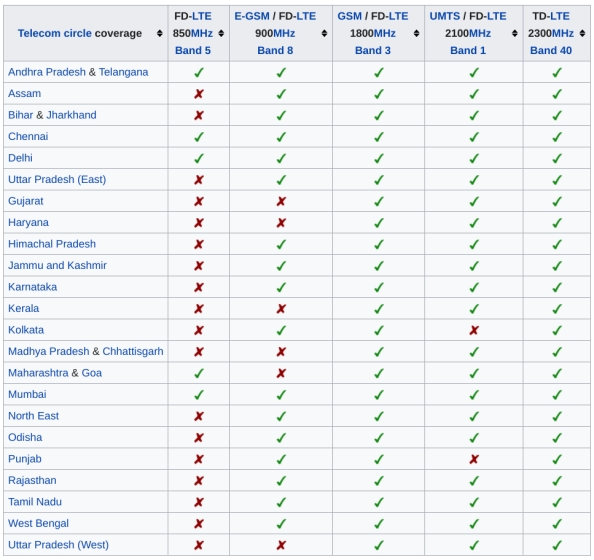 Talking about band combinations, let's move to mobile carriers in India. So far, only Airtel, Jio, and Vodafone have brought Carrier Aggregation support in India. Airtel offers Band 40, Band 8, and Band 3 aggregation; Jio provides Band 3 and Band 5 aggregation. As for Vodafone, we don't have information on its band combination. Apart from that, some states support all band combinations while others don't so it depends on your location too. In tandem, if you want the best data speed then choose your mobile carrier wisely and find out if your smartphone supports those band combinations at your location. Basically, to get all the perks of Carrier Aggregation, you need a compatible handset, 3CA or 4CA support on your device, and compatibility with various band combinations from the mobile carrier.
How to Find Carrier Aggregation Support on a Smartphone?
The best way to check if your smartphone supports CA is to install the NetMonster app (Free). On the homepage, you will find the band combination mentioned on the top. If it displays a "+" sign along with other band frequencies then it means your smartphone supports the technology. For example, my OnePlus 7T (with the Airtel SIM plugged in) is aggregating four bands: 1800MHz (Band 3), 2300MHz (Band 40), and 900MHz (Band 8). Basically, it's using the 4CA arrangement with two bands in the intra-band contiguous carrier aggregation. Apart from that, you can also find Carrier Aggregation combinations for specific devices from this website.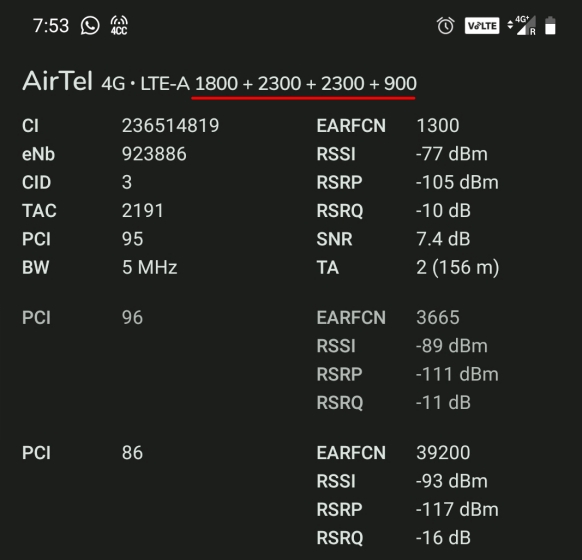 Get High-Speed Connectivity with Carrier Aggregation
So that was all about Carrier Aggregation and how you can use it to your advantage. While the concept is a bit technical in nature, you just need to understand one thing: pick a smartphone that has support for more component carriers (e.g. 3CA, 4CA). On top of that, if your mobile carrier has support for inter-band carrier aggregation then you would get even better speed. Anyway, that is all from us. Don't forget to check out our other technology explained articles to learn more about communication technologies:
If you find our tech-explained articles informative, then do let us know in the comment section below. Also, if there's a tech that you don't understand and want to learn, comment its name down below and we will explain it in future articles.
---
Load More