Seeing the sales reports and glowing positive reviews that the Tesla Model 3 is receiving, it's safe to say that the vehicle is a huge success for the company. However, if there is one thing that the Model 3 buyers are missing and complaining about, it's the ability to charge their smartphones wirelessly. Tesla Model 3 only supports wired charging and it's no secret that using a wireless charger is far easier than using a wired connection, especially if you are driving a car. Well, if you are a Tesla Model 3 owner, worry not, as there are a number of third-party accessories available for Model 3 which can easily convert the car's wired connection into a wireless charging pad. If that is something you are looking for, here are the 5 best wireless charging pads for Tesla Model 3 that you can buy right now.
Best Wireless Charging Pads for Tesla Model 3 in 2019
1. Model 3 Wireless Phone Charger
After such a long wait, Tesla has finally released its own wireless charging pad for Tesla Model 3. The product is available to buy from Tesla's website and it doesn't come cheap. The charging pad features a non-slip, silicone surface with easy installation and enough power to charge two phones at once. The Wireless Phone Charger is perfect for any sized device and can even accommodate big devices like the iPhone XS Max and Samsung Galaxy Note 9. All you need to do is place your phone on the wireless charging pad and it will start charging the phone, no wires needed!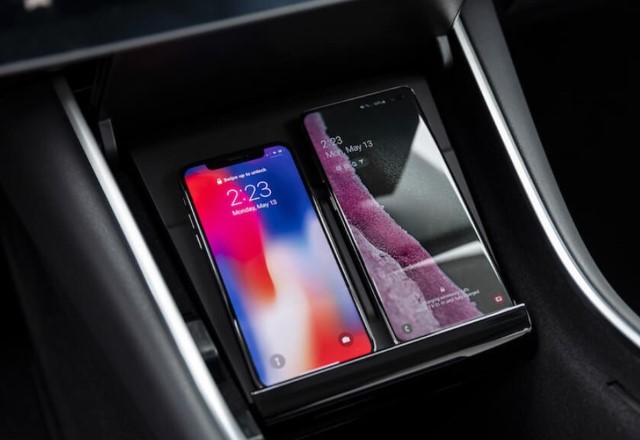 The charging pad supports pass through charging via cases. However, if you are using thick impact protection cases, this might now work, so keep that in mind. The charging pad also comes with a decor bar which ensures that the phone will stay in place while you are driving. Do note that the shipping estimate is 2-3 weeks from date of order so you should check out other options if you cannot wait for so long.
Buy From Tesla: $125
2. Tesla Model 3 Wireless Charger by Nomad
Nomad is a popular company which focuses on creating minimalist, practical tools that keep us powered on the go, and their wireless charger pad for Tesla Model 3 is one of the best wireless chargers you can buy. The charging pad will fit perfectly in the designated charging dock of your Model 3 and can comfortably and quickly charge two devices simultaneously. The charger uses an anti-slip rubber base to ensure that neither the charging base nor your smartphones slide out of their place when you are driving.
The best part about this wireless charging pad from Nomad is the fact that it supports dual 7.5 W fast charging which means that it can be used for fast charging two phones simultaneously. The Nomad wireless charger achieves this capability by using an integrated 6000 mAh battery which kicks in to provide extra power whenever you place two phones on the charging pad. Finally, it is also one of the best looking charging pad on this list and goes really well with Tesla Model 3's aesthetics.
Buy From Nomad: $129.95
3. Basenor 
Dual QI Wireless Phone Charging Pad
If you are looking for cheaper options than you should check out the new wireless charging pad for Tesla Model 3 from Basenor. The charging pad has been custom cut for Model 3 so it fits perfectly without leaving any annoying gap. Also, the dark metallic coating at the top ensures that it goes well with your Model 3's decor. The charging pad supports the Qi charging standard which means you can charge your iPhone and Android devices without any problems.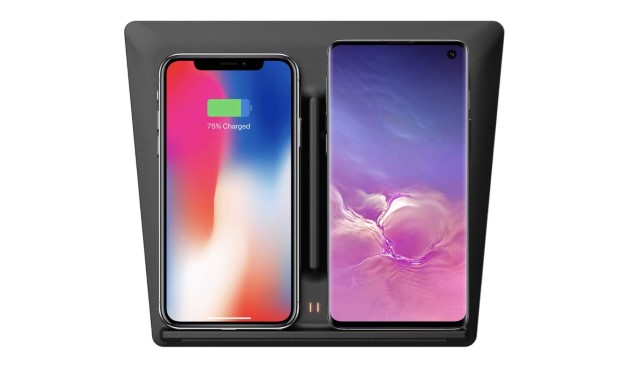 The best thing about this Tesla Model 3 charging pad is that it supports dual fast wireless charging as it can deliver 10 watt charging power to two phones simultaneously. Another good feature of this charging pad is that you can only use one side as a wireless charger and use other as just a resting place. Finally, there's the anti-slip design which ensures your phones stay in place while you are charging them. For its price, the Basenor dual Qi wireless charger offers quite a lot.
Buy From Amazon: $49.99
4. Jeda Wireless Pad
The wireless charging pad for Tesla Model 3 from Jeda is yet another beautifully designed wireless charging pad that you can buy. The charging pad features TPU coating and positioning rails which stops your phone from slipping while you are driving. Just like the Nomad wireless charger, this one also supports 7.5 W fast charging for two phones simultaneously. That said, since it doesn't pack a battery to assist in fast charging, you will have to buy a fast charging module separately to enable this feature. One of the best things about using Jeda wireless pad is that it allows you to use the wired connection if you want to which can really come in handy when you need to quickly charge your smartphone.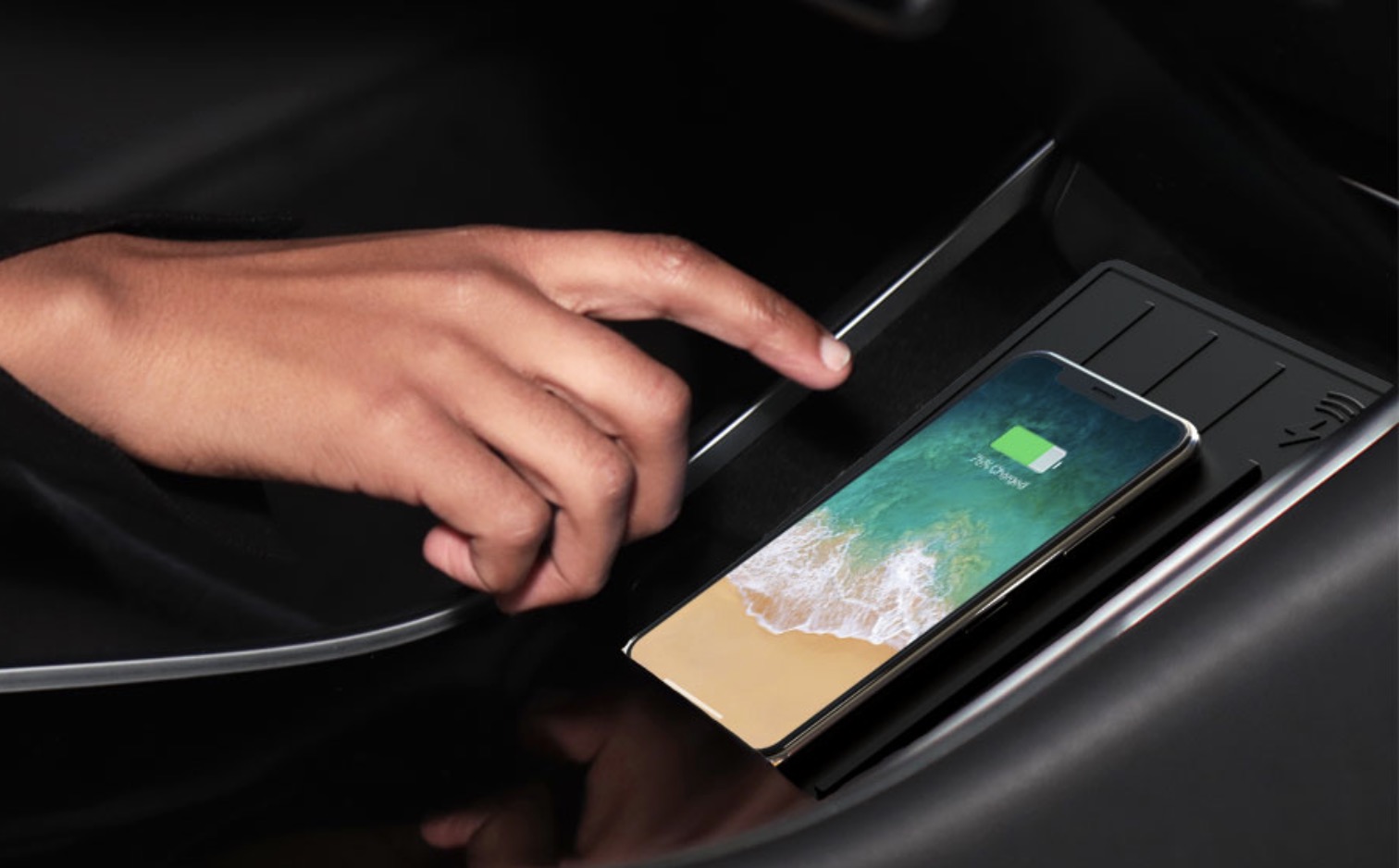 Buy From Jeda: $99
5. TapTes Model 3 Wireless Charger
Another great charging pad for the Tesla Model 3 is the TapTes Model 3 Wireless Charger which supports the Qi standard charging. It can charge two smartphones simultaneously and will fit perfectly in your Tesla Model 3. Just like the Basenor wireless charging pad mentioned-above, you can either choose to use both the charging pads or use one for charging and one for just keeping things. Like others, it uses an anti-slip material at the top to stop your phones from falling while you are driving. I love the small LED indicators on the charging pad which light up when your phone is charging. It's a great way to see if your phone is charging or not. Overall, it's a great product and you should definitely check it out.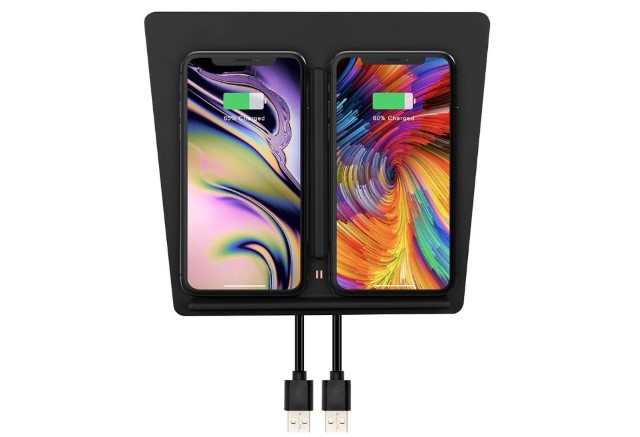 Buy From Amazon: $49.99
Bonus: 
Justcool Tesla Model 3 Wireless Charger
Another cool and cheap wireless charging pad for the Tesla Model 3 is the Justcool Tesla Model 3 Wireless Charger. The wireless charger comes in sleek black color which matches the interior aesthetics of Tesla Model 3. Like other chargers on this list, it supports dual wireless charging and can charge two smartphones simultaneously. It supports the popular Qi standard which means it supports most modern smartphones. Do note that it delivers only 5W of charging to each smartphone so they will charge a little slower. For someone who is looking for a cheap wireless charger for Tesla Model 3, this is one of the best options on the market.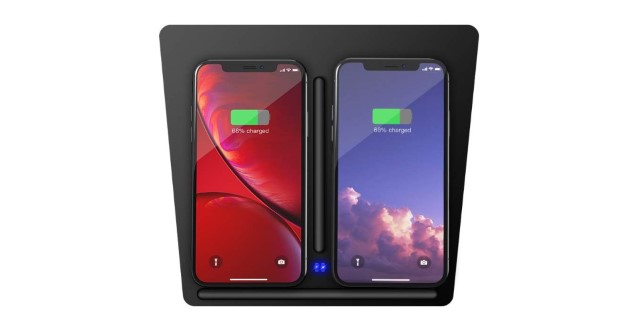 Buy From Amazon: $39.99
SEE ALSO: 20 Best iPhone X Accessories You Can Buy
Charge Your Phones Wirelessly in Your Tesla Model 3
I love the Tesla Model 3 and for me, it is as much a piece of tech as it is a car. And just like any other piece of tech, it is not perfect. The charging pad accessory for the Tesla Model 3 solves one of the biggest problems the Model 3 owners had and I think you should definitely buy one. Do check out the list and let us know which is your favorite wireless charging pad for Tesla Model 3 by writing in the comments section below.