Different users utilize their webcams in different ways. Some want fancy effects to spice up their video feed, while others want something that can just get the work done. Keeping in mind the aforesaid points, we have compiled a list of the 15 best webcam software for Windows and Mac (laptops and desktops) in 2023 that stand out on certain parameters, be it their slick user interface, the diversity of editing tools, ease of usage, or other key features.
1. Camo: Overall Best Webcam Software
If you are looking for the best webcam software for PC and Mac in 2023, I would strongly recommend checking out Camo. It's an amazing program that allows you to produce incredible webcam videos for all kinds of settings, be it meeting, streaming, or simply recording. You can adjust lenses, exposure, colors, contrast, and much more with Camo. You can even connect your DSLR, webcam, smartphone, action cam, continuity camera, etc. and it will automatically detect it.
Moreover, you can zoom, crop, and focus your image using the Camo app. I love that it has built-in templates. For example, you can apply cinematic styling or color grade the video feed with 18 different filters. Not to mention, you can add a text overlay in cool fonts and put yourself in the spotlight using portrait mode, green screen, etc. Camo also brings Auto Framing which uses face tracking to always keep you in center.
Best of all, the app is compatible with all major video conferencing apps including Zoom, Meet, Teams, Skype, Slack, Cisco Webex, FaceTime, and more. You can choose to get all the features for $39.99 per year for two computers. However, you can use it for free as well without any watermark, ads, or spam. Under the free tier, you will not get access to Camo's premium features.
| Pros | Cons |
| --- | --- |
| Produce professional webcam video, supports text overlay | None as such |
| Supports webcams, smartphones, DSLRs, action cams, and more | |
| Compatible with all major apps | |
| Auto framing with face tracking | |
| Portrait mode and green screen support | |
| Adjust all parameters | |
Supported Platforms: macOS and Windows
Download Camo: Free with basic features, Paid version starts at $39.99 per year for two computers
2. YouCam 9 Deluxe: Feature-rich Webcam Software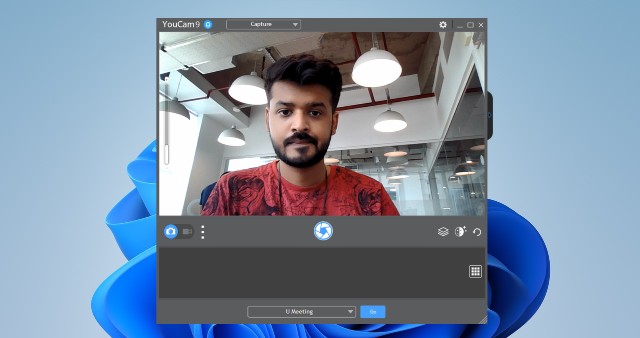 Youcam is one of the most popular webcam software for Windows 11, Windows 10, and other versions of Windows, and for a good reason. A clean UI, which is far from the cluttered interface you'll find in other webcam tools, makes YouCam an obvious choice for beginners. But that doesn't mean the software is a barebones affair, instead, it offers a rich array of editing tools, filters, and effects whose diversity is impressive, to say the least. Scene filters, face distortion lenses, emoticons, dynamic effects, and stickers are just a few of them.
Sounds generic? Well, in that case, how about face 'Avatars', AR stickers, and live animations to make your video feed look like a well-edited film? YouCam has it all, and then some more. YouCam can also be synced with services like Skype and also supports face login functionality for platforms like Facebook, Amazon, and Twitter to name a few.
On the technical side, YouCam saves images in multiple formats (JPG, BMP, PNG) and is capable of recording videos in AVI and WMV (MP4 too, for systems with VGA cards) file types at resolutions ranging from 240p to Full HD. Burst shot is also on the table, and users can manually adjust the shutter speed to their liking. The only downside? The free trial period lasts only 30 days, after which you'll have to purchase a paid version.
| Pros | Cons |
| --- | --- |
| Animated effects | Free version is quite limited in features |
| Seamless integration with apps like Zoom, Teams, etc. | |
| AR filters | |
| Support for YouTube Live, Facebook Live, etc | |
Supported Platforms: Windows 11, Windows 10, 8/8.1, 7, Vista SP2
Download YouCam 9 Deluxe: Free 30-day Trial, paid version starting at $34.99
3. Logitech Capture: Best Webcam Software for Logitech Users
If you have a Logitech webcam, there's no better option for you than the Logitech webcam software called 'Logitech Capture'. It's feature-rich and powerful and as long as you have a compatible webcam, this app will most likely be the perfect fit. The Logitech Capture app supports multi-scene recording, so you can record video from two webcams, or even from a desktop and a webcam, and more.
Further, the app features live text overlays and support for vertical video capture which means you can easily use this for 9:16 aspect ratio webcam recordings or streaming. The app also comes with integrations for YouTube Live, Facebook Live, and Twitch (with OBS, or XSplit).
The studio style controls within the app will let you apply filters, borders, and more. Plus, there's support for Chroma Key (green screen) for even better webcam streaming and recording. Overall, this is definitely one of the best webcam software for Windows 11/10, and macOS.
| Pros | Cons |
| --- | --- |
| Live text overlays | Only works with a select few Logitech cameras |
| Customisable Field of View (FOV), aspect ratio, white balance and more | |
| Supports 9:16 video recording | |
| Multiple source recording | |
Supported Platforms: Windows 10, Windows 11, macOS 10.14 and later
Supported Cameras:
C920 HD Pro
C920s HD Pro
1080p Pro Stream
C922 Pro Stream
C922X Pro Stream
Streamcam
Streamcam Plus
Brio 4K Pro
Brio Stream
C930e
Download Logitech Capture: Free
4. ManyCam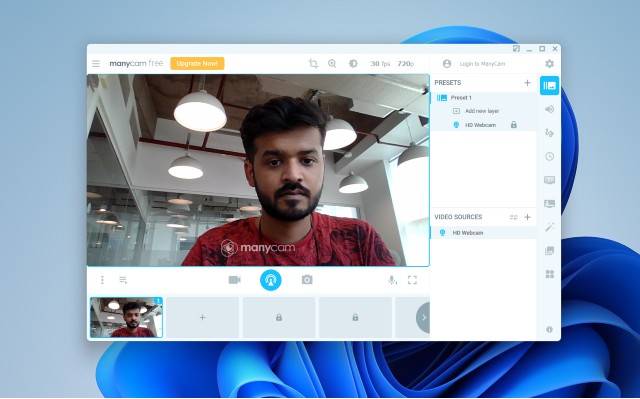 ManyCam is not just simply a webcam app, instead, it can be called a full-blown video-editing software, thanks to the plethora of presets, filters and effects which are available at the disposal of users. You can add a host of beautification effects like transitions, face masks, emoticons, and backgrounds to record and stream some really artistic videos. Apart from them, YouTube integration, Picture-in-Picture (PiP) mode and green screen are among the diverse set of goodies that ManyCam has to offer.
You can choose to record videos in a wide array of resolutions (240p, 480p, HD, FullHD, etc.) at frame rates ranging from 5-60 FPS in numerous formats like MP4, MKV and FLV to name a few. You can even adjust the audio bitrate values (between 96-192 kbps) and also apply a noise suppression feature which works quite well. Thanks to its vast portfolio of editing tools and effects, ManyCam is a highly recommended option, be it for creating tutorials, recording screen activity or live streaming. This is one webcam software you should definitely check out.
| Pros | Cons |
| --- | --- |
| Support for 4K videos | Requires manual adjustments for features |
| No watermark in free version | Business plans are expensive |
| Comes with screen recording and casting features | |
Supported platforms: Windows 11, Windows 10, Windows 8, Windows 8.1, macOS 10.9 and higher, including macOS 12 Monterey.
Download ManyCam: Free, paid versions starting at $24
5. Debut Video Capture Software
Not all people are big fans of fancy filters and effects, and sometimes we just want a no-frills free webcam program. For such scenarios, Debut Video Capture is one of the best webcam apps whose clutter-free UI is its biggest USP. All that you get in the name of video editing tools are basic variables like contrast, saturation which can be adjusted by using a slider, and three video filters viz. B&W, Sepia, and Negative. And yes, you get a watermark tool for that tiny bit of personalization you want to add to your videos.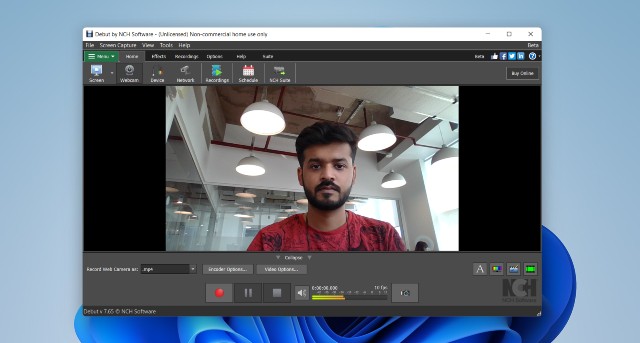 When it comes to technical aspects, Debut Video Capture provides a considerable amount of control to users. One can capture screenshots on a PC in two file types viz. JPG and PNG, while videos can be recorded in a wide array of formats such as AVI, MKV, FLV, and WMV to name just a few. Users have the flexibility to record screen activity in three aspect ratios (11: 9, 16:3, 4:3 ) in resolutions ranging from as low as 144p to HD, however, the frame rate appears to be fixed at 30FPS at all resolutions.
| Pros | Cons |
| --- | --- |
| Supports a wide range of formats | Video editing tools are lacking |
| Multiple resolutions are supported | |
Supported Platforms: Windows 11, Windows 10, Windows 8, Windows 7, and macOS 10.5 or above, including macOS 12 Monterey.
Download Debut Video Capture Software (Free, paid plans start at $1.66 per month, billed quarterly)
6. Ecamm Live: Best Webcam Software for Live Streaming
If the reason you're looking for a camera software is because you want to live stream your webcam footage on Twitch or anywhere else, Ecamm Live might be a good fit for you. This webcam app is meant to be a live-streaming app for Mac. It supports Facebook Live, YouTube Live, Twitch, Twitter, Restream, and even LinkedIn (you know, in case you need that).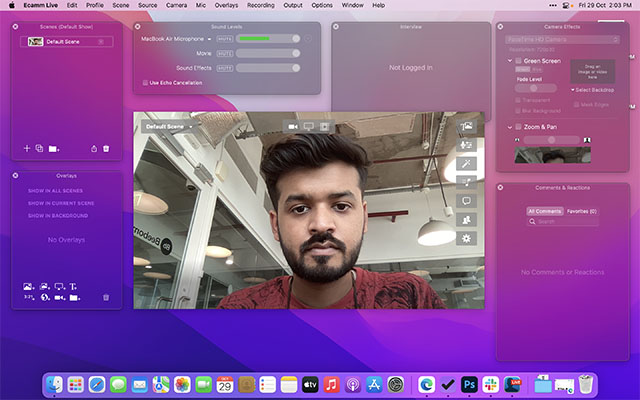 Ecamm Live also supports multiple cameras, HDMI capture devices, screen sharing from iPhone and Mac, and a lot more. There's also a live camera switcher so you can easily control the cameras you're streaming from. Apart from that, the software supports overlays, filters and scenes, comment streams, and more.
Basically, if you're looking to start your live-streaming journey, you should definitely give Ecamm Live a shot.
| Pros | Cons |
| --- | --- |
| Support for Facebook Live, YouTube Live, and more | Quite expensive as compared to other options |
| Multiple camera and HDMI capture device support | |
| Custom RTMP server support | |
Supported Platforms: macOS 10.12 and newer
Download Ecamm Live: Free trial, plans start at $16 per month
7. Webcam Toy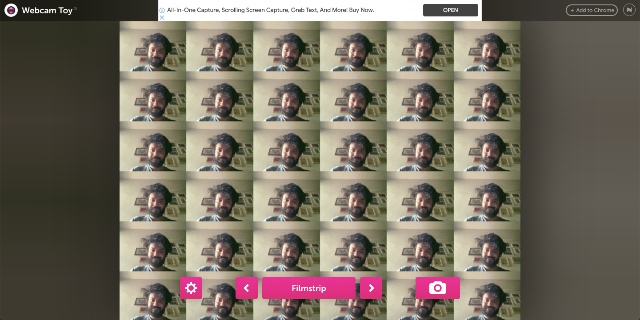 Downloading and installing a third-party webcam software too big of a hassle? Well, in that case, Webcam Toy is the best webcam software for you. If all you want is to take a quick photo, add some quirky distortion effects and filters to it without waiting for a webcam app to load, head straight to Webcam Toy.
Using Webcam Toy is as simple as it can get. All you have to do is open the website, select the 'Ready? Smile!' button followed by clicking on the 'Use my Camera' button to get started. You can choose from five presets (Mirror, Square, Countdown, Flash, Fullscreen) and select from the wide array of effects from the side-scroll buttons. One can choose to save the clicked images either locally (only in JPG format) or post them directly to social media platforms like Facebook and Twitter straight from the website.
| Pros | Cons |
| --- | --- |
| No installation required | Not as feature rich as native applications |
| Perfect for quick captures | |
Supported Platform: Web
Visit Webcam Toy (Free)
8. Photo Booth Pro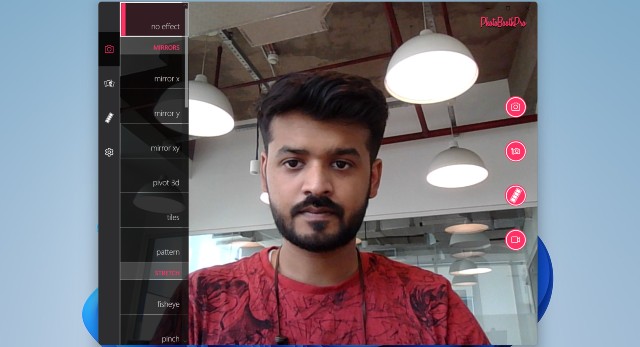 When it comes to webcam tools, slow load speed and camera lag are common issues, but not for Photo Booth Pro. The software is not only zippy, it also features a host of mirror effects and filters that can be tested in real time before recording a video or clicking a photo. Photo Booth offers effects like axial mirror effects, distortion lenses, blur effects and artistic filters to express your creativity. And hey, there is also a cool photo-strip feature that will let you capture four images with different filters and arrange them in a strip, whose layout can be tweaked later on.
Images are saved in JPG format locally and can also be uploaded on OneDrive. Moreover, one can also post them on Facebook and Twitter straight from Photo Booth Pro. On the other hand, videos are recorded in MP4 format in two aspect ratios viz. 16:9 and 4:3, however, resolution and frame rate are fixed at 640 x 360 and 30FPS respectively. Photo Booth Pro is definitely one of the best webcam software for Windows 10/11 out there.
| Pros | Cons |
| --- | --- |
| Bunch of cool effects | Only supports JPG and MP4 formats |
| Available for free | Resolution is quite low |
Supported Platform: Windows 11, Windows 10
Download Photo Booth Pro (Free)
9. Apowersoft Free Online Screen Recorder
If a fluid interface and vast toolkit is the combination you seek in an app for your webcam, you can never go wrong with Apowersoft Free Online Screen Recorder. In my opinion, Apowersoft's webcam software is an ideal choice for clicking images, recording audio files and capturing videos. The software's home screen contains just the basic controls, but once you open the settings menu. you'll realize that Apowersoft's offering has all the tools and options to let you record your screen activity in whichever form or format you like.
The Apowersoft Free Online Screen Recorder saves images in numerous formats (PNG, JPG, BMP, etc.), while videos can be recorded at frame rate values ranging between 5-60 FPS in a wide array of file types such as MP4, WMV, AVI and FLV among others. You even have the option to record audio files in various formats such as MP3, AAC, FLAC and can also choose from different codecs as per your liking. In case you were wondering, the Apowersoft offering also boasts of Google Drive and Dropbox integration to let you quickly store your files on the cloud, aside from the option to share them on YouTube and Vimeo.
There's also another software from Apower, called ApowerREC (free download) that you can check out. This software offers the recording of live streaming videos and includes a bunch of features such as support for annotations in recorded videos as well as a built-in video editor to trim videos, add watermarks, and more.
| Pros | Cons |
| --- | --- |
| App is available, but not necessary to download | Doesn't seem to work with multiple monitors |
| Offers quite a lot of flexibility | |
| Edit screen recording with annotations, comments, and more | |
Supported Platforms: Windows 11, Windows 10, macOS, Web
Use Apowersoft Free Online Screen Recorder: Free
10. IP Camera Viewer
Aside from live streaming on Twitch and video chatting, webcams can also play an active role in surveillance. And one of the best software suited for the aforesaid task is IP Camera Viewer, a webcam app that will let you monitor and safeguard your home and workplace via IP cameras. The software has support for over 1800 different IP camera models and allows users to separately configure and customize the video properties like orientation, frame rate, coverage area, etc. of each IP camera they have added to the network.
The software can record videos in three resolutions viz. 360p, 480p, and 720p, whose properties (contrast, saturation, sharpness, etc.) can be manually adjusted. Moreover, users can perform a digital zoom on a frame even if their IP camera does not have the zoom functionality. The software can add up to four cameras at once and lets users view their video feed simultaneously on a single screen.
| Pros | Cons |
| --- | --- |
| Great for surveillance purposes | Resolution is limited to 720p |
| Allows up to 4 cameras at once | |
| Digital zoom feature for cameras that don't support zoom | |
Supported Platforms: Windows 11 / 10 / 8 / 7 / Vista / XP / 2012 / 2008
Download IP Camera Viewer (Free)
11. Camwiz Webcam Recorder
Camwiz Webcam Recorder is one of the simplest webcam apps one can find in the domain, but its only drawback is the fact that it is exclusive to the macOS platform, so users registered on the Windows ecosystem are out of luck. Limitations aside, Camwiz features a very clean UI with all the core recording tools located on the home screen itself, thanks to the simple three-row arrangement which contains a camera toggle, recorder tools, and tuning options.
A peek inside the software's settings menu reveals that Camwiz also comes with some additional nifty features such as Motion Detection, Remote Webcam, and Screen Cam capture to name a few. Users can apply effects such as time stamp, night vision and view flip to the videos, which are recorded in resolutions ranging from 240p to 1080p. Moreover, you can also use Camwiz as a virtual webcam for other apps on your macOS device.
| Pros | Cons |
| --- | --- |
| Night vision, time stamp and other features | Doesn't allow screen recording, unlike other options on this list |
| Motion detection | |
| Allows remote access to webcam | |
Supported Platform: macOS 10.9 or later
Download Camwiz (Free, with in-app purchase)
12. Windows Camera
Though third-party webcam apps are quite useful and feature-rich, there's actually a built-in camera app on Windows that you can use. Despite not being a third-party software with a lot of editing tools and effects, Windows Camera gets the job done as an effective webcam software. Windows Camera comes as a breath of fresh air as far as webcam tools are concerned, as it brings a very minimalist UI that only features the core recording tools on the home screen, occupied almost entirely by the view in sight of the webcam.
Microsoft's webcam app can capture photos in two aspect ratios viz.16:9 and 4:3, and comes with four framing grid options which include crosshairs and Golden Ratio among others. Videos can be only recorded at a frame rate of 30FPS in three resolutions, which are 360p, HD and Full HD. You can also choose to capture burst shots and activate a time-lapse mode, that will let you capture multiple shots in succession until the camera button is pressed again.
| Pros | Cons |
| --- | --- |
| Doesn't allow screen recording, unlike other options on this list | Supports up to 1080p resolution |
| Minimal design | Comes built-in with Windows |
| Comes built in with Windows | |
Supported Platform: Windows 11, Windows 10
Download Windows Camera (Free)
13. SparkoCam Virtual Webcam
SparkoCam is a webcam and video effects software for broadcasting and applying live webcam effects to your video chats and recordings. It is highly popular among streamers and TV broadcasters working from home during the pandemic. Its biggest claim to fame is that it allows high-end Canon and Nikon DSLR cameras to be used as regular webcams.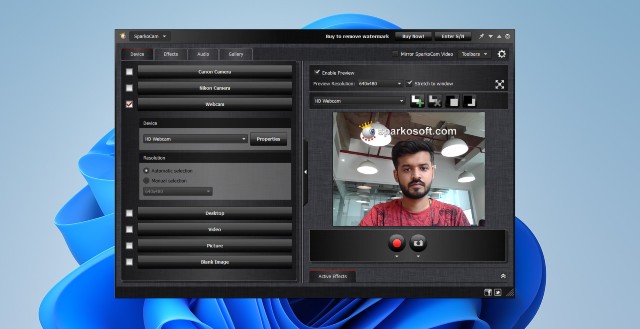 All you need is an HDMI adapter to get started. For professional streamers and broadcasters, another important feature is real-time green screening, which enables users to replace the background during live streams. The software also offers the ability to split your single webcam stream to use it simultaneously in multiple applications.
Like other webcam tools for laptops and desktops, SparkoCam also offers cool webcam effects, graphics and animations for your live video chats and video recordings. You can add accessories like eyeglasses, hats, hair or masks, all of which will be automatically applied to the video using SparkoCam's face-tracking algorithm.
As is customary with such software, SparkoCam also offers a 'virtual webcam' feature that enables users to share their video clips through various chat applications even without a real webcam. It is compatible with apps like Zoom, Skype, and more, but the free version comes with time restrictions and a massive watermark, as you can see.
| Pros | Cons |
| --- | --- |
| ChromaKey support | Can be buggy |
| Supports DSLRs | Chromakey feature isn't the best in performance |
| One-time license fee | |
Supported Platform: Windows 11, Windows 10, etc.
Download SparkoCam: (Free Trial, Paid version starts at $39)
14. OBS Studio: Best Open Source Webcam Software
OBS is a free and open-source webcam software for video recording and live streaming. It is a favorite amongst Twitch streamers, offering high-performance real-time video/audio capturing and mixing. It enables users to create scenes made up of multiple sources including window captures, images, text, browser windows, webcams, capture cards and more.
Using OBS, users can set up an unlimited number of scenes they can switch between seamlessly via custom transitions. The software also incorporates an intuitive audio mixer with per-source filters such as noise gate, noise suppression, and gain. It can also function as a virtual camera, allowing folks to use it as an input source in third-party video-conferencing apps.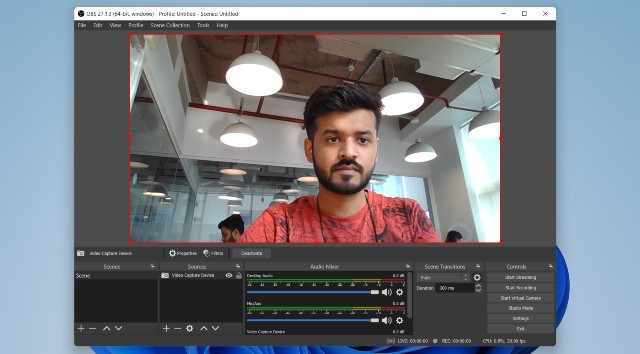 OBS also has a passionate developer community that creates and maintains plugins, including VST, to further enhance the experience. The most well-known plugin is probably OBS Live, which is offered by StreamElements. Configuration options include adding new sources, duplicating existing ones, and adjusting their properties easily.
Users can also set hotkeys for nearly every sort of action, such as switching between scenes, starting/stopping streams or recordings, muting audio sources, push to talk, and more. Overall, given its extensive feature set, developer support and free license, OBS Studio is possibly the best webcam software on Windows, Mac and Linux laptops and desktops.
| Pros | Cons |
| --- | --- |
| Supports picture in picture | Can be overwhelming at first |
| Feature rich | |
| Custom background support | |
Supported Platforms: Windows, Mac and Linux
Download OBS Studio: (Free)
15. SplitCam
SplitCam may not be very popular, especially in comparison to names like OBS, Logitech Capture, YouCam, and others on this list. However, it is a nifty little webcam tool that offers a decent feature set. With SplitCam, you can easily use your webcam to record yourself, or stream videos.
It also comes with a bunch of cool effects that you can apply to make your webcam video look more appealing and interesting. These include things like regular filters to effects that make it appear as though you're in some exotic place. It also has a virtual camera feature built-in, so you can use the software to share your screen or stream content from your computer.
The major drawback of this software, at least for us, is the fact that it's not integrated with popular social media platforms like Facebook and Instagram. That said, it's free to download and use, and you should check it out.
| Pros | Cons |
| --- | --- |
| Can be overwhelming at first | Virtual webcam |
| A plethora of cool filters | Not as feature rich as other options |
Supported Platforms: Windows 11, Windows 10, Windows 8, Windows 7
Download SplitCam: Free
Now that Windows 11 is here, chances are you may be looking for the best webcam software for Windows 11. The good news is that most of the Windows-compatible webcam apps on this list work easily on Windows 11 as well. We have tested every single app on this list for compatibility with Windows 11 so you can rest assured that the options on this list that are marked as being compatible with Windows 11 will work without any hiccups.
Frequently Asked Questions
How do I make my laptop camera better?
There are many ways to improve the image and recording quality of your laptop webcam, the most important of which is updating your imaging software to the latest version. Also make sure that you pick the right software settings, lighting conditions, and background to ensure the best possible results. If nothing works, you probably have crappy webcam hardware, so invest in a high-quality external camera and hook it up to your laptop. If you can't afford a new high-quality webcam right now, use your iPhone or Android device as your streaming camera.
How do I connect a webcam to a laptop via USB?
Most webcams have a USB cable attached to them. Plug that cable into an available USB port on your laptop or desktop computer. All recent operating systems, including Windows, macOS and most Linux distros, will recognize the webcam out-of-the-box. Generic drivers are almost always pre-installed, but some high-end webcams may ship with custom software for better results. In that case, go to the webcam manufacturer's website and download the drivers and custom configuration software.
What webcam software do streamers use?
Most streamers use OBS Studio, which is among the most feature-filled game recording and streaming software on laptops and desktops. Some of the other software used by professional streamers include XSplit and Wirecast. Both are highly expensive, with the latter prohibitively so, especially for starters. If you're looking to start streaming, you can't go wrong with OBS. It literally has no cons, except maybe, the lack of multi-stream support.
How can I use my Android phone as a webcam for streaming?
You can use both Android smartphones and iPhones as your streaming webcam. Though the exact method will depend on the software you want to use, you should check out our article on how to use a phone as a webcam to get a detailed, step-by-step guide.
Can I use my iPhone as a Webcam?
The aforementioned DroidCam app is also available on iOS (freemium), so you can use your iPhone as a webcam for your computer. Once you install the app on your iPhone, you will have to install the "DroidCam Webcam" PC client on your laptop or desktop PC. It is available for Windows and Linux systems, but unfortunately, there's no Mac client for now. The PC client, however, works with Zoom, MS Teams, Skype and most other programs.
Is a webcam better than a laptop camera?
Most modern laptops and all-in-one (AIO) computers come with integrated webcams. However, with very few exceptions, the quality is almost always absolute rubbish. Upgrading to an external webcam is almost always a good idea, even if you're just starting out as a streamer. External webcams have better lenses and electronics and typically offer better resolutions. Hence, with a half-decent aftermarket webcam, you can expect markedly better photos, videos, and audio, compared to any built-in webcam in laptop or desktop computers.
Is a 720p webcam good enough?
If you're on a tight budget, a 720p webcam may not be a terrible idea as a temporary solution. Resolution is only one aspect of digital cameras, so the final quality of the image will depend on other factors, including lens, sensor, pixel size, electronics and more. Provided your camera records otherwise high-quality videos, 720p shouldn't be a deal-breaker for a beginner. That said, viewers can definitely tell the difference between 720p and 1080p on large-screen TVs, although, it is barely noticeable on most smartphones and laptops.