If you have landed on this article intentionally, you have most probably used "Springpad" – the smart productivity app that made it incredibly straightforward to capture all sorts of things from the net and provided impressive features to keep the items perfectly organized. Unfortunately, the app was shut down in 2014 due largely to the cut-throat competition.
Even though it's more than five years since the app was officially shut down, there are many people (including me) who still miss it, and wish to have an alternative that can fill up the void. If you also feel the same, this meticulously compiled lineup of the best Springpad alternatives is for you.
Best Springpad Alternatives (Updated September 2020)
First and foremost, there is no app that can look and function exactly like Springpad. However, there are quite a few options that have pretty similar functionalities and offer several handy tools for keeping notes and everything that you capture organized.
While most of these apps (mentioned below) are available for desktop and even web, some of them are designed to be used only on mobile devices. That being said, let's take a peek at what the best Springpad alternatives are from the list below.
Apps Like Springpad in 2020
1. Evernote
Though not as intuitive and visually appealing as Springpad, "Evernote" can safely stake the claim to be one of the best Springpad alternatives. What I have always admired in Evernote is the versatility. So, whether you want to make a note using text, audio, video, PDF or web clipping, it can let you do so with the desired flexibility.
Plus, it offers plenty of organizing tools, allowing you to keep your stuff in line with your needs. Thanks to the smart search, you can easily track down your checklists, notes or whatever you have created.
By using your smartphone camera, you can conveniently scan your documents, business cards, and even drawings. If you are a professional who often feels the need to digitize docs and business cards, this feature could come in extremely handy to you. Another department where Evernote is similar to Springpad is sharing.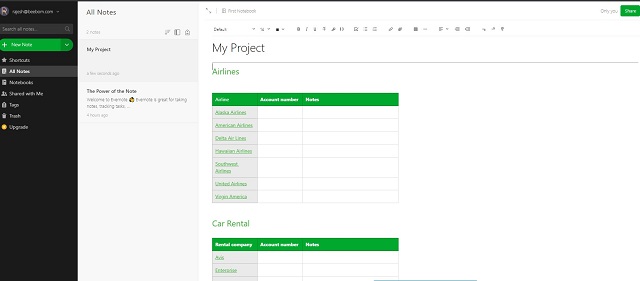 Therefore, you can create documents and easily share them with your colleagues, friends or anyone. With the collaboration feature, it enables you to seamlessly work with your colleagues on a project.
One of my favorite features of this app is the web-clipper tool which lets me capture web pages in the form of bookmarks, HTML file, and even PDFs, just like on Springpad.
Furthermore, it also provides the option to create checklists and to-dos so that you can carry out your important tasks proficiently. And with the real-time reminders, Evernote ensures you never forget to do what matters a lot to you. Overall, Evernote is a good alternative to Springpad and you should try it.
Pros 
Takes notes, add audio, video
Scan documents and OCR
Supports drawing
Web-clipper functionality
Cons
No password protection of documents
Pricing: Free, in-app purchases available 
Install: iOS, Android, macOS, and Windows
2. OneNote
Another note taking app that is quite similar to Springpad is "Microsoft OneNote". The app provides a range of features to make it more convenient to create and manage notes. And based on your needs, you can make folders and nested folders to keep your files ideally organized.
Using search functionality, you will be able to quickly access a particular document. To make your task even easier, it also offers more flexible sorting functionality.
If you often have to access certain notes, you can pin those notes to comfortably find them. Talking about UI, OneNote sports a clean interface that ensures you are able to navigate through your files and folders without any hassle. Just like Springpad, OneNote also offers a pretty intuitive sharing feature.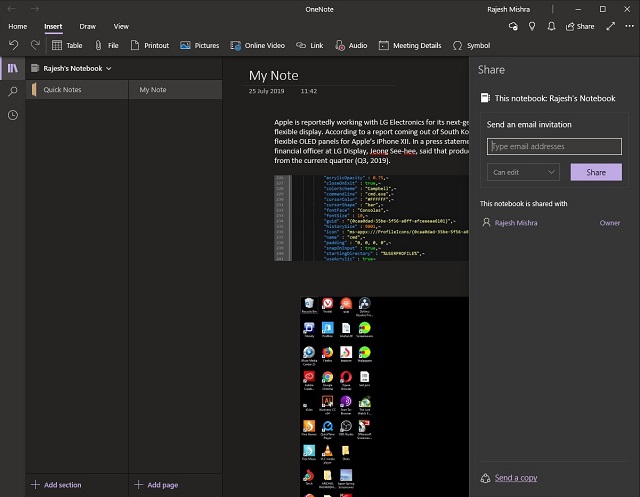 So, you will be able to easily share your notes via email. Another notable feature of this app is the seamless collaboration which can be immensely useful if you have to work on a group project and want the entire team to stay in sync. Similar to Springboard, OneNote also has a web-clipper which lets you save web pages and articles and safely organize them.
The app automatically syncs all of your notes and saved web-pages via OneDrive. As a result, they have not only more security but also remain easily accessible to you across the devices. Moreover, OneNote is designed to work with several languages so that you can create notes in your preferred languages, which is a big plus if you never want a foreign language to become a roadblock.
Pros 
Powerful app and intuitive interface
Cloud syncing
Add multiple elements or sketch
Seamless collaboration
Cons
Can be overwhelming for beginners
Pricing: Free 
Install: iOS, Android, macOS, and Windows
3. Trello
If you are putting more emphasis on organizing tools and want to have a plethora of options to get on top of your files, look no further than "Trello". Yeah, you heard it right! The app provides full-on customization, allowing you to keep your notes or anything as per your specific demand.
Moreover, you can create suitable cards, add checklists and labels, ensuring they not only look visually appealing but also stay in the apple-pie-order.
More importantly, you can also choose to add the due dates so that you won't forget to complete any task before the deadline. To enhance the experience even further, add a calendar view of the due dates as well as the location to get a map view.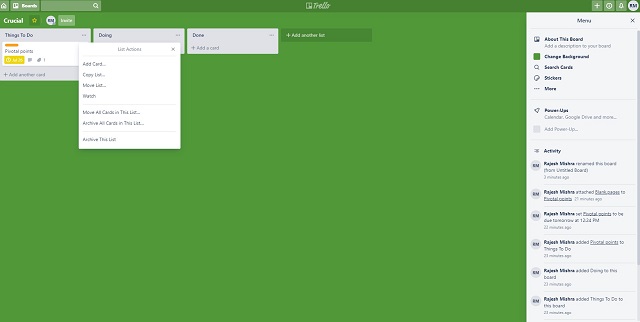 With the timely notifications, Trello keeps you alerted whenever any changes take place. Trello is also good for managing data. You can capture images, web pages, articles, and other things and neatly organize them into boards and lists. In fact, the homepage of Trello looks quite similar to our old Springpad.
If you never want your work to come to a sudden halt due to poor network connection, you would really adore its offline functionality. So, even when you are at a location where there is no Internet, you can continue to work on your project. And the moment, your device has a network connection, everything will be automatically updated.
There is a super handy menu which makes it more convenient to keep track of all your activities. Overall, Trello is a pretty good alternative of Springpad due mainly to the impressive customization and flexibility it brings to the table.
Pros 
Endless customization
Offline functionality
Integration with calendar
Timely notifications
Cons
Tasks are limited to one project
Lacks email integration
Pricing: Free, in-app purchases available 
Install: iOS, Android and web app 
4. Zoho Notebook
There are very few note-taking apps that are designed to be as functional as "Zoho Notebook". More importantly, this app has many notable qualities that make it a worthy rival of Springpad. It comes with a built-in web clipper that works with Chrome, Safari, and Firefox to let you easily capture anything that comes your way while browsing the web.
One of my favorite features of Springpad was that it automatically formatted the content into respective categories. As a result, managing items was pretty straightforward. Guess what? Zoho Notebook also treads pretty much on the same line. It comes with "Smart Cards" which instantly format the content the moment you add.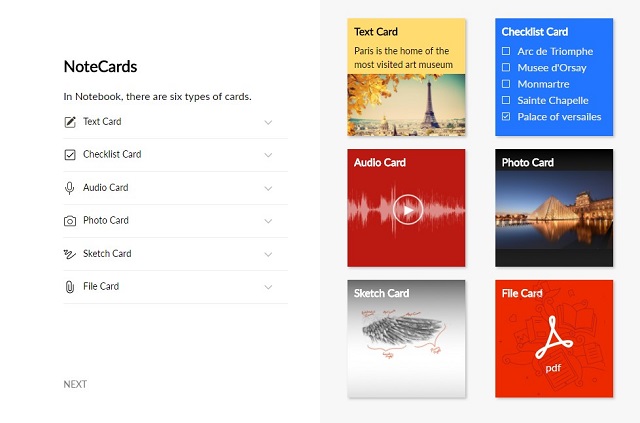 There is a dedicated file note card wherein you can include your PDFs, word document and even your spreadsheets. If you have to often create and manage checklists, the checklist note card would simplify your experience.
In terms of handling notes, Notebook does a great job. You can effortlessly move or copy note cards and also link the related ones. Better yet, it also allows you to organize various notes into a single notebook.
Pros 
Built-in web-clipper
Smart cards for automatic formating
Supports checklist
Cloud syncing
Cons
Exporting files to other services is a pain
Pricing: Free
Install: iOS, Android,macOS, Windows, and web app 
5. Notion
In terms of productivity, "Notion" can prove to be a much-needed shot in the arm for you. And it's this quality that has compelled me to include this app. It's designed to be an all-in-one platform for all of your notes, tasks, checklists, and more. Despite being so feature-packed, it has a lightweight appearance, which means you won't have to go through a long learning curve to master it.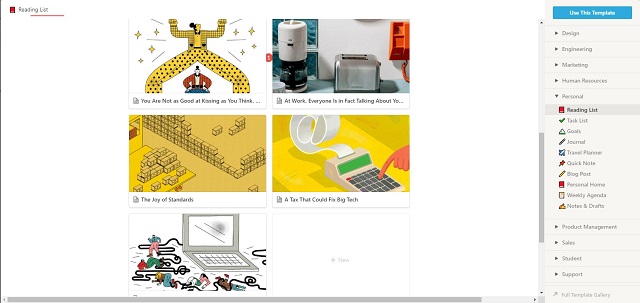 Beyond simplicity, Notion makes organizing items fun. Just like on Springpad, You can rearrange your content to your best liking. And if you wish to go even further, you have plenty of pre-defined templates to choose from.
Are you a voracious reader? If yes, do not forget to make the most of the "Reading List". With the dashboard at your disposal, you can keep a track of all of your articles, books, podcasts and more. Basically Notion is Springpad on steroid and you should definitely try it out.
Pros 
One-stop platform
Notes, checklists, tasks
Has predefined templates
Reading list
Cons
Need considerable time to set up
Notifications can be slow at times
Pricing: Free, in-app purchases available
Install: iOS, Android, Windows, macOS and web app 
6. Quip
If you are looking for a capable alternative to Springpad then look no further than Quip. I have been using it to work seamlessly with my team at Beebom for a long time. Hence, I can vouch for the top-notch experience that it delivers. What stands it out from many apps available in the market is the unique integration of chats, docs, slides, and spreadsheets.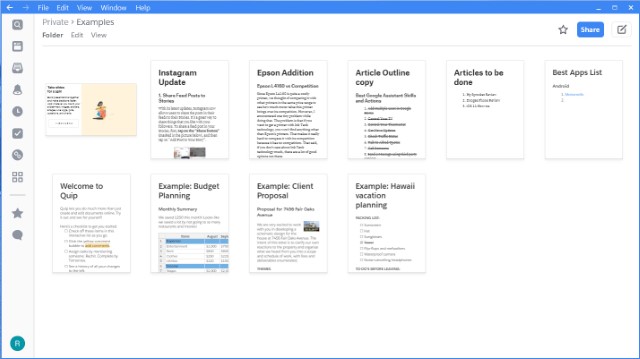 The app lets you easily take notes and organize your task lists. Though it lacks the powerful organization tools that Springpad had, Quip can effortlessly fit into your basic requirements. And now with a further update, you can even create tasks within Quip. With everything in one place, you can stay in perfect sync with your teammates and enjoy working together.
For more comfortable email communication, you can import your address book from several well-known services like Gmail, Hotmail, Microsoft Outlook, and iCloud. I would say, Quip is a solid service just like Springpad for writing and managing all your online work and you can give it a try.
Pros
Unique integration of chats, docs, slides, and spreadsheets
Supports tasks
Excellent collaboration
Import your address book from several well-known services
Cons
Lacks powerful organizing tools 
Notifications are slow
Pricing:  Free, premium version comes at $10/month/user (billed annually)
Install: Quip (macOS, Windows, Android, iOS, and Web)
7.  Keep It
If you are using iPhone/iPad or Mac, "Keep It" is the sort of productivity app that can deliver the best performance to you. Similar to Springpad, it works proficiently as a notebook, scrapbook, and organizer.
It is a top-notch app for saving web links, storing images/documents, and writing notes. Furthermore, it uses iCloud to sync all of your data across the devices so that you can access your files from not only your iOS but also from macOS device.
Aside from the seamless syncing feature, Keep It allows you to markdown your documents with impressive syntax highlighting thanks to a range of styles. With the help of the icon view, you can comfortably browse items using thumbnails. Never want your important items to stay scattered? Well, use bundles to keep all the pivotal things in one place.
To make your files not only look pleasing but also easily recognizable, be sure to use the labels to color-code them. If you want to make searching a bit easier, the tags and comments could play a pivotal role. Besides, due mainly to iCloud integration, Keep It also makes sharing content dead simple.  Overall, it has fully covered you as a notable Springpad alternative.
Pros 
Among the best alternatives for Apple users
Markdown formatting
Color-code tasks, notes
iCloud integration
Cons
Major features are locked for premium users
Pricing: Free, Offers in-app purchases
8. Google Keep
When there is a discussion of one of the most user-friendly note-taking apps, it would be a huge blunder to overlook "Google Keep". The app may not have an elegant interface but if you find a clean and simple UI more helpful, it would easily live up to your demand. Depending on your requirements, you can keep not only simple notes but also photos, audio, and comprehensive lists.

Speaking of organizing tools, Google Keep is second to none thanks to the availability of plenty of labels and colors. So, it doesn't matter how you want to keep your files, it would offer you more enough flexibility to manage everything proficiently. Not to mention the pinning feature which can be extremely pivotal especially when you don't want some crucial notes to go out of sight.
You can copy your note to Google doc and even archive the ones which you don't want to use but wish to keep them for later. More significantly, it's the part of Google Suite. So, you can expect it to work more efficiently with all Google Services, which could play a vital role in enhancing collaboration.
Pros 
Take notes, create checklists
Draw or add an audio clip
Collaborate and sync your lists
Color-code and label your notes
Supports reminders
Cons
Pricing: Free
Install: iOS, Android, and web app
9. Todoist
First things first, "Todoist" isn't a full-on alternative to Springpad. However, if you were using Springpad to take control of your tasks, it would be a top-notch option. It is feature-packed and offers you a ton of tools to create and manage to-do lists and tasks. With the color-coded priority levels, you can prioritize your upcoming tasks and deal with them more efficiently.
To me, what makes Todoist a real deal is the integration with over 60 popular apps including Dropbox, Amazon Alexa, Zapier, IFTTT, Slack, and more. This seamless integration will not only enhance your experience but also change the way you manage your to-do lists and tasks..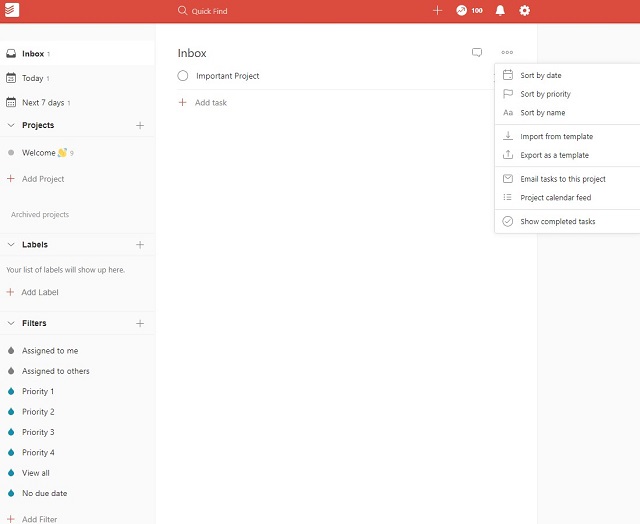 Another notable feature worth mentioning is the daily and weekly reports which provide much better insight. What's more, you can also view the fully customizable productivity graphs to find out whether you are excelling at your work or still need to push a bit harder to achieve the desired outcome. Basically Todoist solves one particular problem of Springpad and this task management.
Do note that the free tier of Todoist comes with some limitations and you will need to subscribe to the premium version if you want to have enhanced collaboration or unlock all the powerful tools.
Pros 
To-do lists and tasks
Color-code your tasks
Daily and Weekly insights
Connect with tons of third-party services
Cons
Limited features for free users
Pricing: Free, in-app purchases available
Install: iOS, Android, macOS, Windows, and web app 
10. D Notes
Featuring an elegant material design, "D Notes" is one of the most good-looking note-taking apps for Android I have ever tried. But is this app just about looks? No. It's equally feature-rich and can take care of most of your needs.
You can use this app to create tons of notes based on your needs and fine-tune them as and when you want. Besides, it also offers an archive option so that you can keep the unwanted stuff away without having to delete it.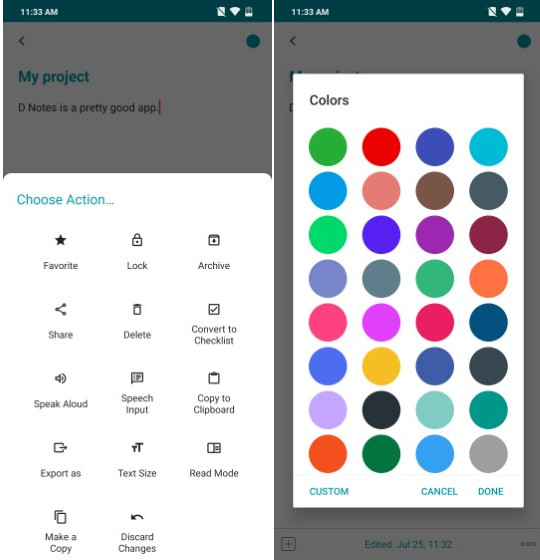 There is a voice recorder to let you capture your thoughts comfortably even on the go. On the customization front, D Notes is on par with the best. Using a variety of categories, several attractive colors, and multiple themes, you will be able to manage your files with the needed flexibility and flair.
To quickly access a special note, you can also pin it to the notification bar. Just in case, you never want to lose your sensitive data, you will appreciate the feature to back up/restore the notes to Google Drive and SD card.
Pros 
Best Springpad alternative for Android
Endless customization
Take notes, finetune them
Built-in voice recorder
Multiple themes and color options
Cons
Pricing: Free
Install: Android 
Keep Notes Organized with Best Springpad Alternatives
Hopefully, your search for the best Springpad alternatives has just come to an end (happily). Unlike five years ago, today there are tons of feature-packed apps that can offer a more seamless notes management experience. But before you start exploring your favorite app, feel free to share your two cents about it. Also, let us know about the apps which you think look more similar to Springpad both in terms of look and functionality.