When buying a new phone, we keep a tab on various specifications and one of them is the processor. We always make sure that the Android smartphone we are buying packs in the latest processor on-board. Well,that's pretty obvious, considering the latest powerful processors bring great power as well as lesser battery drain. Now, when it comes to chipsets on Android smartphones, Qualcomm's Snapdragon line-up is arguably the most popular out of the lot. The Snapdragon line of processors have made a name, thanks to their reliable & efficient processors and also due to their specific technologies.
If we talk about powerful web browsers on Android, it's Google Chrome that tops it off. But, it can be made faster using certain optimizations that are made available by Qualcomm for their Snapdragon processors. Making use of the open-source Chromium code, developers can build browsers that will perform even better on Snapdragon-powered devices. So, if you happen to have an Android smartphone powered by a Snapdragon chipset, then here's our list of the 5 best Snapdragon optimized browsers:
Note: The following browsers will also work on devices that are not powered by Snapdragon chipset. The only difference you'll get to see is the performance. Apart from that, all the browsers are based on Chromium, so the browsers listed below share the same set of features with the difference being the design and how well it is optimized. To break down the list down, I've mentioned the time taken by each browser to load a web page.
Chromium Features
As all of them share the same set of features, here's the list of features that are available in Chromium:
Change Primary Search Engine
Web Refiner
Safe Browsing – Protects your device from dangerous sites.
Secure Connect – Automatically use HTTPS when loading pages.
Automatic Security Updates for the browser
Google Sync
1. YuBrowser
YuBrowser is a fairly new browser but it's already a favorite for many. The app features a bright design and a tabbed interface on the home page. You can sign in to your Google account to sync your Bookmarks and History. The design is quite similar to Chrome and there are features like swiping on the edge to navigate, just like Chrome but there are some added features. You can tap on the site icon in the top-left corner to open the security settings available for that site.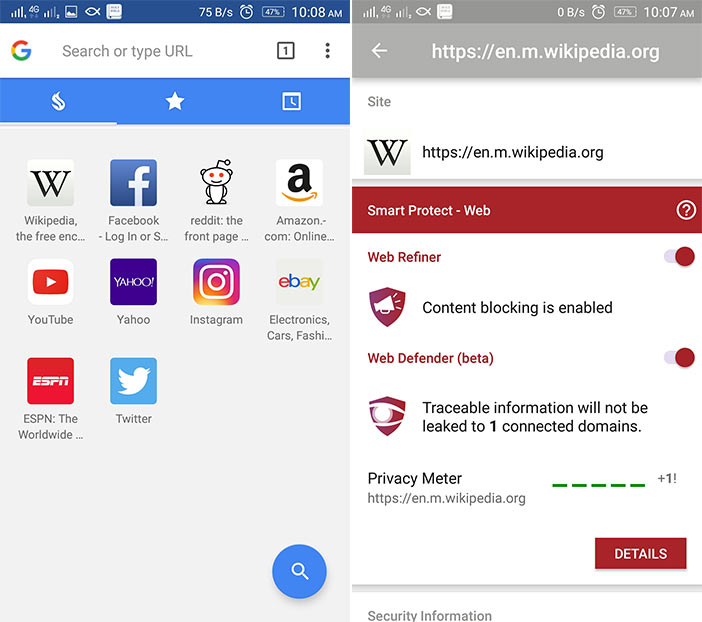 Talking about page loading speed, I tested it on my 2Mbps WiFi network and here are the page loading times for the first time (which means no saved cache) and the second time (when the website is cached). I loaded our Beebom homepage.
No Cache (First time loading the site) – 16.04 seconds
After it's Cached – 5.09 seconds
However, the main content of the web page was fully loaded in 8-9 seconds during the first time loading of the site.
Download (Free)
2. Pyrope Browser
The Pyrope Browser is based on CyanogenMod's "Gello" browser & Chromium and it's Snapdragon optimized. Along with the usual Chromium features, it includes a unique multiple tabs design and boasts of features like power saving mode, background audio, edge navigation, dynamic notification bar and more. The three-dot menu panel is different too, as the Favorites, History and Saved Tabs are clubbed together. Apart from that, the option for 'Close other Tabs' comes in really handy when you want to start browsing something new and fresh and you want all the other tabs closed.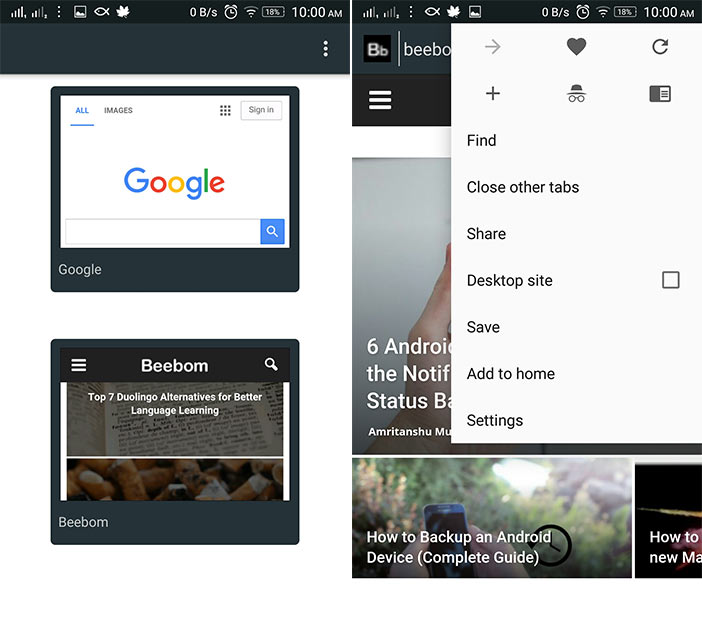 No Cache (First time loading the site) – 13.69 seconds
After it's Cached – 5.57 seconds
Download (Free)
3. Chromium build by Arter97
Now, this is a Chromium build that is developed by one of the most popular developers at XDA – Arter97. This browser is specifically built for Snapdragon Processors that are powered by Krait/Kryo engines. It's based on Chromium v54 and while it's probably not going to be updated, as per the developer, it's still a great browser for Snapdragon powered devices. Along with the usual Chromium features and Snapdragon optimisation, the browser offers features like dark mode, swipe gestures etc. Apart from that, in order to make the app run properly, you'll need to first enable all the permissions for the app from the Permission manager of your phone. You can check out all the details from this XDA thread.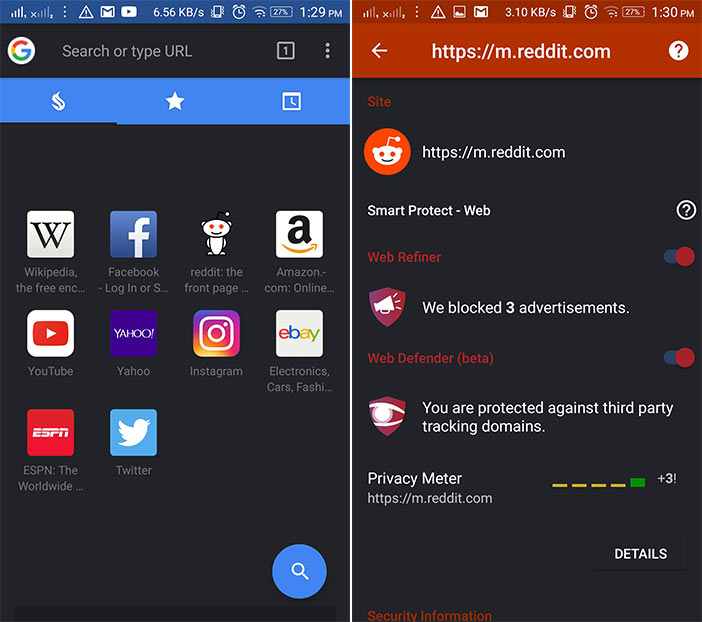 No Cache (First time loading the site) – 16.04 seconds
After it's Cached – 5.09 seconds
Download (Free)
4. Browser by Jswarts
This browser built by developer Jswarts is just a simple Snapdragon optimized Chromium browser but thanks to various under the hood changes by JSwarts, it's amazingly fast. For instance, some excessive debugging from Chromium is removed for better speed. It took only 11.04 seconds to open our Beebom webpage and just around 4-5 seconds to completely load the actual content. It's by far the fastest browser I've ever used. You can download it from XDA Labs app or grab the APK from the link below.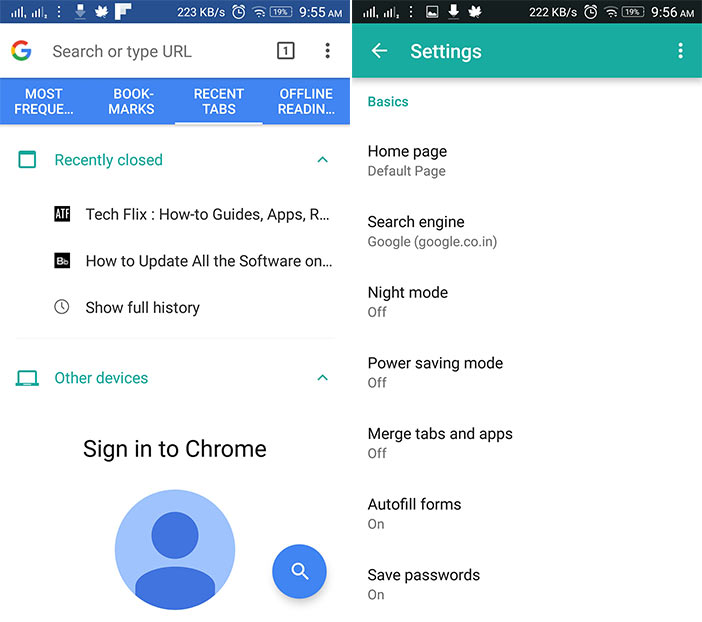 No Cache (First time loading the site) – 11.04 seconds
After it's Cached – 4.53 seconds
Download (Free)
5. Rbrowser
Rbrowser is pretty much the same to other Chromium browser when it comes to features but, what's different is the design. It brings back the old classic browser look that we had during Android 4.0 Ice Cream Sandwich and Android 4.1 Jelly bean. Apart from that, there's obviously Snapdragon optimization, as it's a version of CAF browser/SWE browser. You also get a quick shortcut to open a new Incognito tab and the settings are well organized for you to explore.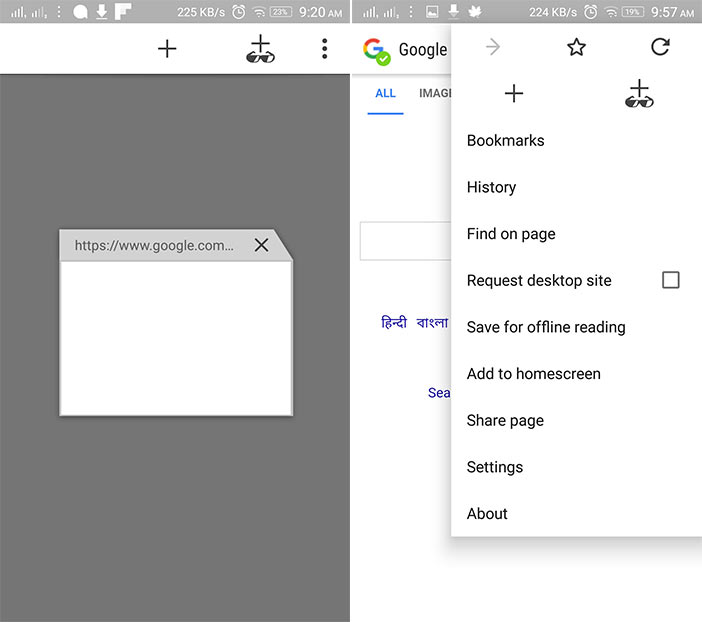 No Cache (First time loading the site) – 15.08 seconds
After it's Cached – 4.95 seconds
Download (Free)
SEE ALSO: 6 Best Dolphin Browser Alternatives for Android
Use these browsers on your Snapdragon-powered device
Google Chrome is for sure the de facto standard for web browsing on Android devices. But, using it's optimized version is not a bad idea. If you own an Android device powered by a Snapdragon processor, these Snapdragon optimized browsers should give you a decent performance boost when compared to the regular Chrome browser. Also, all the browsers listed above support Google Sync, so you will definitely get the complete Google experience. Also, if you want to improve the performance even further, you should disable the 'Secure Connect' and 'Allow security updates over cellular networks' in the settings.
So,  try them out and let us know which Snapdragon optimized browser will you choose for your Snapdragon powered device. Sound off in the comments section below.