For modern fashionistas looking for trendy clothing and accessories, SHEIN has long been a great platform. And rightly so, as the China-based shopping app excels in most aspects to be a one-stop women's shopping platform.  Sadly, the Chinese app has always been embroiled into some controversies. Whether it's the sensational data breach that leaked the confidential information of around 6.42 million customers in 2018 or the recent ban in India due to the security and privacy concerns, it hasn't been able to keep controversies aside. If these reasons are good enough for you to look for a substitute, we won't blame you for exploring the best SHEIN alternatives for Android and iPhone in 2020.
Best SHEIN Alternatives for Android and iPhone (2020)
Shein is not the only app that caters to women's clothing and fashion. There are several shopping apps that produce and sell clothing for women. But then again, not all of them can compete with the huge assortment of the Chinese rival. Having taken a close look at a number of shopping apps, we've picked out the top Shein replacement apps that can let you buy the latest dresses and accessories.
Apart from featuring a large collection of women's clothing, these Shein substitutes also offer solid men's and kid's clothing. And yes, they entertain you with exclusive deals and a ton of discounts as well, so you can save money whenever you buy new apparels. Now that you know what these shopping apps have in store, let's dive right in!
1. Myntra
If Shein claims to be a top-notch app for fashion shopping, Myntra is not behind either. Boasting a wide assortment of products from over 2500 brands, it's designed to be a great shopping destination for all sorts of buyers including aspiring fashionistas. Just like Shein, it also features several filters such as a discount, prices, colors, sizes, and popularity to let you quickly find the sort of apparel you are looking for.
Thanks to the integrated Myntra coupon codes, you get a chance to buy a product at a huge discount. Besides, it also providers the real-time notifications about the exclusive deals to ensure you don't miss out on big offers. As a result, you can grab high-quality dresses at a very low price.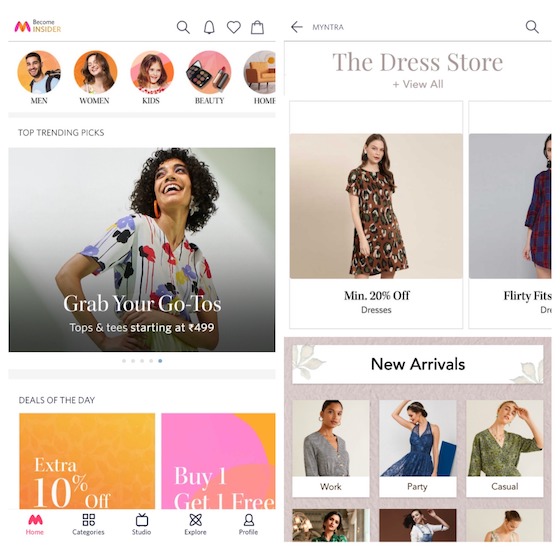 So, if Shein doesn't seem to be living up to the hype of offering stunning dresses at a relatively low price point, you can count on Myntra to fill up the void. What's more, it also provides style notes from expert fashion editors to help you choose the right clothing that can raise your fashion quotient.
Additionally, you can create wishlists and share them with your buddies to get the style suggestions. Everything considered; Myntra is a full-fledged substitute for SHEN for women's shopping.
Install: Android and iOS (Free)
2. ROMWE – Women's Fashion
When it comes to women's fashion of clothes and accessories, what works more than anything else is a trendy assortment. And in this regard, ROMWE has long been a highly-rated platform. So, it's fully equipped to compete with Shein on the women's fashion aspect.
With over 200 daily new arrivals, ROMWE ensures you always have access to the latest offerings from the leading brands. Like Shein, it also provides daily exclusive offers on various things including t-shirts, dresses, bottoms, sweatshirts, rompers, jewelry, shows, and more. So, getting the desired product at a relatively low price shouldn't be a big ask.
Further, ROMWE also offers hot sales that can let you grab items at up to a 95% discount. Thanks to the multiple payment methods like PayPal and credit cards, you can securely make payments. But what tilts the tide in favor of ROMWE is a 60-day return policy. Considering Shein doesn't have an excellent return policy, it easily gets the upper hand in this crucial aspect.
Install: Android and iOS (Free)
3. H&M – we love fashion
For modern fashionistas who never seem to get enough of the hottest apparel, H&M appears to be a fantastic choice. Yes, you read that right! The app has got one of the finest collection of clothes and accessories from the world's top brands. So, it doesn't matter whether you want to set a trend or catch up with a hot style that's just gone viral, chances are that you won't have to look beyond.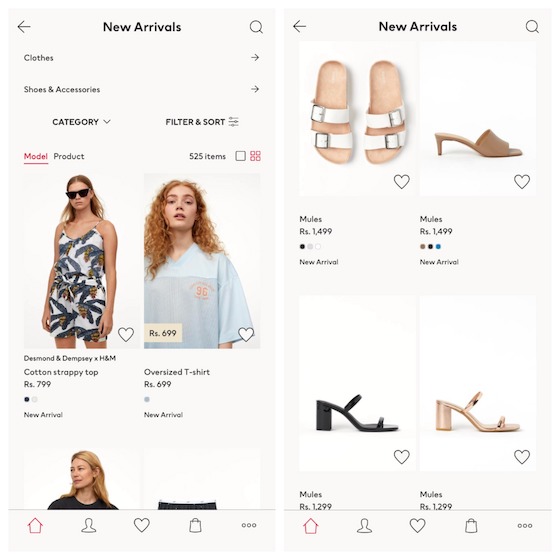 Beyond a large collection of apparel and accessories, H&M also looks a touch better than Shein in terms of user-interface. It features a visual search that lets you search an item by using your own photos or screenshots. Having recognized colors and patterns, it offers matching/similar items. Another notable feature of this app is the "Find in Store" that allows you to find out in which store a particular item is available.
Smart searches aside, H&M also offers personalized suggestions based on your interest. As a result, finding the sort of collections that get along nicely with your style becomes quite straightforward. On top of all, H&M has a fairly good reputation when it comes to safeguarding the personal information of users, unlike Shein. Considering these notable features, it can safely stake the claim of being one of the best Shein alternatives.
Install: Android and iOS (Free)
4. Shoppers Stop Fashion Shopping
While "Shoppers Stop" may not be as popular as some of its noted rivals like Myntra, it's got everything checked off to be an able substitute for Shein. From gorgeous fashion accessories to luxurious watches to the latest cosmetics, it's got you fully covered. Aside from featuring an amazing collection of clothing and accessories for women, it's also up to the mark when it comes to men's and kid's collection.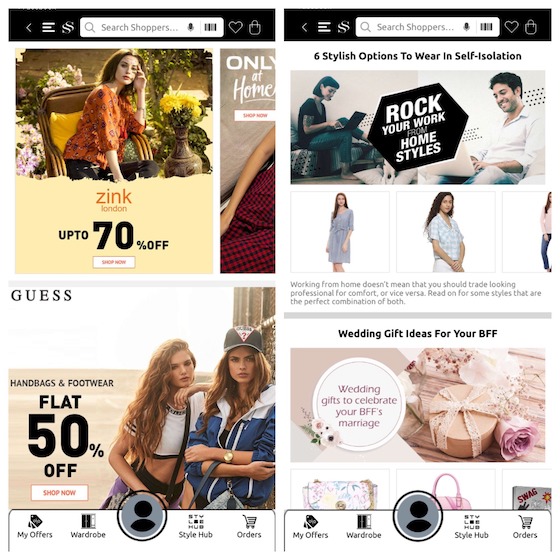 Shoppers Stop features a pretty neat interface that makes browsing apparel quite straightforward. Besides, it also features many filters including discounts, prices, colors, sizes, which make it quite easy for you to spot the item that you are after. Based on what drives your fancy, you can create an extensive wishlist to keep a tab on your favorite clothes and accessories.
Another feature that makes it a fine rival for Shein is the style suggestions as per your taste. So, if the Chinese fashion app isn't able to offer you personalized suggestions in terms of fashion, you should keep this mind.
Install: Android and iOS (Free)
5. Amazon
Going by the sheer numbers, Amazon is by far the most popular shopping apps. And if you have set your sight on a Shein alternative with a mammoth collection of trendy clothing, this one can easily fit into your needs. Featuring a variety of fashionable items designed for both classy and modern women, Amazon can give a strong competition to Shein and even win on some fronts.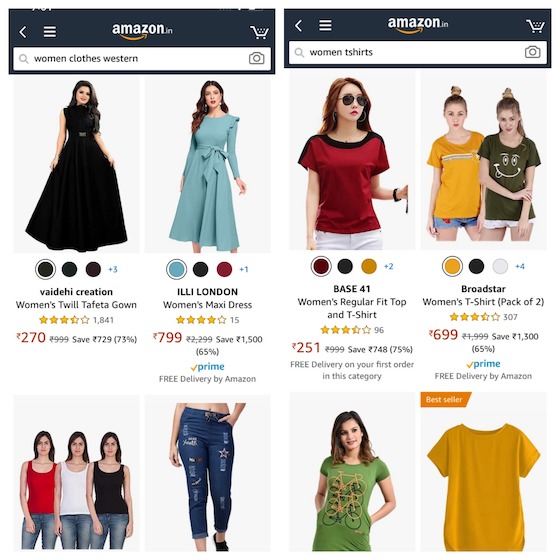 Apart from offering a nice assortment of women's clothing, the app also excels in providing clothes, footwear, accessories for men and kids. Moreover, it offers a quick way to compare prices so that you can find the right deal depending on your budget. Besides, the reviews from buyers also play a vital role in helping you make an informed decision.
With barcode scanning at the disposal, checking out the availability of any clothes or accessories becomes quite straightforward. Another feature worth taking note of is the ability to create a wishlist of items that you want to buy. Through timely notifications, it keeps you updated about the price drops so that you don't fail to cash-in-on the bumper discounts. Above all, Amazon has also got a better reputation for protecting the personal information of users as compared to Shein.
Install: Android and iOS (Free)
6. ZARA
If there is a hunt for a top-notch shopping app that can be a competent replacement for Shein, missing out on a well-known player like ZARA would be a mistake. And rightly so. The app is rated very highly among shoppers of all ages including the trendsetters.
Like its Chinese counterpart, ZARA also offers clothing for women, men, and kids. But it's the women's collection that makes it such a sought after platform. From stunning dresses to casual t-shirts to jumpsuits, it's got a wide variety to appeal to your fancy.
With up to 70% discounts on the hottest items, it can also make a fine match with Shein when it comes to saving your bucks. Not to mention, it allows you to share your favorite items with others and even ask certain questions to sort out confusion before buying an item. Long story short, Zara is perfect SHEIN alternative for fashion icons.
Install: Android and iOS (Free)
7. Urbanic
Though Urbanic is a relatively new player in the cut-throat market, it promises to be your one-stop platform for women's clothing and fashion. What puts it on the forefront is an ever-growing library of thousands of latest clothes. From the gorgeous dresses, funky-looking t-shirts to the beautiful gowns, it's fully equipped to live up to the demand of varied choice. Notably, you can always expect it to surprise you with some out-of-the-box collections.
One of the main highlights of Shein is that it brings a ton of new styles each day, which makes it very popular among aspiring fashion icons who love to grab attention with their impressive style. Even in this regard, Urbanic seems to be up to the task.
So, no matter what sort of designs you are looking for, its library wouldn't disappoint you. In terms of pricing, it's even-steven thanks largely to the big discounts, coupons, and flash sales. Therefore, you can buy high-quality clothes at a comparatively low price.
With the live chat feature, you can chat with the Urbanic team to know more about a specific cloth and whether or not it will go along with a particular theme.  Additionally, it also provides 10-day hassle-free returns, so you won't have any problem in returning an item if it doesn't live up to your demand.
Install: Android and iOS (Free)
Bonus:  Clovia – Lingerie Shopping App
Are you looking for a Shein alternative that excels in offering elegant lingeries and nightwears? If your answer is in the affirmative, look no further than Clovia. Probably the best part about this app is that it manufactures its own range of lingeries with high-quality fabrics. As a result, they never fail to impress.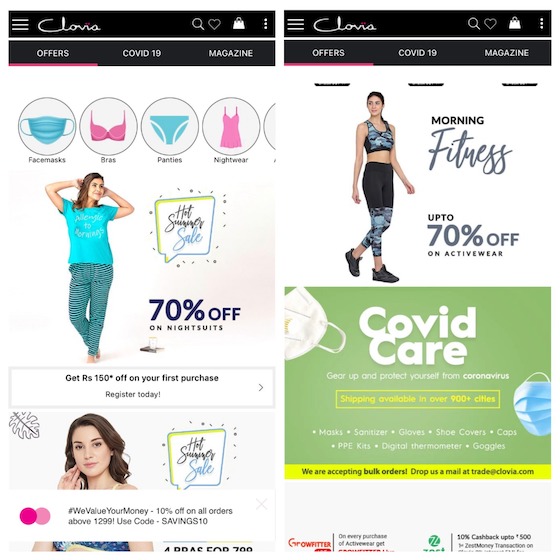 Another feature that has caught my eyes in this app is its occasion-specific offerings such as bridal lingerie, beachwear, and sportswear. So, it doesn't matter whether you are getting ready for a beach-party or planning for your amazing marriage ceremony, you will find the right lingerie that will look perfect on you. Oh yes, it's also no pushover when it comes to offering huge discounts on the latest lingeries and nightwears just like Shein.
Install: Android and iOS (Free)
Choose the Top SHEIN Alternatives for iOS and Android
So, these are the highly-rated shopping apps that can give strong competition to SHEIN and even beat it on multiple fronts including discount and privacy. With a range of notable apps at the beck and call, I hope your eyes have found the right bet. By the way, which one of these apps has proved to be spot on for your taste? Be sure to spill the beans about your favorite shopping app before going for a shopping spree!