While e-commerce has been constantly rising in India, it is the inclusion of shopping apps on smartphones that is responsible for the waves in its growth rate. Rather than going to the local market or your nearest mall, you can simply order whatever you want from the comfort of your fingertips. And the best part is, all this is done so seamlessly, that it makes the entire process interesting as well. Keeping this idea in mind, there's an overabundance of apps on the market, each offering something new and something different. But which shopping apps offer the best features along with the best shopping experience, I hear you say. Well, fret not, as we have curated a list of 20 best shopping apps in India.
Sections:
The Best Shopping Apps in India for Android and iOS
Megastore Shopping Apps in India
1. Amazon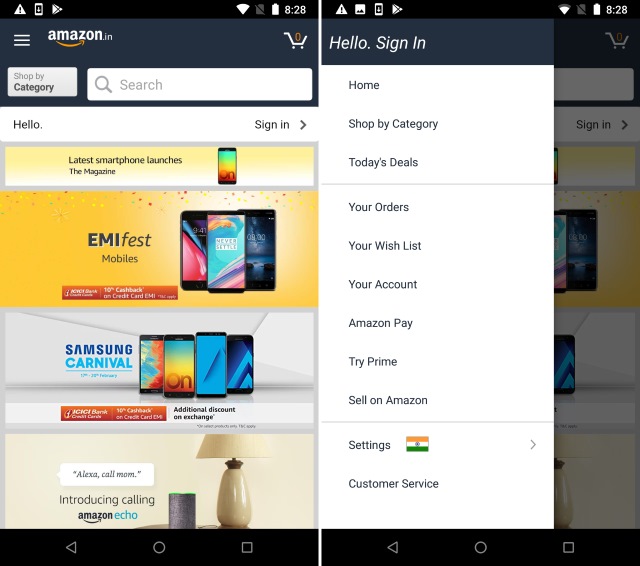 We start off with the biggest e-commerce portal in the world, Amazon. Amazon has been around for a long time and is the world's most preferred online shopping platform. Their Indian portal, Amazon.in, brings over 10 Crore original products and that too at great prices. The service lets you shop from a plethora of categories, ranging from home needs to electronics, to educational material, to just about anything that you feel like shopping. The app itself is very fluid, provides a great user interface, and even allows you to track your orders. Amazon is easily the best online shopping app for any user, especially in India.
2. Flipkart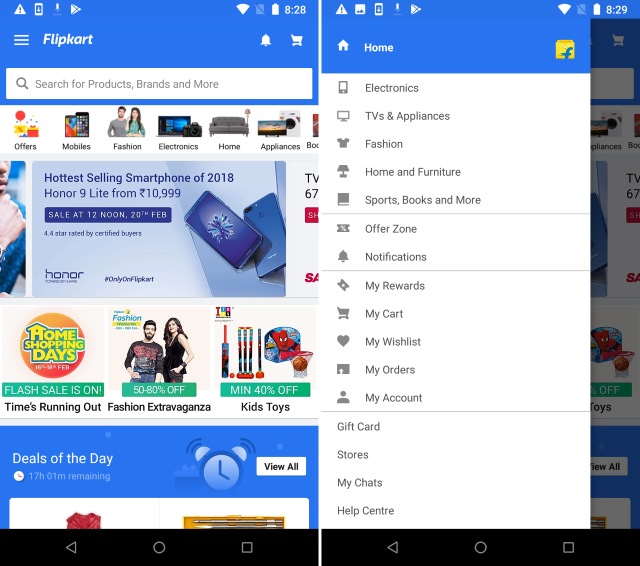 Flipkart was the main brand that introduced a majority of Indian consumers to the online shopping platform. Before Amazon entered the Indian market, Flipkart was the supreme king of online shopping in India. Even today, it caters to every consumers' needs by providing products in almost every category. Many brands have exclusively partnered with Flipkart as well, and their products are sold only on Flipkart. The app lets you simulate the web experience on your mobile device easily while having access to all the features such as tracking, ratings, and much more.
3. Paytm Mall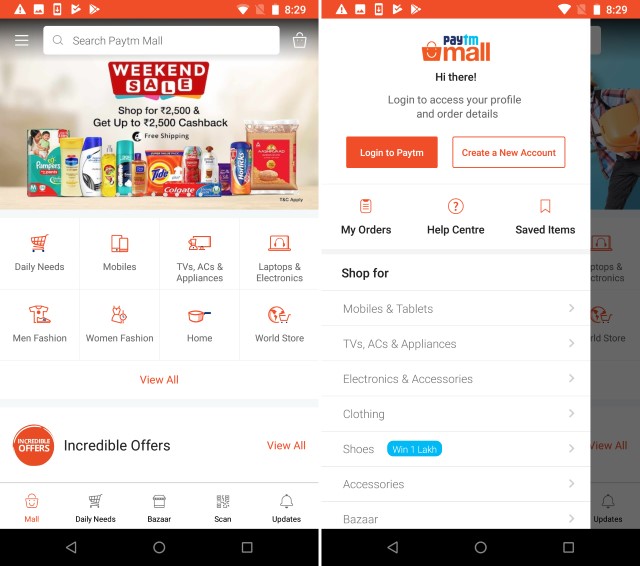 Paytm rose to fame post the demonetization phase in India. The mobile wallet giant quickly partnered with stores to start its own shopping hub as well. While the products on sale are available on other e-commerce chains as well, what sets Paytm apart from the herd are the extravagant cashbacks. The app offers cashbacks up to 80% on its products and allows you to pay directly via your Paytm balance, thus removing the hassles of cash trading. If you're someone who has switched to mobile wallets for their expenditure, Paytm Mall is a fantastic app for all your shopping needs.
4. Snapdeal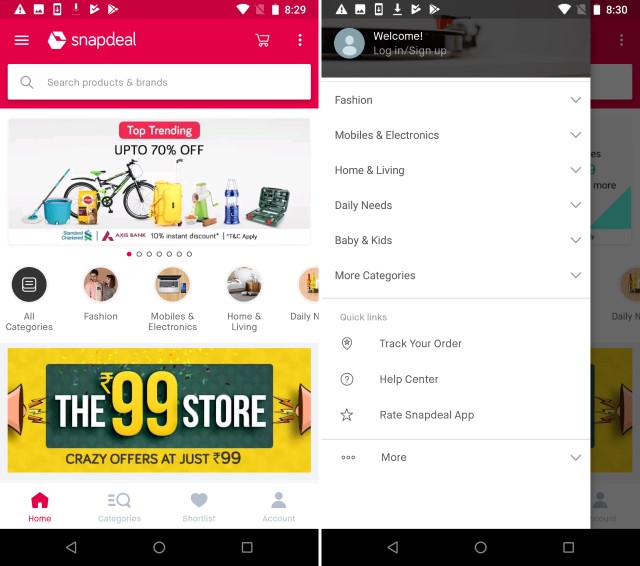 While referred to as an inferior brand as compared to Amazon and Flipkart, Snapdeal is still one of the most preferred e-commerce portals in the country. The service has some of the best products on offer, which are exclusive to the app. With over 65 million options to choose from and snappy deliveries, the service is absolutely great. Oh, and the app itself has been refined to give a great user experience, with absolutely zero lag and super-fast performance.
5. Tata CLiQ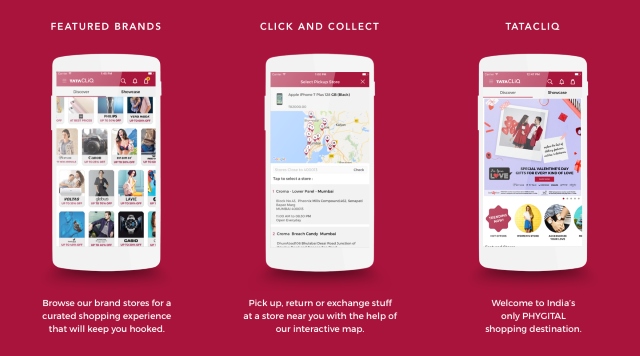 Tata CLiQ is Tata's attempt at the e-commerce business, and boy does the app work well. First of all, Tata itself owns a lot of companies such as Croma, Voltas, Tanishq, Fastrack, Westside, and more. Basically, the brand owns everything in every consumer segment. So while the Tata CLiQ app does offer other brands on sale as well, you can avail hefty discounts on the above-mentioned brands using the CLiQ app. Also, the app looks absolutely stunning, with their prime focus on the user's overall experience.
6. Shopclues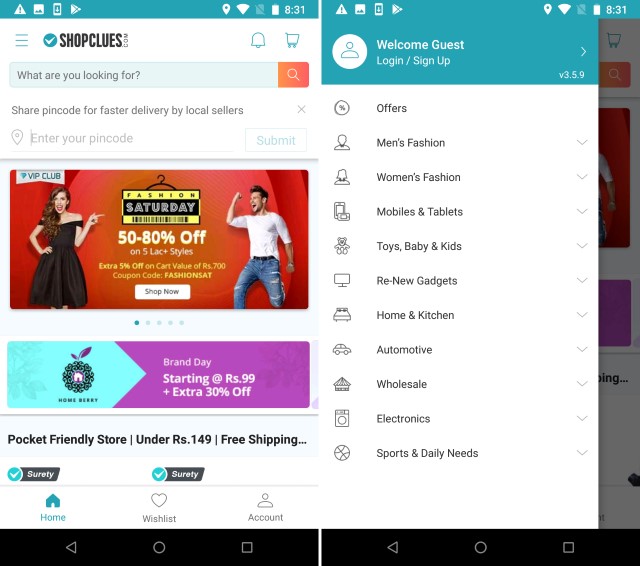 Shopclues is still a growing brand, but they've taken up the challenge pretty well. To grow in a country like India, the biggest attractive feature you can have is discount, and boy, does the company have great discounts. The Shopclues app offers hefty discounts across it 5 crore products from 12,500 categories. And what's more is that you get hassle-free delivery and exchanges as well. The newly released updates for the app have redesigned the app from scratch, making the menus and other options a lot more interactive and user-friendly.
7. eBay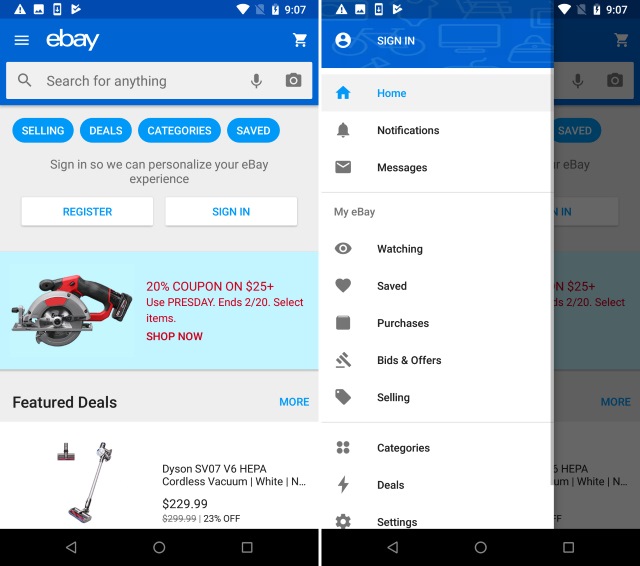 When you talk about e-commerce websites, eBay is probably the first name that comes to your mind. The brand that started it all still reigns supreme in many ways. eBay has the highest number of products on offer, with great benefits and discounts on all of them. While the company might have lost its place at the top in the list of most preferred online shopping brands, the service is still one of the best. And the app just takes things further, delivering an experience like none other.
8. Indiamart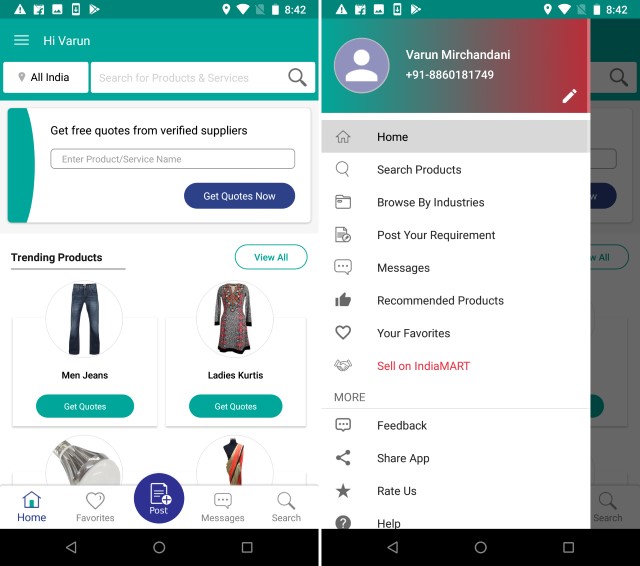 Not everyone shops for personal needs, right? What if you wanted to shop, but in huge quantities for your business or other needs? Well, that's where Indiamart comes in. The app allows you to make purchases in wholesale needs and rates from sellers across the country. Furthermore, the app even allows you to upload PDFs and other documents for verifications that later allow you to expand your business network. If you're someone who owns a business and are looking to buy goods and products in large quantities, Indiamart is for you.
9. Naaptol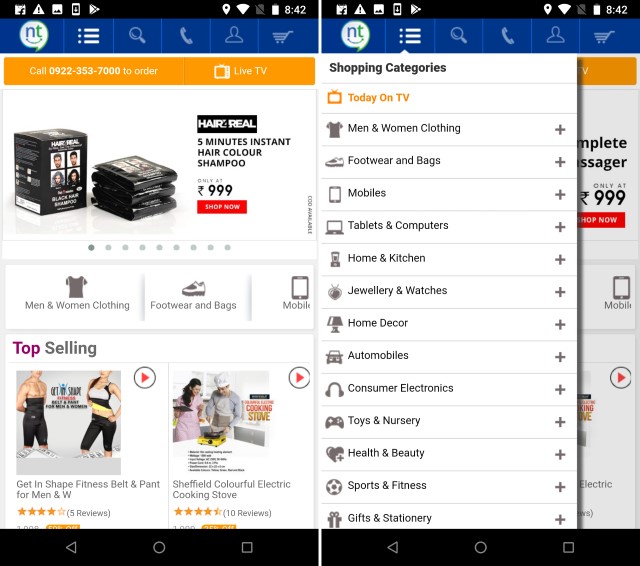 You've probably read about Naaptol in newspapers, for that was the main mode of advertisement for the company. Now, the company has expanded its network, and even offers its own full fletched app. Naaptol is a shopping app that's for just about everyone. You can a huge number of products at attractive rates, including products that are generally sold by local retailers, thus making online shopping a whole lot easier for you.
Bonus: HomeShop18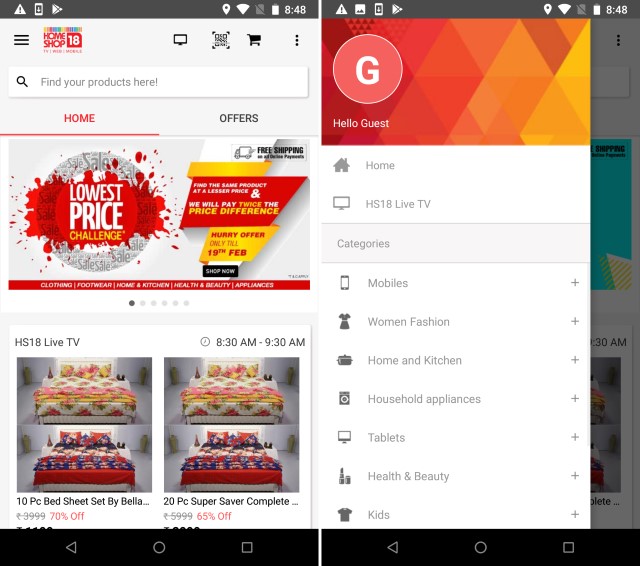 We all remember watching those commercials on television about HomeShop18, right? The brand that offers everything that's concerned with your household. Well, the company has grown a lot since then, and the HomeShop18 app offers crores of products at attractive rates. What's more is that the service now offers products from all categories, while carrying the trustworthy brand name of HomeShop18.
Fashion Store Shopping Apps in India
1. Myntra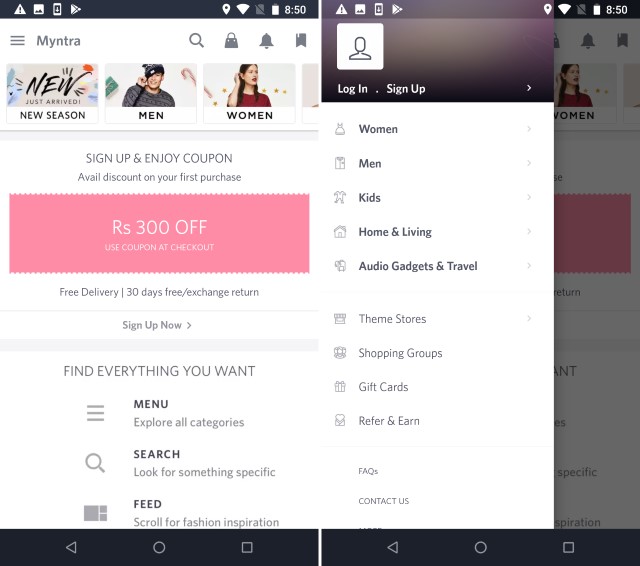 With e-commerce rising in the country, Myntra was one of the first brands to launch their online store that was specific to fashion. Yes, the caters solely to fashion and everything connected with it. You can choose from a variety of options and both national as well as international brands to shop from. Oh, and the best part is that there are special discounts on the Myntra app, including big fashion sales, where you can avail mouthwatering deals.
2. Jabong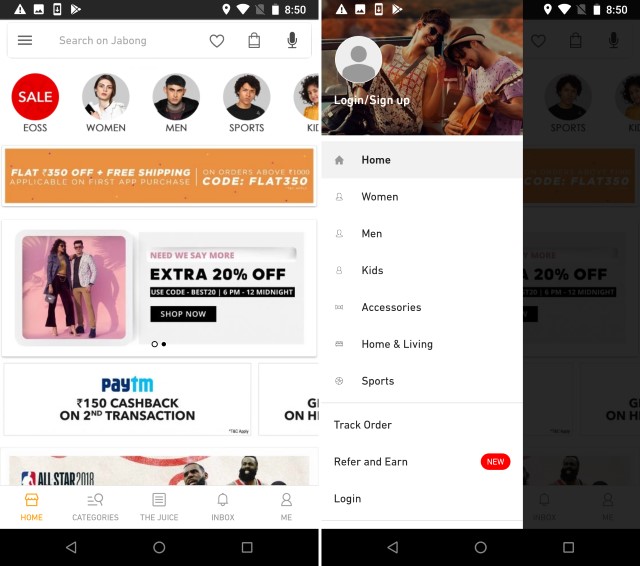 The app that has always been Myntra's nemesis, Jabong is another great shopping app for purchases related to fashion. The app offers products from over 1200+ brands & over 30,000+ products to choose from. Like Myntra, Jabong has also partnered with international brands as well as local brands, to give the customer a huge variety of options to choose from. Also, the app offers suggestions based on your interests and shopping history, personally styled by fashion designers themselves.
3. Limeroad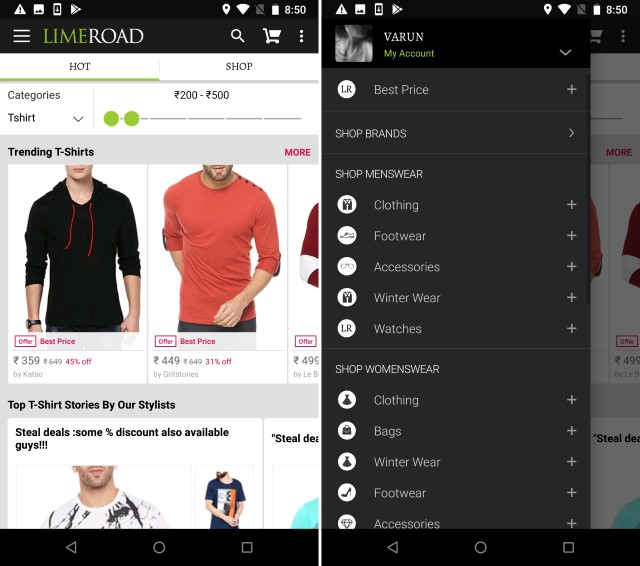 The best part about the Limeroad app is that it offers almost everything that you expect from a shopping app but in a very lightweight package. The Limeroad app offers personalized stylist recommendations and style updates every 30 seconds will ensure that you're always on trend. Also, apart from a beautiful collection of 25,00,000+ fashion products, the service also offers great deals. They have a 60% off on almost all their products, and there's also the Buy 1 Get 1 Free deal every few days.
4. KOOVS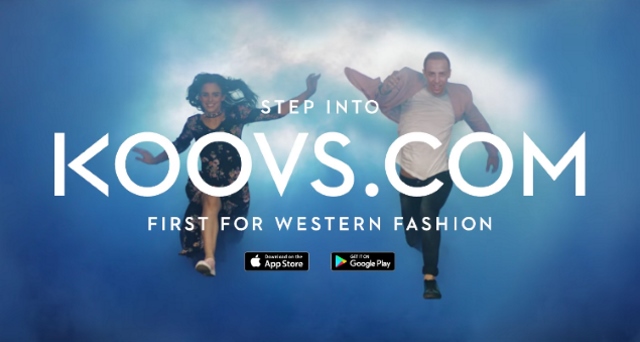 KOOVS, unlike other shopping brands, is a fashion brand in and of itself. The company offers a private label collection, along with wide range of best fashion brands from London and India, available exclusively on Koovs. Thanks to the app, you can easily choose from a variety of fashion-related items, such as clothes, shoes, T-shirts, jeans, bags, dresses, jewelry, watches, wallets and more.
5. Fynd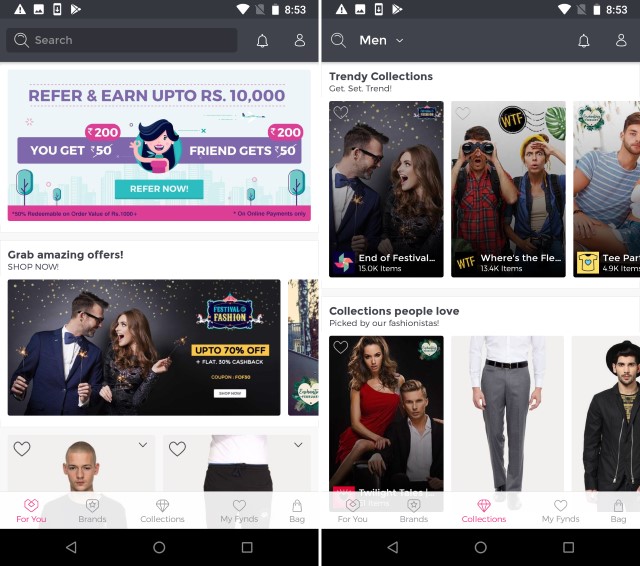 Fynd makes finding the right product so much easier for you. Apart from the usual shopping app experience that lets you choose from thousands of products, the app has its own Mix & Match feature as well. This basically lets you combine different products, thus creating product styles based on your tastes. What's more is that you can even share these styles online on social media such as Facebook or Instagram.
Other Great Fashion Store Apps in India
Also, there are a ton of other fashion-related apps entering the Indian market, with each of them offering something unique and something new. You can use the abof app for convenient online shopping, while also getting services such as free-at-home alterations, one step exchange and much more. Similarly, the Voonik app is very popular, gaining traction thanks to the amazing deals they have which are updated on a daily basis.
Apps to Buy/Sell Used Products in India
1. OLX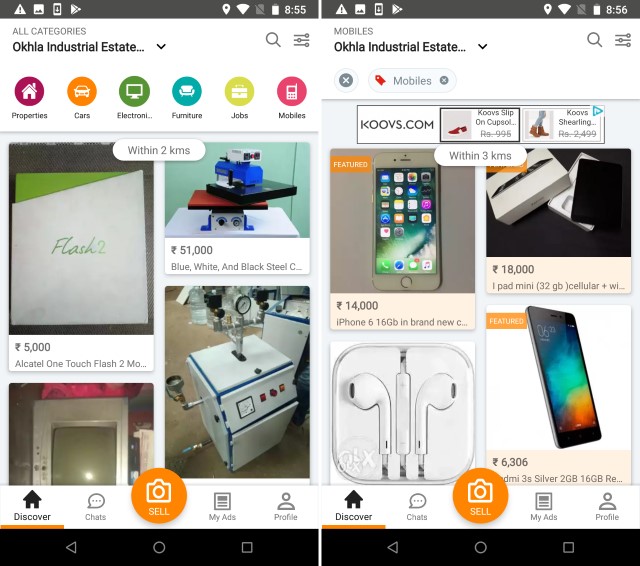 OLX is the biggest names when it comes to apps that let you buy or sell used products. The app offers content based on local interests and ads, and also brings you cool deals from your neighborhood. All the users on OLX are 100% verified, plus the app also includes its own Chat First feature, so you won't get any spam calls for uninterested users. And on OLX, you can sell just about anything you feel like. If you have an unused product at your home, the OLX app is the best app for selling it off.
2. Quikr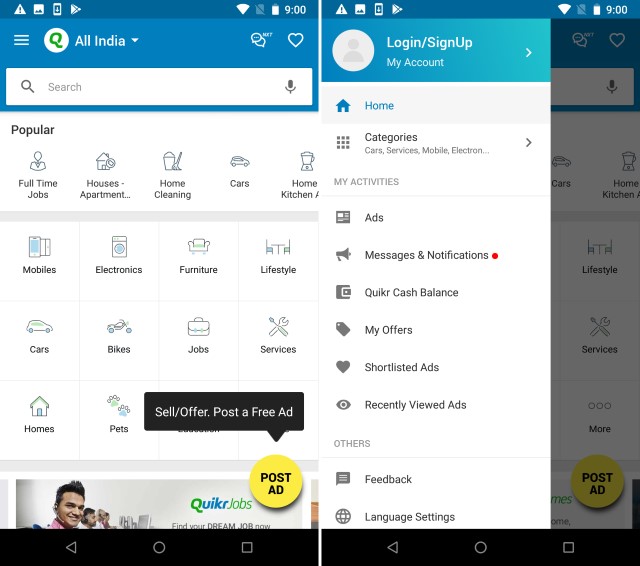 If you like to have an Indian taste of things, Quikr is the best alternative to OLX. The homegrown brand offers a similar experience as OLX, but better in some ways as well. Apart from selling your used items, the app offers dedicated portals for better navigation, such as homes, cars & bikes, mobile & tablets, electronics, home & lifestyle, education. What's more is that the app also has offers for Jobs and Services, making it a versatile app in itself.
3. Facebook Marketplace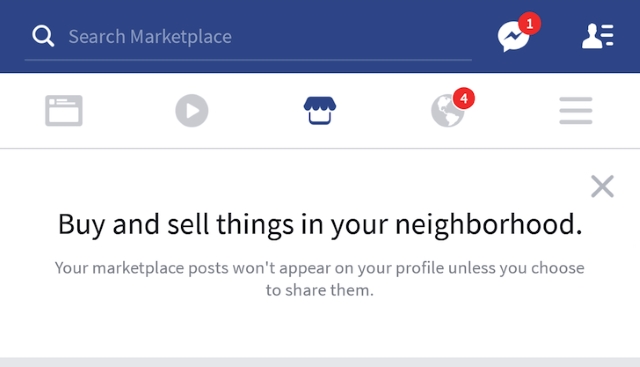 We all use Facebook every day, but did you know that you can buy/sell products directly from the social media giant as well? Yes, that's right, the Facebook app has its own Facebook Marketplace, that allows you to communicate with your friends and other users over Facebook and buy or sell products easily. The best part about this is that there is no need to download another app for using this feature, since it is available directly within your Facebook app, making things a whole lot more convenient.
International Shopping Apps That Ship to India
1. Aliexpress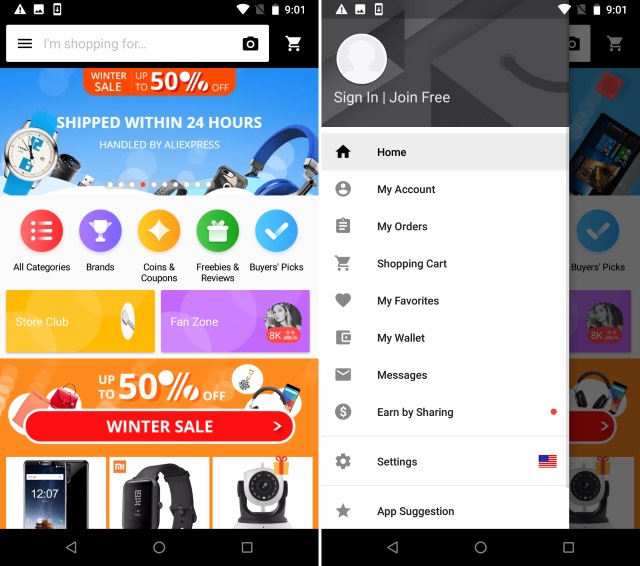 Now we all know that India is a developing country, and some products from specific brands just never get officially launched here. Thankfully, portals like Aliexpress exist to make things easy for us. Using the Aliexpress app, you can make purchases from across the globe, regarding any product. Many manufacturers even have their own official store on Aliexpress such as Xiaomi, that assure you of genuine quality products being sold on the portal. While the delivery times may be high as compared to the local shopping apps, Aliexpress offers almost 3 times more products than any other portal.
2. Banggood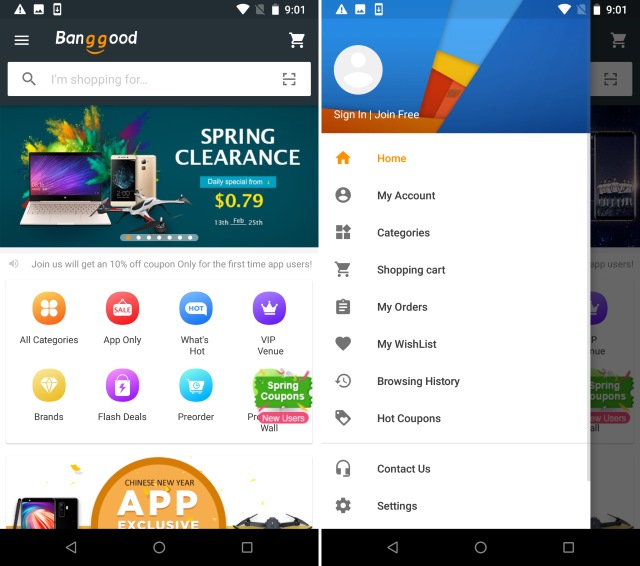 Bangood is another great app for ordering products from sellers across the globe directly to your home. The app offers great deals along with decent delivery times, making the whole process quite simple. What's more is that the app has been designed in such a way to make the entire shopping experience almost seamless and exciting. Also, the app offers a 10% discount to all new users, so what are you waiting for? Download the app now.
3. Gearbest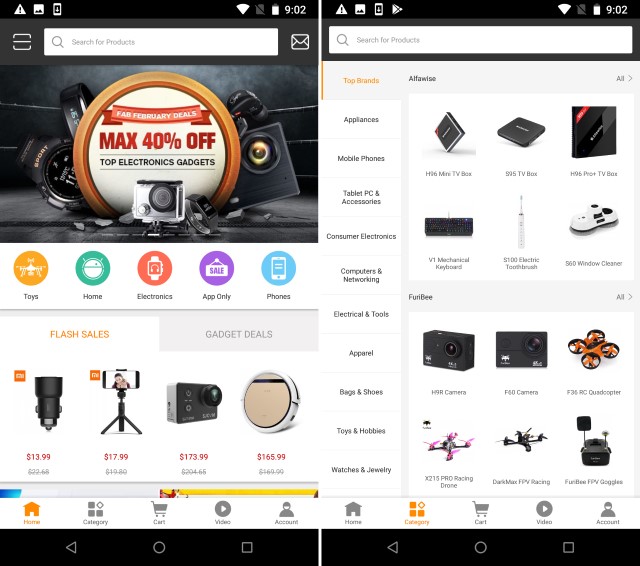 Gearbest is your solution for anything related to technology. While the above-mentioned apps deal with almost every product of every category, Gearbest caters to consumer electronics and gadgets only. If there is just about any gadget that you wish to purchase, chances are that Gearbest already has it, and that too on a great deal as well. Furthermore, while there is web portal as well, there are a lot of app-exclusive deals on plenty of products.
SEE ALSO: 25 Best Gadgets of 2017: Beebom's Picks
Shop Your Heart Out With The Best Shopping Apps in India
The main reason that people rely on smartphones are the amazing apps you have access to. Thanks to the rise of e-commerce in the country, many shopping apps are popping up, bringing the entire shopping experience right at your fingertips. We've listed out some of the best shopping apps in the country above. But that's what we feel. Do you think we missed out on your favorite shopping app? Do let us know in the comments down below.