RSS was supposed to be heading for a demise when Google Reader was terminated back in 2013 but that hasn't happened. Sure, RSS might not be as popular as it was but it still remains a great solution to consume the latest news and stories from your favorite sources and websites. We all have our favorite websites to read content and rather than opening a ton of tabs in the browser, RSS offers a streamlined singular solution. Also, we love reading on our smartphones these days and that's the reason why we have a number of great RSS reader apps available for Android.
So, if you have been looking for the best RSS Readers for Android, look no more, as here's our list of the best RSS Readers for Android:
1. Feedly
No surprises here, Feedly is a highly popular RSS reader app that lets you add feeds with ease and start reading on the go. Along with RSS feeds, Feedly lets you consume content from your favorite podcasts, YouTube channels and more. Moreover, it also lets you discover content from around the web based on your topic of interest. The app also integrates Facebook, Twitter and Pinterest, so that you can share any story with ease. Other features of the app includes the ability to save content for later, organize content into collections, distraction free mode, collaboration via Slack, Trello etc., content curation and more.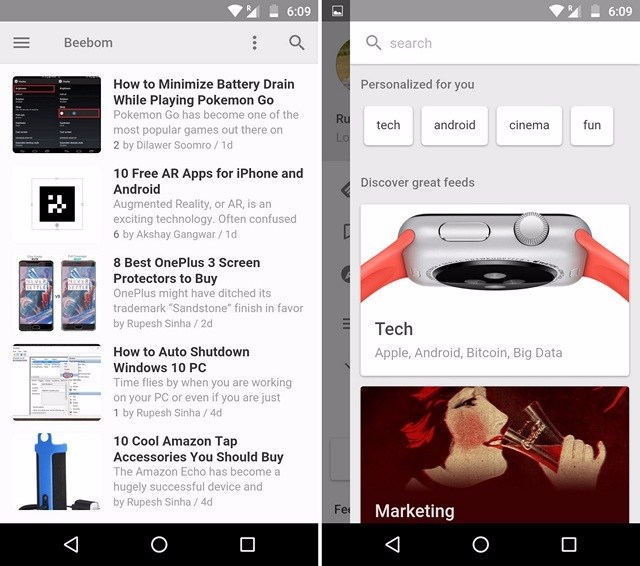 While the aforementioned features are free, Feedly also offers a Pro version, which brings faster sync, better search, more third party apps integration, Dropbox backup and premium support.
Install: (Free with Pro version starting at $5/month)
2. gReader
gReader is a highly popular RSS app and rightly so, as it's the perfect solution for Feedly users and users who want a local RSS reader. The app lets you use Feedly, The Old Reader (web-based RSS reader) and the usual RSS reader, which saves all the data locally. With gReader, you can even sync items among the local reader, Feedly and Old Reader. The app features a simple yet fast interface and brings features like offline reading, notifications, ability to share articles, different reading views, tag support, podcasts and more. Moreover, it includes third party services integrated like Pocket, Instapaper, Readability etc.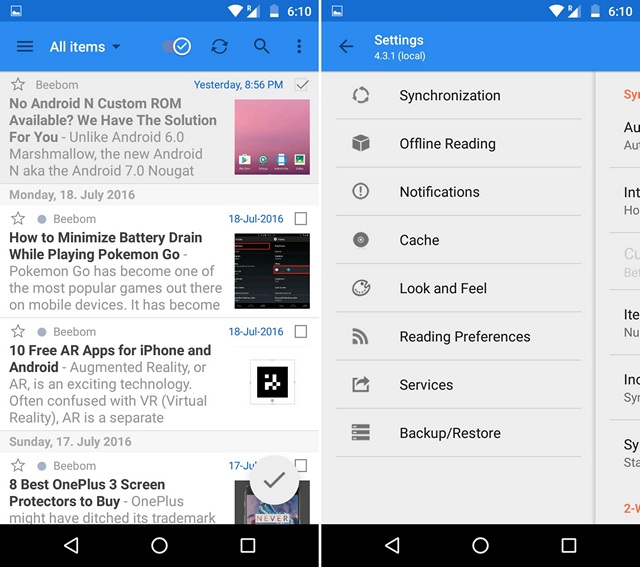 While the app is available in a free version, if you want to remove ads and get more features like voice-reading, custom notifications, better podcasts etc., you will have to get the Pro version.
3. Inoreader
Along with the usual RSS features, we especially like Inoreader's beautiful yet minimal interface. It also brings some very cool features to make your RSS consumption a lot more intuitive. It brings you content in various different categories from top sources and you can always add your own favorite sources. There's also ability to save pages for later, monitor news around specific keywords, subscribe to feeds from social networks, The app also features a very power search feature that lets you dig up your past favorite stories and archived subscriptions. Like most other readers, Inoreader syncs your preferences across devices.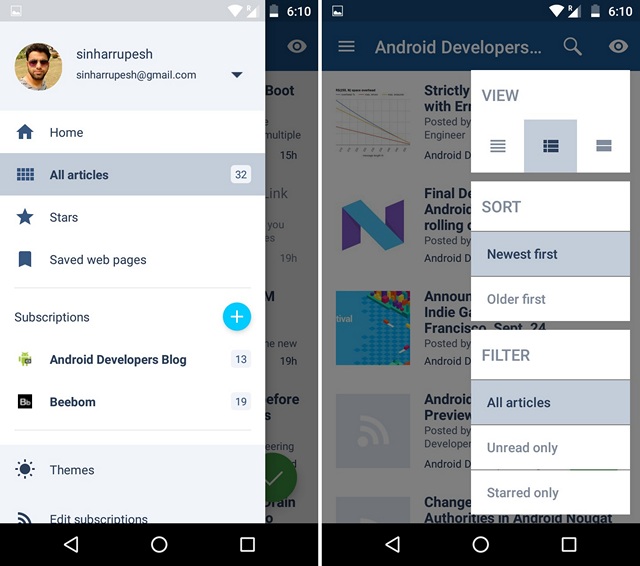 Install: (Free)
4. Palabre
Palabre is a all in one solution for all your RSS needs. The app lets you get content from not only RSS feeds but from a host of other sources like Feedly, The Old Reader, Inoreader, Google news, Twitter and more. The app includes features like offline reading, ability to extract full articles like Readability from RSS feeds, sync Feedly reader, import RSS feeds from OMPL and more. We especially like the ability to choose the layout of the app from the magazine layout, large cards or list mode. You can also save the articles for later in Palabre itself or use third party services like Pocket or Instapaper.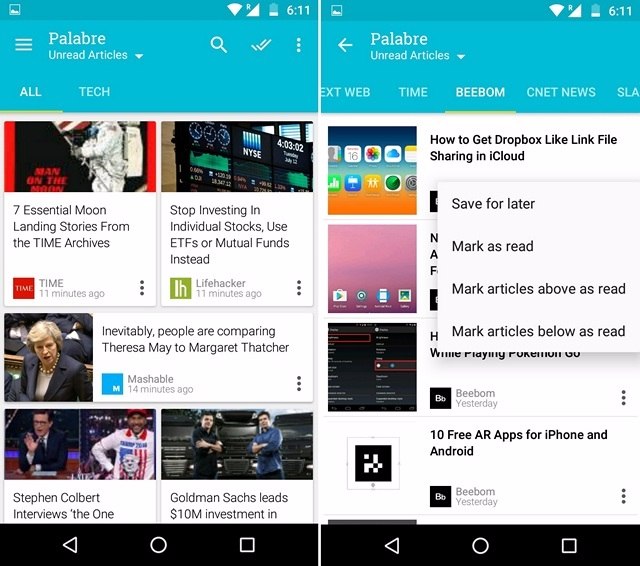 There are a tons of other features, plus it's open source, so what's not to like. Palabre is available for free but it includes in-app purchases to remove ads, get the Black theme, quick actions feature and custom colors for the app.
Install: (Free with in-app purchases)
5. News Republic
News Replublic is a very popular news app, with more than 1,650 trusted news sources. The app is very similar to Flipboard but it also brings a few cool RSS reader features like the ability to add custom headlines from your favorite feeds, offline support for RSS feeds and more. Along with RSS support, the app brings content from various renowned sources in a variety of topics. It even includes a social network, so you can follow people to see what they love reading. Moreover, the app learns from your habits and brings you personalized content over time. News Republic is for someone who is looking for an RSS reader as well as a full-fledged news app.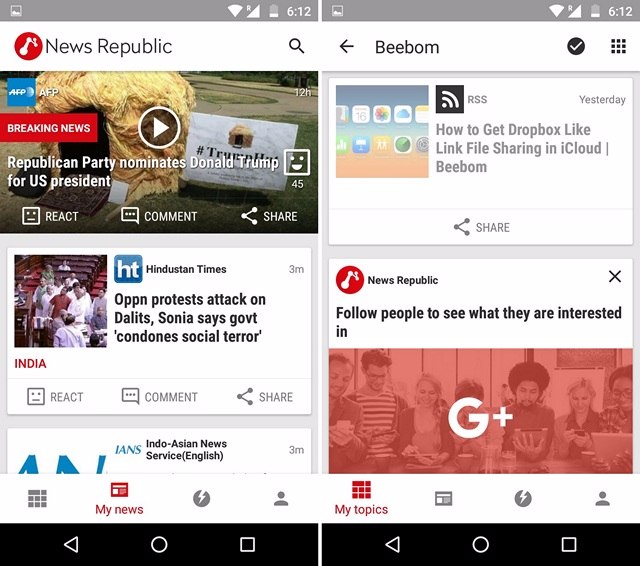 Install: (Free with in-app purchases)
6. Flym News Reader
Flym News Reader is nowhere near the popularity of most apps in this list but if you want a simple RSS reader that just works without any overwhelming features, Flym News Reader is your solution. The open-source app is based on the open-source Sparse RSS reader and it lets you add feeds from Google News or search or you can always do things manually. It includes features like offline reading with images, ability to import/export feeds from OPML & filter your feed by keywords or regular expressions, custom widgets and more. The app lacks the ability to sync with any online feed reader like Feedly, which might be a deal breaker for some.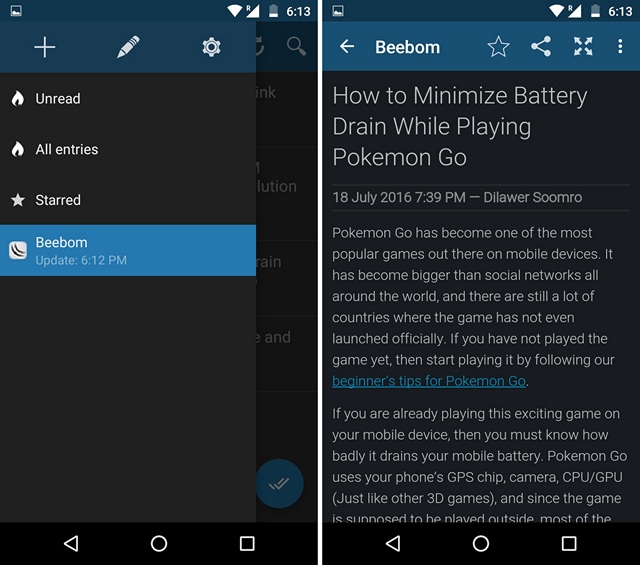 Install: (Free)
7. Google Play Newsstand
Google Play Newsstand might be a full fledged news app but it also lets you add your favorite websites' RSS feeds, so that you can read your favorite sources with ease, while discovering new content through the app. The app lets you access free as well as premium content from various well-known sources, magazines, blogs etc. It includes various categories of topics and there are articles with audio as well as video content. Moreover, the app personalizes the home page learning from your reading habits. Other than that, Newsstand includes offline support, ability to bookmark articles and more.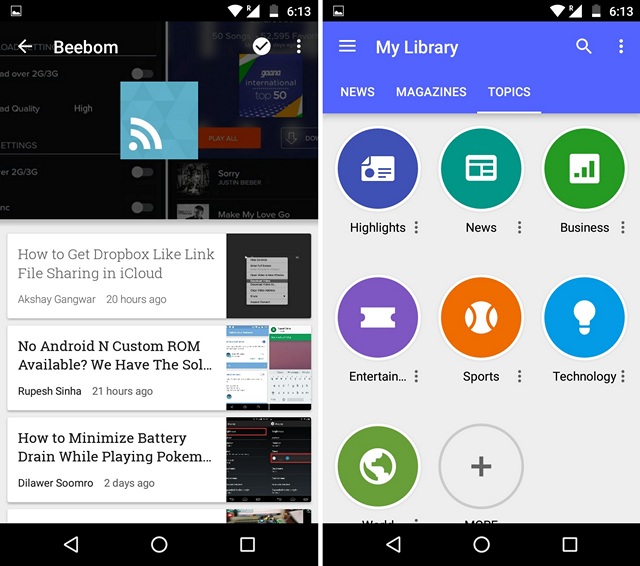 Install: (Free)
SEE ALSO: How to Enable Reader Mode in Chrome for Android
Try these RSS Readers on Android for a beautiful reading experience
There are various other RSS reader apps available for Android but we are pretty confident that these are the best out of the lot. These apps streamline your RSS feeds and simplify your reading experience, while making sure to add their own unique features. So, get the RSS reader that suits you best and let us know your experience in the comments section below.
---
Load More