My association with Pocket (formerly known as Read It Later) goes a long way back to 2007 when it was introduced as a Mozilla Firefox browser extension. As someone who has a huge penchant for web browsing and saving favorite articles for later reading, the extension soon became my noted asset. Thanks to the ability to offer a seamless read-it-later experience, Pocket has become a full-fledged service with plenty of impressive features designed to enhance reading. While I have always loved using this app, the high-price tag ($4.99/monthly) of the premium variant has begun to (kind of) vex my budget for quite some time. If you also find it vexing, here are the 8 best Pocket alternatives of 2020.
Best Pocket Alternatives You Should Try in 2020
Unlike before, the market is flooded with several read-it-later apps. Of course, not all of them can go neck and neck against Pocket. But, there are quite a few rivals that can excel on many fronts. Apart from being feature-rich, they also offer a lot of customization for a personalized reading and clutter-free bookmarks management.
What's more, many bookmarking apps provide super handy text-to-speech functionality so that you can rest the exhausted eyes and let the alerted ears go through the entire articles comfortably – anytime, anywhere. I have added anchor links for all the apps mentioned on this list. You can click on them to quickly move between the article.
1. Instapaper
"Instapaper" is very similar to "Pocket" on most fronts. Just like the latter, it also sports a pretty intuitive interface and offers full-on customization that makes for a great reading experience. You can use this classy read-it-later app to save and store your favorite articles or anything that comes your way. And when you want to go for distraction-free reading, you can get rid of all the clutter to ensure the entire article looks clean and feels easy on the eyes.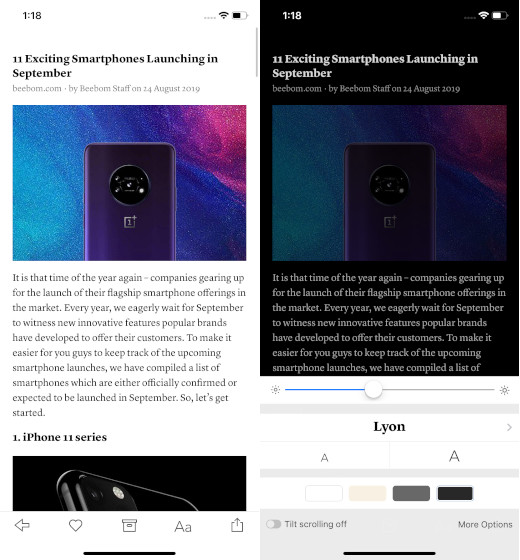 Based on your taste, you can ideally fine-tune several pivotal aspects of this app. For instance, you can choose from a variety of themes, fonts, and even colors to have a more personalized experience. Besides, there is also an option to sort your articles by many things like date, popularity, length and more. In terms of a personalized experience, I think the battle seems to be quite even stevens.
As Instapaper also boasts a top-notch offline feature, you can catch up with your articles at your own pace. Times when you want to rest your eyes or you wish to go through lengthy articles a bit more conveniently, the text-to-speech feature would come into play really well. As for price, Instapaper is a lot cheaper ($2.99/month vs $4.99/month) than its counterpart. Long story short, it's both affordable and one of the best  Pocket alternatives on the market right now.
Pros: 
Pretty clean and intuitive UI
A variety of themes, fonts, and even colors
Text-to-speech feature
Cons: 
Doesn't offer a desktop app 
Platform Availability:  iOS, Android, and web 
Pricing: Free, in-app purchases available (starting from $2.99)
Visit: Website 
2. PaperSpan
Looking for a feature-rich read-it-later app to enhance your reading habit big time? "PaperSpan" could be an ideal answer to your need as it comes with a range of notable features to make your reading a pleasing experience. And it's this aspect that makes PaperSpan a highly impressive substitute for Pocket. To me, the best part about this app is the ability to automatically assign the categories to your articles, thereby saving not only plenty of time but also allowing you to keep your library perfectly organized. Besides, the app presents your articles in a clean and clutter-free view so that you can read stories with complete peace of mind.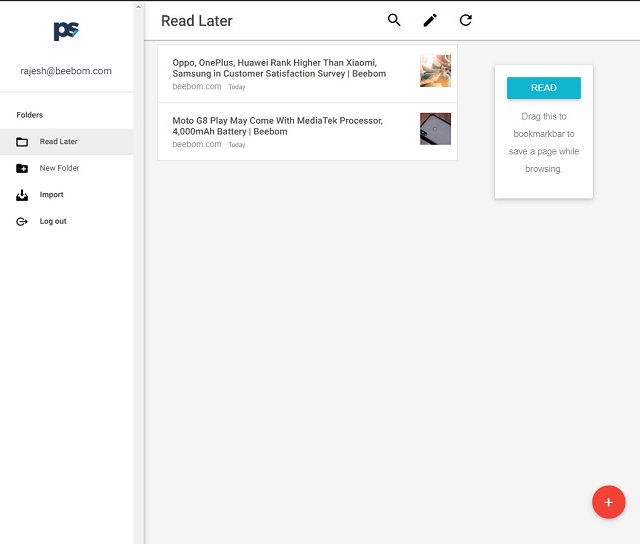 If Pocket excels in offering probably the finest offline functionality, PaperSpan isn't behind in the race either. You can comfortably read all of your saved articles and also be able to manage them in a way that works well for you – even without the internet connection. To improve your reading habit, the app keeps track of your reading and offers much better insight so that you can easily find out the areas where you need to work a bit more.
Thanks to the text-to-speech feature, you can listen to articles while walking, during a long commute or even while cooking. Love reading articles at night? Just like Pocket, it provides a dark theme to enhance your reading at night and also safeguard your eyes against burning. Keep in mind, the freemium version of PaperSpan has some limitations. And, if you want to use all the features without any restrictions, you will need to spend $8.99/year which is a lot cheaper than Pocket's $44.99/year subscription price. So, if you are on the lookout for a fairly cheap alternative to Pocket without compromising on quality, go for it.
Pros: 
Automatically assigns the categories
Very reliable offline feature 
Keeps track of your reading and offers better insight
Cons: 
The UI is comparatively less customizable 
The interface looks a bit outdated
Platform Availability:  iOS, Android, and web 
Pricing: Free, premium version comes at $8.99
Visit: Website 
3. Raindrop.io
Both in terms of versatility and intuitive reading experience, "Raindrop.io" is an able alternative to Pocket. In other words, you should look at it as an all-in-one bookmark manager. So, if Pocket doesn't offer you a range of tools to take control of the tons of bookmarks that you often store, it should be a more efficient replacement.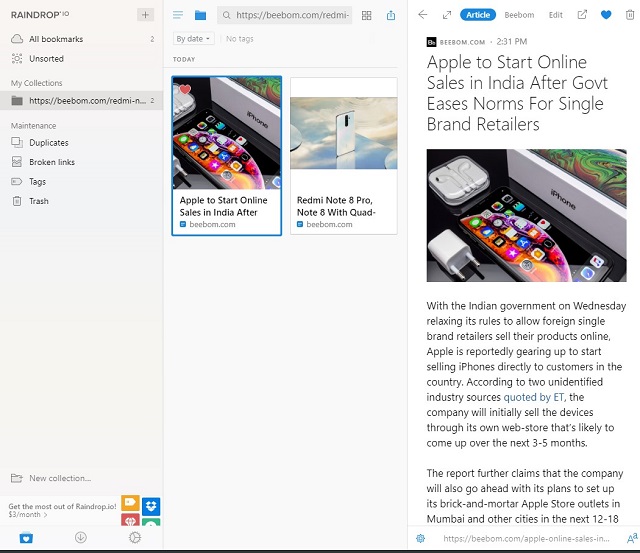 Whether you want to clip articles, store exciting videos or make a huge collection of photos that you often stumble upon while browsing the web, it can let you get your work done proficiently. Depending on your preference, you can organize your bookmarks in different collections and also tag them for quick access. And, if you want to bring in some cool customization into the mix, you also have the option to add a custom icon to make your collections look more personalized.
Unlike Pocket, Raindrop.io offers a more seamless collaboration. So, if you enjoy working on unique collections with your colleagues or friends, it would be right on the money for you. Though it's available for free, you will have to spend $2.99/monthly if you want to use all the goodies without any limitation. Comparatively, it's reasonably priced and worth giving serious consideration if all-in-one bookmark manager is on your radar.
Pros: 
All-in-one bookmark manager
Organize your bookmarks in different collections 
Impressive collaboration feature 
Cons: 
Platform Availability:  macOS, iOS, Android, and web 
Pricing: Free, premium version comes at $2.99/month ($27.99/year)
Visit: Website 
4. Safari Reading List
Safari Reading List is the perfect Picker alternative for users who use Apple products. It comes built-in with the Safari browser, makes it easy to add articles, and even saves them offline for reading without an internet connection. Adding an article to the reading list is easy. Just click on the (+) button and the article will be added to your reading list. On your iPhone, tap on the Share button and then select the Reading list.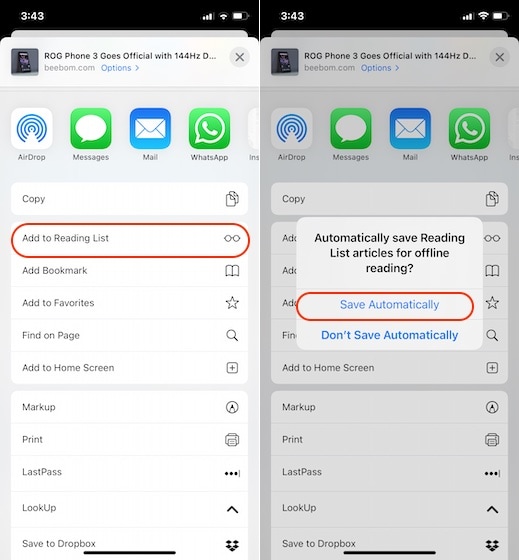 If you want the article to be available offline, go to Safari Preferences -> Advanced and enable the checkbox next to the Reading List. On your iPhone, it will ask you if you want to save the article offline or not. I love that my reading list is synced across devices and I can easily check all the saved articles. That being said, it has its shortcomings. The big one is that there's no way to categorize your articles. So, if you are saving a ton of articles, it's going to get cluttered.
I use the Safari reading list as it allows me to keep only the important articles that I am surely going to read. Saving tons of articles in a service like Pocket means that there are hundreds of articles that I am never going to read. However, that also means that I cannot use Safari Reading List for research.
The bottom line here is that if you just want a service to keep a couple of articles offline so you can read them, Safari Reading List will serve you well. If you want to use it for reattach, then the other options will serve you well.
Pros:
Comes free with all Apple devices
Syncs across devices
No need to install any third-party app
Simple to use
Cons:
No organization
Not good for research
Only available on Apple devices
5. Wallabag
For the folks who want a free Pocket alternative with most of the basic tools to take control of bookmarks, Wallabag promises to be more than a decent contender. Granted, it lacks a pleasing interface and doesn't have a plethora of attractive features either. But, it scores quite well on simplicity and easy-to-use parameters which make it a safe bet.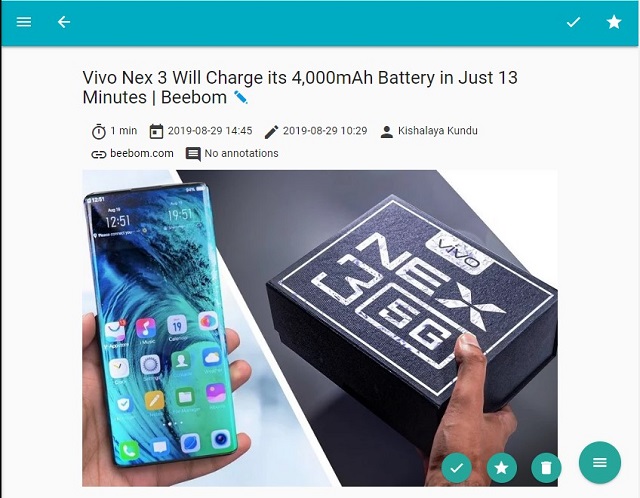 By extracting the article's content, the app offers a comfortable view that can invite your eyes and take them for a long reading spree pretty much like its popular rival. With the help of tags, you can ideally categorize your articles so that they don't get messed up.
Thanks to the addons for Chrome and Firefox, you will be able to save your articles quickly. Furthermore, it also works efficiently in importing data from multiple well-known services like Pocket, Instapaper, Pinboard, etc.
Pros: 
Addons for Chrome and Firefox
Can import data from Pocket, Instapaper, Pinboard
Pretty simple to use
Cons: 
The UI doesn't appeal to the eyes 
Very few customizable tools 
Platform Availability:  iOS, Android, and Chrome 
Pricing: Free, in-app purchases available 
Visit: Website 
6. Article Reader Offline
Yet another Android-only read-it-later app which can rival Pocket and even win more than a few points! Yeah, I truly mean it. The app looks spot on when it comes to providing top-notch personalized reading experience. For instance, you can choose from several font sizes, pick out a preferred text style and also switch between day and night themes so that your eyes never feel straining even after a long reading spree.
On the offline reading front, it lives up to the billing fairly well – without any complaint. Besides, it also works appreciably in exporting any article to PDF, which could easily win favor from the folks who can't live without an effective PDF converter built right into the read-it-later app.
Not to mention, you can also have the app read articles for you whenever you choose to go for relaxed reading. Considering everything that this app has packed in, it seems to be a steal for Android users, especially at zero price tag.
Pros: 
The top-notch personalized reading experience
Can export any article in PDF format 
Runs very smoothly 
Cons: 
Platform Availability:  Android 
Pricing: Free
7. Reeder 4
Reeder 4 is an RSS reader app that lets you choose your news sources and create a personal news platform. I hate reading news on aggregator websites that brings news from 100 different sources. I have a list of trusted websites that I follow. If you are also the same, you can use Reeder 4 to add those websites and get all the articles as they are published.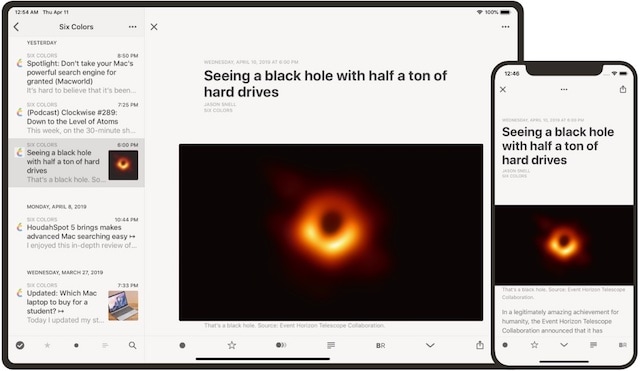 The reason why I am mentioning Reeder 4 in this article is that with the version 4 update, Reeder introduced a new feature that lets you save your articles offline. While checking your RSS feed, you can easily add articles for offline reading. I love the feature and use it all the time. You can even connect apps like Instapaper and use it as your offline reading service provider if you want.
It works for me as I already use Reeder as my news aggregator. I also like that Reeder 4 is a one-time purchase app and doesn't ask me to buy a subscription service like Pocket.
Pros:
RSS reader with built-in read later service
Syncs instantly using the iCloud sync engine
Offers multiple reading modes for better experience
Supports multiple themes
Cons:
Only available on iPhone, iPad, and Mac

Some might not like the up-front pricing
Platform Availability: iOS, iPadOS, and macOS

Pricing: $4.99/iPhone, $9.99/Mac
Visit: Website
8. Linkaive
If you are an Android user and in quest of a lightweight app for smooth bookmark management and reading experience, "Linkaive" would be the right way to go. The app works up to the mark when it comes to storing web-URLs of articles, websites, videos and more, allowing you to create your personal collection of references.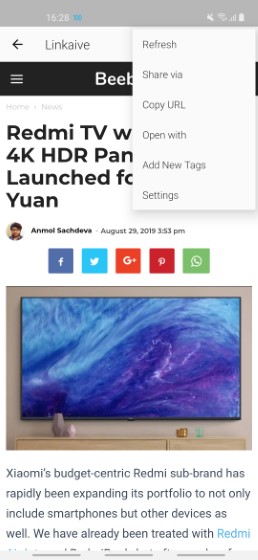 Another feature that I have found adorable in this app is that it works as efficiently even offline as Pocket. So, it doesn't matter whether your device is connected to the Internet or not, you can continue to explore your saved articles without any hiccups. In terms of organizing tools, Linkaive has looked up to the task thanks to neat tags and helpful folders. With the cloud backup, it keeps all of your items secure.
On top of all, it's absolutely free and doesn't contain ads either, which makes it an excellent Pocket alternative for Android users.
Pros: 
Create your personal collection of references
Several organizing tools
Cloud backup
Cons: 
The app is not available for cross-platform 
Platform Availability:  Android 
Pricing: Free
Bonus: Evernote/Notion/OneNote
Before you begin to say that apps like Evernote, Notion, and OneNote are not exactly an alternative to Pocket, let me tell you right away that these popular apps are versatile in handling so many things. Moreover, they also come with a super handy web clipper so that you can save the clip of any webpage that you come across.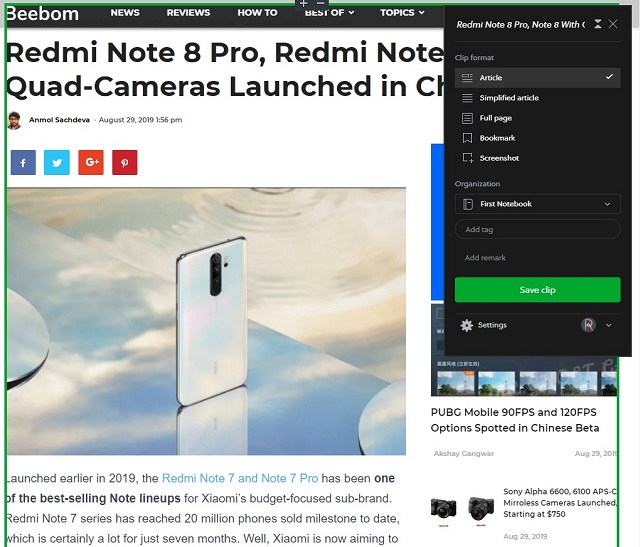 In terms of organization and customization, they are equally efficient. So, if you are on the lookout for a Pocket alternative that can help you clip web pages fast and conveniently, you shouldn't look beyond these noted apps.
Download: Evernote (Free, $7.99/month) / Notion (Free, $4.99/month) / OneNote (Free)
Choose the Best Apps Like Pocket for a Pleasing Reading Experience
Now that you have got so many impressive bookmarks managers and read-it-later apps that can rival Pocket, choose the one that meets your specific needs. But before heading for a marathon round of reading, make sure to spill some beans about your best alternatives to Pocket and the things that have called for your attention. Also, let us the name of any bookmarks service that you find missing in the above roundup.
---
Load More