There was a time when people took photos, like real photos. Everyone has an old album full of those photos and we love being nostalgic to those old memories. However, what if you want to share those old memories to your friends online? Chances are, you do this by clicking a photo of the photo and posting it online but if you have done this, you'd agree that it's not the best solution. Well, that's where photo scanner apps come into play. Thankfully, there are some good apps available and here are the 5 best photo scanner apps for Android and iPhone:
1. Google PhotoScan
Google has just released its PhotoScan app and it's already the best photo scanning app available today. Unlike other photo scanning apps, PhotoScan takes multiple shots of a photo, which results in glares automatically removed while also improving the quality of the scan. The app also automatically detects edges, corrects perspective and brings smart rotation. In our testing, the app worked pretty well and the best thing about it is the glare removal, which is a big problem when you are taking a photo of a photo. Plus, the app integrates with the brilliant Google Photos app, so you can save your scanned photos in the cloud for free.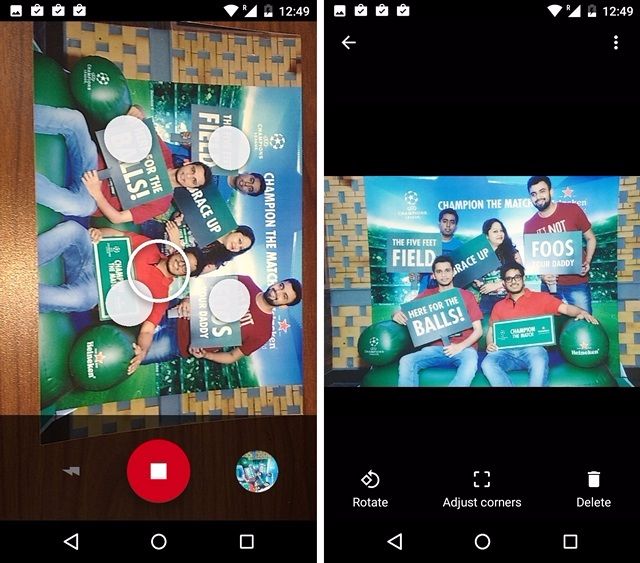 2. Photomyne
Photomyne isn't a very popular app but it makes up for a great photo scanning app, thanks to its ability to scan multiple photos in one go. You can either scan multiple photos through your old albums or lay out photos on a table and scan them through Photomyne. The app automatically detects different photos and saves them into albums. Trust me when I say it works very well. While the app detects photos pretty well, it's a little inconsistent when it comes to detecting the edges of the images. Well, you can always fix it manually and you can even enhance photos with different filters.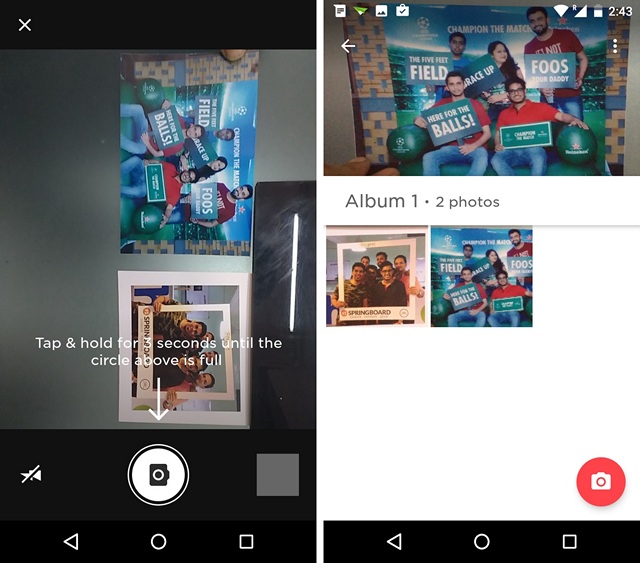 The Android version of the app is free but still in beta. On the other hand, the iOS version of Photomyne includes cool features like discover, cloud backup etc., however, the app is pretty limited and you will have to make in-app purchases to unlock features.
Install: Android (Free), iOS (Free with in-app purchases)
3. Shoebox
Shoebox by Ancestry.com is a fairly popular app when it comes to photo scanning apps and rightly so. The app scans photos pretty well, thanks to its edge detection and perspective correction technology and like other apps on this list, the scans are pretty good. Once you have scanned a photo, you can add details like the photo's location, tag people, add caption and date. You can either save photos to your device's gallery or save it on Ancestry.com in your family tree. The app offers unlimited free storage, so you can save as many photos as you want to your family tree in Ancestry.com.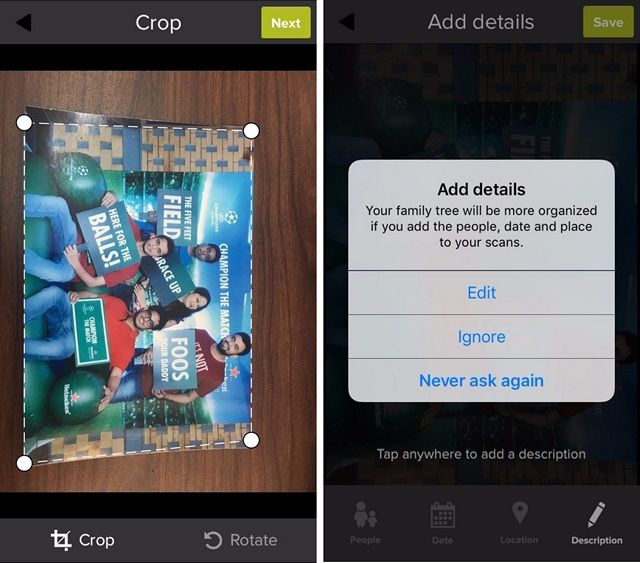 4. Pic Scanner
Pic Scanner is a pretty great iOS-only photo scanning app that packs in the ability to scan multiple photos. The app detects, crops and saves different photos individually. The scans from the app are pretty good and you can rotate the scans, enhance them, trim, add effects and caption. While it's all good, the free version of the app limits the number of saves & shares to 12. To save unlimited scans and export them, you will have to make an in-app purchase for the full version.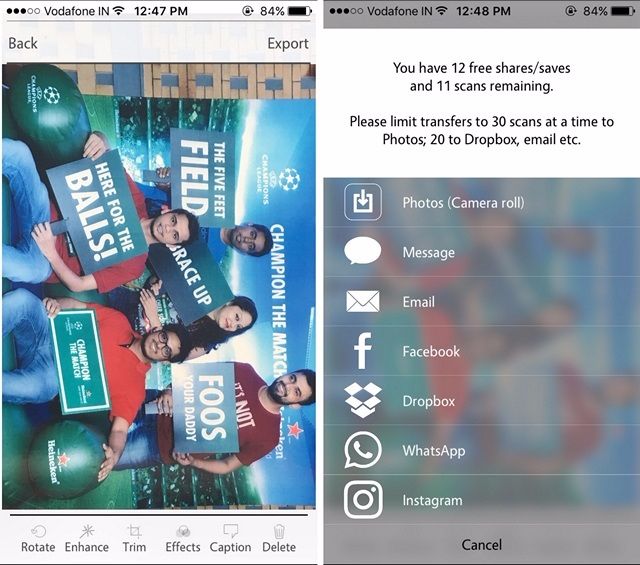 There's also a Pic Scanner Gold version, which brings faster scanning, a great photo editor, ton of ways to share photos and more.
Install: iOS (Free with in-app purchase of $2.99 for full version, Gold version $4.99)
5. CamScanner
Chances are, you must have heard of CamScanner, which is arguably the best document scanner app out there and while it may specialize in documents, we found the app to work fine when it comes to scanning pictures. Plus, you get a number of cool editing options to play with to make sure the scanned photo looks perfect. CamScanner can also work well in case you want to scan an old document, letter or almost anything else.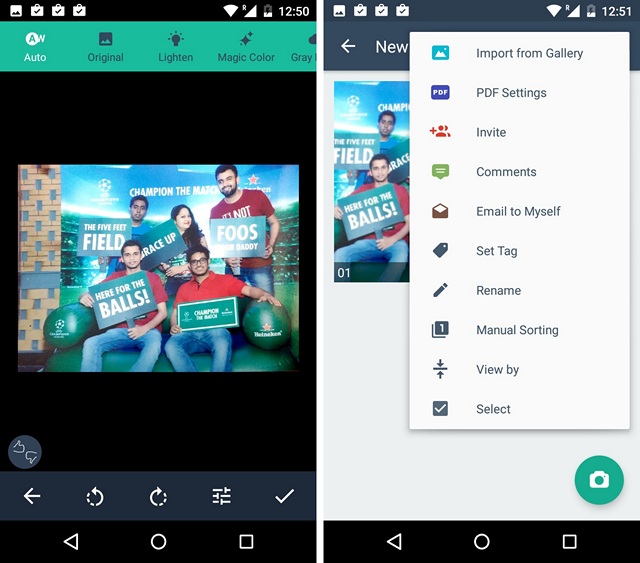 Other features of the app include sync across different platforms, optimize scan quality, save scans to the cloud and more. The app is available in a free version, which should be good enough to scan photos. However, there's a Premium subscription as well, that brings the ability to edit OCR results, more cloud storage & collaborators etc.
Install: Android, iOS (Free with Premium subscription starting at $4.99/month)
SEE ALSO: Best Scanner Apps For Android to Scan Documents
Get your old photos on your Android or iOS device with these Photo Scanner Apps
These are undoubtedly the best photo scanner apps for Android and iPhone/iPad. While we love what the Google PhotoScan app brings, the other apps on this list are no slouch when it comes to scanning older photos. So, try them out and let us know your favorite photo scanner app. Sound off in the comments section below.