OnePlus 6 is a great smartphone and it seems that OnePlus has yet another winner on its hands. The device sports a gorgeous 6.28-inch Optic AMOLED Display, 6GB of RAM, 64 GB of ROM and is being powered by the top of the line Snapdragon 845 chipset. There's really nothing to dislike here. If you have decided to buy this flagship killer, we have got some awesome accessories which will enhance your experience of the OnePlus 6 even more. These accessories will help you get the most out of your OnePlus 6 while keeping it safe and protected. So, here are the 15 best OnePlus 6 accessories that you can buy today:
Best OnePlus 6 Accessories You Can Buy Today
1. OnePlus 6 Dual Protection Bundle
The first accessory on this list is a dual protection bundle from OnePlus itself. The dual protection bundle allows you to choose two cases from a list of four different cases. You have the option to choose between the slick and modern Karbon case or the iconic OnePlus Sandstone case and the Silicone extra protection case or the flip cover case. I prefer the Sandstone and the Silicone case but you can choose any combination that you want to. These cases will not only impart a unique look to your OnePlus 6 but also protect it when it matters. If you want to check out even more amazing cases for the OnePlus 6, check out our detailed article on the OnePlus 6 cases and covers.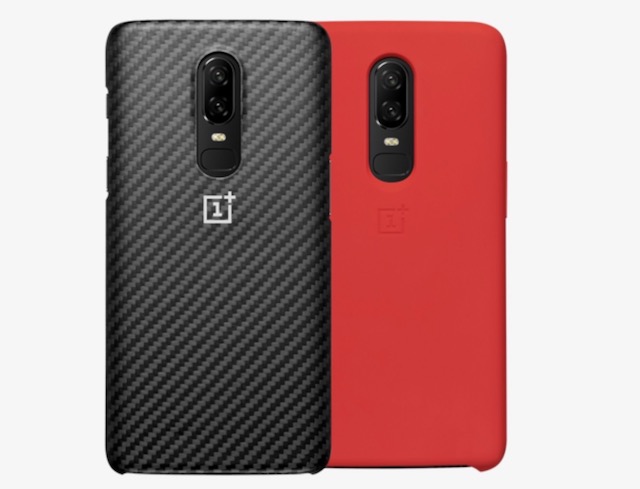 Buy From OnePlus: $42.65
2. Flexishield OnePlus 6 Gel Case from Olixar
If you are a fan of clear cases, check the Olixar Flexishield Gel Case for OnePlus 6 which brings a simple and minimalistic design, and keeps your OnePlus 6 looking great and scratch-free. The case is also very slim which means that it does not add a lot of bulk to your device. However, do remember that this case will not be able to provide as much as impact protection as any of the four cases mentioned above. This is only for users who don't like bulky cases and only want something which can protect their device against normal wear and tear originating from day to day usage, scratches, and scuffs.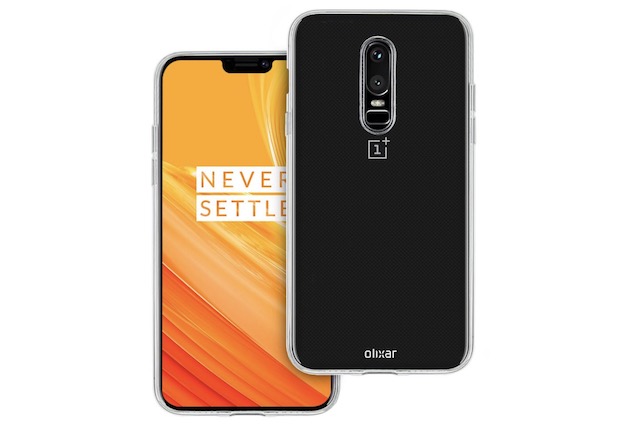 Buy From Olixar: $8.33
3. OnePlus 6 Skins From Dbrand
If you are someone who absolutely hates cases no matter how thin they are but still want to provide some form of protection to your device, this product is going to make you really happy. Dbrand is a company which makes some exquisite looking 3M skins for smartphones, and they have just made their OnePlus 6 line of skins live. There are a ton of different types of skins that you can choose from including carbon fiber, camo, dragon, metal, stone, leather, wood, and more. Each category of skins in-turn offers different color options. What's best is that you can even mix and match skins from different categories to create your own personalized skin. Dbrand skins will not only protect your OnePlus 6 from scratches and scuffs but will also allow you to differentiate your OnePlus 6 from other OnePlus 6 devices out there.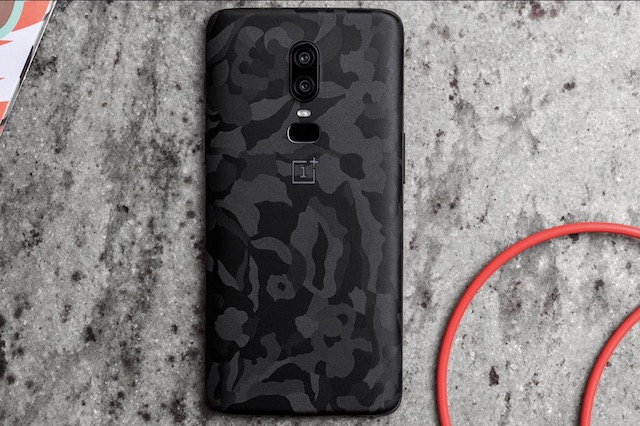 Buy From Dbrand: Starts at $11.95
4. OnePlus 6 3D Tempered Glass Screen Protector
Buying a skin or a case only protects the back of your OnePlus 6. If you also want to protect that sweet 6.28-inch almost bezel-less display, you will need to buy a good screen protector for it. Thankfully, OnePlus itself makes a pretty good screen protector for the OnePlus 6 and you should definitely buy it. The benefit of buying the screen protector from OnePlus is that it offers edge-to-edge protection thanks to its CNC engraving and a 3D fused design. It means that the screen protector curves around the edges and completely cover the OnePlus 6's display, leaving no part of it exposed. This is one of the best if not the best screen protector you can buy for your OnePlus 6. However, if you want some cheaper options, you can check out our detailed article on the OnePlus 6 screen protectors which will give you more options to choose from.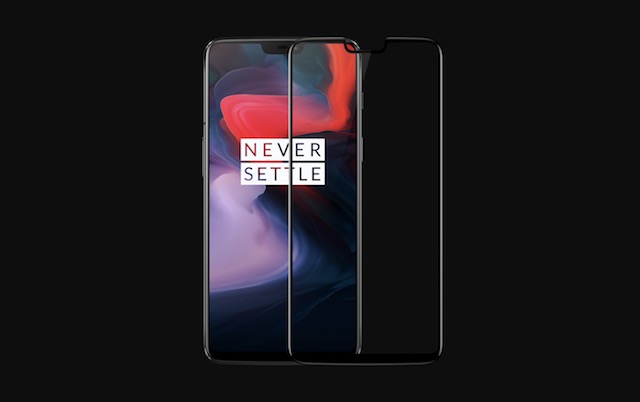 Buy From OnePlus: $19.95
5. OnePlus 6 Bullet V2 Headphone
One of the drawbacks of buying a device from OnePlus is the fact that they don't ship any headphones with the smartphones. However, they do allow you to buy a fairly good pair of earphones for an extremely low price. So, if you are thinking of buying a new pair of earphones to go along with your OnePlus 6, the Bullet V2 from OnePlus is an extremely good choice for you. I am personally using the Bullet V2 with my old OnePlus 3 and I love their sound quality. One of the best parts about using Bullet V2 is that they are very light despite packing a very punchy and good audio quality. You should definitely buy this one.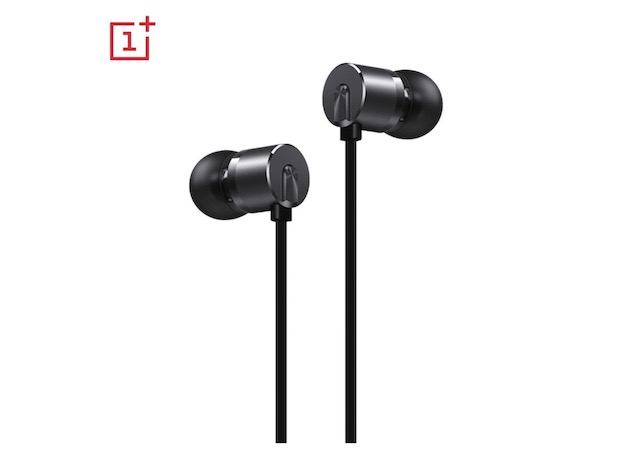 Buy From Amazon: $39.97
6. OnePlus Bullets Wireless
While the OnePlus 6 was leaked so many times that we knew everything about the device even before it was launched, OnePlus did surprise us by launching a new pair of wireless earphones. The new Bullets Wireless earphones not only look sweet but they also bring a ton of features like magnetic controls, sweat and rain resistance, aluminum alloy construction, stretch resistance cables, inline controls, and more. However, my favorite feature of the Bullets Wireless is the fact that OnePlus 6 has made it dash charge compatible. It means that you will get 5 hours of audio playback with just 10 minutes of charge. Yeah let that fact sink in and when it does, go buy it immediately.
Buy From OnePlus: $69
7. PowerLocus Wireless Bluetooth Over-Ear Stereo Headphones
While most of us will be happy with either the Bullet V2 or the Bullets Wireless, some users don't like the in-ear headphones and prefer the comfort and noise cancellation that come with the over ear earphones. If that's the case with you, do check out this wireless Bluetooth over-ear stereo headphones from PowerLocus. First of all, the headphones look absolutely gorgeous and come in many beautiful colors. Secondly, they bring very good audio quality thanks to the combination of Dynamic Power Sound and HD sound technology which delivers impeccable base and very good highs and mid-tones. Lastly, the headphones are also pretty cheap and won't break your bank.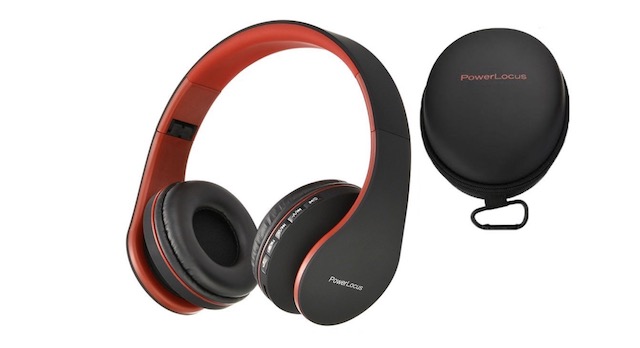 Buy From Amazon: $23.99
8. Anker PowerCore II 20000
Whenever it comes to recommending a power bank I always prefer Anker products as I have been using their power banks for quite a long time and they have never failed me. Probably my most favorite Anker power bank is their PowerCore II which brings 20,000 mAh capacity which is enough to charge your OnePlus 6 from zero to hundred percent at least five times. The thing that I love most about the PowerCore II is that it supports quick charging which allows you to top up your OnePlus 6 pretty rapidly. Lastly, I also love the fact that it's very compact and can even fit inside your pockets which makes this very easy to carry.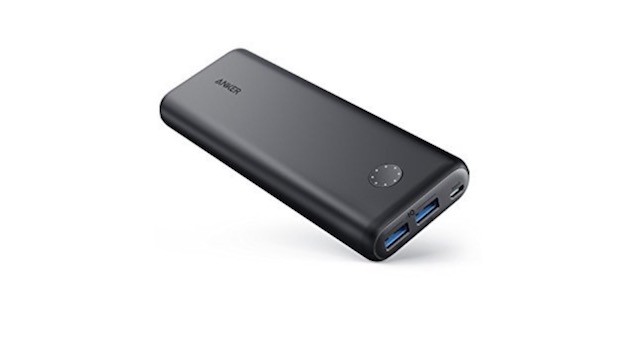 Buy From Amazon: $49.99
9. Anker Quick Charge 3.0 & USB Type-C Car Charger
Another Anker accessory that you should consider for your OnePlus 6 is the Anker USB Car Charger which provides 4X faster charging than the standard car chargers and is able to charge compatible devices up to 80% in just 35 minutes. I also love the fact that it brings 3 USB-A and 1 USB-C charging port allowing you to charge multiple devices at once. The charger is also very compact and easy to carry. It is one of the best car chargers that you can buy for your OnePlus 6.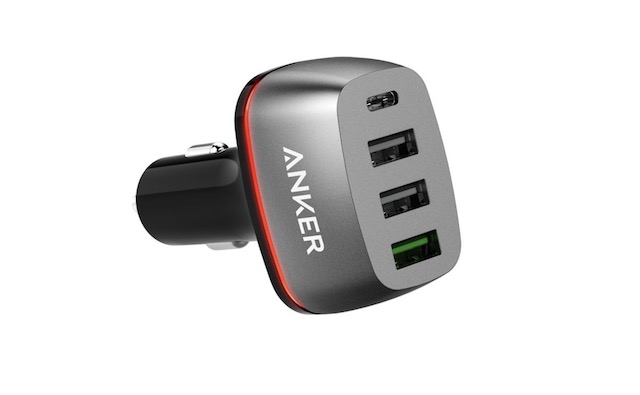 Buy From Amazon: $29.99
10. OnePlus Fast Charge Car Charger
If you don't trust third-party charging accessories and only want to buy official OnePlus chargers, the Fast Charge Car Charger from OnePlus is just for you. Since it's a OnePlus accessory you know that you are getting a fast charging experience. The car charger can charge your OnePlus 6 from zero to sixty percent in just 30 minutes. The charger has been crafted from a single slab of anodized aluminum. Its smooth curvature and recognizable black finish make the OnePlus Fast Charge Car Charger just as pleasing to look at as it is to use.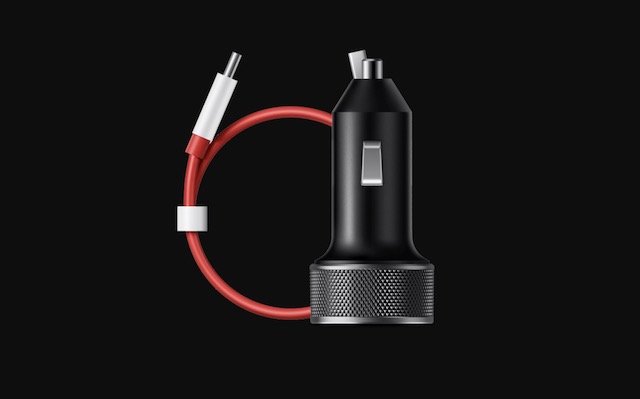 Buy From OnePlus: $29.95
11. Type C Charging Dock by Encased
I love charging docks as they make a perfect nightstand companion. After you are done using your OnePlus 6 for the day, just slip it on top of the charging dock and it will be charged to a 100% when you are ready to leave. With the charging dock in place, you have one less cable to worry about. I personally keep the OnePlus 6 charger that comes in the box in my bag for all my traveling needs and charge the phone at home using the charging dock. The best part about the Encased charging dock is that it brings an adjustable type-c port allowing you to charge your device even with the case on. Lastly, the charging dock can be used to sync data between your OnePlus 6 and your computer as it also supports data transfer.
Buy From Amazon: $19.99
12. WGGE METAL USB C 3.1 Type-C to Type-C Cable
No one can deny the fact that type-C ports are the future. Apart from the connivence that comes with their reversible nature, there are many other benefits of using a type-C port. Not only they take less space on a device but they can also deliver faster data and charging speeds. If you really want to take the advantage of the type-C port on your OnePlus 6, you should buy a type-C to type-C Cable. Whether you own a type-C compatible PC or you are using the Anker PowerCore II which also uses the type-C power delivery, keeping a Type-C cable in your backpack will always come in handy.
Buy From Amazon: $9.98
13. iXCC USB-C to USB 3.0 Adapter
Since OnePlus 6 supports USB OTG you can use pen-drives to carry and enjoy media on your device, that is, if you have the right adapter. This USB-C to USB 3.0 adapter will allow you to connect your pen-drive to your OnePlus 6. Once you attach the adapter to your OnePlus 6 and connect a storage media to the other end of the connector you will be able to transfer files between the two. One of the best usages of this is to offload your photos and media to an external media storage device thereby freeing up the storage on your OnePlus 6. When you buy this, you get two miniature USB Type-C OTG connectors, which is good, as even if you lose one of them, you can use the second one to keep going.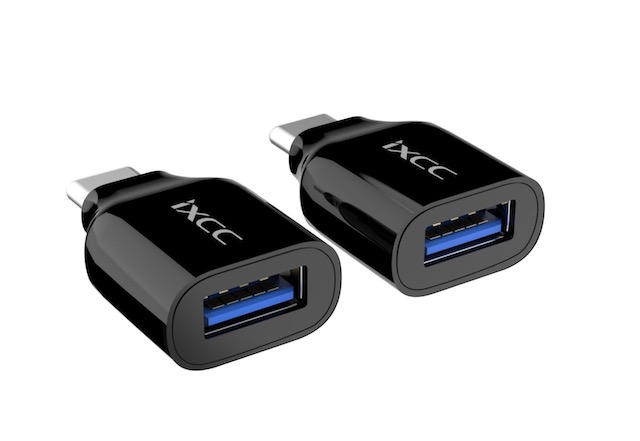 Buy From Amazon: $5.99
14. SanDisk Ultra 128GB Dual Drive
If you don't like to carry adapters and want a storage device that can directly plug into your OnePlus 6 as well as a PC, this is just the accessory for you. The SanDisk Dual Drive brings a USB-C and a USB-A connector, allowing you to easily transfer media between your PC and OnePlus 6. The fact that it also has a large 128GB capacity gives you the flexibility to carry your entire media library which you can enjoy on the go. However, if you don't need such a high capacity, the product is also available in 16GB, 32GB, and 64GB configurations. This is one of my favorite accessories and I recommend this to everyone.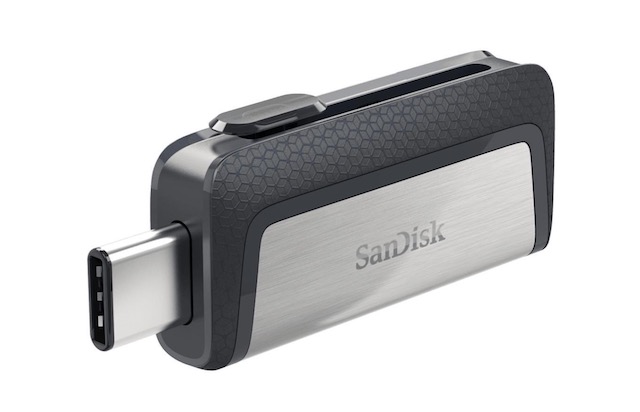 Buy From Amazon: $38.93
15. Anker Air Vent Magnetic Car Mount
The last accessory on the list is a must-have for all you car owners out there. The Air Vent Magnetic Car Mount from Anker allows you to mount your OnePlus 6 on your car and easily access it for hands-free calls and navigation. The car mount uses four powerful N42-grade neodymium magnets which are built into the mount head and ensure that your OnePlus 6 stays securely attached throughout your drive. The mount also brings highly flexible ball-joint allowing to adjust the viewing angles infinitely. I also love the fact that even though it's such a versatile and premium looking accessory, it's fairly cheap and doesn't cost much.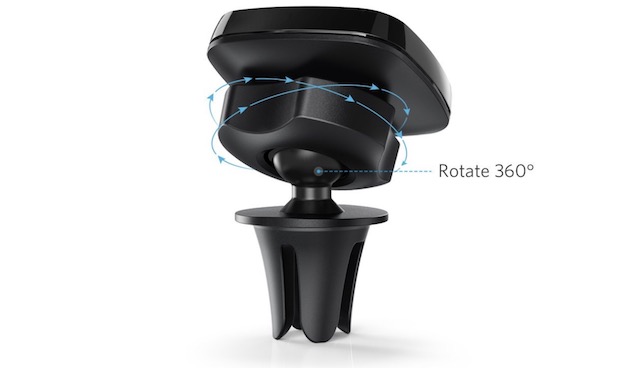 Buy From Amazon: $9.99
SEE ALSO: OnePlus 6 vs Honor 10: Quick Comparison
Enhance Your OnePlus 6 Experience With These Awesome Accessories
That ends our list of the best OnePlus 6 accessories that you can buy. We have tried to cover all the major accessories that can make your OnePlus 6 more joyous to use. Do let us know which one is your favorite. Also, if you have a great OnePlus 6 accessory suggestion for us, drop its name and product link in the comments section below.