Ever since Virtual Reality headsets were introduced, there has been a huge spike in the production of 360-degree cameras. Virtual Realty headsets like the Oculus Rift, HTC Vive and Samsung Gear VR are great, but they suffer from the lack of enough content. That's where 360-degree cameras kick in. These cameras are capable of capturing footage in all directions, because of the presence of multiple cameras, and hence the name, 360-degree cameras. With the help of these cameras, you can create quality content for your headset all by yourself and experience them in all its VR glory. So, if you have a VR headset already and you want to experience your own content in Virtual Reality, then a 360-degree camera is a must-buy. Well then, without further ado, let's take a look at these 8 best 360-degree cameras you can buy:
1. 360 Fly 4K
The 360 Fly 4K might probably be one of the easiest 360-degree cameras to handle. It's dustproof, shockproof and waterproof (up to 1m), so you don't have to worry about the durability of this sphere-shaped camera. The single lens on the 360 Fly 4K offers 360-degree field-of-view horizontally and 240-degree field-of-view vertically.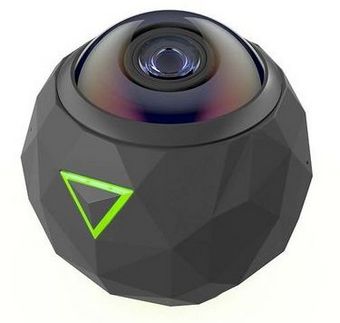 The 360 Fly 4K records square videos at a resolution of 2880 x 2880 with a 30 fps frame rate, which is quite bizzare, but you can zoom into an area for 16:9 aspect ratio that we all know and love. The company claims a battery life of about an hour and a half, if you're recording continuously. Using the 360 Fly app, you can easily edit and share 360-degree videos directly to social networking sites, from your smartphone. It's currently available on Amazon for under $320 which is a great deal, if you take its $499 launch price into consideration.
Buy from Amazon: ($319.99)
2. Nikon KeyMission 360
A 360-degree camera from the popular and much loved DSLR manufacturer is something everyone has been waiting for. Well, as you might expect, it certainly lives up to the hype. The KeyMission 360 is primarily considered as an action camera, especially because it's shockproof (up to 2m), waterproof (up to 30m) and freezeproof. The camera packs two 21 MP sensors with an f/2.0 aperture on either side, to capture a full 360 x 360 image.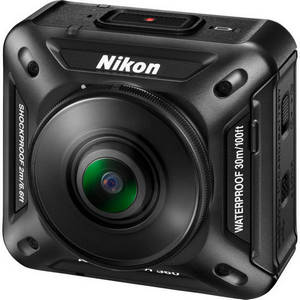 The KeyMission 360 is capable of shooting 30 MP stills and record 4K UHD video footage at 24 fps, which is good enough for most of the people. That being said, the battery lasts only about an hour, if you're recording at 4K resolution. Another downside of the KeyMission 360 is that, it can get quite hot if you're continuously recording at 4K resolution. The KeyMission 360 can be currently purchased for under 500 bucks on Amazon, which is a bit steep, considering there are more affordable options to choose from.
Buy from Amazon: ($496.95)
3. Kodak Pixpro SP360 4K
This camera is quite similar to the SP360, except for the obvious fact that it offers 4K video recording and better field-of-view. Unlike the KeyMission 360, The SP360 4K packs a single lens that can capture at 360-degree view on the horizontal axis and 235-degree view on the vertical axis. However, if you want to capture at full 360-degrees, you will have to purchase the SP360 4K Dual Pro pack, which costs approximately $900. The single Pixpro SP360 4K will set you back at $450. That being said, the Dual Pro pack also includes a mount to help you shoot in full 360-degrees with ease.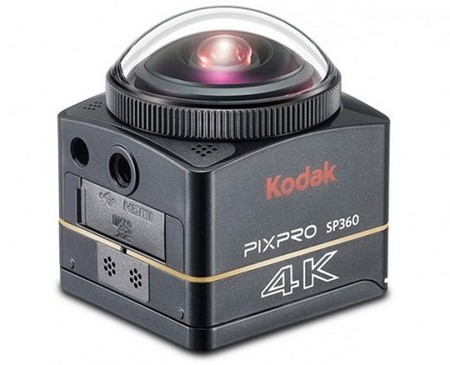 The Kodak Pixpro SP360 4K camera packs a 12.4 MP CMOS sensor, which is capable of taking some high-quality stills and record 4K footage at 30 fps. If you're recording at 4K resolution continuously, the battery on the Pixpro SP360 should last you for about an hour. So, make sure you're carrying additional batteries, if you're going for a long ride. With the Pixpro SP360 4K, Kodak aims at going toe-to-toe with other high-end 360 degree cameras in the market, like the Nikon KeyMission 360. However, most people would likely end up buying the Nikon KeyMission because of a better price point.
Buy from Amazon: (Starts at $450)
4. Samsung Gear 360
Although the Galaxy S8 was the showstopper at the Samsung Unpacked 2017 event, it wasn't the only device that the South Korean giant revealed. The company also refreshed the Gear 360, a 360-degree camera, now capable of shooting at 4K resolution and livestream support. It will be compatible with a selection of third-party accessories and mounts, according to Samsung's claims.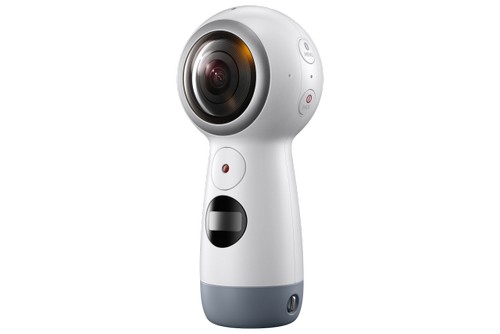 The new Gear 360 will also be compatible with newer iOS devices including the iPhone 7, iPhone 6s and the iPhone SE in addition to support for the existing range of Galaxy smartphones. The Gear 360 packs a pair of 8.4 MP sensors with an aperture of f/2.2 which will let you shoot 4K footage at 24 fps. The 1160 mAh battery on this camera is a slight downgrade from the predecessor. Having said that, the Gear 360 is a pretty tempting deal for a VR camera, as it can now be purchased on Amazon for a price of under $300.
Buy from Amazon: ($299)
5. Insta360 4K
This bar shaped 360-degree camera packs dual 230 degree fisheye lenses that lets you shoot in 4K resolution (4096 x 2048) while managing a frame rate of about 25 fps. Each of the fisheye lenses on the Insta360 4K can shoot 8.4 MP stills, making a total of 16.8 MP for a 360-degree image.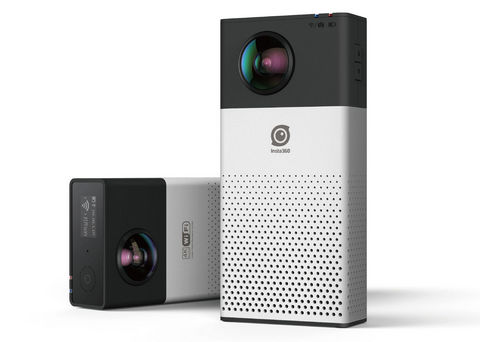 What makes the Insta360 stand out from most other 360-degree cameras is its ability to livestream content directly to YouTube, as it can stitch the images together in real-time. Although the Gear 360 can do the same, several other offerings lack this feature. The beefy 5000 mAh battery on the Insta360 4K should last you for about an hour of continuous 360-degree 4K recording. Pricing is on the expensive side though, as it's currently available on Amazon for almost 700 bucks, which is significantly higher than the official price of $560. Honestly, at this price point, there are much better options to choose from.
Buy from Amazon: ($699)
6. Ricoh Theta S
This 360-degree camera from Ricoh is so compact, that you can comfortably carry it in your pocket. It packs dual 12 MP CMOS sensors that should let you take 360-degree stills at a resolution of 5376 x 2688. The lens has an aperture of f/2.0 with folded optics which allows for a longer optical path. We'd like to let you know that the still images captured with the Ricoh Theta S looks much better than the video footage.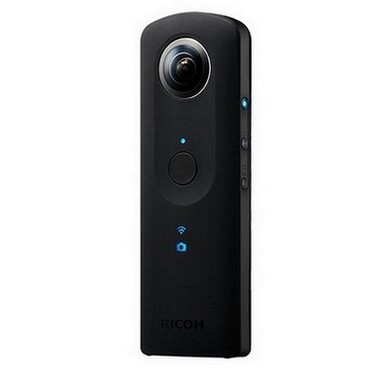 Unfortunately, the Ricoh Theta S does not record footage at 4K resolution. However, it does offer Full HD 1080p recording and livestreaming at 30 fps, which is good enough for beginners. The battery on the Theta S should last you for just about an hour, if you're recording constantly. Its pricing falls in line with that of the Gear 360 4K capable camera, at approximately $300.
Buy from Amazon: ($299.99)
7. LG G5 Friends 360 Cam
The LG G5 Friends 360 Cam is one of the most affordable 360-degree cameras on this list. It's compact and easy to use in addition to the fact that it can shoot 360-degree videos at 2K resolution (2560 x 1280). The lack of 4K recording is totally fine, considering the asking price. It packs 13 MP cameras on the front and back in order to achieve 360-degree footage. Both of the lenses on the Friends 360 Cam have a 200-degree field-of-view.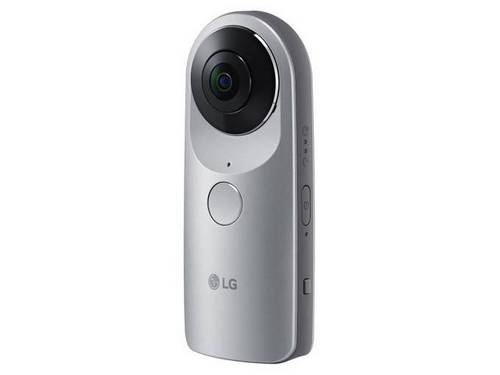 You will require a microSD card, considering that's not included with the device to start operating it. In order to view pictures and videos that you've taken, you will need to download it to your phone or computer first. The LG G5 Friends 360 camera packs a 1200 mAh battery which should be good enough for approximately 80 minutes of continuous recording. The price tag of $155 is what makes this 360-degree camera an absolute steal. So, if you're on a tight budget, just go for this without giving a second thought.
Buy from Amazon: ($155)
8. GoPro Fusion
The GoPro Fusion is an upcoming 360-degree camera that's expected to launch in limited quantities by the end of the year. It boasts video recording at a whopping 5.2K resolution while maintaining a frame rate of 30 fps. GoPro targets the professionals with the Fusion, so don't expect it to be affordable at all. The company claims that the experience will be like having six GoPro cameras fused into one. GoPro has been mum on the other details like pricing so far, but they've launched a Pilot program where content creators can register and be one of the early adopters of this upcoming camera.

Availability: Late 2017
Bonus: Facebook Surround 360 Cameras
Well, we've added Facebook's x24 and x6 surround 360 cameras as a bonus, just because you can't purchase it even if you wanted to. Launched recently at Facebook's annual F8 developer conference, these 360-degree cameras named x24 and x6, pack 24 and 6 cameras respectively. By designing these cameras, the company aims to create a professional-grade end-to-end system that would capture, edit, and render high-quality 3D-360 videos. Facebook plans to license the x24 and x6 designs to a "select group of commercial partners" instead of actually selling these cameras.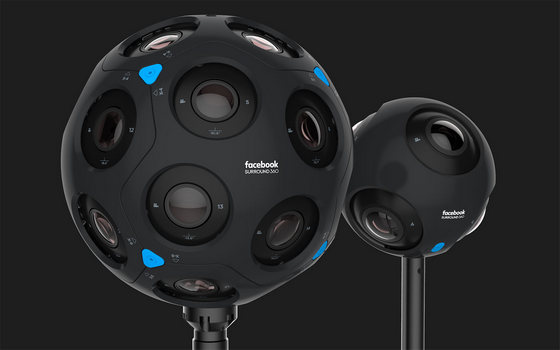 SEE ALSO: 10 Alternatives to the Oculus Rift
Purchasing Your First 360-degree Camera?
Well, that's our list of the best 360-degree cameras you can buy this year, to create your own Virtual Reality content. None of these cameras are mediocre by any means, as each of them have their own fair share of negatives. So, are you in the market looking to purchase your first 360-degree camera? Do let us know which one you're going for and what you think about these cameras by shooting your opinions in the comments section below.