The most-awaited flagship smartphone of the year, Samsung Galaxy S9, has launched. With the S9, the Korean phone maker is refining the S8's sleek design, further trimming the bezels, relocating the fingerprint scanner to underneath the camera, and adding Intelligent facial recognition technology. This, however, does not change the fact that the Samsung Galaxy S9 is still covered with glass all around and that makes it a ton more susceptible to scratches and cracks. Well, if you plan on buying a Galaxy S9, here are the 12 best cases and covers you can buy:
12 Best Samsung Galaxy S9 Cases And Covers
1. Spigen Slim Armor Case
The Galaxy S9 is covered in glass and may not prove be the most durable phone, especially when it comes to drops. Hence, if you're looking to avoid heartbreak, Spigen's sturdy Slim Armor cases have you covered for good. It comes with dual-layered protection, which adds a shock-absorbent TPU material and a rigid polycarbonate shield at the back to save your devices during a sudden drop.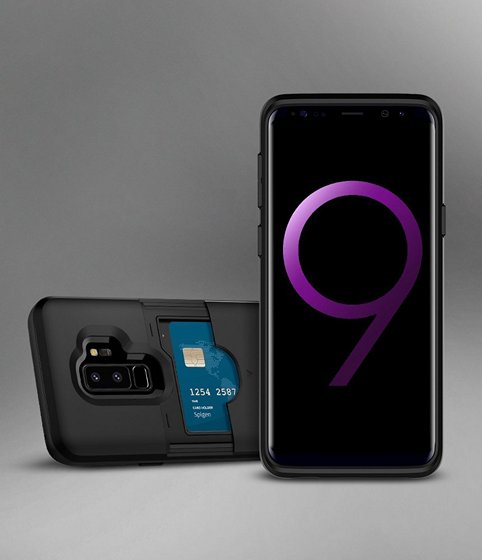 Being an armor case, you'd expect the case to be bulky and intrusive to your experience. However, Spigen has kept all things slim and lightweight to provide an ergonomic grip and let your device stay pocket-friendly. It has even included a kickstand to make it possible to put down the phone, relax and enjoy a hands-free viewing experience.
Buy from Amazon ($16.99)
2. Hontech Ultra Thin Crystal Clear Case for S9
If you're buying an uber-expensive flagship device, I'd suggest you pick an equally good and elegant case for your Galaxy S9. Hontech's clear case, as you see above, features a hybrid design that consists of a clear back panel, TPU edges and a polycarbonate frame.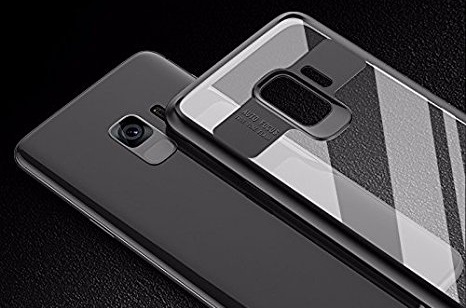 This case contains a shock-absorbent layer with a sturdy bumper frame, which is there to protect the device from drops or scratches. The flexible TPU rear panel, on the other hand, is designed to avoid fingerprints. Hontech has also precisely made the case so that you can access all buttons, ports, and the wireless charging functionality without any hassles.
Buy from Amazon ($11.99)
3. RhinoShield SolidSuit Samsung Galaxy S9 Case
If you are looking for a case that brings solid protection to your Galaxy S9 alongside good looks, you should check out RhinoShield's SolidSuit Galaxy S9 case. First of all, let's talk about the protection. The SolidSuit case features RhinoShield's ShockSpread material, which is said to provide over 11 feet of impact protection. Apart from the great material, the case features raised lips on the front to protect that gorgeous display on the S9.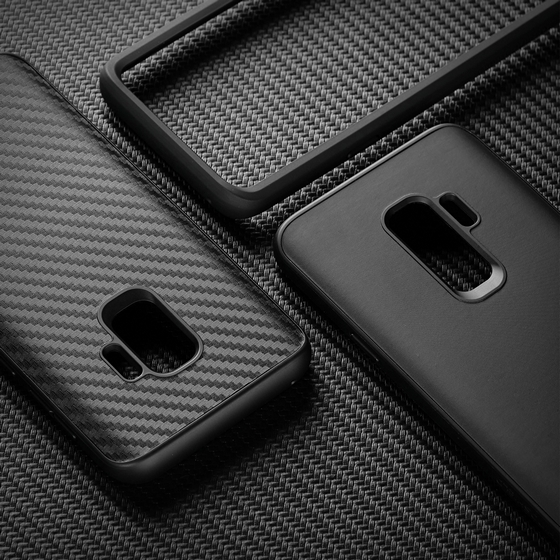 Coming to the looks, the RhinoShield case comes in two variants, one with a carbon fiber finish on the back and one with a classic matte black finish. I, personally, prefer the carbon fiber finish because it's not only grippy, it looks cool. Also, the SolidSuit cases support RhinoShield's add-on lenses, which are said to be great. Apart from that, RhinoShield also offers a CrashGuard bumper case, if you want to show off your S9. RhinoShield ships these cases worldwide, so no matter where you live you can get this case for your device.
Note: Beebom readers can get a 20% discount on all RhinoShield products by using the code "BeebomS9". This code is valid from now till 16th of March, after which you will still get a 10% discount.
Buy from RhinoShield ($29.99)
4. BELK 
Vintage Leather
 Protective Galaxy S9 Case
While the glass back of the Galaxy S9 is just gorgeous, you can jazz it up by adding some artificial textured leather in the mix. This rear case from Belk has utilized two different materials, i.e a TPU bezel for reliable shock absorption and polycarbonate hard shell rear with archaized leather for the looks of it. The random, disordered lines make each of these cases unique.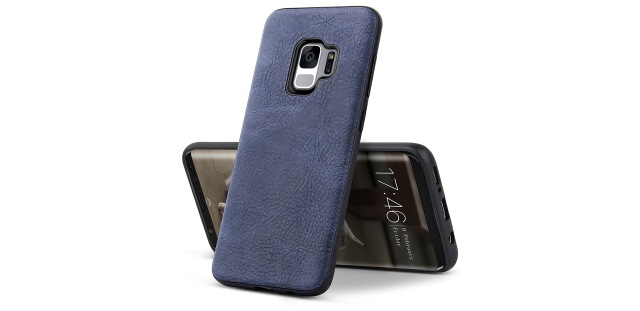 Even with all the hard shell, TPU, and leather layers, this case is quite thin and lightweight. It provides an enhanced grip in the hand, along with large cutouts for all buttons/ ports. You can choose from 5 different colors, including blue, grey, coffee, dark grey, and tan, for the $7.99 retail price.
Buy from Amazon ($7.99)
5. Caseology Vault Galaxy S9 Case
Caseology is another popular company when it comes to cases and covers and well, they have some great cases for the Galaxy S9 but my favorite is the "Vault" series of cases. I really like the slightly textured back on this case that also has a brushed metal design and carbon fiber detail, which makes up for great looks as well as secure grip. Also, the case has been designed to offer great button feedback and easy access to the fingerprint scanner on the S9.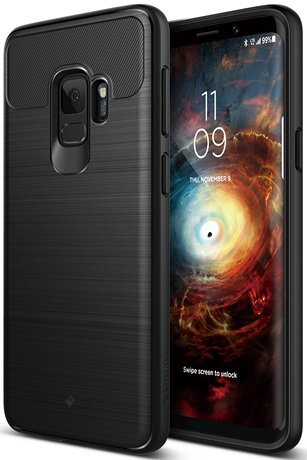 The Caseology case also brings great protection. Thanks to its rugged features, the case should absorb most shocks while adding minimal heft to the S9. Plus, this case is compatible with almost all S9 screen protectors, chargers, and other S9 accessories.
Buy from Amazon ($12.99)
6. 
Trishield Gear Hybrid Rugged Armor Galaxy S9 Case 
If you prefer a multi-purpose case and don't mind adding some weight to your Galaxy S9, then this armor case should be a sound choice for you. This armor case provides a dual layer protection to your device, consisting of a smooth hard polycarbonate outer cover and a soft inner silicone sleeve. While the latter absorbs the shocks, the latter brings along reinforced corners to protect against drops and falls.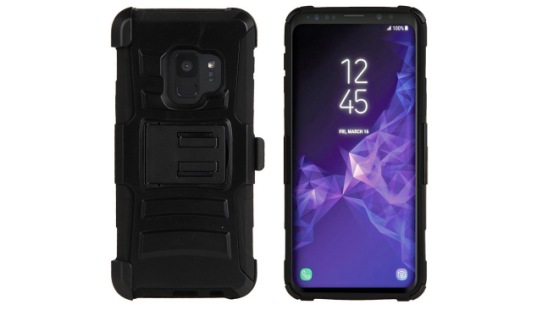 This case also includes a built-in kickstand, integrated into the outer layer, that allows you to place your Galaxy S9 on a flat surface and enjoy media content. It also comes with a swivel belt clip, which simplifies hooking up the phone on your belt or bag strap. And it's no point reiterating that an armor case provides you a good, non-slip grip.
Buy from Amazon ($9.99)
7. Olixar Galaxy S9 Gel Galaxy S9 Case
Coming back to the basics, the rugged armor case isn't meant for everyone. If you're not looking for something that bulky, then pick the Olixar Gel case for a slimmer fit and all-around protection of your newly purchased Galaxy S9. It has been made using a strong and durable material, which has been topped off with a non-slip coating for added strength.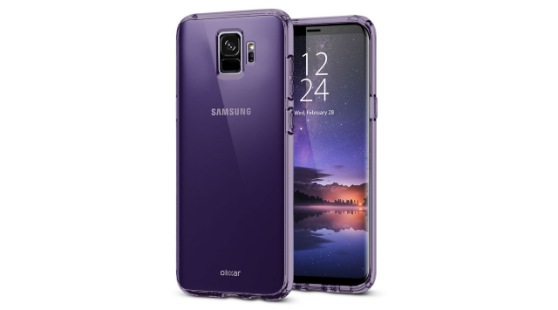 Olixar has put some thought into its design, such that it has added raised bezels to help protect the Galaxy S9's gorgeous bezel-less display against scratches and dirt. In my opinion, the notable perk of this lightweight case is that the company is offering you a 2-year warranty.
Buy from Amazon ($7.99)
8. Spigen Galaxy S9 Case Wallet S
If the minimal or sturdy cases don't grab your interest, maybe you're the kind who prefers something more functional like the Spigen Wallet case. This wallet S case is custom made from synthetic leather, with premium stitching and a couple card/ money-keeping slots on the inside. It will not just safeguard your phone against drops but also eliminate the needs of screen guards.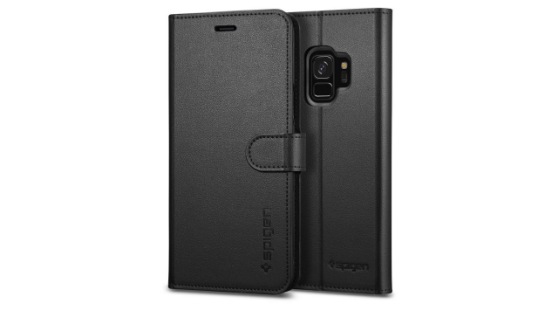 It has a magnetic strap, which ensures the front flap isn't just dangling around and is secured at all times. And as you may already know, you can even use this wallet case as a stand for the phone and enjoy a hands-free content viewing experience. It also features precise cutouts for the camera and speaker grill, not hindering a feature you want to access.
Buy from Spigen ($29.99)
9. kwmobile Crystal Clear TPU Galaxy S9 Case
If you're looking for a decent and cheap case, I'll vote in the favor of this rather affordable clear case from kwmobile. Made out of soft TPU silicone, this case will help preserve the original look of your Galaxy S9 while safeguarding your device against scratches and falls. It is quite sleek and flexible, so it wouldn't add much weight to your device.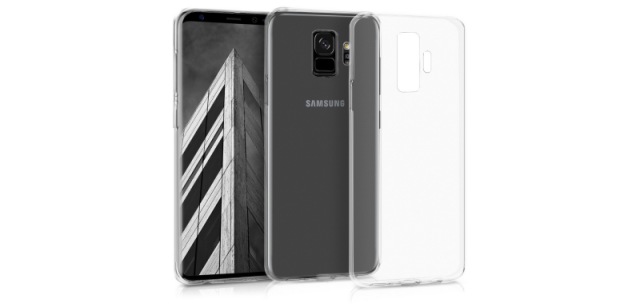 The company further touts that the material used in the case is resistant to smudges, tearproof, anti-slip, and dirt-repellent. It would accent the stunning aesthetics of the Galaxy S9 rather than unnecessarily bulking it up.
Buy from Amazon ($2.40, plus additional delivery charges)
10. LifeePro Power Case
If you're a really heavy user, who's always on the phone throughout the day, then we all know that you need to carry a power bank everyone. LifeePro is looking to ease this daily situation of yours by providing a 4,700 mAh lithium-ion battery baked into its slim and protective case. This case now serves two purposes – offering you safety during a drop and charging the device simultaneously. It even allows you to transfer data, that too while charging.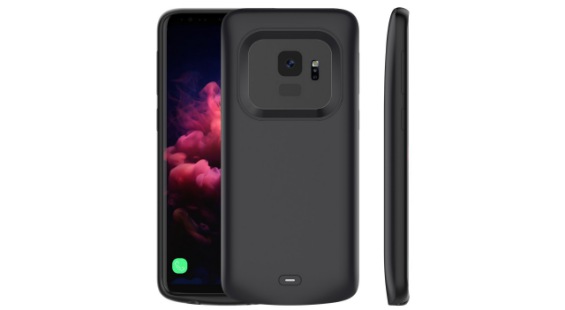 This case is sure to add some bulk to your Galaxy S9, but is slim enough to carry around with ease. The power case features four LED lights, namely red, blue, green, white, which tell you how much charge you have left. And since your case now includes its own circuit, LifeePro has implemented safeguards against overheating, overload and short circuit. This is surely a plus for the consumers.
Buy from Amazon ($29.99)
11. CaseFlex 
Slim Fit Hard Plastic Shell Case
CaseFlex's hard plastic shell case is the one you'd like to pick if you'd really like to retain the aesthetics of your Galaxy S9, that too without adding any weight to it. This case has been built using a heavy-duty polycarbonate material, which protects the device against the daily wear and tear.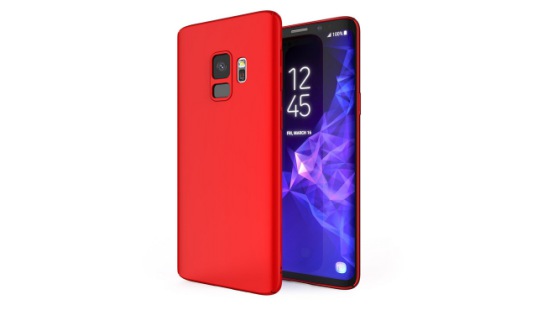 This case is fully compatible with the S9 and features precise cut-outs for easy access to all of the device's features. You can pick between 5 different colors, including red, black, blue, gold, as well as rose gold to add style and protection to your newly bought Galaxy S9.
Buy from Amazon ($4.99, plus additional delivery charges)
12. LifeePro Waterproof Case
This is one of the interesting cases I came across during my hunt. LifeePro is certainly a company that's heavily invested in addressing the pain points of a niche consumer. This case is a great example of the same, since it will offer dual-layer protection to your Galaxy S9 from water.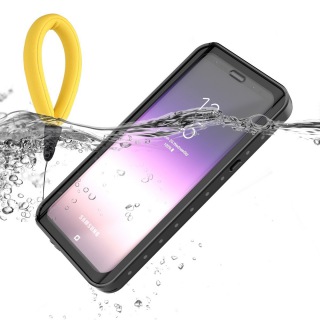 The Galaxy S9 already has an IP rating but this case, which in itself is IP68 rated, would further seal your phone with a screen protector and robust back case. It'll isolate your device from dirt, dust, dust storms, water, rain, and snow, along with shocks and drops. It is easy to install and prevents any harm to your device, and comes along with its own floating strap that'll allow you to pull the device out if it falls into a pool or a pond. Isn't that just awesome?
Buy from Amazon ($19.90)
SEE ALSO: Samsung Galaxy S9 / S9+ Launch: How to Watch 'Galaxy Unpacked' Event Live Online
Protect Your Galaxy S9 With These Cases And Covers
If you're planning to buy the Galaxy S9 the day it's made available, it'd say that it's a wise decision to pair a sturdy case with your purchase from the get-go. Most of today's phones lay more emphasis on aesthetics, so it's necessary to slap a case on them to protect them during unforeseen falls of drops from the hand. So, did any of these aforementioned cases look interesting to you? Let us know in the comments below.