Microsoft Word has almost become synonymous with word processors, but its high pricing has stopped many users from using its services. Naturally, a lot of free word processors have come up with similar features and compatibility with DOC/DOCX format. You can use these word processors online and some even offer full-fledged offline desktop apps. Whether you want to write or edit a long-drawn document, you can do everything using these word processors for free. So on that note, let's go ahead and find out which free word processors are worth using in 2022.
Best Free Word Processors (2022)
Here are the best free word processors that you should use in 2022 having top-notch features and tools. You can expand the table below and click on the link to move to the corresponding application.
1. Google Docs
If you are looking for a free word processor that can be used on any platform then Google Docs is the perfect pick. Unlike other online word processors, Google Docs is actually pretty feature-packed and supports offline writing too which can be enabled through a Chrome extension. There are a ton of third-party add-ons just like Microsoft Word Add-ins that can be integrated to bring more functionality.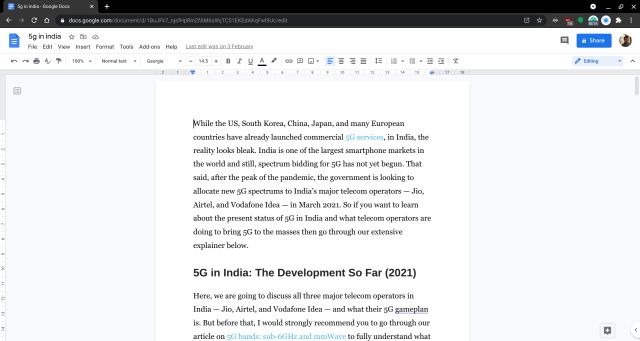 What's more, Google Docs is far superior to any other word processor when it comes to real-time collaboration. So if you have a writing project where multiple users are working on then Google Docs will fare better than other apps.
Having said all of that, keep in mind, Google Docs does not sit well with MS Word formatting, although it supports DOC/DOCX format. But the good part is that you have the option to export the file in PDF format. All in all, if you generally work on web documents and want a solution that works well and for free then Google Docs is highly recommended.
Check Out Google Docs (Free)
2. Microsoft Word 365
The desktop version of Microsoft Word charges a sky-high price and Microsoft is aware of it. That's why the company has developed a free version of Microsoft Word and other Office apps that can be only accessed through the web. It means that you can't use the free version of Microsoft Office while you are offline.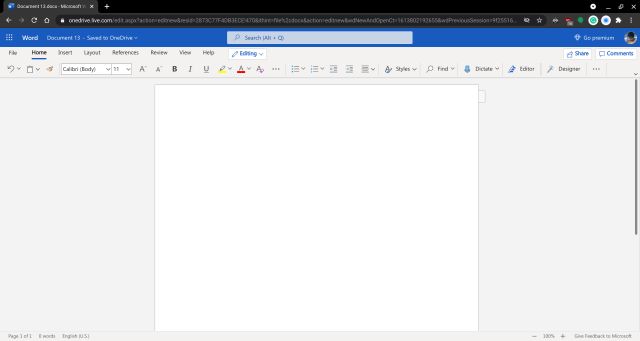 Also, keep in mind, the feature disparity between Microsoft Word 365 (online version) and Microsoft Word Desktop version is quite huge. You simply do not have ample Layout and formatting options in the free version. For a full list of differences between Microsoft Office 365 and Desktop apps, head over to our linked article.
Apart from that, bear in mind, formatting breaks on the online version if you try to import an MS Word 2019 file. Simply put, Microsoft Word 365 can be a great free word processor if you don't have a complex project at hand. For basic stuff, it's quite good and does the job well.
Check Out Microsoft Word 365 (Free, Premium subscription starts at $9.99 per month)
3. LibreOffice
After two online word processors, finally we come to a full-fledged word processor that offers offline desktop apps and is totally available for free. LibreOffice is an open-source project that is compatible with Microsoft Word and other Office documents. It aims to bring all the powerful tools and features of popular word processors in a slick and modern user interface — all for free.
Besides that, what gives LibreOffice the edge is that its code is much better optimized, thus making it lighter and faster. Also, LibreOffice is more actively developed and is the default office suite included with the majority of Linux distros. And just recently LibreOffice 7.1 was released with support for better compatibility with DOC/DOCX file format and new table and writing features. I would say, if you want a free word processor in 2022 that has desktop-level tools and features then LibreOffice is simply the best out there.
Download (Free)
4. Apache OpenOffice
Probably after LibreOffice, Apache OpenOffice is another word processor that is available for free and is loaded with features. It features powerful tools, fonts, table elements, and gets new features regularly due to the active development team. Just like LibreOffice, OpenOffice by Apache is completely free and open-source and includes a word processor, a spreadsheet program, a presentation software, a graphics editor, and a DBMS application.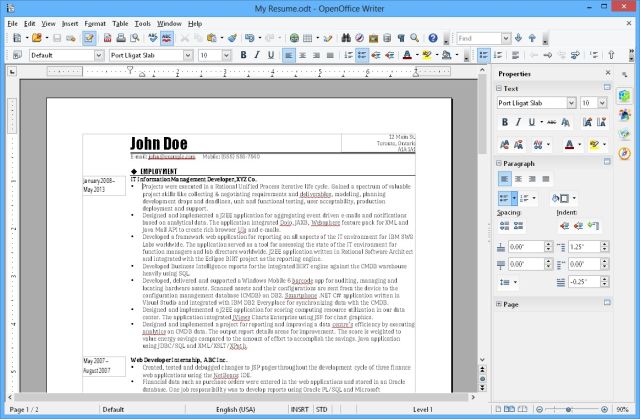 Not to mention, Apache OpenOffice is compatible with DOC/DOCX files, and rarely would you find broken formatting while moving between different programs. In addition to that, OpenOffice also supports a huge number of other file formats including PDF, SWF, PPT, and more.
It can also be extended with a variety of downloadable extensions, and its constituent sub-modules include all standard features like diagramming tools, autocomplete, and natural language formulas. So to sum up, if you want to work on a lengthy and complex project then Apache OpenOffice is another free word processor that you can rely on.
Download (Free)
5. Polaris Office
Polaris Office is a pretty popular word processor and it's strictly not a free word processor like the other ones mentioned on this list. However, the best part about Polaris Office is that the company offers a limited free version that brings enough features to suit the needs of most individual users. Basically, you will not have to pay a high subscription fee to complete your work.
If you are someone who want support for add-ons and diagrams then you can opt for the Enterprise plan which is also quite cheaper than other solutions. When it comes to features under the free version, I would say Polaris Office offers all the essential tools that one might expect from a capable word processor.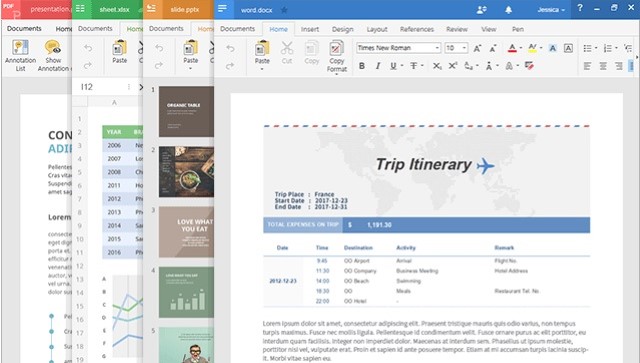 What's more, there's even real-time collaboration where two and more people can work on the same document simultaneously. And in case, you go for their paid plan then you will also be able to access features such as PDF annotations, comments, animation editing, document security, and more. To conclude, Polaris Office is another great desktop-level word processor which is free in a limited way but is totally usable. I would say give it a try and see if Polaris Office suffices your need.
Download (Free, Paid plan starts at $39.99/year)
6. Zoho Writer
In any discussion of word processors, rarely would you find people talk about Zoho Writer. But Zoho Writer is actually a really good word processor that is completely free — both online and in the offline desktop version. What I love about Zoho Writer is that it's quite clean with all the basic features and toolset required to edit a word document. Don't expect MS Word level of features, but it's there with Microsoft Office 365 version.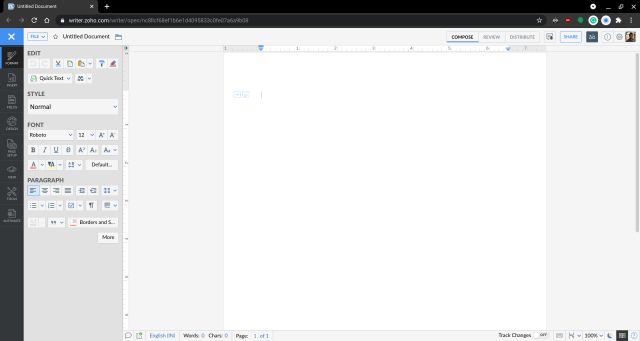 You can insert images, change indentation position, change fonts, choose a template, collaborate with multiple users in real-time, and do much more. Not to mention, Zoho Writer has a special engine to convert DOC/DOCX documents and keep that original formatting intact so that is great. All in all, I would say, just go ahead and create a free Zoho account and you will be able to access its word processor for free.
Download (Free)
7. Dropbox Paper
While Dropbox is moving many of its products behind a paywall, it's still offering Dropbox Paper for free to its users. In case you are unaware, Dropbox Paper is the company's lite word processor where the focus is real-time collaboration, access to to-dos, and managing tasks. In addition, you can add images, videos to the document, create table, add calendar timelines, and do much more.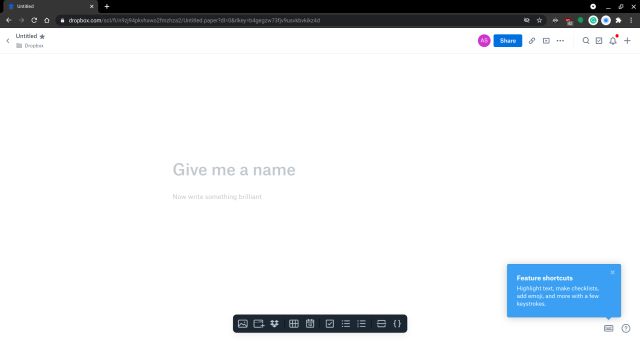 What I like is that it also supports adding code snippets which many IT organizations would find helpful. There is also support for bulleted and numbered list. To sum up, if you are not looking for a traditional word processor and something that brings team members on one page then Dropbox Paper is an amazing free tool that you can get behind.
Check Out Dropbox Paper (Free)
8. Apple Pages
If you are in the Apple ecosystem then you don't need to go hunting for a free word processor because you already have it and it's called Pages. Pages — part of iWork — is available on Mac, iPad, and iPhone so you are covered on all Apple devices. With Pages, you can create beautiful word documents in various fonts, color schemes, templates, and more.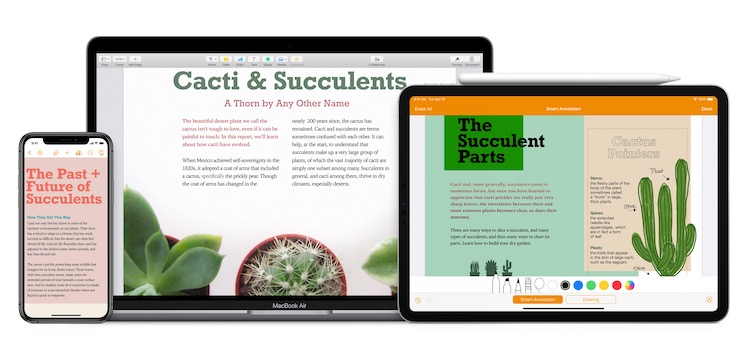 You can add tables, charts, images, media and create your own style to give a distinct look to your word document. And the best part is that Pages is compatible with MS Word and you can export documents in DOC/DOCX, PDF, EPUB and more. Considering all the points, I would say, you have got a feature-packed word processor right on your Apple device and you should surely take advantage of it.
9. FreeOffice TextMaker
FreeOffice TextMaker is a word processor that is feature-packed, lightweight, free, and one that works really well. It includes all the three standard office programs including a word processor. In terms of feature set, FreeOffice TextMaker is right there with LibreOffice and Free Office. I love the fact that you have similar-looking tools and features which many would appreciate.
Coming to compatibility, FreeOffice TextMaker has robust support for MS Office file formats, and better Office XML compatibility. Apart from that, it includes perks like multiple language dictionaries for more efficient spellchecking and smart indentation. To sum up, FreeOffice TextMaker is another free word processor with desktop-level features and you should definitely give it a shot.
Download (Free)
10. WPS Office
Before we talk about WPS Office, let me make it clear that WPS Office displays ads and there has been a number of allegations against the company regarding data privacy. In addition, WPS Office is developed by Kingsoft which is a Beijing-based company and operates Cheetah Mobile — the shady company that Google banned from the Play Store. So if you feel strongly about your privacy then I would recommend you to stay away from WPS Office.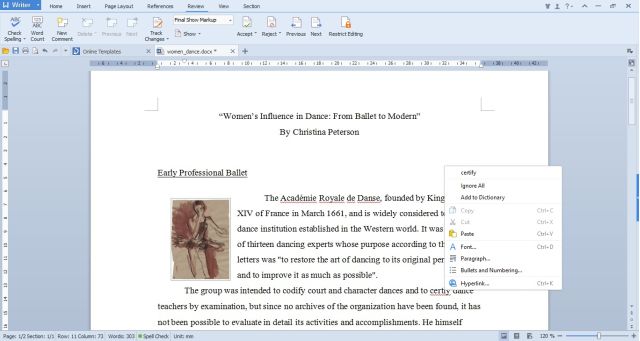 As for the features, WPS Office is hailed as a lightweight word processor that is available for free without having limited features. It weighs around 300MB and offers all three office programs — word, spreadsheet, and presentation.
In addition to having all the essential document creation/editing abilities, WPS Office includes hundreds of free templates and fonts. The free version lets you create and edit documents in MS Office compatible formats. To sum up, on the utility side, WPS Office is really good and a lightweight word processor, but on the privacy front, it leaves a lot to be desired.
Download (Free)
Use Word Processors for Free on Windows 10, macOS, Linux in 2022
So these are some of the top word processors that are freely available and can be used both online and offline on several desktop platforms. Personally, I use Google Docs and Microsoft Word online, but there are times when you want to add complex tables or customize the border then you realize, you need a full-fledged word processor. So just go through our list and pick the suitable one for you. Anyway, that is all from us. If you found the article helpful then comment down below and let us know.