With our lifestyles becoming more hectic than ever, it's increasingly difficult for most of us to juggle our professional and personal lives. One moment you're trying to meet an impossible deadline at work, and the next, you're running errands for your home. So to help you navigate your way through the frenetic journey called life, we are listing the 10 best reminder apps for Android that you should use in 2021. We've included both free and paid apps to ensure that you get the widest possible choices for enhanced productivity without any of the headache.
Best Reminder Apps for Android in 2021
With so much going on in our lives, it pays to have a little friendly reminder of our upcoming chores and appointments every now and then. Wunderlist was one of the best apps in this category until a few months ago, but Microsoft shut it down recently after acquiring it last year. So if you're looking for the best reminder apps on Android, here are our picks that should ensure you don't miss your meetings or forget about your upcoming chores, assignments, or deadlines.
1. Todoist
Possibly the best reminder and to-do list app across platforms right now, Todoist is used by tens of millions of people around the world to organize, plan and collaborate on projects, both big and small. It allows users to create and organize tasks and offers a very effective reminder feature to ensure that you don't forget deadlines and due dates. Particularly interesting is its Karma system which tracks your progress and helps you visualize your productivity trends.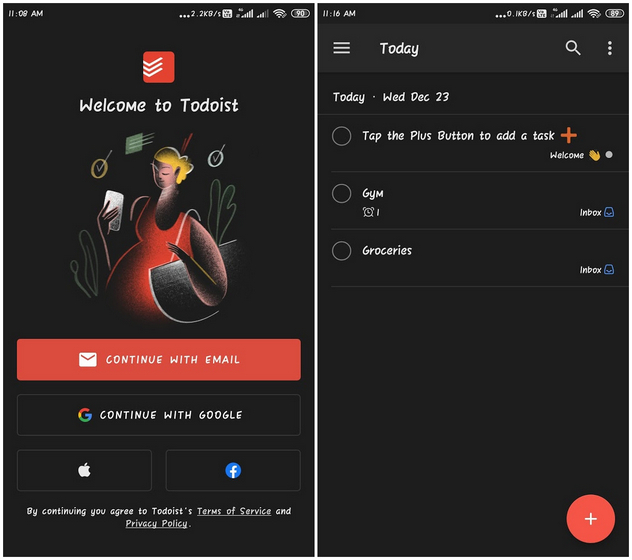 Todoist comes in both free and paid versions, but as you'd expect, the latter is significantly more feature-rich. In fact, the reminder feature is only available in the premium version, alongside Comments, third-party app integrations, Files and more. Still, it is the best at what it does, which persuades many to pay the $35.99 per year that it charges for its premium features.
2. Microsoft To-Do
If you liked Wunderlist, Microsoft To-Do is the app you'd want to check out. It is a full-featured, cross-platform free task management app to help you stay organized and manage your day-to-day. It enables users to break down tasks into simple steps, add due dates and set reminders for your daily checklist to keep you on track. The app also offers Office 365 integration and cross-platform syncing across iPhone, Android, Windows 10 and the web.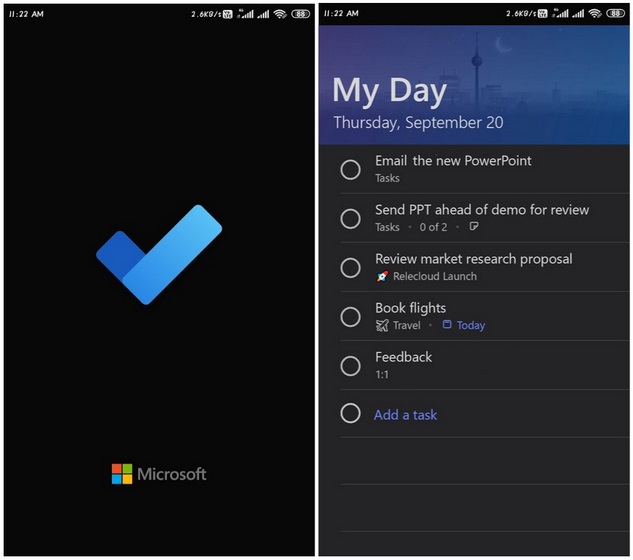 You can use Microsoft To Do to make shopping lists or task lists, take notes, record collections, plan an event, or set reminders to increase your productivity and focus on what matters to you. It also comes with a 'To Do Widget' that allows users to add reminders, tasks and lists. The best part? It is completely free and available on a wide range of platforms across desktops and mobile.
3. Google Keep/Tasks
Google's confusing array of apps and services (think Allo/Duo, Gmail/Inbox) can be best illustrated by the existence of Google Keep and Google Tasks – two apps that have many overlapping features and functionality that can easily be bundled into a single package. You can set reminders in either app, and both will integrate with Google Calendar. However, Google Keep allows users to actually view those reminders on the Google Calendar mobile app, making it the better option as a reminder app.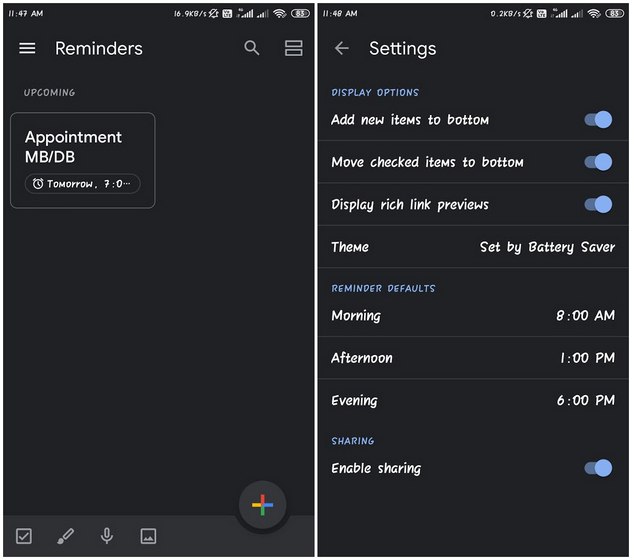 Another major feature that goes in the favor of Google Keep is that it lets you setup a task with a location-based reminder. It also has a better system to organize notes, the ability to link a Google Doc, Sheet or Slide to a note and add drawings, web content, images and audio, making it the clear winner. The ability to share notes and tasks with other people doesn't hurt either. So if you're looking for the best reminder app, Google Keep is the way to go between the two.
4. Any.Do
Any.Do is yet another hard-hitter among the to-do task apps, with an unwavering user-base. It is an all-in-one task scheduler and reminder app that helps you organize your schedule. While the free version works well for most people, you'll need to pay up for the reminder function, which comes with sound alerts. What's more, you can also create and set reminders with voice to your to do list. The premium version also offers a calendar, to-do lists, a memos section and a planner.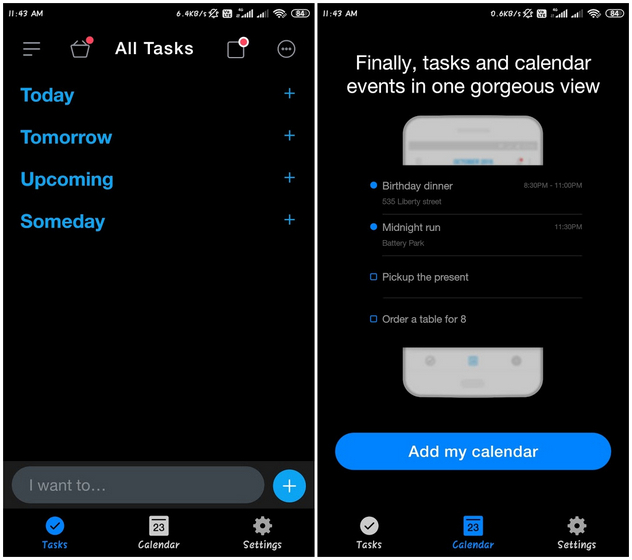 While the reminder feature is not part of the free version, it is one of the most extensive ones on offer with granular controls for time, location and frequency. You can set one-time reminders, recurring reminders, location reminders & voice reminders. You can even get reminders in WhatsApp, giving it an edge over many other apps, especially in countries like India and Brazil, where WhatsApp is as ubiquitous as iMessages is in the US.
5. Remember the Milk
The curiously named but immensely useful 'Remember the Milk' is an immensely popular app that does exactly what it says on the box – ensure that you don't forget your errands. It is one of the oldest and best-known apps in its category, enabling users to add tasks and organize them according to priorities. It offers reminders via email, text, IM, Twitter and mobile notifications. Do note that you'll have to buy the 'Pro' version if you want mobile reminders.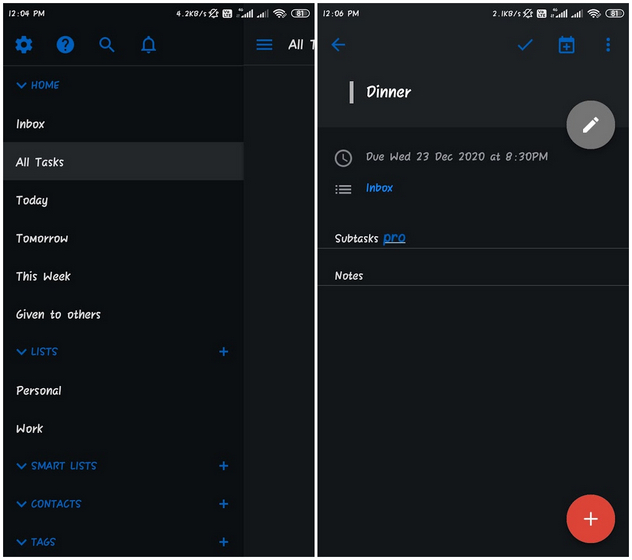 Alongside the features mentioned above, Remember the Milk also enables users to setup recurring entries and syncing between phone and PC. It also integrates with Gmail, Google Calendar, Twitter, Evernote, IFTTT and more. The premium version includes a whole host of additional features, including subtasks, unlimited sharing, advanced sorting options, colored tags for better organization of tasks, badges to let you know how many tasks are still pending, and sync with Microsoft Outlook.
6. TickTick
TickTick is another popular to-do list app and task manager which helps you schedule, manage time and stay focused by reminding you about deadlines and organizing life at home and work. The app also comes with a unique feature called 'Smart Date Parsing', whereby the date info you enter will be automatically set as due date for task reminder with alarm. TickTick also comes with a built-in Pomodoro timer that allows you to set your task and start a 25-minute session of focus.
Like most of the other apps in this list, Tickztick also comes with a Premium version that offers enhanced productivity features, making it one of the best reminder apps in the market right now. The premium version lets users to set up to five reminders for each task to ensure that you never miss another important meeting or forget another errand. You can also share lists, assign goals to collaborate with family, friends or colleagues, making the premium price well worth it.
7. 2Do
2Do is a full-featured to-do app on Android, iOS and Mac with offline capabilities. While the basic reminder feature is available for free, you'll have to buy the 'Pro' version to assign multiple alerts to a task to remind you at different dates and times. The Pro version also comes with Cloud Sync using CalDAV (iCloud / Fruux / Fastmail etc), Dropbox or Toodledo. However, location reminders are available in the free version, which means you can attach locations to tasks and get reminders as you approach these places.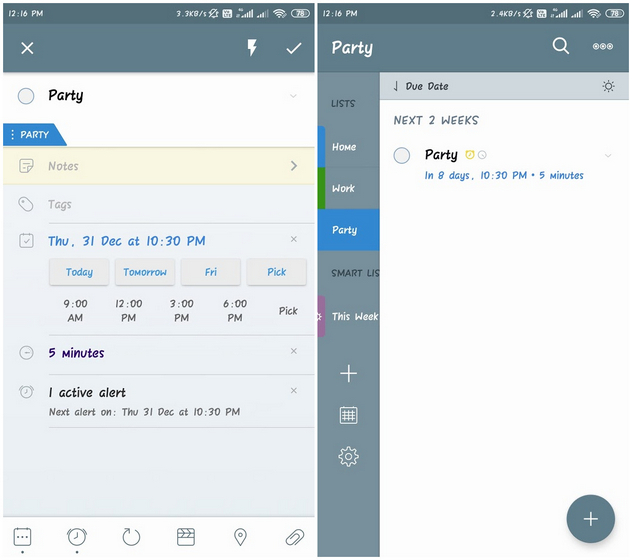 Alongside reminders, the app also advertises itself as a to-do list and note-taking software, and both those capabilities are on show in the free version itself. It allows you to create sub-tasks in the free version, but adding rich notes to those tasks with markdown, attachments and multiple alarms will need a Pro subscription. The app also supports reminders for recurring tasks, due dates, start dates and more. You can also create multiple to-do lists to manage and organize different aspects of your life, including work, home, leisure, sports and more.
8. BZ Reminder
Formerly known as Bzzz, BZ Reminder is yet another app that's climbing up the popularity charts. The developers claim that it is an "easy-to-use and straightforward reminder app", and they're not wrong. The app allows users to set reminders and notifications for almost anything, including repeating or recurring tasks. What's more, it also enables you to set reminders right from your Android Wear smart watch. In fact, you can use voice commands to create, snooze or dismiss reminders right from your wrist, thanks to the feature.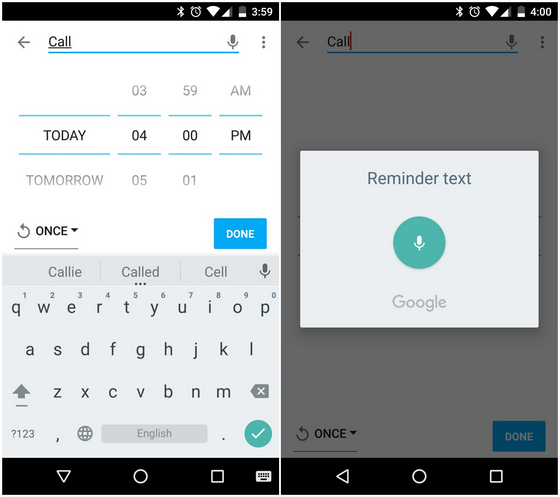 Another handy reminder feature in the app is Calendar with Reminders. You can also set a auto-repeating reminder every hour, for example, "drink water". There's also a call reminder feature that notifies you of missed calls and keeps reminding you until cancelled. Overall, it is one of the best reminder apps if you're looking for just a lightweight app that does what it says on the box without adding bloat to your phone with a whole host of other features that you're unlikely to use.
9. To Do Reminder with Alarm
As its name suggests, To Do Reminder is a reminder-focused to-do app that lets you set quick and easy reminders with fully customizable repeat options, including minute, hour, daily, weekly, monthly, weekdays, yearly, and more. You can set in-advance alerts for reminders and choose whether to get the alert as a general notification or a full-fledged alarm with your custom tone. There's also speech-to-text and other 'smart' options to ensure safety while driving or riding.
To Do Reminder with Alarm also lets you synchronize birthdays and anniversaries of your friends from Facebook, phone book, Google Calendar, or add them manually. You can also use the app to send birthday wishes to your friends via Facebook, Gmail, WhatsApp or SMS. Finally, there's also a 'Send Reminder' feature that can send a reminder to anyone from your contact list. You can use the feature to set an alarm for your friends to meet up or for your spouse to get groceries before returning home in the evening.
10. Just Reminder with Alarm
If there was an award for a precise, no-nonsense name for a mobile app, 'Just Reminder with Alarm' will win it hands down. It is all about reminders with alarm, and it's all for free. The app lets you set reminders and customize their repeat intervals, like every few minutes, hours, day, specific week days, weeks, months, years etc. It also supports speech-to-text, which means you don't have to type to set your reminder. There's also Smart Bills Reminders and the ability to save all your reminders to SD Card, as mail attachments, or upload to Google Drive.
You can also customize each reminder with images, specific ring tones or Talking Alarm tones, and even set in-advance alerts for reminders. You can also send wishes for birthdays, anniversaries and more straight from within the reminders. The app also makes use of your phone's notification LED for persistent reminders. The best part? It's a free ad-supported app with no strings attached and no sneaky permissions. What's more, you can even remove the ads with an in-app purchase.
Use the Best Reminder Apps to Better Manage Your Tasks
Our curated list of the best reminder apps for 2021 come with the very best features that modern software can offer. While they do differ somewhat from one another, you should be able to find one to match your needs. So go ahead, give them a go and tell us about which one you like best.