Most of us take plenty of pictures using our iPhone cameras and we want them to look as beautiful as possible, hence we use various photo editor apps that can enhance our pictures. These apps aren't anything new and there are a slew of options to choose from, so things might get confusing for consumers. It's not easy to pick the best ones from the App Store either, as the various photo editing apps are highly subjective. However, we've decided to help you guys in making your choice by shortening down the list. So, without further ado, let's take a look at the 10 best photo editing apps for iPhone you should use:
1. VSCO
VSCO is a neat software if you want to quickly capture and edit your pictures without any hassle before you upload them to your social network accounts. Straighten, crop, skew, adjust contrast and exposure in your pictures, in addition to being able to add some great filters within the app. If the available filters don't do the job for you, you can purchase additional preset filters from the VSCO shop.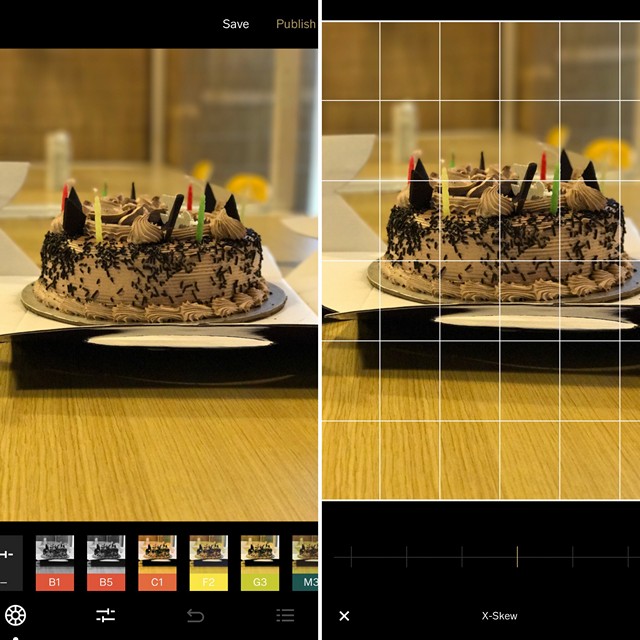 Apart from the editing prowess, the user interface of the camera is quite sleek and simple. It also features its very own social media platform, so you can show off your breathtaking pictures to fellow VSCO users. Also, the VSCO app has a minimalistic design that gives it a unique appeal and it might very well be that "one" app that can do everything from capturing pictures to editing and sharing with other users.
Install: (Free, with in-app purchases)
2. Snapseed
Snapseed is a photo editing tool made by the search giant, Google and as you'd expect, it's completely free without any hidden in-app purchases. Unlike VSCO, Snapseed offers much more control when it comes to the number of available tools that users can take advantage of. Some of the unique tools that are available on Snapseed includes Healing, Selective, Brush and Transform. Users who prefer much more flexibility in editing photos might prefer this application above the rest, but if you're someone who's looking for a simpler solution, you might want to look elsewhere.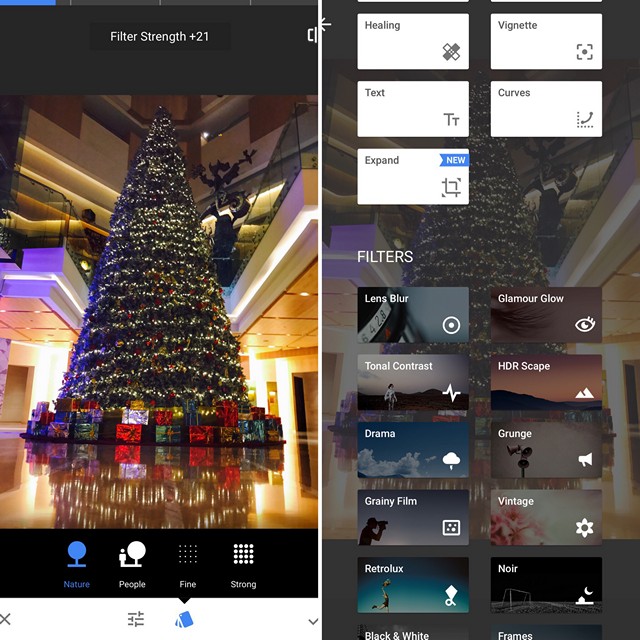 All-in-all, Snapseed is considered by several users as the best photo editing app for smartphones in general. Similar to almost all other photo editing apps, it comes with plenty of filters in addition to the editing tools like Healing, Vignette, Curves, and more, but who knows, you might even find your go-to filter on this app, right?
Install: (Free)
3. Instagram
After being acquired by Facebook back in 2012, Instagram has come a long way over the course of 5 years. Instagram is primarily a social network app for sharing pictures rather than a fully-blown editing software with over 700 million monthly active users. That being said, let's move to the editing side of things. Instagram was one of the first apps that came with plenty of cool filters like Gingham, X-Pro II, Nashville, Hudson, etc. to enhance your pictures at the touch of a button. The app also lets you adjust the intensity of these filters, as per your preferences.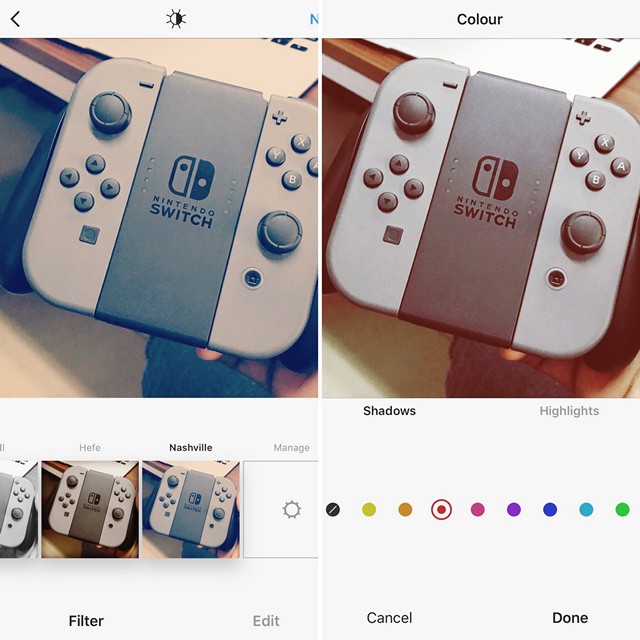 Recently, Instagram updated their app with support for Face Filters which is pretty much similar to the ones you've all seen on Snapchat. In addition to all these, you'll also be able to choose from a plethora of stickers and emojis that you can add to your pictures. Instagram is pretty much used by most of the smartphone users as their one-stop app for capturing, editing and sharing pictures with their friends and followers.
Install: (Free)
4. Enlight
Enlight is one of the most popular photo editing apps on iOS and rightly so. The app, released a couple of years back stands out from the rest of the competition due to its unique features. With Enlight, you will be able to turn your photos into art, reduce noise with minimal quality loss, neatly superimpose images and do 3D transformations, in addition to the usual stuff you might expect from a photo editing app like adjusting saturation, contrast and tint. The app also features an InstaFit tool to make the pictures ready for a quick Instagram upload.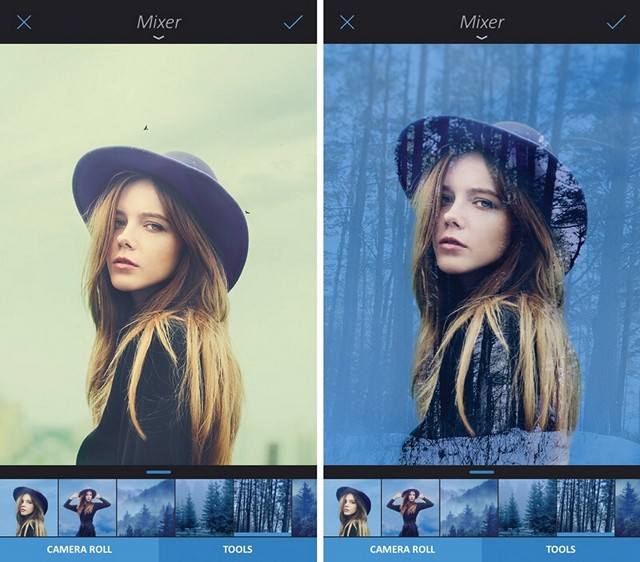 Enlight also manages to save your last ten editing sessions, just in case you want to get back to them. Apart from this, the app also packs a filter section that you've all seen and played around with on similar editing apps out there. The layout of the app is intuitive and quite pleasing, which is one of the reasons why people prefer this one rather than trying out the competition. However, the app, unlike most others, is not free, as it will cost you just under 4 bucks.
Install: ($3.99)
5. Adobe Photoshop Express
We all know that Adobe Photoshop is the most widely used software across the planet for editing photos professionally. On the other hand, we have Adobe Photoshop Express for iOS devices. Consider this to be a stripped down version of the desktop version with much lesser features aimed at performing better on a touchscreen device. Don't underestimate the Adobe Photoshop Express app just because it's a toned down version because it's still way better than many of the photo editing apps that are currently available apps for iPhones and iPads.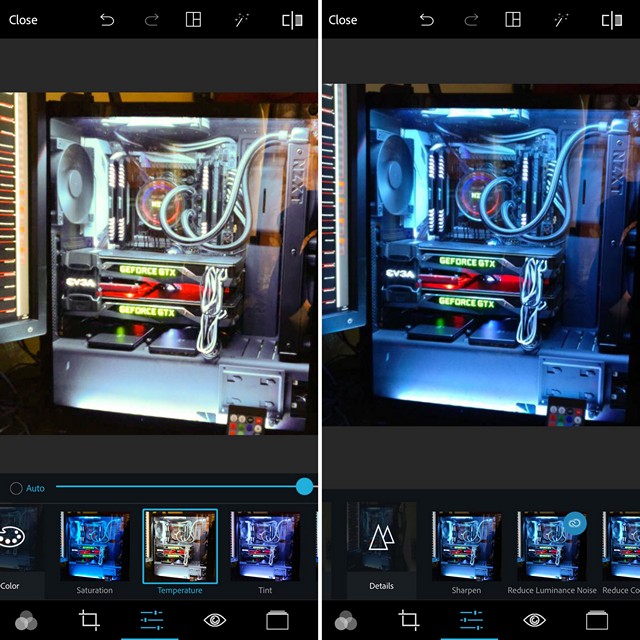 Adobe Photoshop Express keeps the users engaged with plenty of tools like noise reduction, blemish removal, defog and several others for in-depth photo editing that might consume some time rather than quick edits with just filters. Users have complete control over what they do on the picture. Plus, the app lets you create studio-caliber collages with just a few taps. Other features of the app include RAW file support, TIFF support, ability to watermark images, upload photos to cloud storage services, and more.
Adobe Photoshop Express can be downloaded and used for free, but in order to access certain features within the app, you will have to make in-app purchases.
Install: (Free, with in-app purchases)
6. Polarr
Similar to almost all the photo editing apps, Polarr brings you everything you'd expect from an app of this type, providing you with the standard set of editing tools and filters to enhance your smartphone pictures within minutes. That being said, Polarr has one outstanding feature that makes it easily stand out from the rest of the competition and that is highly accurate face detection without the need of connecting to internet. We don't think there's any other app that can come close to Polarr in this department.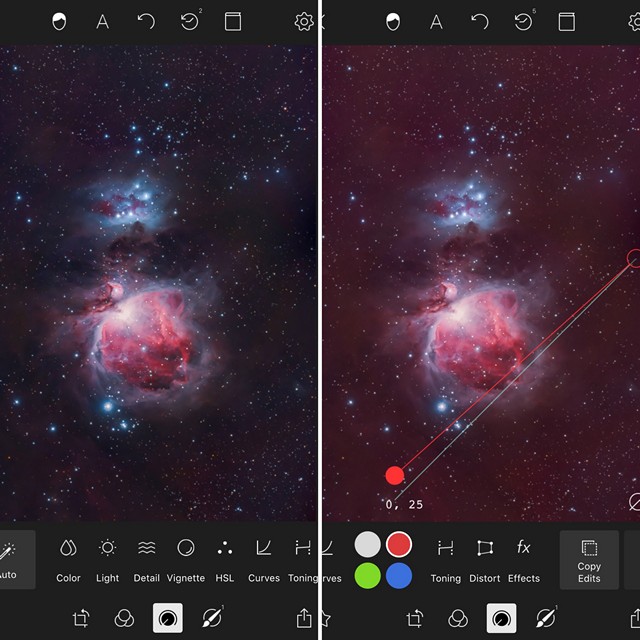 Polarr makes use of Apple's face recognition API that's implemented in iOS 10 to make highly precise edits of a user's face in a photo. Even if there are lots of faces in a photo, like when you're standing in a crowd, the app will accurately edit all the faces. How cool is that?
Other than that, Polarr lets you make various adjustments to your photos, and brings features like color masking, brushing tools, batch export, full EXIF viewer etc. Polarr is free to download, however you will have to make in-app purchases to unlock all the features that it has to offer.
Install: (Free, with in-app purchases)
7. Ultralight
Ultralight is another great photo editor for iPhone and while it brings features that are similar to the rest of the photo editing apps, offering a number of tools and filters to get started with, there's one thing that Ultralight does better compared to most of its rivals and that's the user interface, which is intuitive to say the least. If you just use the app for five minutes, you'll understand exactly what I'm talking about. The layout and the overall interface is sleek and simple, with the right tools and sliders at the right places, for super-fast photo editing.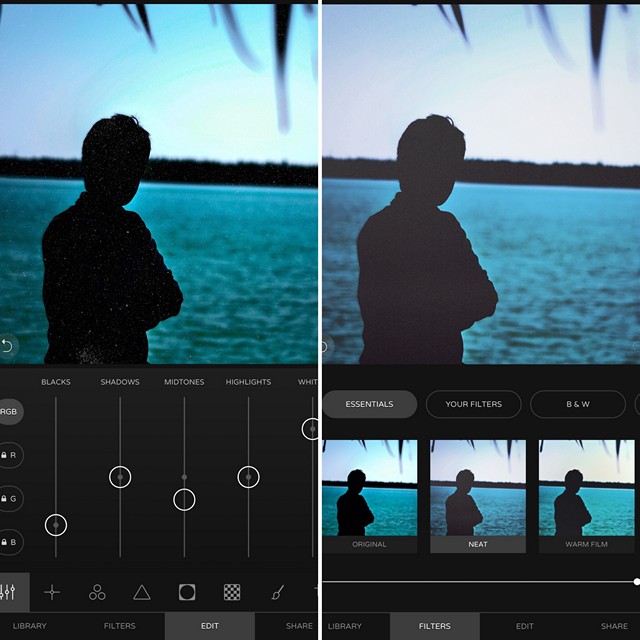 Ultralight gives users full control over what they're editing by letting them use the tools in certain segments of the image. Complete control over colors in a photo is a welcome addition as well. Apart from these, the app will include all the basic tools and filters that you'd normally expect from a decent photo editing app. There's the ability to undo & redo any edits, along with the ability to adjust curves, saturation & temperature, vignette, textures and more. Overall, Ultralight is a simple yet very powerful photo editing app for iPhone
Install: (Free, with in-app purchases)
8. Afterlight
Afterlight is one of the highest rated photo editing apps on the App Store, and that's seriously impressive, especially considering the fact that it's a paid app. Afterlight was previously known as AfterGlow and considering it was originally released back in 2012, the app has evolved a lot to meet present-day standards. For a price of just under a buck, you have a 15 adjustment tools, 74 filters, 78 textures, transformation tools, various frames and more to choose from which are constantly updated by the developer from time to time.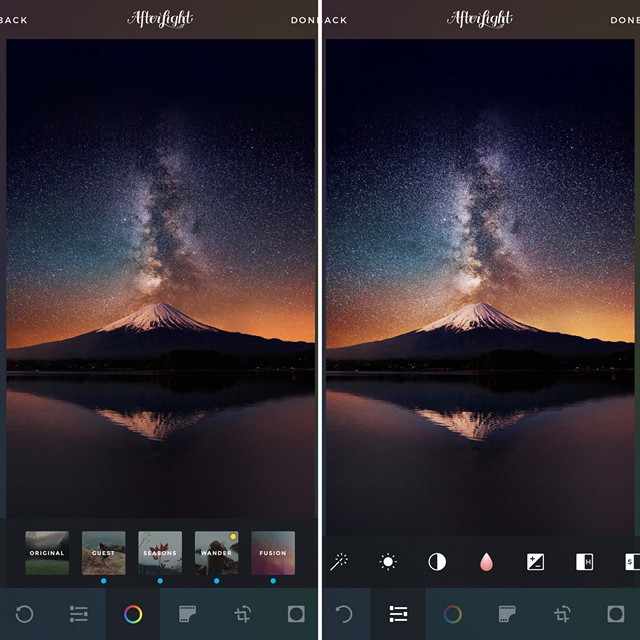 Afterlight boasts a nifty feature called Fusion which lets the user save their actions and edit settings, so that you don't have to go through all the filters to find the one you used, at a later time. Well, the asking price is definitely worth it, we hope you love the app as much as I did.
Install: ($0.99)
9. Pixlr
Pixlr was originally a hugely popular website used by people to edit pictures online without much hassle. Once they released an app for smartphones, it instantly became a hit due to obvious reasons. Pixlr brings you some unique tools like autofix, smooth, blur, heal and splash, which some of the competition misses out on. A nifty feature called Double Exposure lets users combine two photos using opacity slider and blend mode.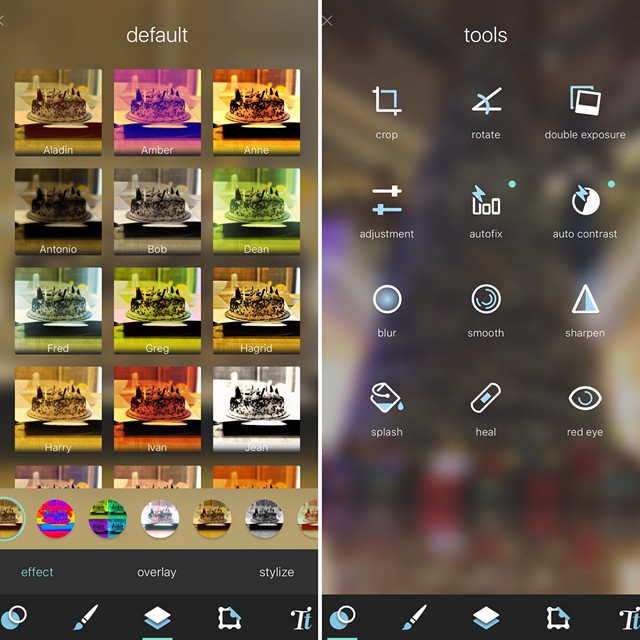 Well, as you might expect, a photo editing app isn't complete without filters and Pixlr packs plenty of them for you to play with. All in all, these features are packed into a neat intuitive layout that makes this application pretty easy to use and lets users edit their shots in a matter of minutes.
Install: (Free)
10. PicsArt Photo Studio
Just like every other photo editing app that we've discussed earlier, PicsArt gives you everything that you'd probably want from a smartphone photo editing application. However, it does bring you something more, like a built-in social networking platform for sharing pictures with fellow users, similar to Instagram. Tools like Curves, Clone, Perspective, Dispersion and red-eye correction can be used to test your editing skills. Apart from this, PicsArt provides everything that most of the competition has to offer, and in that regard, we're quite impressed with the app.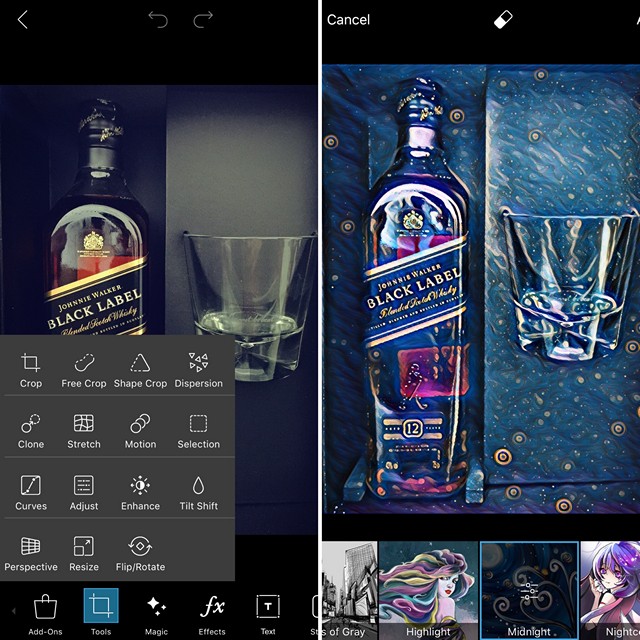 In addition to editing pictures, users can even make collages with PicsArt, which several other editing apps fail to offer. So, users don't have to install another dedicated app for making collages, if they make use of PicsArt as their one stop app for editing pictures. Although the app is free, users can purchase stickers, fonts and frames for an additional price of $1.99.
Install: (Free, with in-app purchases available)
             SEE ALSO: 12 Best Free Photoshop Alternatives You Should Try
Try These Best Photo Editing Apps on Your iPhone
Well, it was definitely not an easy task to shorten this list to 10 from a huge list of photo editing apps that's currently available on the App Store. That being said, these are some of the very best apps that you guys can make use of to enhance your breathtaking stills on your iPhone. As far as photo editing apps go, we cannot stick to just one app, because several apps offer unique features that might be lacking on the one you're currently using. If you usually prefer editing pictures on your iPhone, we suggest you have multiple applications installed, depending on the kind of editing that you do.
So, are you ready to try out these photo editors on your iPhone to make your photos look better? Do let us know your thoughts on these apps by simply dropping a few words in the comments section down below.