iPhone is not just about cameras and performance but holds lots of value for looks as well. You can show off the new midnight green color of iPhone 11 Pro or the classic gold finish. However, despite its regal looks, the iPhone 11 Pro quite frankly is bland. That's why some people prefer cute cases which go with their overall personality and match their aesthetics. So, if you are looking for an adorable case for your new iPhone, fret not. We have found the 12 best cute cases for iPhone 11 Pro which will not only enhance the look but also protect your device in 2020. So without further delay, let's jump right in.
Best Cute Cases for iPhone 11 Pro in 2020
In this article, we have included 12 cute cases for iPhone 11 Pro which are quite appealing and also comfortable to hold. Apart from that, most of the cases mentioned below are priced around $10 so you don't have to spend a lot of money to get them. Now, having said that, let's go through the list.
1. CASETiFY
CASETiFY makes some of the best designer cases for iPhone 11 Pro. You can find a wide variety of cases that not only feature cute and adorable designs but also provide ample impact protection. The one we are featuring here is called "Color the Lines 2.0
". It is a glitter case that features liquid glitter trapped between two layers of glass. The liquid glitter is made using non-toxic mineral oil and materials so there's no concern there. The case also has a bumper that is made of shockproof and soft-touch Thermoplastic Polyurethane (TPU). The bumper not only protects your phone but also ensures that the glitter housing is not damaged. There are several designs and glitter color options available so you can give your phone a unique look. Apart from glitter cases, CASETiFY also features several other designer cases that you can check by clicking here.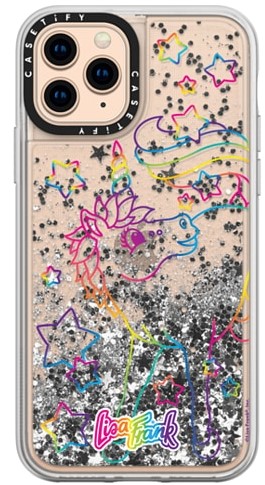 Buy from CASETiFY: $45
2. Spigen Liquid Crystal Glitter
If you are looking for a slim designer case from a reputed iPhone accessory maker, check out the Spigen Liquid Crystal Glitter case. It's the same Spigen Liquid crystal case that we have used and loved in the past, just with an added shine. Instead of using normal TPU material, this case uses a glitter-infused TPU which gives the case its unique shine. Other features of the case remain the same. It's soft to touch and features a flexible design that makes it easier to apply and remove the case. Despite having a flexible design, the buttons are not soft as they are reinforced to give tactile feedback. If you love Spigen cases but want some extra funk, this is the one to buy.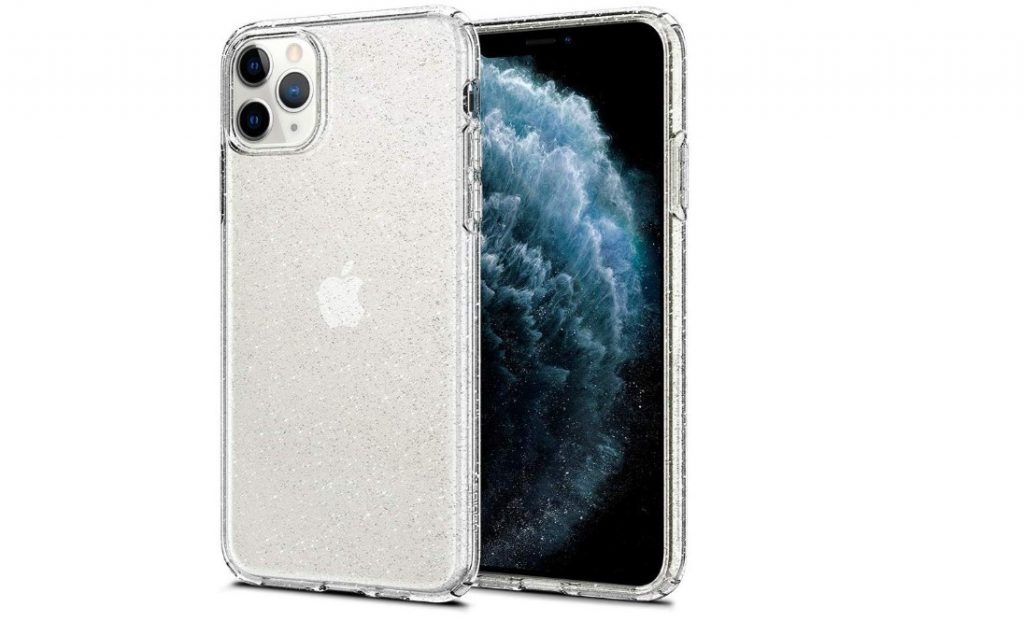 Buy from Amazon: $13.99
3. AICase
AICase offers a beautiful case for iPhone 11 Pro with floral patterns on the back. The case goes quite good with the Silver colored iPhone 11 Pro. There are also two other patterns so you can choose whichever one you find more appealing. Apart from that, the case also protects your device from scratches and minor drops. It's made of a shock-absorbent TPU material which is quite rigid and has raised bezels around the screen and camera to protect them. Moreover, the great-looking AICase also supports wireless charging so that is awesome. Simply put, AICase is one of the best-looking cases out there and you don't need to look any further.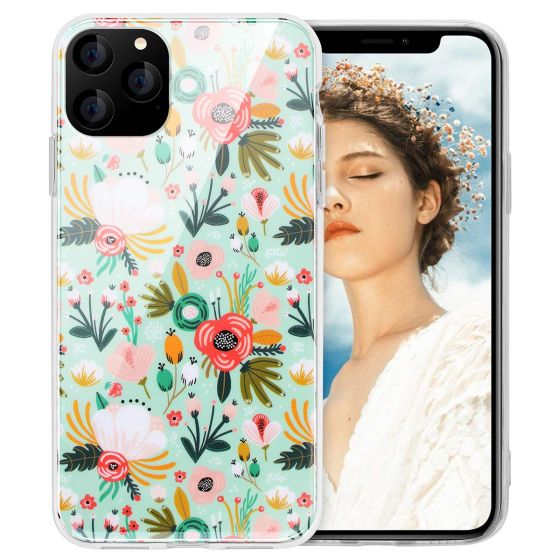 Buy from Amazon: $12.99
4. MATEPROX
Mateprox is another adorable case which is pretty eye-catching and I love the blingy look on the back. It has that sparkling finish which will give a glittering new look to your iPhone 11 Pro. And the best part is that the case is available in more than 7 colors so you have plenty of options to choose from. And that is not all, the case also offers some degree of protection from bumps and scratches. It has raised lips around the display and camera to guard them against abrasive scuffs. Besides that, the Mateprox case is also compatible with wireless charging on the iPhone 11 Pro so that is pretty good. To sum up, if you want both looks and protection, go with the Mateprox case.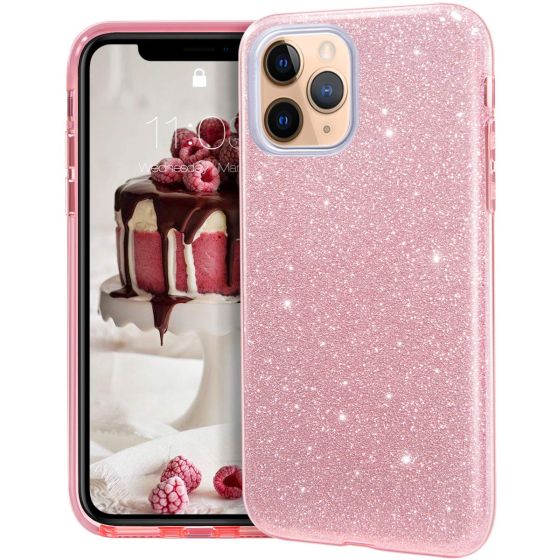 Buy from Amazon: $10.99
5. Cutebe
Cutebe is my personal favorite because how well it blends with the midnight green finish of iPhone 11 Pro. The unique flower pattern looks absolutely beautiful and gives a pleasing look to the device. Besides that, the case comes with a hybrid design of rubberized bumper and hard polycarbonate TPU. It can easily withstand shock and drops without damaging the device. All in all, this cute case will offer you both protection and sweet design and you simply can't go wrong with it. If you ask me, then I will suggest that you definitely buy this cute case for your iPhone 11 Pro.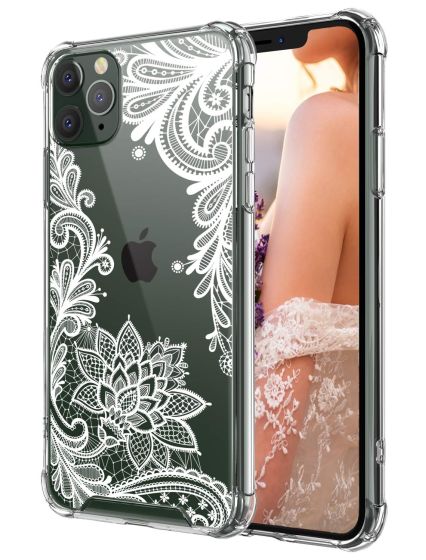 Buy from Amazon: $10.99
6. Topwin
If you are looking for a cute case without any design patterns then Topwin is an excellent pick for you. It comes in four different colors with a heart-shaped icon on the back which looks quite clean and I love that. And the best part is that unlike other cases in this list, it's made of soft TPU material. As a result, it's quite lightweight and does not add noticeable bulk to the iPhone. So, if you want a case with a minimalist yet cute design then Topwin can be a great pick.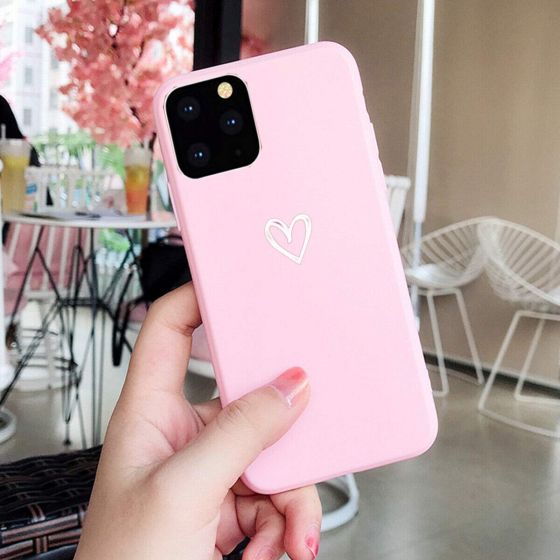 Buy from Amazon: $9.99
7. Jorisa
Jorisa is one of the cutest cases in this list with eight different designs based on different species of animals. The cases have designs of cats, dogs, panda, giraffe and more, all of which look adorable in funky colors. Having said that, Jorisa case also provides protection to iPhone 11 Pro with its flexible material. The case uses soft silicone material which bring better grip and a shockproof design. It can even survive minor scratches and drops which is pretty great. And above all, the case is very affordable and costs below $10. I would say, if you love animals, this case will be a great pair to your iPhone 11 Pro.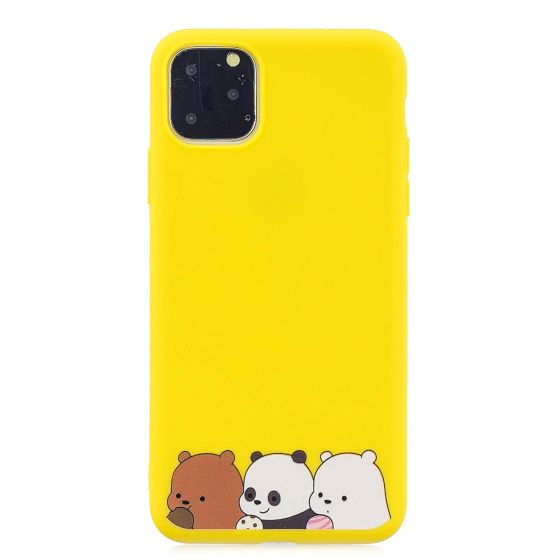 Buy from Amazon: $5.99
8. Manleno
Manleno offers a series of 20 cute cases for iPhone 11 Pro which frankly looks stunning. Of all the cases, I love this one with the marble pattern. It has an acrylic pattern which grows on you after some time of usage. Apart from that, Manleno cases also rank high on the protection front. The cases are made of flexible TPU material and can easily survive scratches and bumps. Also, the raised corners around the screen and display significantly protect the device from any untoward damage. And the great part is that it also supports wireless charging too. I would say if you want cute cases with vivid colors and unique design then go with Manleno. It's damn good.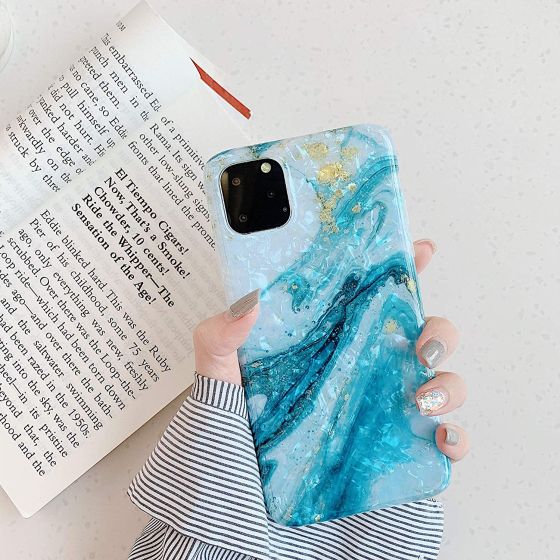 Buy from Amazon: $9.99
9. Lontect
My next pick for iPhone 11 Pro cute case is Lontect because of its stunning floral design on the back. If you notice the background color, it's a bit greenish which will be a great match to the midnight green edition of iPhone 11 Pro. Also, the combination of leaves and flowers make for an eye-catching design. On the protection front, Lontect does not disappoint either. It offers a full-body shield which can withstand daily wear and tear, scratches, and minor bumps. All in all, if you love floral designs, Lontect will is the perfect cute case for your iPhone 11 Pro.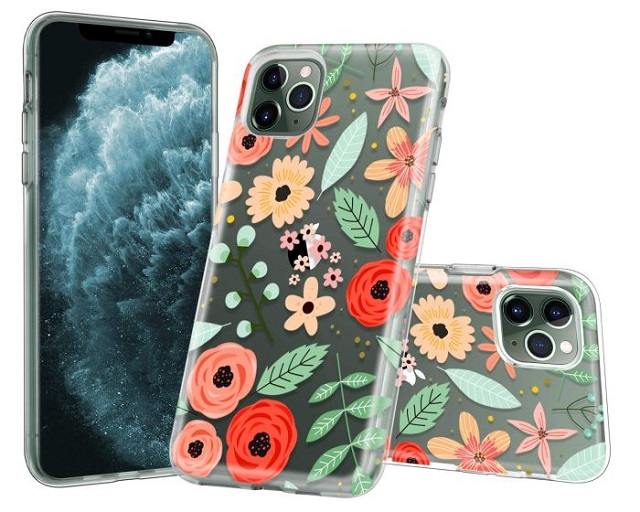 Buy from Amazon: $9.99
10. i-Blason Cosmo
i-Blason Cosmo is a beautifully designed case which offers both appealing design and convenience without sacrificing device protection. First off, the marble design on the back is really good and I love that geometric pattern. Also, the side grill of the case is of golden color which can blend pretty well if you own the golden color iPhone 11 Pro. And that is not all, it has a built-in card holder which lets you store two cards and some loose cash. Isn't that amazing? And on top it, the case is made of premium TPU material so the device is well protected too. So, if you want a lovely case with all the added convenience then go with iBlason Cosmo.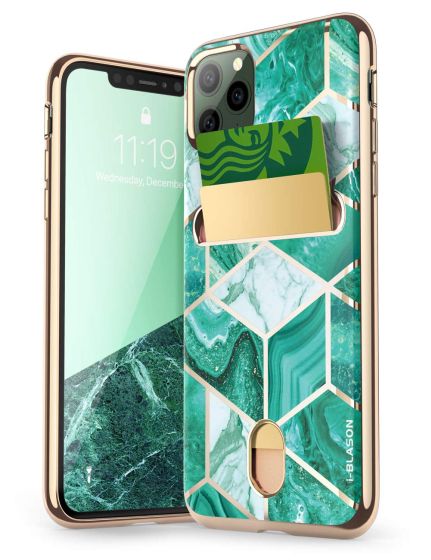 Buy from Amazon: $12.99
11. SALAWAT
Salawat offers a colorful case for iPhone 11 Pro which might not be cute, but it's surely eye-catching. The look on the back is quite vibrant with different gradients of hues put together and I love it. This particular variant looks very similar to Instagram's logo, so if you are an avid Instagram user then Salawat can be a perfect pick. Other than that, there are two more color options so you can choose whichever one you find endearing. As for the case, it's made of flexible TPU material so the hand feel is quite good and offers all-around protection. Moreover, the back is glossy so it won't easily pick any scratches from keys or coins. All in all, if you are a fan of gradient design then definitely pick Salawat case for your iPhone 11 Pro.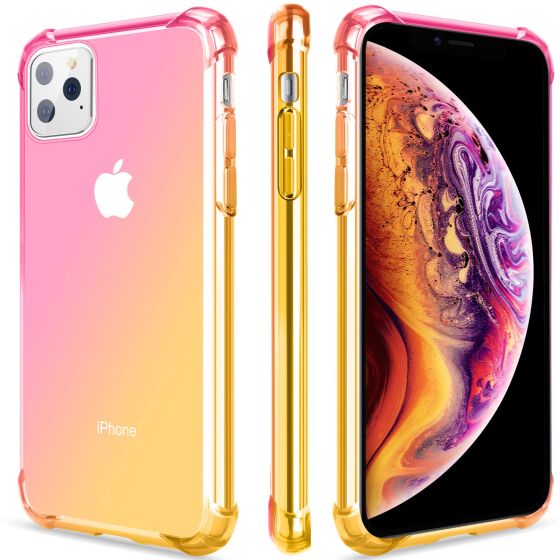 Buy from Amazon: $9.99
12.
Sonix 
Sonix is our final cute case in this list for iPhone 11 Pro. It offers a series of cases with various design patterns which give a distinct look to your iPhone. Among all the cases, I like this one for its abstract design pattern. Apart from that, it's a clear case so you can show off your iPhone's color with a unique design on the back. On the protection front, it can guard the device against scratches and minor bumps with the raised rubber sides. All in all, Sonix is among the best cute cases for iPhone 11 Pro and you can definitely give it a shot.
Buy from Amazon: $35
SEE ALSO: 10 Best Leather Cases for iPhone 11 Pro You Can Buy
Choose the Best Cute Cases for iPhone 11 Pro
So those were our picks for the best looking cute cases for iPhone 11 Pro. We have made sure to include cases of different design patterns so that you can comfortably pick one. Besides that, pricing is also kept in mind before finalizing the list. So, you can get adorable cases for your new iPhone without splurging much. Anyway, that is all from us. If you liked our selection, do comment down below and let us know.