If you are reading this, you fall into the category of people who love to read articles before retiring for the day. And why not? It is a pleasurable experience to read stuff, whether literature or trash, on those glorious smartphone displays, all by yourself. However, the vibrant screens emit blue light that can cause strains & headaches. Well, this is where blue light filter apps or night mode apps come in handy.
While iOS includes a Night Shift feature and many Android device manufacturers ship their smartphones (including Google's Pixel) with a blue light filter mode, there are many Android devices that do not pack such a feature. Well, don't worry, here is our list of the 6 best night mode apps for Android:
1. Twilight
One of the popular apps right now, Twilight is a pretty great app. Featured in our must-have apps list at the number one spot, it's brilliant at filtering out the flux of the blue light. The app adapts your device's display to the time of the day by mounting a slightly red filter over the whole display to protect your eyes. It also allows you to manually set the color temperature, intensity of the filter and screen dim on the display. There's also an option to create profiles, so that you can set custom filters for a particular time, for instance, bedtime reading or while commuting back from office.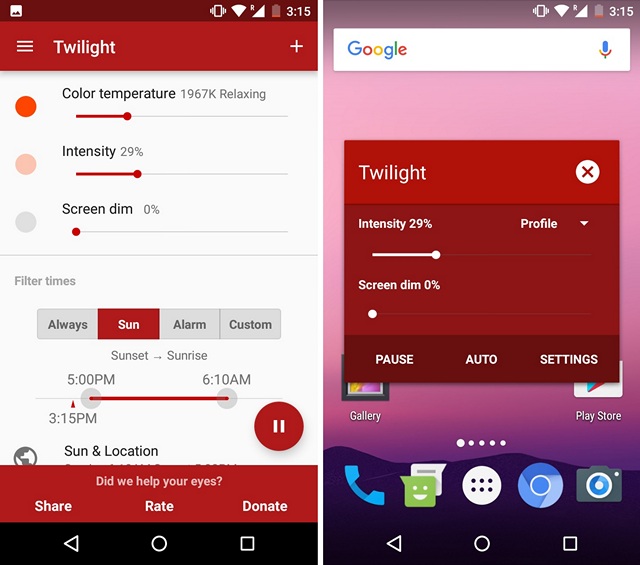 The free version only lets you create a couple of profiles. If you want more profiles along with the ability to adjust transition time for sunset and sunrise, you can pamper yourself with the Pro version of the app.
2. Darker (Screen Filter)
Darker reduces the strain on your eyes by reducing your screen's brightness to extremely low levels and enabling color filters. That doesn't sound extraordinary until you are greeted by the options. This app lets you put a flux filter of any color on the screen. You can dim the capacitive button lights on your phone (provided your phone has it) and set the brightness levels of the status bar separately. It also has support for Tasker, so you can let your phone switch display-profiles automatically. However, some of the mentioned features are only available in the Pro version. Still, this makes for a very compelling app if you want your eyes to stay safe.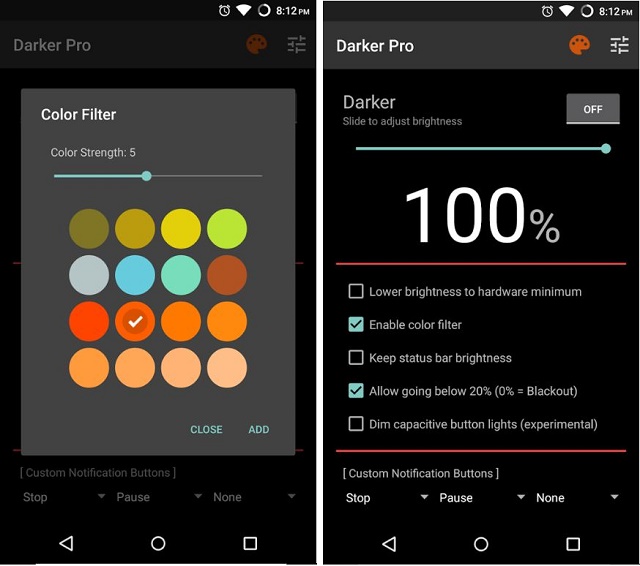 3. Blue Light Filter – Night Mode
A very similar app to the previous one, this one will find favour with the non-geeky community. This app offers various color temperature profiles, neatly stacked in the opening page. You can also set the intensity and the brightness levels by adjusting the sliders to your desire. Apart from the timer option for auto switching of the colour profiles, you also get an option to pause the effect of the app for 60 seconds, in case you are installing an app or doing something important. Overall, it is a lightweight app that does the job very well.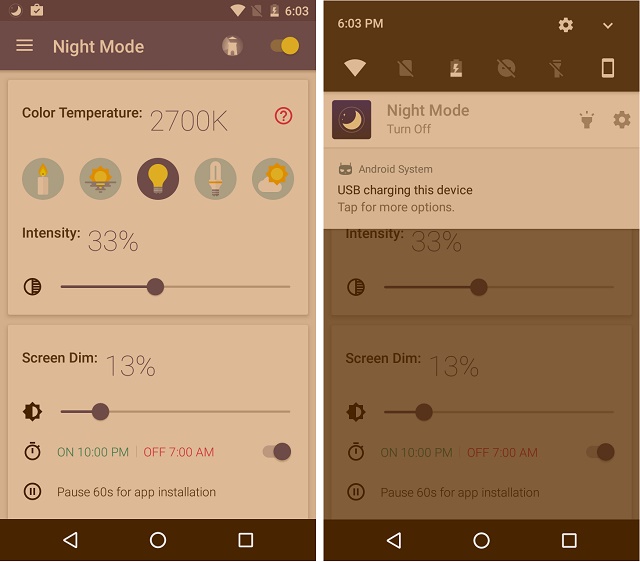 Install: (Free with in-app purchases)
4. Dimly – Screen Dimmer
Dimly is even simpler than the previous app on the list. Firstly, it is a very light app, which won't affect your phone's performance. You get a minimalistic UI with all the necessary controls up front. The in-app interface is basic, with settings options for the brightness dimming function. However, you get a very beneficial function- shake to restore brightness. Just shake your phone and filter effect will be gone without opening the app. There's a premium version that also makes it ad-free & enables the auto start timer. Try this one if you believe in simplicity yet effectiveness.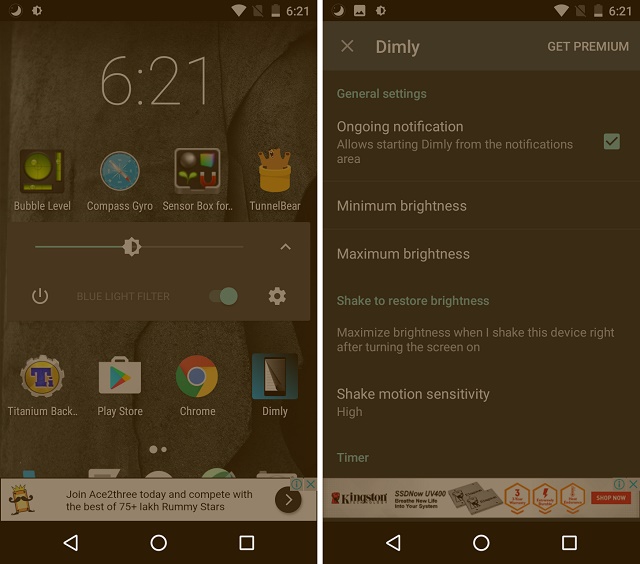 Install: (Free with in-app purchases)
For those who love Android to the "Root"
After going through these four apps, you might be thinking – what if I have rooted my phone? Isn't there any suggestion for me try out? Don't worry, we have the following apps for you.
1. f.lux (preview, root-only)
Flux has been there on PC and Mac for quite some time now and it's also available for Android. Similar to the computer version, the Android version of the app provides a lot of tweaking options, thanks to the root access. You have certain lighting profiles like Ember, Candle, Incandescent etc., which can be automated. And the best part, it can do that based on your location, so you won't have to enable it on your own. There are some drawbacks, though, one being its limited support to Android 5.0+ and second, being limited to devices from certain manufacturers. Look out for it on the Play Store & try it out.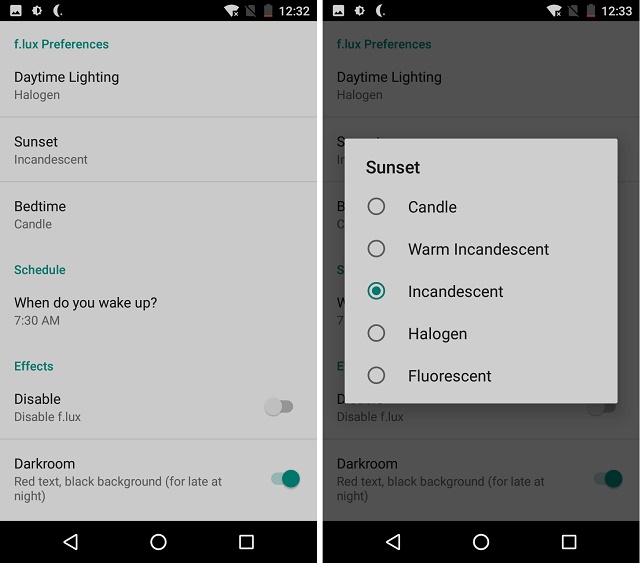 Install: (Free)
6. CF.lumen
CF.Lumen is another of those light filter apps that will provide you some usual filters for your screen. But you will be amazed when you dig into its root-exclusive features. The filters that you see through this app are actually rendered by the phone.The app uses the light sensor to automatically calibrate the display as per the lighting conditions. Hell, it even reads your morning alarms, so that you see your display in a way you are meant to, even when it's dark outside. You also get options for color blindness enhancements with settings for protanopia/anomaly, deuteranopia/anomaly and tritanopia/anomaly, which in theory enhance clarity and color detail.
There's a Pro version that starts up the app upon boot and adds some more features like Tasker integration. However, the free version should be good enough for most people.
Install: (Free with in-app purchase for Pro)
SEE ALSO: 8 Tips To Protect Your Android Phone From Overheating
Protect your eyes with blue light filter aka night mode apps
There are some other night mode apps too, with similar features, but they are not as good as the one's we have mentioned above. We know that most of you cannot spend a day without reading, so read on to your heart's content but be sure to use these apps to keep your eyes healthy.