Remote access applications, like LogMeIn and TeamViewer, let you access Windows PCs from another Windows device in a server/ client configuration. However, did you know that you can also control your Windows computers and MacBooks with Android devices and iPhones? In this article, we will show you how to control your Windows 10 PCs, MacBooks, and Linux machines just by using your Android device or iPhone. Here, we will list the best apps that you can use to remotely control your Windows PC from an iPhone or Android device.
Control Your Windows 10 PC Remotely via Android or iPhone
Using your mobile device, you can control various aspects of your desktop computer. It includes the keyboard, mouse, media playback, and more. There are several Android and iOS apps that allow you to control your Windows, Mac, and Linux computers remotely. So without further ado, let's check out the best apps to control your Windows, Mac, or Linux PC remotely from an Android device, iPhone, or iPad. Do note that, in most cases, you might have to also install a server app on your desktop alongside the client app on your mobile device.
1. Unified Remote
The standard-bearer for the segment, Unified Remote, turns your Android device or iPhone into a Wi-Fi or Bluetooth universal remote control for Windows PC, Mac, and Linux. It comes preloaded with support for more than 90 programs, including mouse & keyboard, media players, presentations, screen mirroring, power control, file manager, terminal, and more. Some of the best-known supported apps include Spotify, iTunes, Winamp, VLC, Kodi, Boxee, Plex, YouTube, Netflix, Hulu, PowerPoint, Keynote, Chrome, Firefox, Edge, Windows Task Manager, and more.
Key features of the Unified Remote app include automatic server detection to easily find servers on your network, server password protection and encryption for added security, and multi-touch mouse control. It also supports infrared sensors for IR remote control and 'Wake On LAN' to easily start your server. Alongside the aforementioned desktop platforms, the premium version of the app also lets you control other devices, including Raspberry Pi and Arduino Yún. It also supports voice commands, NFC, Android Wear, and more.
2. TeamViewer
Perhaps the best-known remote access app for computers and smartphones, TeamViewer allows you to remotely access another computer, smartphone, or tablet on the go. Unlike some of the other apps that use standard Wi-Fi connectivity to hook up the client and server, TeamViewer allows you to connect with devices from anywhere in the world by setting up a remote connection over the internet. You can use TeamViewer to remotely control Windows, Mac, Linux, and Android devices. The client-side software is available on Android, iOS, and Chrome OS.
Key features include screen sharing, touch gestures, bi-directional file transfer, computers & contacts management, chat, real-time sound and HD video transmission, and more. TeamViewer is the most-used remote connectivity tool on PCs and smartphones. Enterprise users prefer it for troubleshooting purposes. TeamViewer is free for personal use, allowing computer geeks to provide tech support to their family and friends.
3. VNC Viewer
VNC Viewer comes from the makers of one of the best desktop sharing systems and lets you access the screen of your Windows PC on your mobile device. It is one of the most popular Android apps for accessing Windows computers. And last year, its usage shot up exponentially during the pandemic-induced work-from-home regimen. The app turns your phone into a remote desktop, giving you instant access to your Mac, Windows, and Linux computers from anywhere. You can view your computer's desktop remotely and control its mouse and keyboard as though you were sitting down in front of it.
The server-side app, called VNC Server, is available on a whole host of platforms, including Windows, Mac, Linux, and Raspberry Pi. Largely used by corporations and enterprises, it is easy to deploy and administer, offering multi-factor authentication and up to 256-bit AES end-to-end encryption. It offers attended and unattended access via Cloud or offline (direct) connections. It also offers responsive screen sharing and lets you control, support, administer, monitor, train or work remotely with the VNC Connect network (Viewer + Server). The software comes with a 30-day trial period, with premium subscriptions starting at $3.39 per remote computer per month.
4. PC Remote
Another massively popular app, PC Remote, lets you use your Android device to control computers over Wi-Fi or Bluetooth locally or remotely. The software mirrors the screen and camera of your computer to your phone in real-time and vice versa. It also lets you transfer files between the two connected devices using the industry-standard 256-bit AES Session Encoding on a remote network. Moreover, you can even use the free app to play more than 30 classic console games on the desktop using the in-app game controller. It uses onboard sensors and purpose-designed, customizable button layouts.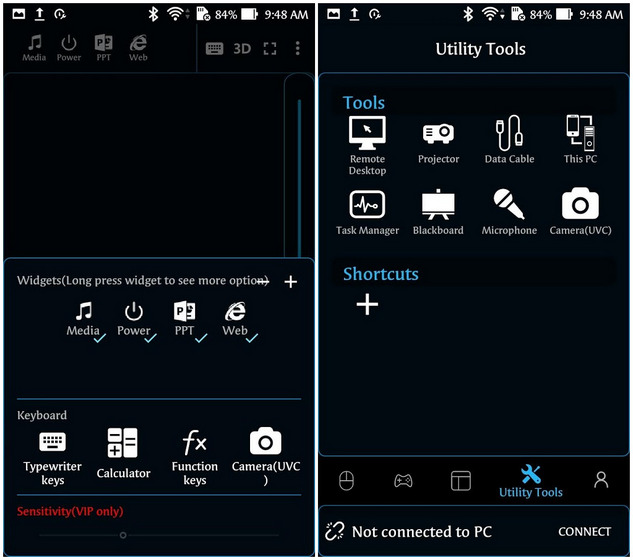 Unlike the earlier apps, PC Remote is only available on select platforms. The client-side app is available for Android and iOS, while the server-side software is only available for Windows. PC Remote has an inbuilt FTP server called Data cable for accessing files from your computer on your smartphone. It also lets you view all the drives and files on your computer and open them from your Android device. While the remote assistance feature works as advertised, it is the classic console games that make this app worth a try.
5. InfiniMote
The InfiniMote app lets users create and customize "an infinite number of remotes", as per the developer. The app has six default preinstalled remote panels, but users can also customize any layout for their specific use case. That includes the addition of different types of controllers and customizing their appearance, position, and functionality. This way, users can build a remote for whatever they want, including media playback, online gaming, gallery, and more.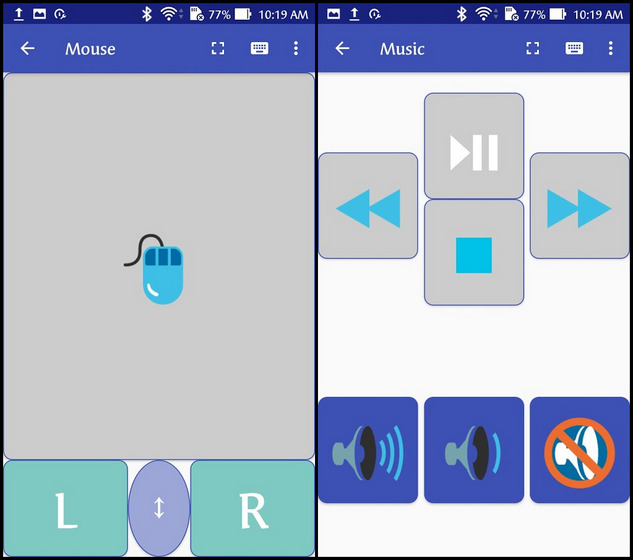 With InfiniMote, you can control the same computer from multiple phones simultaneously, making it an excellent choice for multi-player online games. The list of customizable controllers include buttons, touchpads, movement sensors, mouse and keys, joysticks, etc. Of course, it also lets you open programs and links from your Windows PC on your Android phone. You can also use your phone to write on your PC and map the physical buttons on your mobile device to control your computer.
6. Remote Link
Remote Link comes from Taiwanese tech firm Asus but is compatible with third-party devices as well. The app turns your Android phone or tablet into a Wi-Fi or Bluetooth remote control for your Windows PC. It lets you use your smartphone as a touchpad remote, a keyboard remote, a presentation remote, a media remote, and more. While the touchpad remote turns your Android device into a wireless touchpad for your PC, the media remote lets you control the media player on your PC remotely.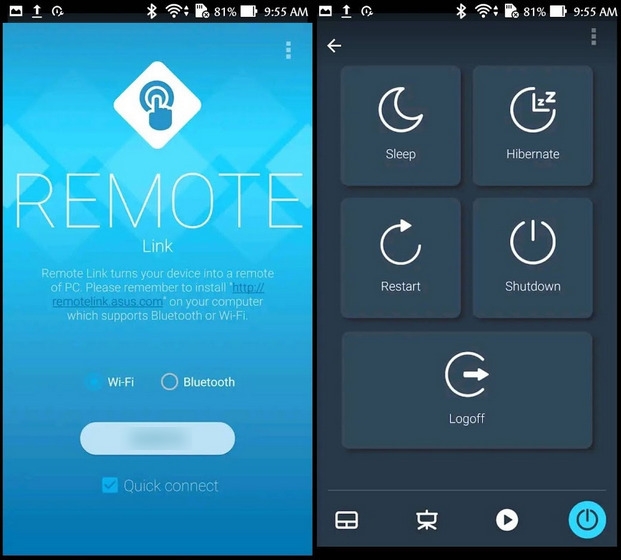 The Remote Link app also lets you control some aspects of your PC using Android Wear smartwatches, like the Asus ZenWatch. You can use voice commands to launch apps on supported Android Wear devices. You can swipe up or down to scroll through your presentation slides on your smartwatch. It is intuitive, feature-filled, and customizable, thus, making it a great choice to control your Windows PC from your Android smartphone.
7. Chrome Remote Desktop
Chrome Remote Desktop is yet another Android app that lets you securely control your Windows PC from your Android device, iPhone, or any other computer remotely. On the server-side, you need to install a Chrome extension to allow access to your remote device. Chrome Remote Desktop supports live screen-sharing and can also turn your Android device into a mouse or touchpad. Do note that you need to have a Google account to use the remote sharing features. You can then access your PC on a short-term basis for ad hoc remote support or longer duration for remote access to apps and files.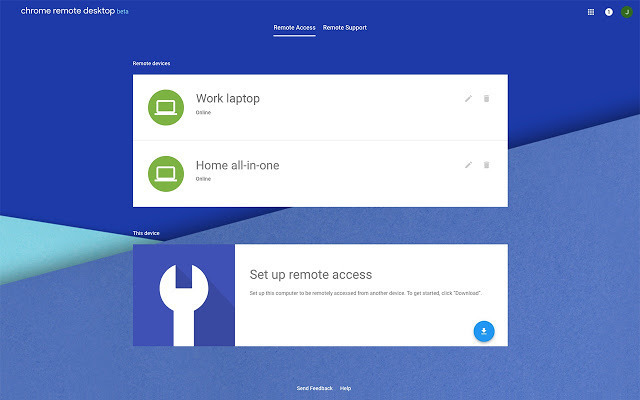 Chrome Remote Desktop lets you access Windows, Mac, and Linux computers from virtually any other desktop or mobile platform, including Android, iOS, and even Chromebooks. Unlike the other apps on this list, the server-side Remote Desktop software is available as a cross-platform Chrome extension for connecting to Windows, Mac, and Linux devices. Also, it is only a companion extension for the Chrome Remote Desktop website that lets you share your screen or access your computer from a browser window.
8. Remote Desktop 8
Remote Desktop 8 comes from Microsoft, which makes it a first-party utility to remotely control a Windows PC using an Android smartphone. The client software can run on almost any device, including on your smartphone, giving you the same powers you would have if you had physical access to the PC's keyboard. It lets you operate the apps installed on the PC, access the files and network resources of the computer, and even leaves the apps open when you exit the application.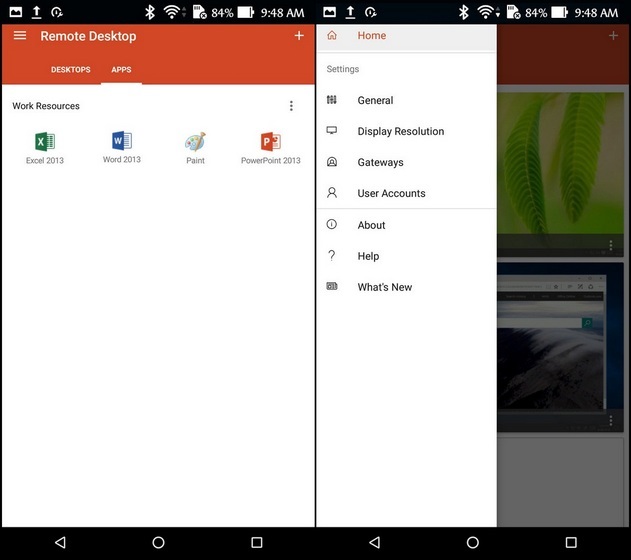 The client app is available on Windows, Android, iOS, and Mac, and the server-side control is only available on Microsoft's own operating system – Windows 7 and higher, and Windows Server 2011 and newer. Do note that the app does not support entry-level Windows versions, including Windows 10 Home, Windows 7/8/8.1 Home, and Windows 7 Starter. If you have a computer with one of these Windows versions installed, you will need to upgrade to an edition that supports RDP before you can use this app.
9. BleK – Serverless Bluetooth Keyboard & Mouse
BleK is another notable app that lets you use your Android device as a remote keyboard and mouse for your smartphone, tablet, computer, or Android TV. The app turns your smartphone into a touchpad with scrolling support. You can also use it to type text on the remote device using virtually any keyboard app on your phone. What's more, you can also use the app to control media playback on your computer, including volume, navigation, and more. The app supports 32 different keyboard language layouts and can be used to turn your phone into a movement-based air mouse as well. It also lets you use speech input and send copied text to connected devices.
Do note that the multimedia controls, air-mouse gestures, voice support, and copied text transfer are only available in the premium version that costs $4.49 in the US and Rs. 170 in India. The best part about the app is that it does not require you to install a server app on your Windows PC in order for it to work. Supported receiver devices only need to have Bluetooth 4.0 or higher as long as they run Android 4.4 or higher, iOS 9 or higher, Windows 8 or higher, or Chrome OS.
10. KiwiMote
The final software on our list is KiwiMote. It is yet another popular app that lets you securely use your phone or tablet to function as a PC mouse, full QWERTY keyboard, multimedia controller, presentation controller (PowerPoint), and more. You can even use it as a joystick controller to play basic games, and a universal remote control to operate different software. The app comes with a clean design and a user-friendly UI, making it easy to operate even for non-tech-savvy users.
Unlike some of the other apps that are available on both Android and iOS, KiwiMote is only available on the Google Play Store and not the App Store. However, the server version of the app supports Windows, Mac, and Linux devices. It means you will be able to control your desktop using this app irrespective of the platform of choice. The best part is that the server software is portable and comes in a ZIP file. You only need to extract the file and get to work. No installation is required.
Remotely Access Your Windows PC or MacBook From an iPhone or Android Device
So these are the best apps on the Play Store to control your desktop and laptop computers (Windows PC and Mac) remotely from your iPhone or Android device without having to carry additional wireless gadgets. As we've mentioned already, most of them come for free, but some offer premium options with added bells and whistles. So go ahead, give the free versions a try, and subscribe to them if you believe you will get your money's worth. Once you use them, let us know which app you liked the most and if you're planning to invest in the premium version.